Ernie Ball Announces NAMM 2023 Collections
Ernie Ball Music Man announces a number of new instruments to their 2023 lineup, including the all-new Kaizen 6-string guitar.
---
Available in 4 finishes, this collaboration with virtuoso guitarist, Tosin Abasi (Animals asLeaders, Abasi Concepts), is welcomed along with the all-new Steve Lukather L4 Collection, the Steve Lukather 30th Anniversary L4, and new finishes for the StringRay Special bass guitar.
This new 6-string guitar incorporates a number of advanced and innovative features like:
Multi-Scale - 24.75" to 25.5"
Infinity Radius Neck - Strategically positioned conical radius increases comfort while maintaining enhanced visibility of the fretboard and fret markers.
Steinberger Gearless Locking Tuners - Accurate, lightweight tuners that feature smooth rotation, and allow for a straight string pull.
New Music Man Pickups - A custom HT (Heat Treated) humbucker in the bridge position and a slanted mini-humbucker in the neck position have been specifically designed for the Kaizen
Multi-Scale Tremolo - Super smooth modern Music Man tremolo with spring dampeners to alleviate unwanted overtones and ringing
"Decidedly Contoured" - Ultra-lightweight design, deliberate body carves for extreme comfort, well-balanced with unrestricted fret access
The Kaizen is offered with an alder body, roasted maple neck, and ebony fingerboard. Both the Kaizen 6-string and the Kaizen 7-string are available now in 4 unique finishes, including ApolloBlack, and 3 limited-to-60 finishes which include Indigo, Mint, and Chalk.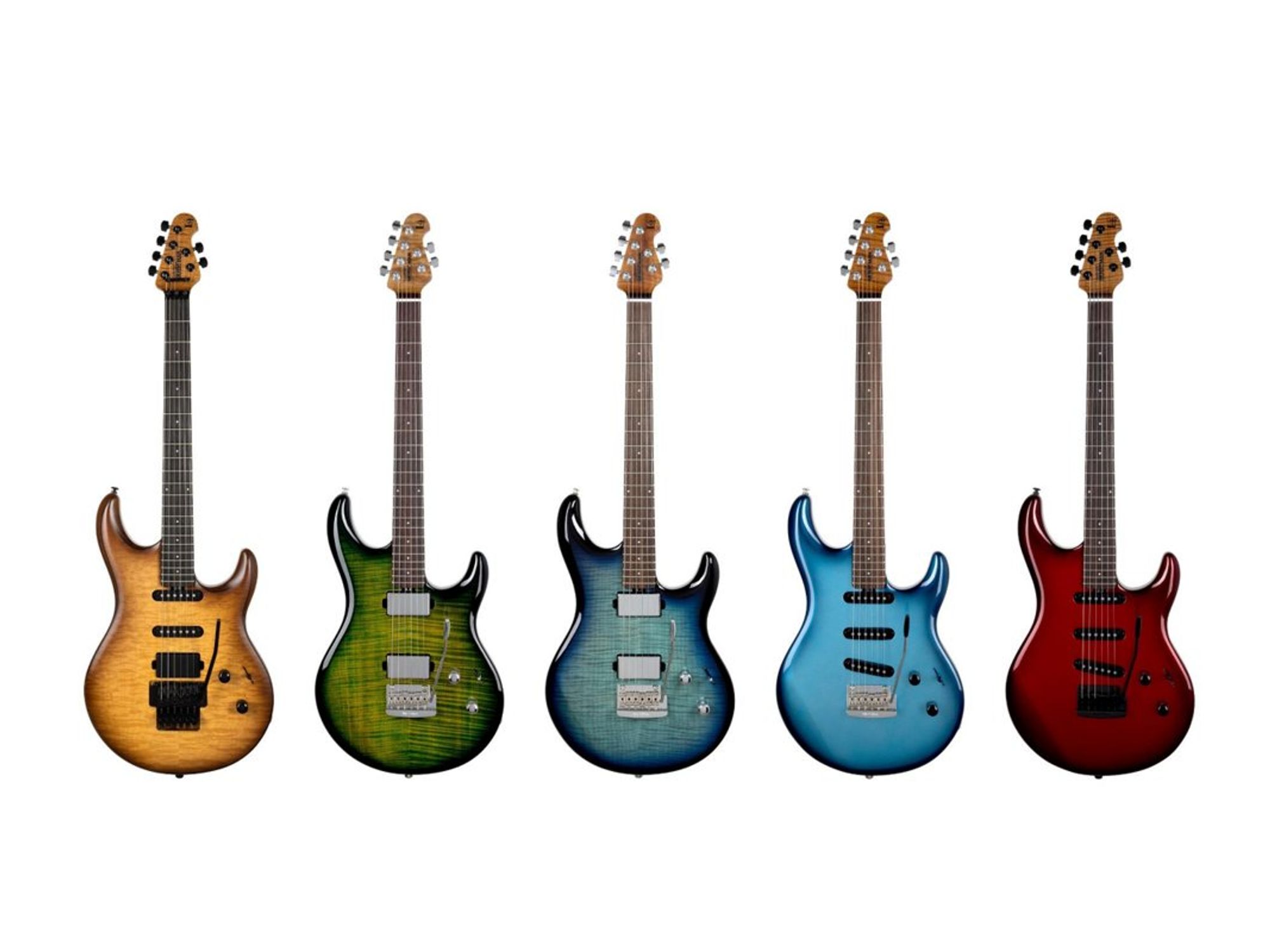 The Steve Lukather line of signature guitars gets an extensive makeover this year with the introduction of the all-new L4. Available in an HT SSS and HT HH configuration, and a limited edition 30th anniversary version featuring an HT HSS pickup configuration with Music ManFloyd Rose bridge. The L4 is the culmination of over 30 years of collaboration with Platinum andGrammy award-winning artist Steve Lukather whose list of accomplishments includes an extensive session career (guitarist on over 1500 recordings), major contributor on the multiplatinum Michael Jackson "Thriller" album, and leader and a significant contributor of the legendary rock band Toto.
Lukather stated, "In our never-ending quest for tone and fresh sounds, the team at Music Man implemented their new HT pickups that really knocked me out! As we have had three versions of the guitar, the new Luke 4 model is a fresh step forward in tone with their specially designed pickup technology. I love ALL the different MM versions of my guitar and use them all, but this new one is gonna impress! So many new sounds. Please check it out and play and hear one yourself!"
The all-new L4 Collection will be available this Fall.
​First introduced in 1976, the StingRay has been revered as one of the most iconic bass guitars in history. The flagship of the Music Man line, today's StingRay Special retains the same signature features that it had some forty years ago, including a solid roadworthy construction, iconic oval pickguard, 3+1 and 4+1 tuning key configurations, and the ever-popular Music Man humbucker, all of which combine to produce a look, feel, and sound that is remarkably unmistakable.
For 2023, Music Man welcomes 4 new finishes including; Sea Breeze, Laguna Green, PuebloPink, and Butter Cream. Each finish features a Rosewood fretboard and will be available in both 4-string, 5-string, H, and HH configurations. These all-new new colorways will be available this summer.
For more information, please visit music-man.com.