A new, evolutionary seven string is made approachable with help and a guiding hand from the Animals As Leaders maestro.
Offered with a decidedly contoured alder body, roasted figured maple neck, and ebony fretboard, the multi-scale length fretboard also features an "infinity radius" that provides improved visibility of the fretboard in any playing position. The electronics include a new Music Man HT bridge humbucker, custom offset neck humbucker, and a 3-way switch wired with a custom middle position. Each guitar comes equipped with a MusicMan tremolo, Steinberger gearless tuners, and a G&G hardshell case.
Features
Multi-Scale Neck - 24.75" to 25.7" (E to B or 1st to 7th string) multi-scale design provides affirmative string tension for thick and chunky rhythms on the bass strings, with a traditional feelon the treble strings for smooth bends and solos.
Infinity Radius Fretboard - Conical fretboard radius peaks along the treble-side edge of the fretboard and folds towards the player for an unobstructed view of the entire fretboard in playing position.
Steinberger Gearless Locking Tuners – Contemporary low profile, accurate and lightweight tuning machines feature smooth rotation and allow for a straight string pull.
Multi-Scale Tremolo – Super smooth modern Music Man tremolo with spring dampeners to alleviate unwanted overtones and ringing.
New Music Man Pickups – Music Man designed custom HT (Heat Treated) humbucker in the bridge position features powerful lows with remarkable definition resulting in one of the hottest pickups on the market. A slanted mini-humbucker in the neck position has been specifically designed to compliment the Kaizen bridge humbucker, offering an array of dynamic tones with outstanding sonic clarity.
Ernie Ball Music Man Tosin Abasi Kaizen | NAMM 2022
Deceptively simple—this straight-ahead rocker is a many-toned, stereo-enabled scorcher with a subtle side.
Very well made, cleverly simple yet deceptively versatile. It's a superbly playable guitar that translates easily to a wide range of playing styles.
4.5
5
5
3.5
Further stretching the reach and diversity in its Artist Series, Ernie Ball Music Man's latest offering beautifully embodies the subtle power of the player that gives it its name. Dustin Kensrue has shepherded his band Thrice's development from post-hardcore/punk thrashers to more mature and evocative stylists, and forged a flourishing solo career as a singer/songwriter plumbing the emotive depths and possibilities of heavy rock. Appropriately, the new Dustin Kensrue StingRay from Ernie Ball Music Man is subtly beautiful, restrained, powerful, and surprisingly adaptable.
Outwardly, the Dustin Kensrue Artist Series is a classic StingRay. And just about any player or fan of this unheralded Ernie Ball Music Man model could find inspiration in this guitar, regardless of their perspective on or knowledge of Kensrue's style and tone. But it's built around several features that are unique in an already varied StingRay lineup.
Clean: Guitar's mono output into a Twin Reverb preset on the Quad Cortex; 0:00 – bridge pickup , 0:16 – middle position, 0:34 – neck pickup.

Mean: Guitar's mono output into a Boogie MkIIC+ preset on the Quad Cortex; 0:00 – bridg pickup, 0:55 – neck pickup.

Stereo: Guitar's stereo output—recorded all in the same single take—into two different treatment paths in the Quad Cortex: neck pickup into a pitch shifter for faux-12-string; bridge pickup into high-gain amp. The two are gradually blended together.
Down Time
While the StringRay body shape nods at Music Man's strong Fender family heritage, the satin TV blonde finish on our test guitar (a dark satin tobacco burst is also available) is sprayed over a very Gibson-like African mahogany body that lends the StingRay range unexpected heft. But the mahogany also lends a warmth and reactivity that extends the sonic palette.
The neck joins the body using a refined and practical 5-screw attachment and sculpted heel. It's carved from solid maple in the maker's appealingly comfortable "C" profile, with a vintage-tinted satin finish and rosewood fretboard. There are 22 medium-jumbo frets, a 10" fretboard radius, and a 1 5/8" width at the nut, which is compensated for precise intonation. Scale length is 25 1/2".
While those specs look pretty conventional, you'll notice something very different about this guitar when you start playing. String gauges are Kensrue's choice of .011–.058, and the guitar comes tuned to his preferred D standard. The D standard tuning is not mandatory, of course, but everything certainly sounds and feels bigger and more muscular in this configuration. The guitar is easy enough to set up for E standard and lighter strings, too.
Despite its simplicity, it is a canvas across which you can paint just about any tone color.
The Dustin Kensrue StingRay further differentiates itself by way of its pickups. A medium-wound Ernie Ball Music Man single-coil in the neck and a Ernie Ball Music Man humbucker in the bridge are selected via a 3-way toggle switch on the small chrome control plate. It's also home to a concentric volume/tone control, which is a smart, easy, no-look way for a singing guitarist like Kensrue to make those adjustments on the fly. The lower horn is home to a small black mode button, which is easy to miss until you start exploring up close. When the button is up, the standard neck/combined/bridge selections are routed to a mono output. In button-down mode, however, the circuit taps each pickup individually and sends the signals to a stereo output for processing via two amps, or two channels on your modeler of choice. (Kensrue often makes use of a Line 6 Helix.)
Hardware includes Ernie Ball Music Man's impressively stable, 2-post floating vibrato system and locking Schaller tuners. The guitar is also equipped with the 9V-powered silent circuit hum-cancelling system.
Super Thumper
It's little surprise that the Kensrue StingRay is super playable and easy to get comfortable with. Ernie Ball Music Man's reputation on that count is well founded. Nor is it surprising how ferociously and readily this seemingly simple instrument takes to being amped up and played with attitude. But for all that bold, trenchant, lively core tonality and simplicity, the Kensrue is a canvas across which you can paint just about any tone color.
It excels at mellow jangle, warm ballad tones, and crushingly heavy rock. It also loves raunchy garage and swaggering roots and twang moves. If you're worried this guitar will pigeonhole you into some kind of Thrice/Kensrue style compartment, forget it. The mono/stereo capabilities are stupidly easy to use, and I had fun crafting wildly divergent dual-path rigs on a Neural DSP Quad Cortex (simultaneous faux-12-string from the neck pickup and high-gain metal from the bridge, anyone?). Suffice to say, this is a guitar that will do just about whatever you want in brilliantly straightforward fashion.
The Verdict
Deceptively streamlined, the Dustin Kensrue had me skeptical at first. (A stereo guitar that ships in D standard can do that.) But the design is so well executed, and the guitar so appealing, that I ultimately found its musical potential addictive. The build quality and playability are outstanding. It sounds great in the most straight-ahead settings or at the extremes of its stereo-enabled potential. And the clever pickup and switching complement make it ridiculously versatile. With powerful modelers becoming a go-to solution for more and more guitarists, it's also easier to leverage the stereo output and create mammoth tones in the process. Well done Ernie Ball Music Man—and Dustin Kensrue.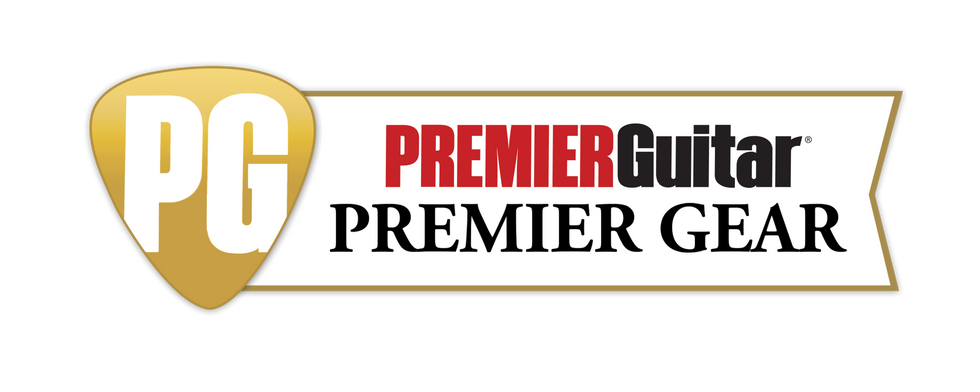 Ernie Ball Music Man is excited to launch a brand-new collection of limited edition bass guitars with Tim Commerford, the legendary bassist of Rage Against the Machine, Audioslave, Prophets of Rage, and his newest project 7D7D, with a debut release coming soon. Tim has been a part of the Ernie Ball Music Man family throughout his career. This collaboration is the natural evolution of this amazing ongoing partnership.
"I literally was like 18 years old when I saw a Music Man StingRay. It was a blonde Sting Ray with a black pickguard, and it was at a pawn shop..." Tim reflects. "I scraped up the money and I got it, and that bass became the bass I used to record the first Rage [Against The Machine] record and it was a big part of my life."
Ernie Ball Music Man: Tim Commerford Artist Series StingRay Bass
The all-new Tim Commerford Artist Series StingRay Bass Collection includes 4 unique models, each marked by a numbered backplate and limited to just 50 instruments per model. The passive full scale and active short scale models deserve special consideration, as these never before offered configurations are now available for the first time.
50 Full Scale Active Basses in Black
50 Full Scale Passive Basses in Natural
50 Short Scale Active Basses in Natural
50 Short Scale Passive Basses in Vintage Sunburst
Each instrument shares three unique appointments:
Height adjustable custom finger ramp
Pickup cover with a contoured thumb rest
Classic string-through bridge with adjustable mute pads
The Tim Commerford collection has been created to meet Tim's exacting specifications. Over the years, Tim's custom additions and personal refinements have all been implemented to his custom line of artist series basses. Features such as a pickup cover thumb rest and adjustable finger ramp allow for a more comfortable hand position when playing fingerstyle. Other custom refinements include a sculpted 5-bolt neck joint for full access to all upper register frets, and a classic string-through bridge with adjustable mute pads that allows Tim to dial in the perfect tone.
Over the last 30 years, Commerford has built his signature sound playing a multitude of passive and active basses, so having the ability to have both full and short scale basses in one collection, gives him the tools needed to reproduce the tones he has made famous over these past 3 decades.
With only 200 instruments available worldwide, this limited edition 4 instrument collection is available exclusively from music-man.com, as well as the all-new Ernie Ball Music Man Reverb Shop. In addition to the Tim Commerford bass collection, the brand new Ernie Ball Music Man Reverb Shop will be home to an ongoing curated collection of unique colors, prototypes, small batches, and demo models that would have normally only been found in the Ernie Ball Music Man Vault.