Orange Launches Dual Terror, Hard Wired Terror and Terror Bass
Orange launches three new variations on their popular Tiny Terror model: the Dual Terror, Terror Bass and Tiny Terror Hard Wired Edition
British amplifier manufacturer, Orange Amps launched the Tiny Terror amp in 2006 and has already sold over 30,000 units, making it one of the most in-demand amps in the world. The concept of the Tiny Terror was simple: squeeze every drop of Orange's unique signature tone into a lunch-box sized amp to create 15 watts of unmistakable Orange Class A Tone weighing only a few kilos - and at a price every guitarist can afford. This framework had lead to the Tiny Terror combo, and now the Dual Terror, Tiny Terror Hard Wired Edition, and Terror Bass.


Dual Terror
At NAMM, Orange announced the next generation of the Tiny Terror concept: the Dual Terror. The Dual Terror is a twin channel, 30-watt head, switchable from 30 to 15 or 7 watts giving more choice and options shrunk into a size that belies its power.

The 30 watt Class A dual channel amp incorporates the unique Tiny Terror channel and a new 'Fat Channel' bringing a new 'fatter' chunkier sound, whilst keeping the classic Tiny Terror sound.

The power options make this a truly versatile amp, capable of dominating at bigger venues and subtle enough to be perfect for recording, studio work and home playing. Switchable between 30, 15 and 7 watts and switchable between 4 and 2 output valves, the combinations of options provide for unmatched levels of performance and flexibility.

The Dual Terror OS-DT30-H is built to the usual Orange high quality standards, using top quality components and its roadworthy rugged construction (supplied with padded gig bag ) is everything you'd expect from an Orange amp. The proven 'Orange Terror' concept of combining portability, versatility and delivering most importantly a great sound, is all here.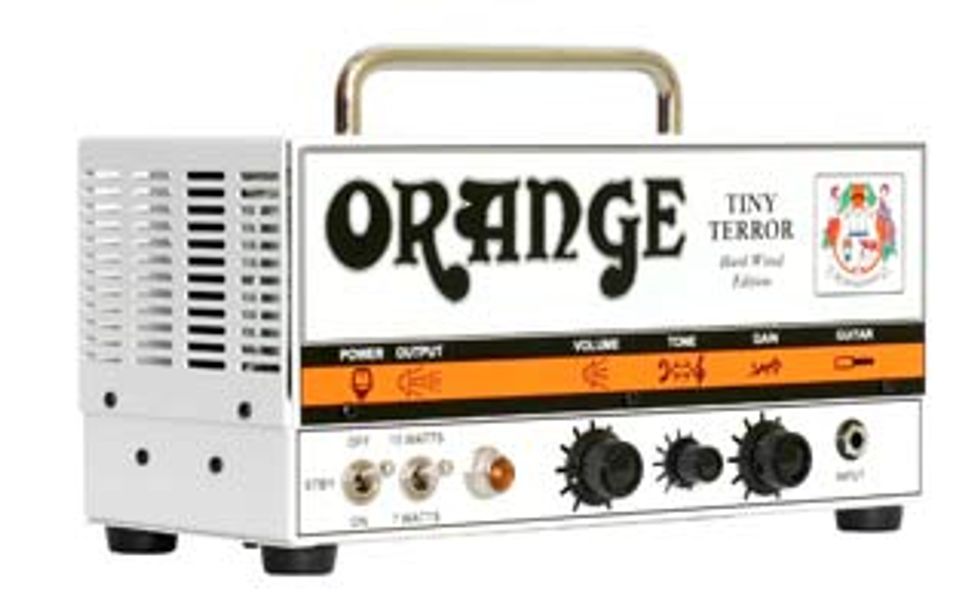 Tiny Terror Hard Wired Edition
Orange realized that for the more discerning guitarists, something extra was needed and they are proud to announce the launch of the Tiny Terror Hard Wired Edition.

Introducing the new, all UK manufactured, point to point, all hand wired Tiny Terror, this amp offers a step up on the Tiny Terror. With high specification transformers, 'carbon comp resistors' and 'mustard capacitors' this is truly a boutique amplifier which comes in a special leather padded gig bag, which will also be available separately for Tiny Terror owners.

When it comes down to the crunch, it's the sound that does the talking and the Tiny Terror Hard Wired Edition is more responsive and dynamic t
han its original version. With a wider frequency response this new amp has more bite and more punch.

Naturally, the Tiny Terror Hard Wired Edition is as every bit as iconic as the original model having the same portability, versatility and unique lunch-box size, with the added benefit of weighing less than the existing Tiny Terror.

This is not a production amp, and each will be individually hand wired, tested and quality checked at Orange headquarters, limiting the numbers available.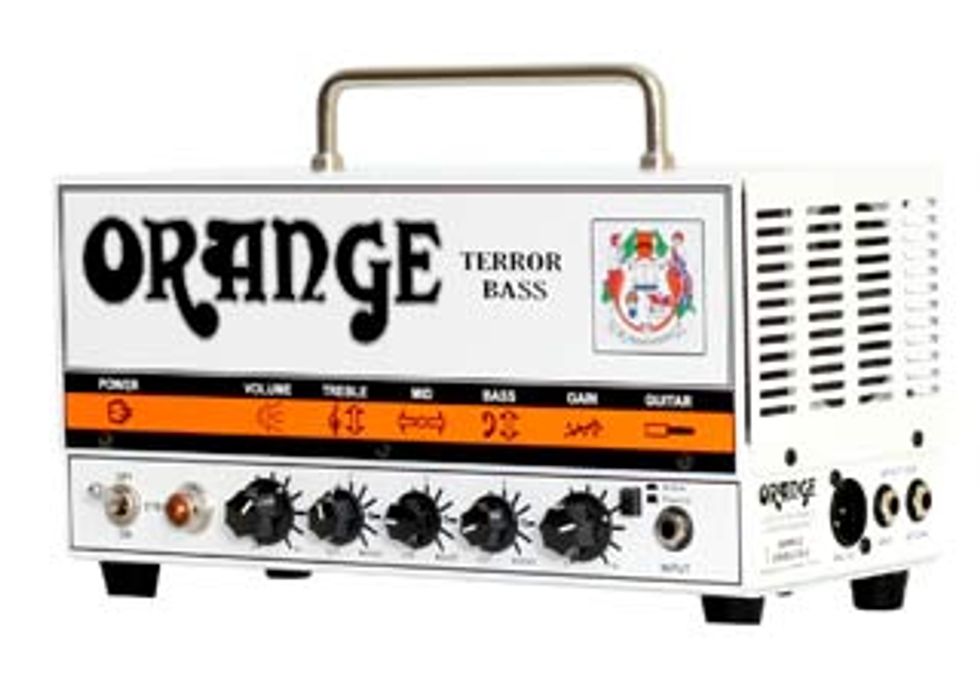 Terror Bass
Even smaller than the famed Orange Tiny Terror and weighing in around 5 kilograms, the New Orange Terror Bass is a 500-watt hybrid amplifier with a Class D solid state power section and a twin valve 12AX7 preamp to deliver a high-powered performance that can crank out 500 watts of pure legendary Orange tone.

Super lightweight for its power and sound, the compact size of the new amp has the portability that allows traveling musicians to go anywhere without worrying about what backline waits at the venue.

With the same great looks as the original Tiny Terror and a rugged construction that will stand up to the road, bass players can now be part of Tiny Terror club.

For more information:
Orange Amps