Ovation Releases iDea Guitar
iDea Guitar Ideal for Songwriting
Bloomfield, CT (September 18, 2008) - Here''s how the press conference at Ovation went: a keyboard player, bassist, conga player and an acoustic guitarist launched into "Oye Como Vas?" in front of a room full of guitar/music industry journalists and quite frankly, we didn''t know what to think. Then, the bass player got up and left, followed by the keyboard player and the conga player, leaving the guy playing the acoustic all by his lonesome. But the full band sound didn''t stop. The song kept on rolling as the guitarist ripped slidey, staccato acoustic riffs that would''ve made Santana proud.

As it turns out, the acoustic was Ovation''s new iDea guitar, the first guitar to have an mp3 player built into the body. The full band sound was actually coming from a backing track stored in the guitar''s mp3 player and coming out of the guitar''s 1/4" jack, along with the guitarist''s live licks.

The implications for solo performers are obvious - the mp3 player can store up to 100 minutes of higher quality audio. The actual mp3 player is built into the guitar''s preamp unit, so its menu screen, mini-toggle joystick and other buttons are located right next to the expected volume and tone control slides. The preamp itself takes Ovation''s kidney-shaped design so it can be bought separately and dropped right into newer Ovations.


The guitar itself isn''t a tone monster, nor is it being marketed as such. Its rounded, composite back and laminated spruce top with scalloped bracing give it a nice sound that certainly isn''t shabby. It has a soft-V Nato neck that is pretty fast and three squashed oval sound holes that are distinctive, even within the Ovation line. The guitar cut through the backing track mixes during demos, giving the impression that it can certainly hold up at your local bar or coffee house.
We gather that the iDea guitar''s true value for Premier Guitar readers is in its ability to assist in the songwriting/idea gathering process. Few of us take our 28s to that big grey rock out in the woods when we go camping. Think of the iDea guitar as that campfire guitar that''s rugged enough for the outdoors but now it has built-in recording capabilities. You can record your ideas and your noodling as the inspiration hits you. The preamp also has a built-in mic that records your singing or commentary, which can also be switched off if you only want to record your guitar playing.

The iDea also has an aux input jack that allows you to combine your signal with any other instrument (or vocal from a separate mixer) and it can convert any audio source to mp3. The mp3 player connects to a computer via a USB cord - your computer recognizes it as it would a flash drive so you can rename, delete or move files around fairly easily.

Ovation holds the patent on the mp3/guitar idea. There are endless possibilities to be fused into this kind of set up down the road: multi-track recording, effects, modeling, on-board editing, etc. so keep an eye out for future implementations. This first guitar offers a formidable array of bells & whistles, though - there''s a loop function, playback slowdown capability (while maintaining pitch), a tuner and a headphone jack (which serves as a convenient monitor for playing to backing tracks live).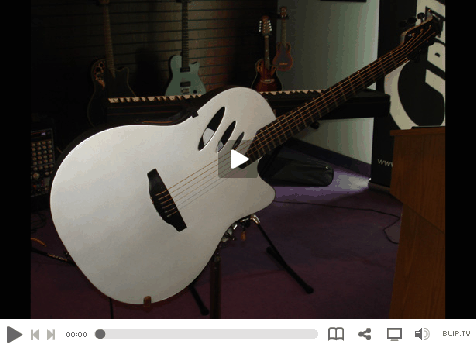 In addition to being a handy tool for experienced songwriters, the iDea has lots of implications for beginners, too, as well as anyone willing to drill down on audio lessons to improve their chops. It comes with a number of pre-loaded lessons and jam tracks from Ovation''s education partner, WorkshopLive.com. WorkshopLive.com has 2,500+ online lessons and 15,000 instructional videos, many of which are available for free via OvationiDea.com, a website with interactive product support and great potential for serving as the hub for an entire online community centered around the iDea guitar.

For more info:
OvationiDea.com
WorkshopLive.com