Refinishing a '60s Blonde Tele
This has been a busy month. We're getting our instruments ready for the NAMM show that's held every January in Anaheim. During this time, our repair department continues to busily
This has been a busy month. We're getting our instruments ready for the NAMM show that's held every January in Anaheim. During this time, our repair department continues to busily push the envelope and do repairs that, at times, seem impossible.

It was during one such time that the phone rang. "Since the Vegas show has been cancelled, you guys should now have enough extra time to finish that blonde Tele body. Can you get it back to us in ten days?" Calls like this tend to keep the blood flowing.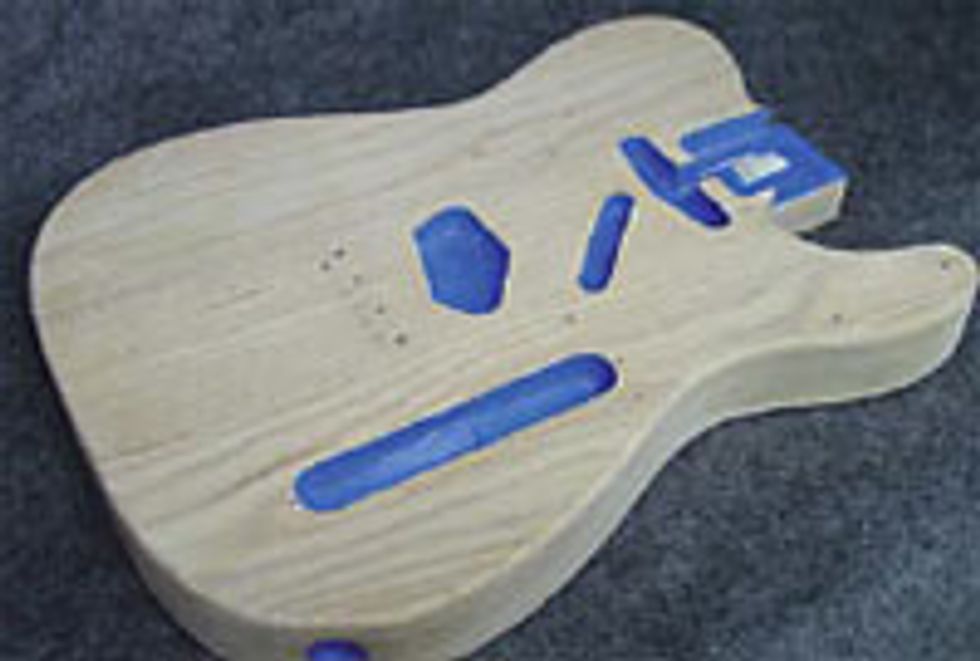 Body Shop
The non-original black finish was carefully removed with a spatula and some stripper. We were very careful to not strip and alter the body cavities since they still had the original blonde finish intact, along with the original pencil marks. This patch of original finish is important since we're spraying color and toner to match what it originally looked like in 1960.

Once the ash body was taken up to 280 grit sandpaper and prepped, it was time to spray a light coat of vinyl sealer before filling the wood pores. Easy to apply water-based grain fillers can be used, but our choice for this particular project was an oil-based filler. After applying both kinds of filler to a scrap piece of ash, we sanded and then sprayed a transparent white overlay. It was then determined that the oil-based natural grain filler gave a more accurate shade of blue-gray visible through the transparent white top coat. We filled the pores with the oil-based natural grain filler, and then the body was left for two days to dry thoroughly. Afterward, we sanded with 280 grit sandpaper in preparation for spraying color. The body cavities were carefully masked off to protect the original finish and pencil marks.



Color Theory
When people think of a blonde Fender, most of the time butterscotch comes to mind. But the original finish on this guitar was definitely the later, lighter white-blonde that Fender began using in the mid-'50s, and it had aged over time. A great book for referencing various blonde Teles from the early '50s and '60s is titled Norman's Rare Guitars: 30 Years of Buying, Selling & Collecting by Norman Harris and David Swartz. Not only does it chronicle how the finishes went from butterscotch to white, but it also shows how some finishes were more transparent than others. They all looked great, but this project is about giving our customer's Tele a periodcorrect finish.

I mixed a nitrocellulose clear with a white ColorTone liquid pigment. The end result had a look leaning towards the opaque side with a very slight transparency, allowing some of the wood grain to show through.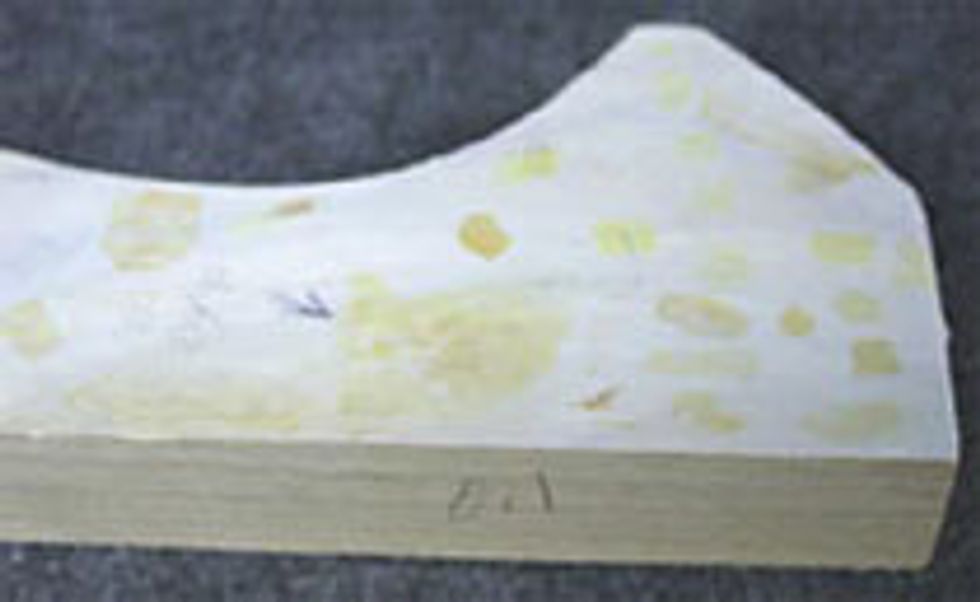 Clear Vintage
Once the white color had been applied and cured overnight, we were ready to age the appearance with a tinted clear. Rick Pavlik made the mix for me with yellow and medium brown ColorTone stains and nailed it, once again by using a scrap piece of ash wood and comparing it to the untouched body cavities as a reference point. After applying a couple thin coats of the perfectly blended tinted clear in the spray booth, we were finally there – the body was ready for additional coats of clear that we would later sand and buff out.

I would like to thank my team: Adam Meyer, Thomas Calhoun, and Rick Pavlik. They all had an important hand in this project. We will cover the final two days of our ten-day project next month.




---
John Brown
John Brown, of Brown''s Guitar Factory, is the inventor of the Fretted/Less bass. He owns and operates a full guitar manufacturing and repair/restoration facility, which is staffed by a team of talented luthiers. He is also the designer of guitar making/repair tools and accessories that are used today by instrument builders throughout the world.
www.brownsguitarfactory.com
info@brownsguitarfactory.com