Reverend Ron Asheton Signature Guitar
For musicians, there's a bevy of quantifiable ways to gauge one's popularity and influence on the musical world – the number of records you've sold, how many clubs you've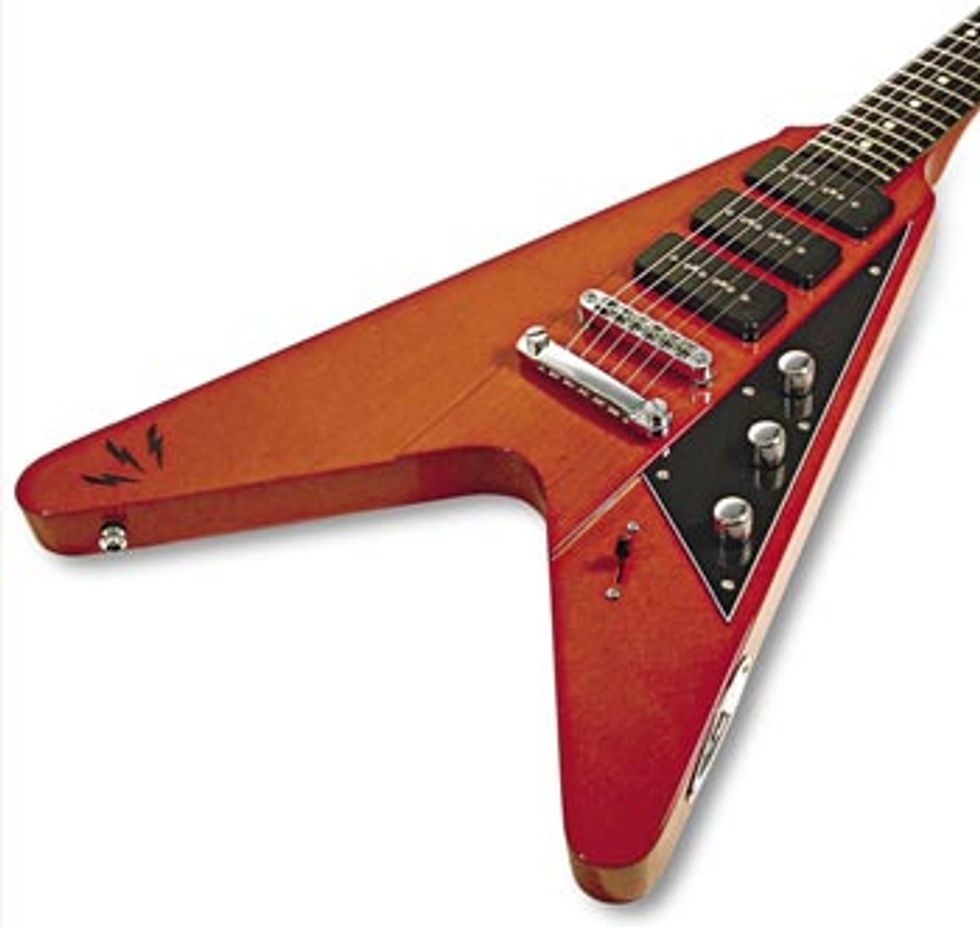 For musicians, there's a bevy of quantifiable ways to gauge one's popularity and influence on the musical world – the number of records you've sold, how many clubs you've packed and all of the magazine covers you've graced. But for guitarists, there can't be a much greater sign that you've arrived than receiving your own signature model guitar from a popular builder. While the signature model has traditionally been reserved for mainstream figures, the recent spate of cool signature models, ranging from David Grissom's new PRS to Pete Shelley's half-a-Starway guitar from Eastwood, indicates that companies are finally recognizing guitar players instead of guitar celebrities.
Ron Asheton has recently been added to that list – the proto-punk who began his career playing with the always slippery Iggy Pop and the Stooges before moving on to the equally raucous band, Destroy All Monsters. Ron has become the latest underappreciated recipient of a signature model axe, courtesy of builder Joe Naylor and the good people at Reverend Guitars.
Shake Appeal
The Ron Asheton Signature is a direct descendant of Reverend's popular Volcano model, which has impressed players and critics alike with its combination of great playability and middle-class affordability. But while the Volcano took its inspiration from the now-iconic Flying V, Reverend's Naylor has taken the opportunity to expand upon the instrument's heritage and create a guitar that merges Asheton's past and present. Beginning with the V platform, which Asheton played on the Stooges' eponymous debut, Naylor swapped out the humbuckers for three custom-wound P-90s to provide the guitar with added treble punch – duties that Asheton had previously relied on an old Stratocaster for. Coupled with the guitar's innovative Bass Contour control (more on this in a bit), the final result is perhaps the best conceived signature model to emerge from this winter's NAMM show.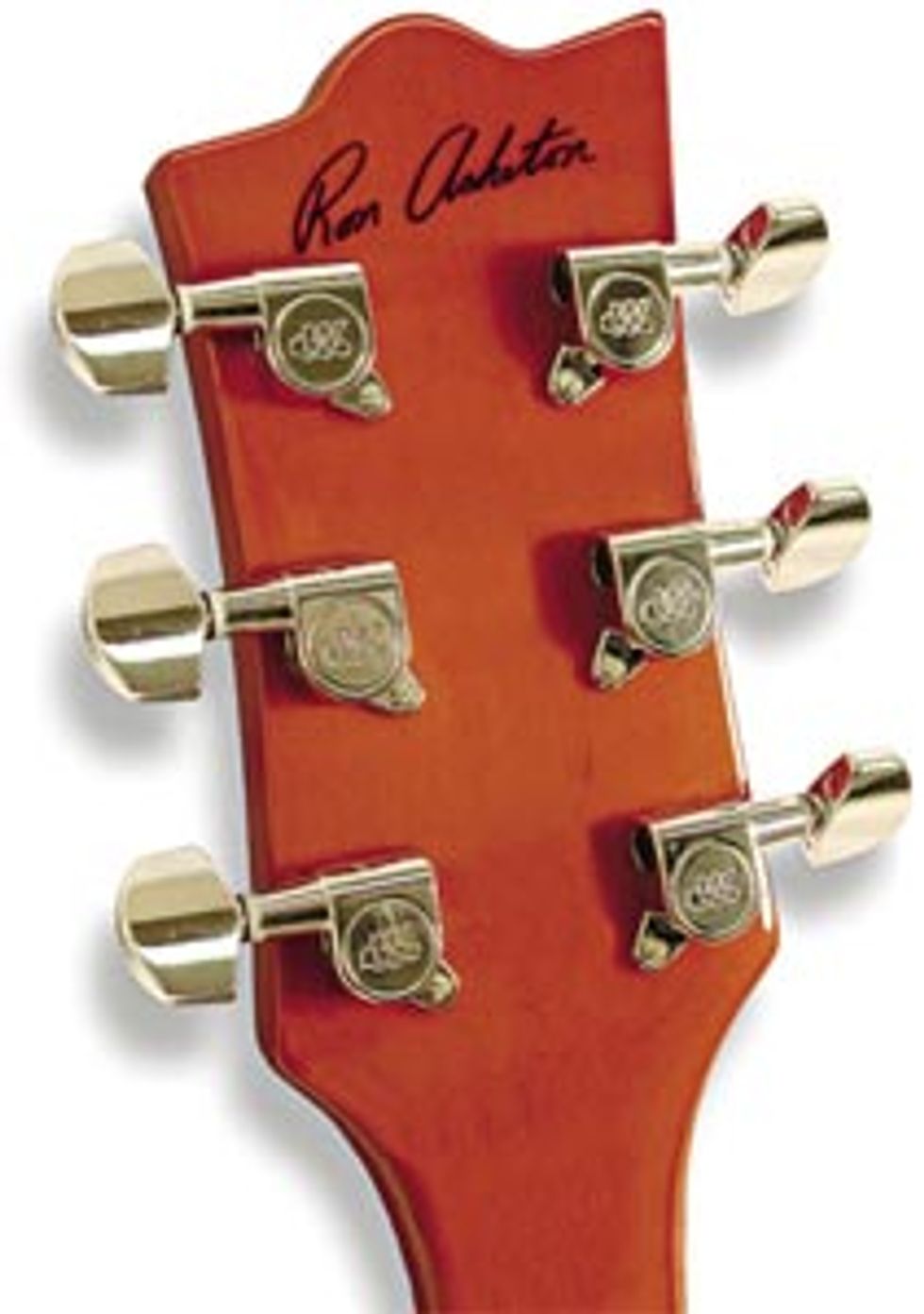 There's a definite psychological element at play here – looking at this guitar will stimulate your synapses and stir up long-forgotten memories of the days when rock n' roll was still dangerous. A big statement, sure, but the stunning Rock Orange finish perfectly showcases the solid korina body and signals to everyone within visible distance that you mean business. The body also features a raised center section, which primarily adds sustain and clarity, but has the side effect of adding some visual mass to an already solid-feeling instrument. That's not to say that this guitar is heavy – it's quite the opposite – but rather that it feels significant in your hands. The set neck gave it a feeling of unity, and we hadn't even plugged in yet.
This guitar has obviously been built by people who recognize that good design can stir up just as much excitement as a good pair of pickups. The Ron Asheton conjures both the Motor City's heyday and modern minimalism with its striking angular pickguard and three highly chromed knobs. Asheton's own signature adorns the back of the headstock in a nicely unobtrusive flourish, and the trio of lightning bolts on the upper wing look absolutely badass, a touch that could easily come across as over-the-top anywhere else. The package is rounded out with a Tune-o-matic bridge, stopbar tailpiece and a set of Wilkinson EZ-Lock tuners.
---
"This guitar has obviously been built by people who recognize that good design can stir up just as much excitement as a good pair of pickups."
---
Raw Power
Of course, as we here at Premier Guitar can attest, it's almost criminally easy to create a gorgeous guitar that sounds and plays terribly. Fortunately, Joe Naylor has been at this far too long to let that happen, and the Ron Asheton Signature Model plays like a guitar easily costing twice as much.
For those not familiar with Asheton's playing, it's the unmistakable sound of trebleedged pickups getting pumped through a stack of speakers just on the verge of exploding into shrapnel. Thus, it's appropriate that Reverend left the humbuckers behind and dropped in a trio of custom P- 90s with bite, although that's probably not strong enough of a word. The coupling of the korina body with these pickups gives the guitar all of the midrange you could ask for, and the guitar manages to sound both fat and crisp at the same time. The neck pickup plays it safe and is wound a bit cleaner; the bridge pickup played a bit hotter than a vintage unit, partly due to the pickup itself and partly due to the guitar's body naturally positioning my hand right over the pickup.
The slickest part of this guitar lies unassumingly at number three on the pickguard – the battle-tested Bass Contour, standard on all Reverends. Turning this knob engages a sort of reverse Tone, seamlessly adding or subtracting bass from your sound. While I was skeptical at first, I quickly became floored at its ability to morph the fullness of the P-90s into the snap of a hot single coil. We quickly became best of friends, as it enabled me to play the thick, fuzzy strumming of "I Wanna Be Your Dog" and the electric-wire riffs of "T.V. Eye" back-toback. The only complaint I could level with the Bass Contour is that I would like to see more bass removed from the signal, as I felt the P-90s were capable of going even further into single coil territory for those beefy Tele lovers out there. Nevertheless, the Ron Asheton Signature is a versatile guitar and could fit into a variety of musical styles – a black finish is available for those who need to be a bit more discrete.
The Ron Asheton has a 24.75" scale, squaring it up with the classic Flying V and making it extremely playable. Every copped bend I threw at it came across smoothly, and that's saying a lot for my technique – imagine what it could do in the right hands. The setup was great right from the factory, intonation and all, something you might not be used to in this price point. The only nit I could pick was in the neck shape; it was a bit too oval for my tastes, but that's in line with its classic lineage and thus hardly a knock.
The Final Mojo
I'll leave you simply with, what should be in my opinion, this signature model's new tagline (Reverend, I am open to licensing):
You may think you know what rock n' roll is. But you have not picked up this guitar yet.
Buy if...
you've always wanted a Flying V but have been waiting for the right one
Skip if...


you need to have a baseball bat in your hands while you're playing


Rating...
 
Our expert has stated their case, now we want to hear yours. Share your comments and ratings below.