Review: BOSS SL-20 Slicer
BOSS''s SL-20 Slicer keeps tweakers happy for days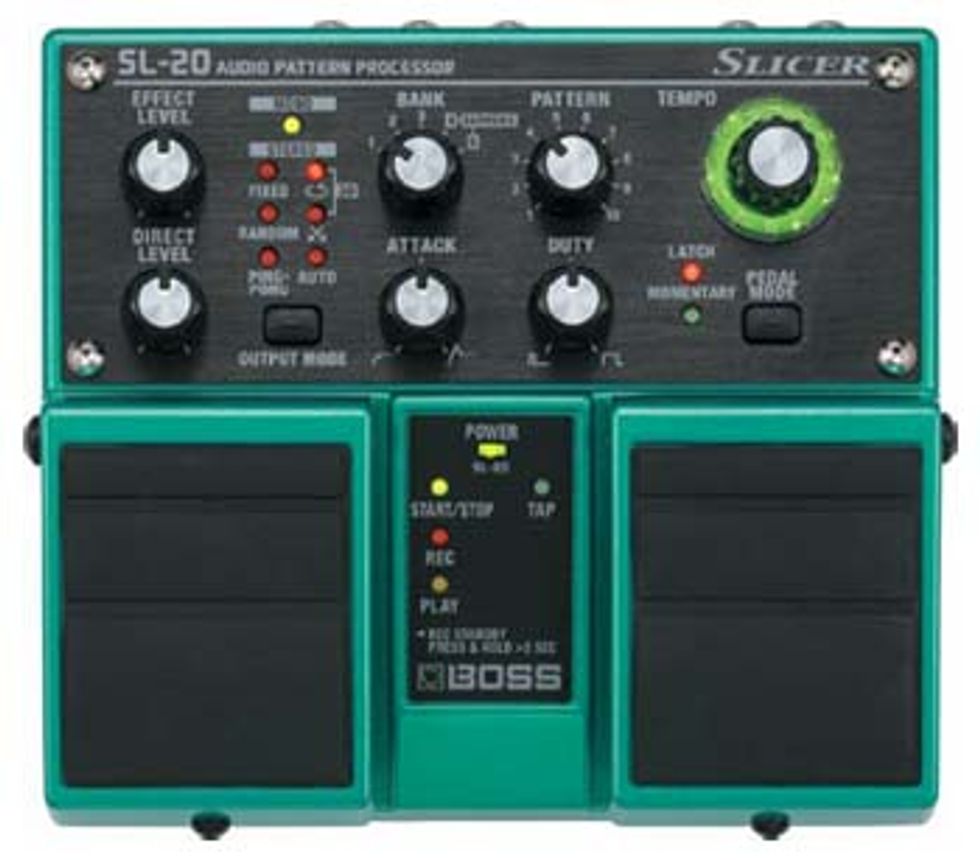 BOSS's website describes the Slicer as a "shot of audio adrenaline," and that's perhaps the best description I've heard of this thing. Taking an instrument's input and chopping it all to hell, the SL-20 provides a fun and surprisingly friendly introduction to groove-based music.
From the very beginning, the Slicer is a trip; upon plugging a 1/4" plug into its input (mono or stereo), the unit lights up like the bridge of the Starship Enterprise. While the SL-20 comes with a fully-featured manual, it's simple enough that you can step and play. Hitting the left pedal begins the transformation of your input into rhythmic pulses—composed mainly of stuttering notes and the fattest bottoms you'll find this side of a Queen video—of which the style and pattern are adjustable by the Bank and Pattern knobs found on the upper half of the unit. There are ten different patterns to choose from, ranging from long and steady rhythms to short stutters, along with five "banks," two of which can be used to create melodies from the chords you play, effectively giving you 50 options for altering your sound. The Attack and Duty knobs give you complete control over the duration of the rhythms, and the Effect and Direct Level knobs allow you to tailor the amount of groove that's inserted into your signal. Tempo is critically important to this unit's operation, and as such there are three ways to input it here: the right tap tempo pedal, the always glowing Tempo knob (you cannot miss it) or using the MIDI jack to sync the unit up with an external source. There are plenty of options to choose from here; power users will want to keep the manual handy, as it has pages in the back where you can jot down your most frequently used settings.
Download example 1
Slicer's Harmonics setting (Bank 4), in Pattern 6

Download example 2
Slicer''s regular mono setting (Bank 3) in Pattern 7


Clips recorded with Ampeg AMG100 and a modified Epiphone Valve Junior stack featuring an Eminence Red Coat 12", through a Shure SM57 and into a ProSonus Audiobox interface



The unit is usable in mono, but do whatever it takes to use this pedal in stereo. With six different stereo modes, including two "3D" modes that are truly enveloping, this pedal is made to exist in a wide soundfield. I literally spent hours noodling around with the Slicer, generally pretending I was in the middle of a Daft Punk rave. When you add in the SL-20's recording capabilities, allowing you to capture up to 40 seconds of loop-induced freakout with just a push of a pedal, this unit becomes a steal for the rhythmically-inclined crowd. Granted, you can't record just your guitar, sans slicing, and you can't overdub loops, but the ability to create loops is key here, freeing you up to layer over the top of it (in this setup, you use the Effect and Direct Level knobs to control the mix of loop and unaffected guitar in the signal).
BOSS should be rewarded for keeping the controls simple, despite the deepness of this pedal. While it initially may look daunting, after five minutes you'll be gleefully tweaking away. And it's nice to see that the company didn't try to shoehorn all of this into one pedal; while the double-wide unit will take up some extra space on the floor, if you're hip to the Slicer, odds are you already have several overflowing pedalboards. Even if it seems not to fit your "style," this box has the potential to unlock new, unexplored ideas in your head. When I first opened the box, I thought, "When would I use this?" Now I am desperately trying to keep from having to give it back.
Buy if...


you want a great compressor and a bevy of cool envelope effects.


Skip if...


you don't have the patience to tweak.


Rating...

Our expert has stated their case, now we want to hear yours. Log on and share your comments and ratings.