Godin''s first archtop retails for around $500 -- but how does it sound?
I have to be honest, I've been stuck in a rut recently. I've played the same guitar, which I love dearly, for over ten years. Don't get me wrong I will always own this guitar, but I''ve had a hankering for something new. You know, to spice things up a bit. When The 5th Avenue arrived, I knew I had found a guitar to spark some creativity and excitement back into my old routine.
First Impression
The optional case that this particular guitar came in caught my eye immediately. It's made out of a high-tech lightweight material called Expanded Polypropylene. It looks like the styrofoamy material that bike helmets are made of. It's heat and cold resistant, fire resistant, and it floats! It's durable and mobile, a nice compromise between the protection of a hardshell, and the weight of a gig bag.
Holding the 5th Avenue I noticed right away how woody this guitar smells. The smell of wild cherry wood just pours out of this guitar -- it smells similar to cedar. I believe the better the wood smells, the better the tone, so I always smell the soundhole of an acoustic guitar that I''m thinking about buying. An old friend of mine has a 1995 Martin HD28 and that thing smelled like a lumber yard; 13 years later, it''s the best sounding Martin I''ve ever played.
Au Naturale
The top, body and sides of the 5th Avenue are made from Canadian Wild Cherry. The body of the 5th Avenue features a molded arched top with classic f-holes, as well as an adjustable rosewood bridge. The model I received had a Natural finish with a contoured, high-gloss headstock. This guitar is built solidly. There are no gaps in any of the pockets and there were no visible flaws in the smooth finish. The old school tuning pegs felt solid and held their tune well. The nut is a Tusq nut by Graphtech - it was dressed nicely with no burs in the grooves, helping tuning stability.
Play Time
Everything was tight with no buzzing of any kind. The action was set perfectly, I was able to play slide and still do some legato runs with no problems. The neck felt comfortable with the flat 16-inch radius, though the light satin finish was not as nice or smooth as raw wood. Still, it didn't get sticky or slow me down when playing for extended periods. The frets were dressed perfectly, with no dead spots or rough textures.
The notes really pop off the top of this guitar. The tone is bright, woody and clear, similar to maple with clear note articulation and nice sustain. Adding a pickup would open up a whole new sonic world, which Godin did with the King Pin model, which features a P-90 in the neck position.
The Final Mojo
The 5th Avenue is an excellent crossover guitar. It''s not just a jazz guitar; this versatile guitar can handle a wide variety of styles, from slide to alt-country and blues. Even bluegrass jam in the living room with your buddy who plays mandolin! Of course this guitar can also excel in a quiet jazz setting. If you''re looking for something different or want to spark some creativity, give the 5th Avenue a shot.
Buy if...
you''re looking for a versatile, well-made instrument that inspires new ideas.
Skip if...
metal or punk is your thing.
Rating...
 
Looking for more great gear for the guitar player in your life (yourself included!)? Check out this year's Holiday Gear Finds!
Outlaw Effects introduces their next generation of NOMAD rechargeable battery-powered pedal boards.
Available in two sizes, NOMAD ISO is a compact, versatile tool that offers the convenience of a fully powered board plus the additional freedom of not having to plug into an outlet. NOMAD ISO is ideal for stages with limited outlet availability, quick changeovers, busking outdoors, temporary rehearsal locations, and more!
NOMAD ISO builds upon the legacy of the ultra-convenient and reliable NOMAD rechargeable pedalboard line originally launched in 2018. The brand new NOMAD ISO editions feature eight isolated outputs (1 x 9V DC, and 1 switchable 9V/12V DC) for even more versatility and clean, quiet power. With an integrated lithium-ion battery pack boasting 12800mAh capacity, NOMAD ISO can fuel a wide array of pedals, and will last over 10 hours* on a single charge.
Each NOMAD ISO pedal board includes adhesive hook & loop pedal-mounting tape, eight (8) standard DC connector cables, and one (1) reverse polarity DC cable, giving you everything you need to build your ultimate "off-the-grid" rig. A rugged, road-ready padded gig bag with shoulder strap is also included, to safely protect your gear while you're on the move.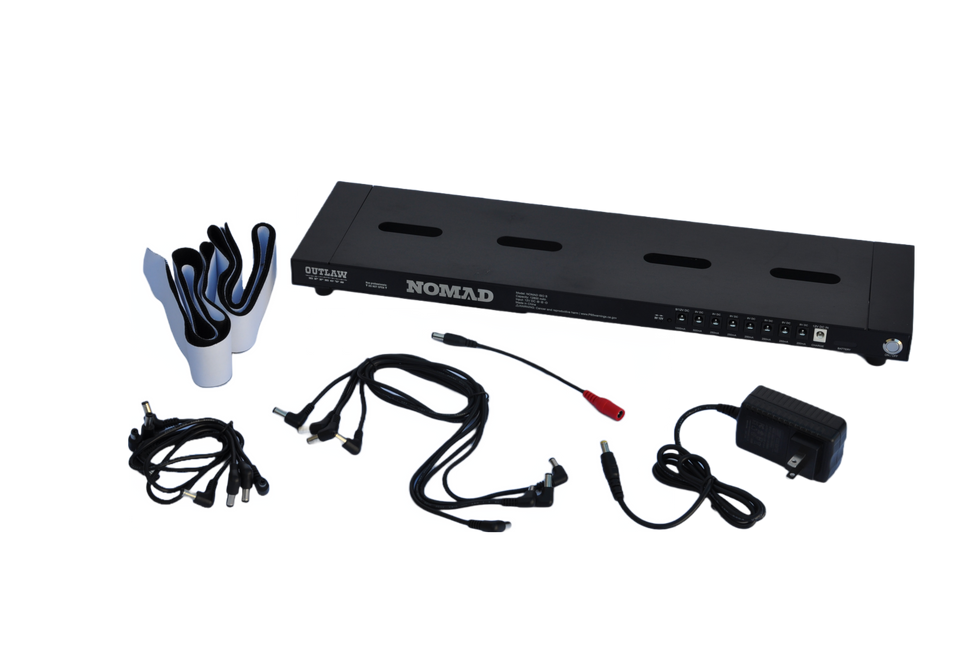 Dunable announce new Minotaur model featuring Grover Rotomatic Keystone tuners.
The Minotaur's DNA is rooted in their classic Moonflower model, which Dunable discontinued in 2017. However, they have long since wanted to create a fresh take on a carved top guitar design, and various attempts to rework the Moonflower led them to a brand new concept with the Minotuar.
Dunable's goal is to give the player a guitar that plays fast and smooth, sounds amazing, and gives maximum physical ergonomic comfort. The Minotaur's soft and meticulous contours, simple and effective control layout, and 25.5" scale length are designed to easily meet this criteria.

Dunable Minotaur!
Features
25.5" scale length
Dual Humbucker
one volume, one tone, push pull for coil splitting
Grover Rotomatic Keystone tuners
Grover Tune O Matic bridge with brass Kluson top-mount tailpiece
jumbo nickel frets
12" fretboard radius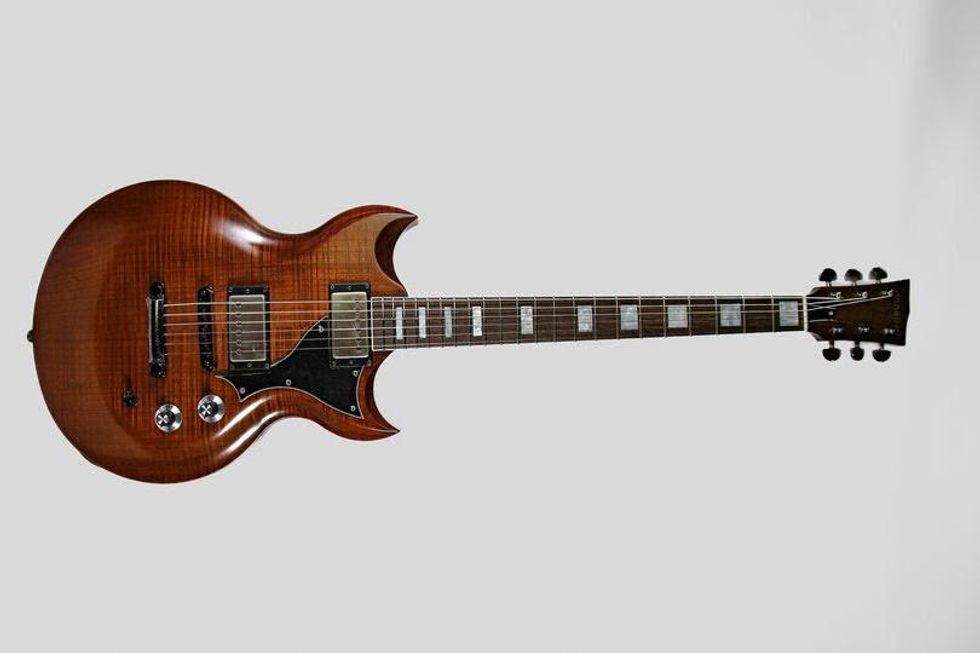 Dunable
This full-amp-stack-in-a-box pedal brings a new flavor to the Guitar Legend Tone Series of pedals, Missing Link Audio's flagship product line.
Adding to the company's line of premium-quality effects pedals, Missing Link Audio has unleashed the new AC/Overdrive pedal. This full-amp-stack-in-a-box pedal – the only Angus & Malcom all-in-one stompbox on the market – brings a new flavor to the Guitar Legend Tone Series of pedals, Missing Link Audio's flagship product line.
The AC/OD layout has three knobs to control Volume, Gain and Tone. That user-friendly format is perfect for quickly getting your ideal tone, and it also offers a ton of versatility. MLA's new AC/OD absolutely nails the Angus tone from the days of "High Voltage" to "Back in Black". You can also easily dial inMalcom with the turn of a knob. The pedal covers a broad range of sonic terrain, from boost to hot overdrive to complete tube-like saturation. The pedal is designed to leave on all the time and is very touch responsive. You can get everything from fat rhythm tones to a perfect lead tone just by using your guitar's volume knob and your right-hand attack.
Features 
Three knobs to control Volume, Gain and Tone
Die-cast aluminum cases for gig-worthy durability
Limited lifetime warranty
True bypass on/off switch
9-volt DC input
Made in the USA
MLA Pedals AC/OD - Music & Demo by A. Barrero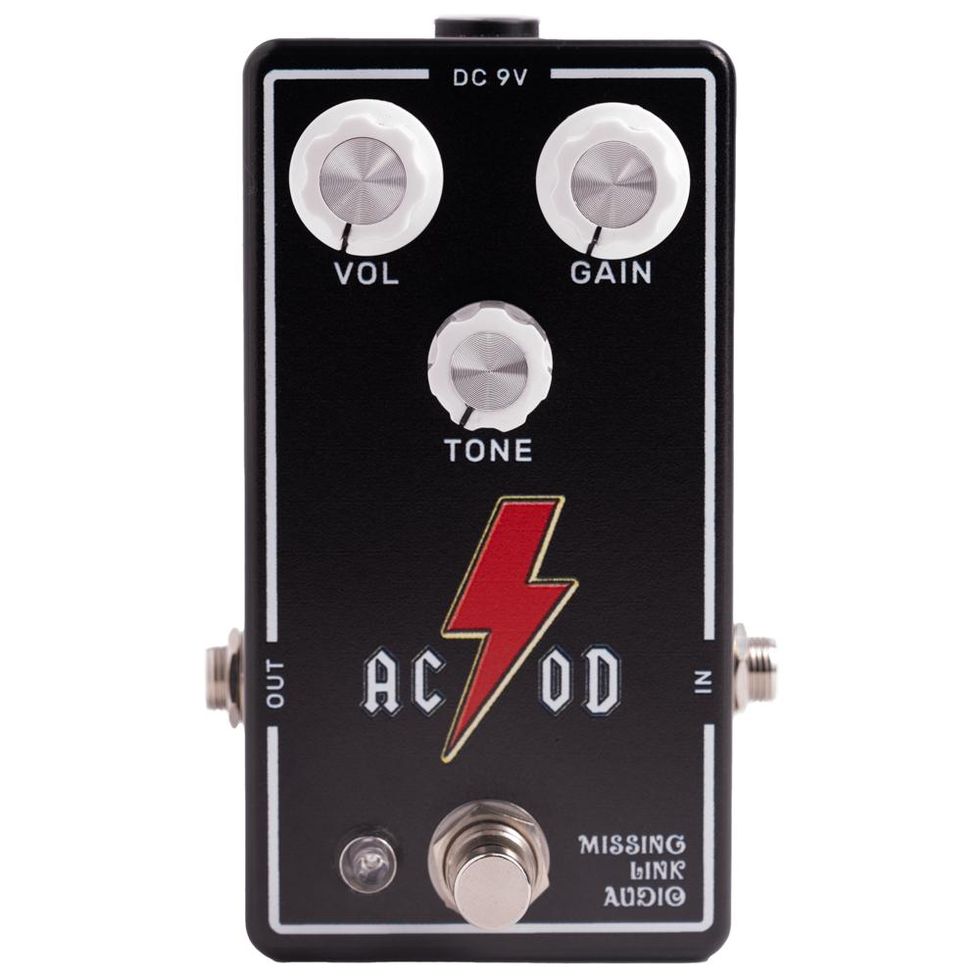 www.mlapedals.com.