Santa Cruz Otis Taylor Signature Review
A small-bodied acoustic with expert craftsmanship and some twists.
Fans of Otis Taylor's music know him as an innovator steeped in tradition; it's dark and beautiful, banjo-driven and full of love. He calls his music "trance blues," and it's deep, powerful and a little wild sounding, yet the tradition of the blues shines out like a star in a dark sky. When Willie Carter of Santa Cruz Guitars approached Taylor about doing a signature guitar, those were the things he brought to the design process, creating a beautiful instrument that reflects the proud traditions of Santa Cruz Guitars as well as the personality of its namesake.
Willie heard Otis play at a NAMM show where he was promoting the new Otis Taylor signature banjo from OME. He introduced himself, and told Otis to call sometime. After a couple of weeks, Otis called and learned that the design for the Otis Taylor model was already in the works. He was ecstatic and deeply honored, having been an ardent fan of Santa Cruz Guitars for many years. He knew that whatever Willie Carter came up with would be exceptional, and he was right. When Otis received the very first Otis Taylor Signature guitar, his reaction, he said, was like being a new parent. "I opened the case and just stared at it—it's the most beautiful guitar I've ever seen." The guitar I got for review belongs to Otis as well; he said the fact that it is out there in the world, traveling to reviewers like the famous globe-trotting gnome, makes him a little nervous, a little impatient and very excited.
Part of the beauty of this instrument is its remarkably clean appearance; there's no excess of ornamentation— it's pure understatement. The elongated upper bout, joining the fretboard at the 13th fret, gives it a classic, vintage elegance, while the lack of frets beyond the 14th allow for a bold graphic statement: the initials OT inlaid in abalone on the treble side. Otis Taylor's father, Otis Taylor Sr., was an artist and signed his paintings with that logo. Otis says that using that signature made the guitar feel even more special, more linked to his family, yet the very modern look is a beautiful complement to the whole instrument.
The top is custom-dyed Italian spruce, and the sides and back are beautifully figured Madagascar rosewood, with whorls in the wood that look remarkably like the storms on Jupiter. The neck is of Honduran mahogany; the fretboard is 1-11/16" at the nut, and 2-3/16" at the 14th fret, with ivoroid binding. The compound radius is more like an electric guitar, it gets flatter as you go higher up the neck, and it works well as I experienced no hand fatigue and heard no buzzing at all. The purfling and rosette exemplify the guitar's simplicity, just a simple bit of black and white striping. The backstrip is another vintage-looking detail, reminiscent of fine marquetry. The tuners have ivoroid buttons which, in concert with the ivoroid binding, contrast beautifully with the ebony bridge, fretboard and headstock overlay.
I had a chance to chat with Otis about this guitar, and the first thing I had to ask was why he wanted the frets to stop at 14. His answer was refreshingly honest and simple: "I never play up there." Indeed, the body shape is such that you could barely reach those frets if your life depended on it, so it allowed for an easy artistic statement. He said that was the only thing he really asked for in the design process. It's not the first time that's been done; some pre-war guitars also featured fretless bodies. It grabs attention immediately, and incorporates beauty where functionality is otherwise irrelevant. I played around a little bit with the fretlessness, and found some interestingly muted and whimsical sounds by tapping over the fretboard with my right hand.
The guitar feels incredibly sturdy and stable, like it could be a gorgeous workhorse. There's no delicacy or fragility about this guitar. It's tough and it's going to hold up to whatever you can throw at it. I particularly liked the ratio of width to depth and found it utterly comfortable to hold. The body is slightly deeper than most OM-style guitars, 3-7/8" at the neck and 4-7/8" at the end block; combine that with the elongated upper bout, you have a recipe for serious volume.
The case that the guitar arrived in is also noteworthy. A deluxe case from Santa Cruz, the covering feels like real leather, and the hardware is exceptional, as is the seriously cushy, secure and form-fitting lining. The clasps are extra wide and very secure, and the handle is plush and easy to hold. It feels lighter than most guitar cases I've lugged around for most of my life, which is a definite plus.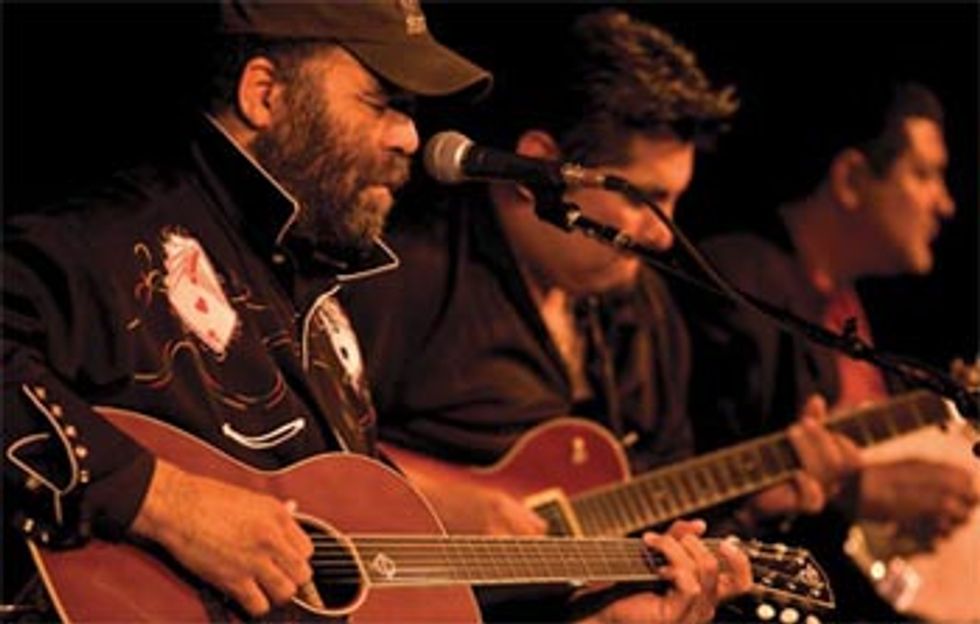 So, you might well be saying at this point, "So it's gorgeous, but how does it sound?" The tone lives up to its looks and beyond. It's rich and warm, bright enough to give you the details but smooth enough to sing a baby to sleep. The guitar started singing as soon as I started to talk— that's highly responsive. Rarely have I picked up a guitar that "wanted" so badly to be played.
I started in standard tuning with a little fingerstyle blues; there's snap and punch to burn. Easy to bend, responsive vibrato, nice balance of bass and treble strings. With a flatpick there's enough clarity and volume to satisfy the hardest core bluegrass picker, and though it doesn't pump bass like a Martin D-28, it's not supposed to. The action is great, there's no trouble playing fast or doing ornaments, and it is a killer rhythm guitar. I would love to hear this guitar behind a great Irish fiddle player or piper—it'd be pure magic.
Many guitars, especially the small-bodied ones, lose a lot of punch when they're capo'd at the 5th fret or beyond; this one holds its own, remaining warm and balanced, with only the slightest discernable drop in volume. The balance remains true, with plenty of bass response, especially in DADGAD and other drop-tunings.
Drop tunings are, in fact, fantastic. I dropped it into C tuning and it held tension effortlessly and stayed in perfect tune, never mushing or buzzing once. Here's where that incredible balance becomes even more important and impressive: You never lose any definition, and you can always hear exactly what you're playing, no matter if you're playing fingerstyle or flatpicking, and no matter where you choose to tune it. It finally started to get mushy at B on the 6th string, but that's a monumental achievement.
In the recording studio, I chose one of my favorite guitar mics, an SE3, into an Aphex 230 set flat with compression, through an RME Fireface to my PC with Samplitude Pro Version 8. I used the small SE Reflexion filter to mask any reflections from the room. There are no fixes or effects on the recordings we've posted online, just the tracks as they were recorded.
This guitar records beautifully, nothing gets nasal or muddy and the fantastic live sound reproduces very faithfully. You can hear how long the thing rings, too! Particularly in the drop C sample, the harmonic richness at the end is stunning. It almost has 12-string characteristics in the overtones you can hear. But it holds its own in standard, in DADGAD and with a capo at the 5th fret, too.
Otis ventured into the studio with the first Otis Taylor model and recorded a new CD, Pentatonic Wars and Love Songs, that will be released in June 2009. He used the guitar on 11 of 12 cuts, and he says that the guitar has changed his writing just a little bit; instead of the customary darkness there's more beauty and light. I can completely understand how this guitar could influence someone's songwriting that way. Once again it's a melding of opposites—it's dark yet hopeful, and slightly anthemic. I'd expect nothing less from a guitar like this.

Buy if...
you crave a small-bodied guitar with a great big voice, versatile and endlessly capable.
Skip if...
you want more than 14 frets.
Rating...


Our expert has stated their case, now we want to hear yours. Share your comments and ratings below.