SPG Guitars Vintage TL Chambered Guitar
SPG mixes traditional looks with cutting edge electronics.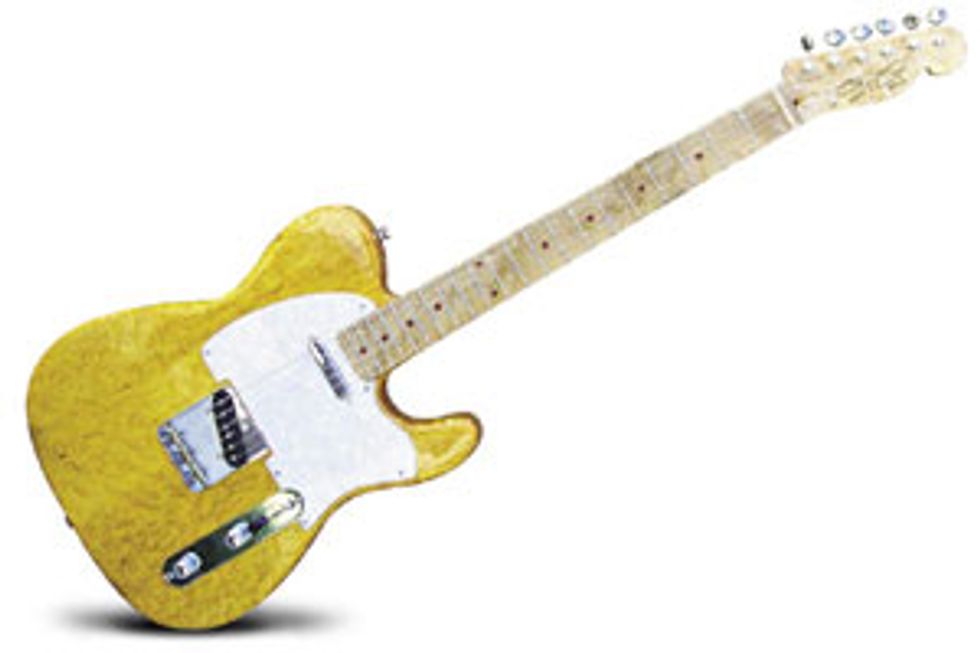 Tucked in the tranquility of Hanson, MA, resides the SPG Guitars custom shop. They've quickly earned a reputation for developing balanced instruments combining vintage-based design with modern electronic upgrades. This month, we had the chance to test out SPG's Vintage TL chambered model.
The Courtship
First impressions tend to be lasting impressions, so I usually trust my initial instincts. A first glance at the SPG Vintage TL reveals a heavy custom shop vibe. This guitar features a Tele-styled body sporting an impressive, highly figured Maine Birdseye top and Birdseye slab neck with a violin style finish. The neck has a 9" radius, and comes complete with walnut markers. The string-thru body features a 3/8" bookmatched top over an aged Maine poplar chambered body stained to a see-thru butterscotch nitrocellulose lacquer finish. A Birdseye top is not something you see every day, as this hard maple tends to be used more in necks; however this top is rich in figuring and creates somewhat of a unique one-off vibe. The pearloid pickguard is a real aesthetic plus, working well with the guitar's top.
Electronically, the TL is packed with features, including a Glendale vintage compensated bridge, Amalfitano custom wound vintage Tele TM pickups, an RS Guitarworks super volume pot, a ToneStyler tone control and a standard 3-way switch (more about all of this later). Wilkinson Vintage Klusonstyle tuners are a nice touch, and add to the vibe of the guitar. The neck features vintage nickel-style fret wire and is topped off with a real bone nut. The TL is an aesthetically pleasing instrument that screams custom shop, all while exuding a vintage spirit.
First Date
After all the looking, it was time to get in the game. For testing purposes I used a '80s Marshall JCM 800 2205 50-watt half-stack, as well as a POD direct into a Mackie 1604 mixer. I plugged into the JCM 800 first, because I have always felt that Tele's higher gain tones are sorely underrated. Using the JCM 800's overdrive channel, I set the Gain to six, Mids and Treble on five, Bass on eight and Volume on about three – what would classify as a solid crunch setting. With the TL set in the bridge position, the tone is an aural bomb; incredibly tight and focused. The low-end was very precise with ample woof factor. The mids and highs seemed warmer than typical for Tele-styled guitars. As I added gain, the TL really started to roar. Low-end and mids cut through without sacrificing the high-end sparkle that Teles are known for. I did fight some feedback at higher gain settings, however most Teles get a little sassy under the same conditions.
In the neck position the tone was bluesy, ballsy, and noticably tighter than I was expecting. Switching to the clean channel of the JCM 800 to explore more traditional Tele tones, I found the TL just as capable of providing clean Tele sparkle as it was delivering the dirt. The traditional "twang thang" was there, but with a little less bite and a little more growl. Overall, both the clean and higher gain tones seemed unrestricted, open and airy.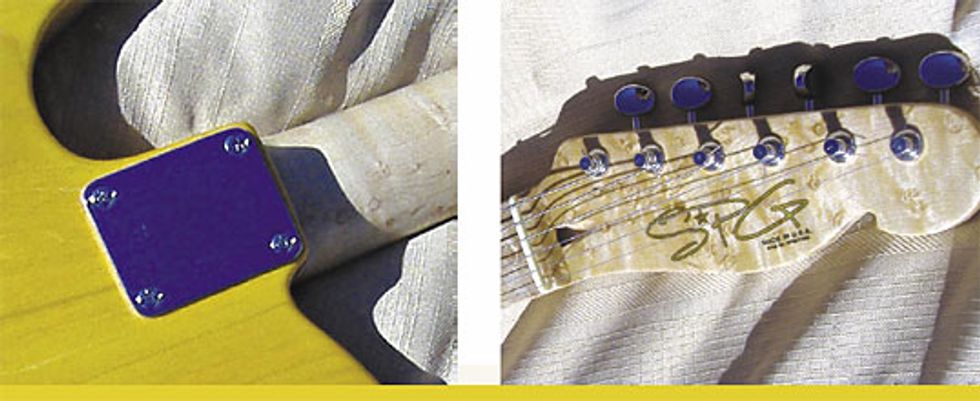 First Kiss
The TL's playability was excellent. The figured Birdseye maple neck was fast and spanky, just as expected. The string height was extremely comfortable and the action was set just how I like it: not too high, and not too low. I tend to have a heavy touch so extremely low action can be problematic – even so, the TL feels very comfortable. Along with the great setup out of the box, this guitar's intonation was spot on.
The TL's electronic upgrades are definitely worth exploring in more detail. First off, the TL is loaded with Amalfitano handwound pickups – the "TP" set is specifically designed for Teles and offers hotter output, as well as more warmth in the bridge position. These pickups tend to reduce, if not eliminate, much of the ear-piercing treble inherent with most Tele bridge pickups.
The TL also features an RS Guitarworks Super Volume Pot, as well as a ToneStyler tone control by Stellartone. Both components are designed to further expand the frequency response found in traditional electronics. The RS Super Pot is built to CTS tolerance ratios and ups the standard 250K target resistance to 280K, imparting not only extended frequency response but also providing a boost in gain. Additionally, the Super Pot provides an extremely consistent audio volume taper from 10 to 1, which I find to be a very welcome improvement from traditional volume pots.
The Stellartone ToneStyler provides much of the same flexibility for the tone control. The 14-position rotary tone control allows not one but 14 selectable roll-off points, making it possible to adjust the frequency of the roll-off point. You determine how much midrange and treble frequencies to retain and where to back it off. This control is a powerful tool for retaining tonal clarity by reducing pickup loading while boosting output.
Marriage? The Final Mojo
At the end of the day tone is really as personal as individual playing styles. I personally found the SPG TL a highly enjoyable date, possibly even marriage material. By combining superior Birdseye maple and exotic woods with cutting edge electronics, this guitar is a great crossover, retaining a traditional look and vintage feel with electronics that provide more contemporary tones. I found the playability of the TL above average, with solid intonation, smooth action, and nicely dressed frets. With a retail price of $1895 – complete with a vintage tweed case – this is a reasonably priced instrument, especially when considering the custom shop quality it exudes. Overall, the TL is a keeper; you might even consider walking down the aisle with this catch!
Rating...
Tone...
 
Craftsmanship...
 
Features...
 
Value...
 
Overall...
 
---
SPG Guitars
MSRP $1895
spgguitars.com
Our expert has stated his case, now we want to hear yours. Log on to premierguitar. com, click on "Forum" and share your comments and ratings.