This take on the lesser-known but brawny-sounding Tone Bender Mk III inhabits a pretty unique expanse in the fuzz universe.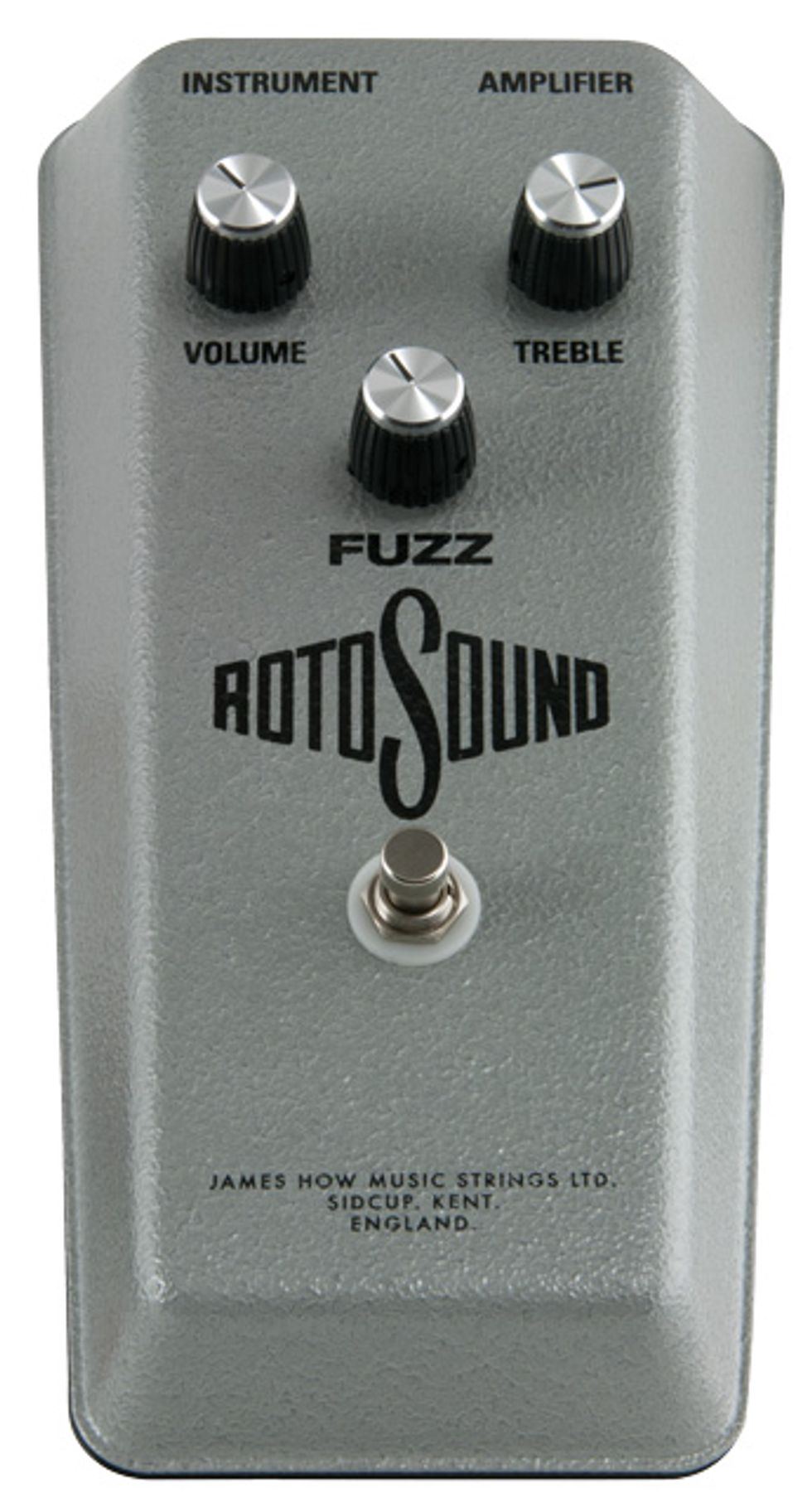 Few names have more renown for fuzz fiends than the Tone Bender. But getting to the essence of what a Tone Bender really is is a labyrinth that can claim the sanity of even seasoned fuzzologists. Different versions abound, rebranded specimens and copies lurk at every turn, and even within specific types, differing components can make individual units sound worlds apart.
That said, some basic guidelines serve stomp archeologists well when it comes to Tone Benders. For most, the guidelines that serve best are the five generations known as Mk I, 1.5, II, III and IV, but these classifications do little to establish which is the definitive Tone Bender. In fact, the multitude of variations underscores the fact that there's a Tone Bender for just about every player. Which leads us to the subject of this review—a boss-looking unit from Rotosound. The U.K.-built Rotosound Fuzz is clearly intended to make vintage-fuzz collectors twitch, and this take on the lesser-known but brawny-sounding Tone Bender Mk III inhabits a pretty unique expanse in the fuzz universe.
Her Majesty's Battleship Fuzz
Rotosound is best known as the string company that made Swinging London rumble. And when John Entwistle became an informal endorser in the mid '60s (The Who Sell Out had a faux Rotosound radio advert), the brand became the string of choice for English bassists. To expand brand reach and capitalize on the newfound cachet, Rotosound started dabbling in fuzz boxes, too.
The first was a version of Gary Hurst's Sola Sound Tone Bender Mk II, and it didn't sell especially well. Nor did the company's second fuzz—a rebranded version of the Tone Bender Mk III that's the model for our review pedal. In fact, both pedals might have faded into total obscurity were it not for a brief period in 1969 when Jimmy Page used the second-generation Rotosound fuzz (including for the performance on the French television program Tous en Scene shown on the 2003 DVD Led Zeppelin DVD).
If you're a stickler for pedalboard space conservation, you can stop reading this review right now: In authentic '60s style, the Fuzz is a beast—the size of wah, with a tapering profile like a less corpulent Vox or Sola Sound Mk II Tone bender or the Colorsound Mk III Tone Bender. Players who are less space conscious will likely think the Rotosound's battleship/tackle-box gray hammerite finish is a thing of beauty. And there are practical benefits to its size. For one, when you're stomping on it, you probably won't miss it (though the lack of an LED arguably offsets this advantage). But the real plus is that there's a lot of room to manipulate the volume, treble, and fuzz knobs with your feet, which is critical to making the most of the pedal's sonic potential.
… the Fuzz is articulate, warm, and violin-like—like a more white-hot version of Clapton's Cream-era woman tone.
Big, Bad, Boss Tones
The Rotosound is, in general, about as subtle as a revved-up GTO burning rubber through an intersection. With all three controls cranked and a Les Paul and a blackface Fender Tremolux at either end of the line, the Rotosound generates girthy, buzzing garage-psych fuzz on lower strings and biting higher notes that trade buzz for a spittier, more fractured rasp. A little less tone from the Rotosound goes a long way toward smoothing things out though, and a little less treble input from the Gibson massaged things even further.
The biggest payoff with the humbuckers comes when you use the neck pickup and roll back the guitar and Rotosound tone about two-thirds of the way. Here, the Fuzz is articulate, warm, and violin-like—like a more white-hot version of Clapton's Cream-era woman tone. Working the Rotosound's volume with your foot at these settings—particularly in conjunction with lazy, pitch-down bends—yields a subtle , almost phase-y swoosh that sounds amazing for leads up past the 3rd fret. Below there, things can get muddy fast. In most cases, though, retaining definition is simply a matter of rolling back your guitar's volume and increasing the Rotosound's tone a notch.
In general, single-coils fare better in terms of definition and control—particularly when it comes to chords. A Rickenbacker 330 generated the richest, most pleasingly growling first-position and power chords when all three Rotosound controls were cranked—a combination that will thrill freakbeat fans. Stratocasters sounded nearly as good with chords, coaxing defined and buzzing lead tones, though they tended to sound slightly more anemic and less capable of generating sustain.
Ratings
Pros: Authentic vintage-germanium fuzz tones. Beautifully built. Searing lead tones and rich, growling power-chord potency.
Cons: Could be more responsive to guitar-volume adjustments. Expensive.
Tones:


Ease of Use:


Build/Design:


Value:


Street: $299
rotosound.com
If there's a drawback to the Rotosound, it's that it isn't as responsive to changes in guitar-input volume as a Tone Bender Mk I or II. This could be attributable to the presence of the treble control, so it's a good thing that it's as rangy, versatile, and easy to manipulate as it is. The Rotosound isn't a high-gain fuzz, and like a lot of vintage and vintage-style germanium fuzzes, it works best with the volume dimed. And if you drop the treble control too much, you can lose the fuzz in a busy mix.
The Verdict
The Rotosound Fuzz isn't perfect for every rig—few '60s fuzzes were. But that's easy to forget in an age when Tone Bender, Fuzz Face, and Big Muff-style circuits are being refined with more gain and midrange control. It's also not the most versatile fuzz—even by Tone Bender standards. But when the Rotosound is dialed in and paired with the right rig (humbuckers and 12" speakers are a nice fit), it will growl, snarl, and sing with a feral, late-'60s/early-'70s fuzz attitude.
Because of its size, I used the Fuzz in very streamlined rigs. But in doing so I was reminded of the thrilling variety of tones available through crafty use of your guitar's controls, picking dynamics, and a toe on any of the Rotosound's responsive knobs. Team this pedal up with a good analog delay and a wah, and you have just about every tone a '60s- or '70s-geared rocker could ever need.
Watch our video review:
Mojo Hand FX announces the Rook Royale, and expanded version of their Rook overdrive pedal.
Shreveport, LA (March 13, 2013) -- MojoHand FX recently announced an enhanced version of their Rook overdrive entitled the Rook Royale. Here are the details:
Since it's release back in 2011, the Rook Overdrive has been hailed as the "New Standard of Boutique Overdrives" and has been seen on the pedal boards (and heard on albums) of numerous top shelf players including: Brad Whitford (Aerosmith), Ty Tabor (King's X), Andy Timmons, Mark Tremonti and Myles Kennedy (Alter Bridge), Mato Nanji (Indigenous), Marlon Young (Kid Rock), Mike Zito (Royal Southern Brotherhood), Pepper Keenan (Down), Cody Canada and Seth James (Cross Canadian Ragweed, The Departed), Shaun Tomczak (Sidewalk Prophets), Andy Davis (The Band Perry), Jon Steingard (Hawk Nelson), Lance Lopez, Joanne Shaw Taylor, Jimi Hazel (24-7 Spyz), Ryan McGarvey, Wes Jeans and many others.

With it's tone stack driven EQ section and 3 way voicing switch, the Rook's versatility has verged on uncharted territory for a small, simple 4 knob OD. It was this combination of versatility, sound/build quality and affordability that led to the Rook being named "Pedal of the Year" by What's That Dude Play.

Now........the standard is getting an upgrade.

Allow us to introduce you to the ROOK ROYALE Dual OD/Preamp. Two channels: Blue and Red with a universal order switch that allows you to switch the order of the channels. The RED Channel is a standard Rook OD (4 knobs w/3 way toggle). The BLUE channel is a modified Echoplex preamp circuit with controls for BOOST and TREBLE. The BOOST control is self explanatory, however...the TREBLE control's unique use is that it only allows you to control the top end while leaving the circuits low end presence and fabled "thickness" intact. Each channel is 100% independent, giving you essentially two pedals in one enclosure. They can be used either individually or in conjunction with each other and with just a flick of the universal order switch, you have a near endless list of colors and shades that can retain and enhance your current set up (and that's not even factoring in stacking with other pedals).

If you're one of those players on that never ending quest for drive...we just blew the door wide open.

Scheduled release date: March 29, 2013
Street price: $229.95
For more information:
Mojo Hand FX
The new Sonuus Wahoo pedal captures the spirit of simple synthesis, the vocal responsiveness of a great wah, and both classic and unusual modulation effects in a single robust design.
Up until recently, U.K.-based Sonuus had been primarily known for its work with guitar-to-MIDI converters. But for all the company's focus on software and interfaces, the new analog—yes analog—Wahoo pedal proves it's not quite ready to commit whole-hog to an all-digital future. This dual-filter wah for guitar and bass captures the squawky goodness of vintage-voiced wahs, harnesses the musical potential of LFO and envelope filters, serves up pitch-detect functions, and delivers cool twists on familiar modulation effects. But it also takes advantage of Sonuus' copious expertise in the digital domain by marrying an analog signal path with digital controls that yield an impressive range of fat-toned effects—up to 100 of which can be stored as presets.
Spaced-Out Box
The first thing most people will notice about the Wahoo is its not-at-all retro design (as well as the two convenient roll bars protecting the knobs from errant sneakers). At about the same size as a DigiTech Whammy, it's not a small pedal. But for all the sonic resources it puts at your disposal, many will be happy to ditch a dated or underutilized box (or two) to squeeze it on their board.
The top third of the Wahoo's control panel has an LED readout that registers preset numbers, buttons for scrolling through the presets, and a level knob. Pressing and turning the latter selects the level of preamp gain, the proportion of signal from the two filters, the dry/wet signal, and the output signal. You can also set presets from this section. The middle third controls filter characteristics. You can switch between filters to shape them individually, control the Q (resonance) at high and low frequency extremes, control cutoff frequency in the high and low ranges, shape the filter curve, and select between low-pass and band-pass filters. The lower third is home to the mode selector, which selects LFO, envelope filter, pitch shift, or customized modes.
Envelope mode is essentially an auto-wah, and pitch mode can track notes so the filter cutoff follows the note, or it can track when you bend a note to give a unique auto-wah effect. With patience, vision, and a little time, you can shape these effects in very unique ways. And if you're into precise signal arrangement, you can use the USB port to plug the Wahoo into your computer and tweak the mode templates with software available on Sonuus.com.
One notable aspect of the Wahoo's hardware is the presence of a patent-pending position sensor (which the company says will never wear out) instead of a potentiometer to control the wah and filters. If you're a wah addict, you probably know the hassle of greasing up or changing mechanical pots well, so it's an intriguing evolution, and it works well on the Wahoo. Sonuus also made improvements to the true-bypass circuit, enhancing transparency and eliminating mechanical pops and cracks during engagement.
Wave After Wave
The Wahoo's preprogrammed presets alone are more wide-ranging than could possibly be covered in this review, but the pedal reveals a galaxy of possibilities the more you explore—whether you're looking for familiar sounds or more far-out textures. Using a Fender Stratocaster and silverface Fender Bassman, I set up the Sonuus Wahoo side-by-side with a Crybaby Classic. The first preset on the Wahoo is dialed in to simulate the latter, and moving the rocker to the toe-down position activates the pedal with clickless engagement. To my ears, the Sonuus seemed the more precise and sensitive of the two units, with a broader range of sweep and brighter tone. The sensor technology is surgically accurate and actually feels touchy if you're used to the clunky dynamic of a standard wah.
Ratings
Pros:
Wide range of high-quality wah, filter, and modulation effects. Easy to use and save presets. Top-notch build quality.
Cons:
Deeper wave-tweaking functions have a bit of a learning curve.
Tones:


Playability/Ease of Use:


Build/Design:


Value:


Street:
$349
Company
sonuus.com

Other notable presets include F91, a phaser with variable speed you control with the treadle. It doesn't yield an intense, strobe-like/UFO-engine-room pulse, but it's still very sci-fi sounding. And altering the speed does allow for some unique twists on the phaser effect. Initially, I felt the top end could use more color, so I engaged the filter knob and increased the hi-Q to give the phase a whistle effect when the wave reached its peak. The result was an intergalactic police-siren effect.
Preset F61 is an LFO that uses a saw-up wave with a backbeat and a rate you control via the foot pedal. While the sound never gets too mushy, you can turn the effect level down with the wet/dry control. My Les Paul gave this preset a bit more linear continuity—and therefore better tracking—than I got from single-coils, and with the rocker set about midway, I sat back and ran a few funk-laden riffs using the backbeat as a drum machine. It's a cool effect, although if you start missing notes or aren't striking them evenly, the tracking gets a little off and loosens up the beat—but it can be a fun tool for improving your timing, too.
Smaller amps—even solid-state practice amps—still sound very rich, but you'll want to watch your gain settings to make sure you don't lose clarity if your amp has less headroom or a lot of inherent compression. Also, because of the wide frequency range of some presets, extreme signal shifting can distort the output or yield shrill sounds at certain wave peaks. You'll still get some of this distortion if you're using a tube amp, but a 10" or larger speaker and an amp with a little headroom is definitely preferable for exploring these more radical effects.
The Verdict
The Sonuus Wahoo captures the spirit of simple synthesis, the vocal responsiveness of a great wah, and both classic and unusual modulation effects in a single robust design. What's more, it's extremely functional and easy to navigate, considering its depth. The $349 price tag is steep, but this is not a stompbox of ordinary capabilities either. And given the quality of both the sounds and construction, it's an investment that may well pay itself back and then some.