Rotosound Fuzz Pedal Review
This take on the lesser-known but brawny-sounding Tone Bender Mk III inhabits a pretty unique expanse in the fuzz universe.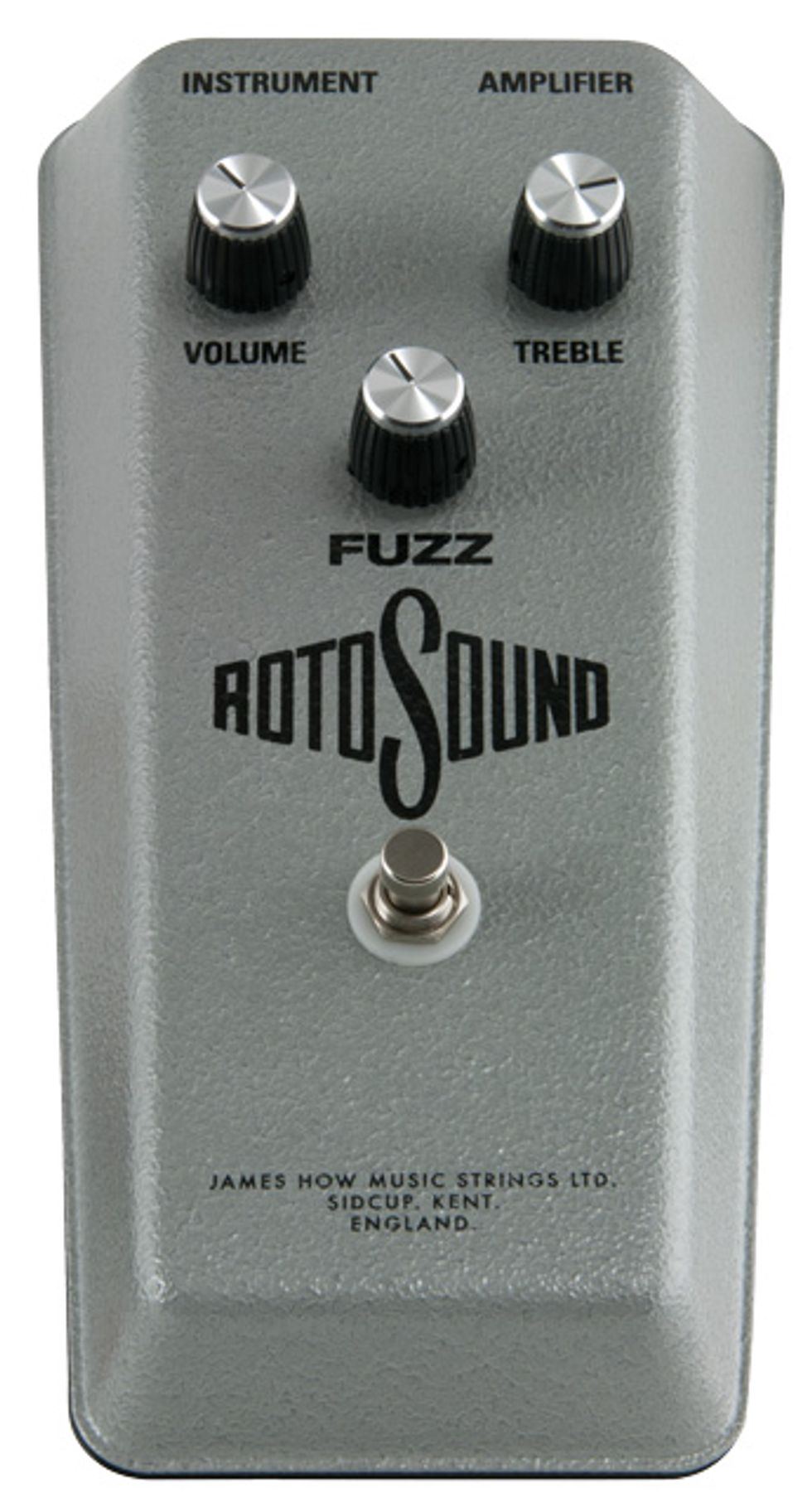 Few names have more renown for fuzz fiends than the Tone Bender. But getting to the essence of what a Tone Bender really is is a labyrinth that can claim the sanity of even seasoned fuzzologists. Different versions abound, rebranded specimens and copies lurk at every turn, and even within specific types, differing components can make individual units sound worlds apart.
That said, some basic guidelines serve stomp archeologists well when it comes to Tone Benders. For most, the guidelines that serve best are the five generations known as Mk I, 1.5, II, III and IV, but these classifications do little to establish which is the definitive Tone Bender. In fact, the multitude of variations underscores the fact that there's a Tone Bender for just about every player. Which leads us to the subject of this review—a boss-looking unit from Rotosound. The U.K.-built Rotosound Fuzz is clearly intended to make vintage-fuzz collectors twitch, and this take on the lesser-known but brawny-sounding Tone Bender Mk III inhabits a pretty unique expanse in the fuzz universe.
Her Majesty's Battleship Fuzz
Rotosound is best known as the string company that made Swinging London rumble. And when John Entwistle became an informal endorser in the mid '60s (The Who Sell Out had a faux Rotosound radio advert), the brand became the string of choice for English bassists. To expand brand reach and capitalize on the newfound cachet, Rotosound started dabbling in fuzz boxes, too.
The first was a version of Gary Hurst's Sola Sound Tone Bender Mk II, and it didn't sell especially well. Nor did the company's second fuzz—a rebranded version of the Tone Bender Mk III that's the model for our review pedal. In fact, both pedals might have faded into total obscurity were it not for a brief period in 1969 when Jimmy Page used the second-generation Rotosound fuzz (including for the performance on the French television program Tous en Scene shown on the 2003 DVD Led Zeppelin DVD).
If you're a stickler for pedalboard space conservation, you can stop reading this review right now: In authentic '60s style, the Fuzz is a beast—the size of wah, with a tapering profile like a less corpulent Vox or Sola Sound Mk II Tone bender or the Colorsound Mk III Tone Bender. Players who are less space conscious will likely think the Rotosound's battleship/tackle-box gray hammerite finish is a thing of beauty. And there are practical benefits to its size. For one, when you're stomping on it, you probably won't miss it (though the lack of an LED arguably offsets this advantage). But the real plus is that there's a lot of room to manipulate the volume, treble, and fuzz knobs with your feet, which is critical to making the most of the pedal's sonic potential.
… the Fuzz is articulate, warm, and violin-like—like a more white-hot version of Clapton's Cream-era woman tone.
Big, Bad, Boss Tones
The Rotosound is, in general, about as subtle as a revved-up GTO burning rubber through an intersection. With all three controls cranked and a Les Paul and a blackface Fender Tremolux at either end of the line, the Rotosound generates girthy, buzzing garage-psych fuzz on lower strings and biting higher notes that trade buzz for a spittier, more fractured rasp. A little less tone from the Rotosound goes a long way toward smoothing things out though, and a little less treble input from the Gibson massaged things even further.
The biggest payoff with the humbuckers comes when you use the neck pickup and roll back the guitar and Rotosound tone about two-thirds of the way. Here, the Fuzz is articulate, warm, and violin-like—like a more white-hot version of Clapton's Cream-era woman tone. Working the Rotosound's volume with your foot at these settings—particularly in conjunction with lazy, pitch-down bends—yields a subtle , almost phase-y swoosh that sounds amazing for leads up past the 3rd fret. Below there, things can get muddy fast. In most cases, though, retaining definition is simply a matter of rolling back your guitar's volume and increasing the Rotosound's tone a notch.
In general, single-coils fare better in terms of definition and control—particularly when it comes to chords. A Rickenbacker 330 generated the richest, most pleasingly growling first-position and power chords when all three Rotosound controls were cranked—a combination that will thrill freakbeat fans. Stratocasters sounded nearly as good with chords, coaxing defined and buzzing lead tones, though they tended to sound slightly more anemic and less capable of generating sustain.
Ratings
Pros: Authentic vintage-germanium fuzz tones. Beautifully built. Searing lead tones and rich, growling power-chord potency.
Cons: Could be more responsive to guitar-volume adjustments. Expensive.
Tones:


Ease of Use:


Build/Design:


Value:


Street: $299
rotosound.com
If there's a drawback to the Rotosound, it's that it isn't as responsive to changes in guitar-input volume as a Tone Bender Mk I or II. This could be attributable to the presence of the treble control, so it's a good thing that it's as rangy, versatile, and easy to manipulate as it is. The Rotosound isn't a high-gain fuzz, and like a lot of vintage and vintage-style germanium fuzzes, it works best with the volume dimed. And if you drop the treble control too much, you can lose the fuzz in a busy mix.
The Verdict
The Rotosound Fuzz isn't perfect for every rig—few '60s fuzzes were. But that's easy to forget in an age when Tone Bender, Fuzz Face, and Big Muff-style circuits are being refined with more gain and midrange control. It's also not the most versatile fuzz—even by Tone Bender standards. But when the Rotosound is dialed in and paired with the right rig (humbuckers and 12" speakers are a nice fit), it will growl, snarl, and sing with a feral, late-'60s/early-'70s fuzz attitude.
Because of its size, I used the Fuzz in very streamlined rigs. But in doing so I was reminded of the thrilling variety of tones available through crafty use of your guitar's controls, picking dynamics, and a toe on any of the Rotosound's responsive knobs. Team this pedal up with a good analog delay and a wah, and you have just about every tone a '60s- or '70s-geared rocker could ever need.
Watch our video review: