Photo by Fabrice Bourgelle
On Loggerhead, Miles Romans-Hopcraft chops and dices his own improv jam sessions—sampling his personal archives to create a new synthesis of hip-hop, jazz, grunge rock and more, all wrapped in a punk ethos.
South London artist Miles Romans-Hopcraft works under the moniker Wu-Lu. His pseudonym is a play on the Amharic word for water, wuha, but modified to avoid confusion with the Busta Rhymes track, "Woo-Hah!! Got You All in Check." It's a fitting handle, too, in that, like water, it's indicative of Wu-Lu's form-fitting, genre-fluid adaptability.
Romans-Hopcraft lives at the intersection of hip-hop, free improv, and grunge—imagine a Frankensteinian mashup of DJ Shadow and Slipknot, but looser—and crafts songs built from the lo-fi samples he rips from his extensive personal archive of tapes, mostly of open-ended jam sessions, that he then uploads to an Akai MPC sampler and drum machine.
South London—the triangle of Brixton, New Cross, and Lewisham, which sits south of the touristy city center along the River Thames—looms large in Romans-Hopcraft's world. Owing, in part, its musical pedigree to the Trinity Laban Conservatoire of Music and Dance located a stone's throw from the New Cross Gate tube station, the neighborhood is the epicenter of the city's vibrant and bustling new music scene. It's also Romans-Hopcraft's home turf.
Wu-Lu - South (Official Video) ft. Lex Amor
"It just happened that everyone happened to be in Lewisham somehow," he says, marveling at the near miracle of growing up in the right place at the right time. "I went to the studio, and I saw Nubya Garcia [critically acclaimed saxophonist and bandleader], Joe Armon-Jones [keyboardist for Ezra Collective, Nubya Garcia], and Oscar Jerome [solo artist] up there, and I was like, 'What are you lot doing up here? My grandma lives here, and my auntie lives around the corner. That's why I'm here.' Lewisham is a far part of South London to be in, but people are here because it's cheap to live. Before my generation came through, there was a whole instrumental scene in South London with bands like United Vibrations, Polar Bear, and Acoustic Ladyland. A lot of people outside of South London started taking notice of what was going on and a lot of it gets coined as the 'South London Jazz Scene,' but the way I see it, it's just instrumental music: people using their talent to be able to improvise in a feeling that they have."
Romans-Hopcraft's rich musical background is more than a matter of just living in the right neighborhood. His father is trumpeter Robin Hopcraft (most recently a member of Soothsayers, but with an extensive history playing Afrobeat, reggae, and jazz), and he's also got an identical twin brother, Ben, who's an accomplished artist as well (formerly Childhood, and now Insecure Men, Warmduscher, and something in the works under Sean Lennon's direction). Plus, he's closely associated with a coterie of artists like songwriter and guitarist Lianne La Havas, saxophonist Garcia, Black Midi drummer Morgan Simpson, and many others.
"A lot of people outside of South London started taking notice of what was going on and a lot of it gets coined as the 'South London Jazz Scene,' but the way I see it, it's just instrumental music: people using their talent to be able to improvise in a feeling that they have."
LOGGERHEAD, Romans-Hopcraft's full-length debut, is an amalgamation of his experiences and aesthetic. "South," the album's lead single, is a slow crescendo that layers an acoustic guitar, raw hip-hop groove, and dub-style vocals before finally exploding at the chorus with a bloodcurdling scream (and featuring an outro rap from Lex Amor). "Times," featuring Simpson, could, at points—both texturally and, maybe, because the Big Muff features so prominent—be at home on a Dinosaur Jr. record, if not for the tight, groove-centric drumming. And the eerie and melodic "Broken Homes" is a nuanced showcase for Wu-Lu's songcraft, although, again, buried under layers of feedback and noise.
The whole album is like that. Intense, overwhelming, and constructed from scratch through an arduous process of scrolling through files and tapes, finding bits—be those inspired jams or someone dropping a cymbal—and then, slowly, honing those into complete, evocative, emotional masterworks.
"It might not even be part of a song," Romans-Hopcraft elaborates about his crate-digging approach to samples. "It might be a drum break, or it might be something that was recorded on the wrong mic. It might be that I was playing guitar, ran into the control room, fiddled around, and when I listened to it later, discovered that when I put down my guitar, I was touching the guitar mic—and that would then become a whole inspiration for a completely different song. I can probably still go back into all those jams and pick out different stuff and make different music from that."
Wu-Lu's debut album isintense, overwhelming, and constructed from scratch through an arduous process of scrolling through files and tapes, finding bits—be those inspired jams or someone dropping a cymbal—and then, slowly, honing those into complete, evocative, emotional masterworks.
For example, the aforementioned "Times" started out as a birthday jam session with Simpson. "We were playing some beats—I was playing along with him—and someone in another room was filming us on their phone and sent me the video," he says. "I heard this little 'weee-weee' sound and I was like, 'That would be a sick idea.' Morgan was playing something similar to what that was. I listened to that video intently. I programmed a drum beat on my MPC that I thought would work, built up a whole track, and eventually decided to re-record it [with Morgan]. On that tune I played all the guitars, the bass, all the synthesizers, and everything apart from the drums. But I programmed that beat beforehand. I told Morgan, 'This is what I want you to play, but obviously add your feel to it.'"
Sampling your personal archives has other benefits as well. "Like avoiding royalties," Romans-Hopcraft says, maybe slightly tongue-in-cheek … but only slightly. "I once asked about using a sample for something on a mixtape and they quoted some crazy, crazy price. I was like, 'No more of this,' and I started sampling myself. Plus, I like being able to look through stuff. The track 'Blame' came from being in the studio, doing long late-night jam sessions, and then having a few hours of jams I needed to look through to see what I could pick out. I sampled things, pulled stuff out of it, and then started remixing and overdubbing."

Wu-Lu's Gear List
Wu-Lu often builds his compositions around an initial sample from his own jam sessions, but the feeling from that original jam session is key to the song's final form—even live.
Guitars
Fender Player Plus Meteora
Fender Marauder IBL
Amps
Roland Jazz Chorus JC-120
Pearl Duo Reverb
Effects
Electro-Harmonix Big Muff Pi

JOYO JF-01 Vintage Overdrive
Electro-Harmonix Stereo Memory Man with Hazarai
Electro-Harmonix The Worm (wah/phaser/vibrato/tremolo)
Boss RV-6 Reverb
Strings & Picks
Rotosound Strings (.011–.048)
Dunlop Tortex Green Picks .88 mm
But that freeform, loose, experimental approach ends once the song is completed. When it comes to reinterpreting those tracks live, Romans-Hopcraft plays what's on the record. "I stick pretty loyal to the recording," he says. "The live band setup is drums, bass, two guitars, and vocals—everyone's on vocals—and also another drummer, but his kit isn't a traditional drum kit. It's like an MPC with loads of samples taken from the songs. For example, if we're playing 'Blame,' that'll be a drum break from the original track that I sliced into pieces where he can play the samples like a drum kit. It's the original sounds, but he can play it."
Romans-Hopcraft's production techniques may be sample-centric and high tech, but he creates his music with inexpensive instruments and tools. "All my stuff is basically from car boot sales," he says. A car boot sale is an English yard sale ("car boot" is British slang for "trunk"), and he's amassed a bevy of inexpensive amps, old-school synths, and multitrack tape machines.
"All my stuff is basically from car boot sales."
He favors Fender-style guitars, and their bolt-on necks and distinctive jangle is central to Wu-Lu's sound. He runs them through a thick layer of fuzz, and, at times, will divvy that up between multiple amps. "I got a headphone splitter and plugged my output into that and then split my signal into like three different amps," he says. "But the main thing I use is the Big Muff and this mini green pedal—a JOYO Tube Screamer-like pedal—that I got on Amazon for £15, which is like a high-gain pedal."
But, more than anything, Romans-Hopcraft's music is about the vibe. A composition may be a studio creation built up from an initial sample, but, even many iterations later, the mood from that original jam session is key.
"It might be that I was playing guitar, ran into the control room, fiddled around, and when I listened to it later, discovered that when I put down my guitar, I was touching the guitar mic—and that would then become a whole inspiration for a completely different song," Wu-Lu says.
Photo by Machine Operated
"'Broken Homes,' the last song on LOGGERHEAD, is a real special one," he says, reflecting on the song's mood and origins. "We made that in lockdown, and it was just me, my boy Jae [Jaega Francis McKenna-Gordon] on the drums, and my boy Tag [Tagara Mhiza] on bass. We went to jam in this pub that was empty—because it was Covid lockdown—and it was half six in the morning and we were about to go to bed. But my friend Jae was like, 'Let's just play one more time—one more time—let's have a vibe one more time.' That was the beginnings of 'Broken Homes.' We recorded the whole thing to tape. It was a 20-minute thing that I edited down and reworked. My twin brother, Ben, helped me finish it—there were moments in it where I thought, 'These are really good moments, but something's not hitting'—and my brother, being a songwriter, suggested adding little ideas in how to change the arrangement to make it feel full. I was like, 'Alright,' and it was finished."
That commitment to a song's emotional, somewhat mystical, origins, coupled with a hyper-focused work ethic, is definitive of how Romans-Hopcraft operates. And, like most of his story, he also attributes that to his South London neighborhood."
A lot of what I got from a lot of the people that I've met along the way is the thing I think they got out of college, which is learning how to practice," he says about the many local graduates of the Trinity Laban Conservatoire he knows. "It's learning how to be productive with your practicing, and that's what I've applied to my own stuff, too. I'm like, 'I'm not the greatest guitar player or bass player—I can hold my own for my own thing—but I'm going to learn how to make the MPC groove or take bits and create that into something.' I took that and applied it to my own craft. And I had the support of all the other people around me as well."
Wu-Lu - live from The Room
The clip-on tuner and spring-loaded capo are the latest additions to Rotosound''s accessory line.
United Kingdom (December 5, 2011) -- Rotosound has announced two new additions to its growing line of guitar accessories: the Guitar Tuner/Chord Finder and the Guitar Capo.
Rotosound Guitar Tuner/Chord Finder
The Guitar Tuner/Chord Finder works simply by clipping the unit to the nstrument where it picks up the string vibrations. When a note is played the clear LCD screen displays how close you are to having that string in tune.
The built-in chord finder has a search function which allows you to search by chord letter name or chord root. Once you have found your selected chord letter you then select whether it is minor, major, diminished, augmented or suspended chord and further options for 7th and 9th chord versions.
The Guitar Tuner and Chord Finder is designed to be fast and precise, highly sensitive, light and highly portable. MSRP £17.95 ($24.95).
Guitar Capo
The new spring loaded Guitar Capo is designed to be used with one hand for ultra quick changes whilst playing on stage.
Made from Magnesium alloy, the Guitar Capo is small and light. It is easily applied and removed simply by squeezing it into place. Once it is there – it stays there and you have complete control over where it is positioned. Rotosound AC01 Guitar Capos are designed for all types of guitar players, from flamenco, to Irish Traditional music, folk and blues and rock. MSRPt £17.95 ($24.95).
For more information:
Rotosound
We test out headstock tuners from Korg, Meisel, Intellitouch, Fishman, GFS, Seiko, Rotosound, Snark, Planet Waves, and Peterson.
For musicians, there is no accessory more important than a tuner. Most professional musicians will tell you that keeping your instrument in tune at all times is among the most important pieces of playing, if not the most important. Playing out of tune will quickly label you as an amateur, no matter how impressive your chops are.
For musicians, there is no accessory more important than a tuner. Most professional musicians will tell you that keeping your instrument in tune at all times is among the most important pieces of playing, if not the most important. Playing out of tune will quickly label you as an amateur, no matter how impressive your chops are.
Luckily, technology has kept up with the need for precise tuning. Be you a weekend warrior, pro, or technician, the market is literally flooded with options to help us all make sure our instruments are in check, ranging from floor pedals to rack units to mobile apps. Clip-on tuners have always been a popular choice for musicians on the go, and we recently gave ten of them a look. Evaluating the tuners on their own didn't seem like a proper trial, so we compared them to the Fishman F1 Aura's tuner onboard a Martin GPCPA1 acoustic, and a TC Electronic PolyTune paired with a Fender American Telecaster.
Korg Pitchclip PC-1 Clip-On Tuner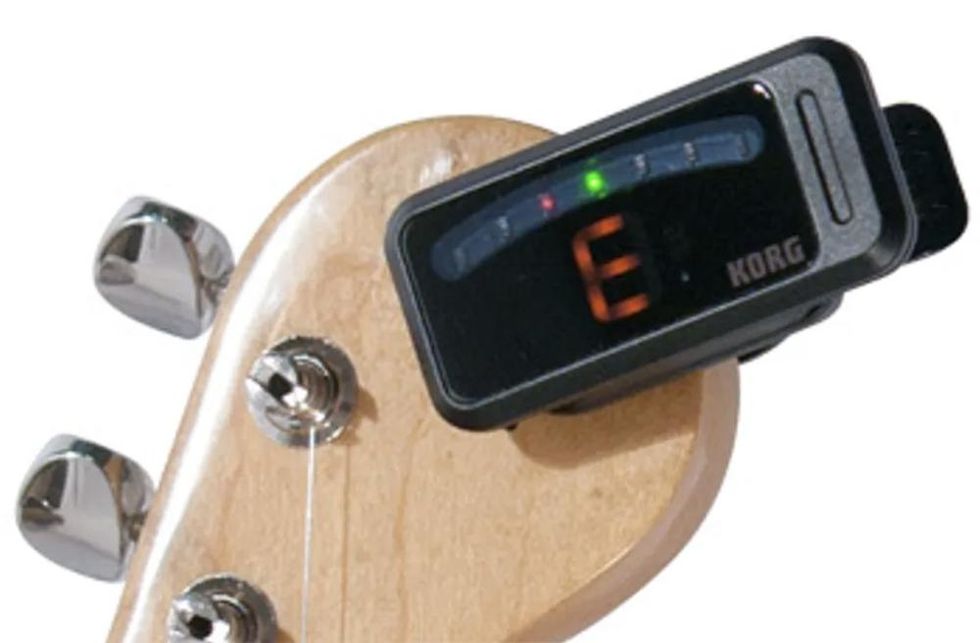 Tuning Range: A0 - C8
Extremely compact
Single chromatic tuning mode for guitar and bass
Reversible display readout, easy to read
Korg rates precision +/-1 cent
In the world of tuners, Korg is a king. Their highly accurate rackmount tuners and compact tuners are popular among seasoned pros and everyday musicians alike—in fact, many players' first tuners bore Korg name on their plastic housings.

The Pitchclip is a distant cousin of the company's extremely popular Pitchblack pedal tuner. It's one of the smallest tuners of the bunch, with a vivid LED display that pops up at a maximum angle of 120 degrees from its clip. There are no extra bells and whistles programmed into the Pitchclip, only a single chromatic tuning mode that covers the tuning ranges for guitar and bass.

My first impression was that the Pitchclip's clip felt loose in my fingers, but I was pleasantly surprised when I clipped it to the Tele's headstock and gave the neck a good shake—the Pitchclip didn't budge. Though the display only tilts up or down, Korg built in the fantastic feature of reversing the display meter on the LED by holding the power button for more than one second. This allowed me to place the tuner pretty much anywhere I wanted and still be able to read the screen.

Compared to the PolyTune, the tuning accuracy with the Pitchclip on the Tele was decent. Starting out of tune, I was easily able to pull the notes into an accurate tuning, but it was more difficult to get a perfectly precise read, each string readout wavered between in tune, slightly sharp, and slightly flat. Placing the tuner on the meatier middle part of the headstock helped stabilize the readings a bit, but not completely. However, the accuracy was much improved with the Martin, with only slight shaking on the low E string.

Street: $19.99
korg.com
Meisel COM-80 Digital Tuner
Tuning range: A0 - A3
Calibration: 410 Hz - 450 Hz
Calibrated tuning modes for guitar, bass, ukulele, and violin, plus a chromatic tuning mode
Bright and easy to read display
Great accuracy
Structurally, the COM-80 was a solid little tuner. The clip leading up to its large, Tamagotchi-style LCD screen had a strong and tight bond against both headstocks, aided by the clip's silica gel padding. The device came equipped with calibrated chromatic tuning modes for guitar, bass, violin, and ukulele. It also has an adjustable pitch mode that gave me the option of moving the range between 410 Hz and 450 Hz.
The accuracy of the COM-80 against the PolyTune was quite impressive when I corrected the purposefully-out-of-whack tuning of the Telecaster, with a bright and easy to read display to boot. If the pitch fell flat or rose sharp, the screen quickly changed its color from green (in tune) to orange. Thankfully, the COM-80 didn't exhibit any sort of pitch "warble," which is a common problem with tuners of the clip-on variety. The tuning was even more precise on the Martin, which was likely due to the acoustic resonance of the guitar.

The only major drawback I experienced with this tuner was the inability to rotate the screen from side to side. I was able to twist it around freely on its little plastic tree, but could only tilt it up or down from there. Because I had the tuner clipped on the tip of the Tele's headstock—so it wouldn't touch the tuning pegs—I could only read the LCD display sideways. The COM-80 is a great tuner, but it could use a little more flexibility on the mounting of the LCD display.

Street: $23.95


Intellitouch PT40 Rechargeable Tuner
Calibration: 430 Hz - 450 Hz
No battery, recharges from USB power source (via included cable or third-party charger)
Excellent mobility for screen positioning
Bright, two-color screen
The PT40 is a rather unique tuner in that it doesn't use a conventional battery. Instead, it relies on a built-in rechargeable power source that gets its charge through the included USB cable (or any other USB power source). This is a pretty neat feature for those on the go—and on a budget—but a little inconvenient for players who don't have a USB power source handy. The documentation failed to mention how long the battery holds a charge, but pointed out that the tuner saves battery by automatically switching off after two minutes, if a vibration isn't present.
Regardless, the PT40 performed admirably with the Martin, and I had absolutely no issues moving the screen around to a comfortable position. Both the screen and its clip tree were completely free to move, offering 360 degree movement in any direction. This was great and made it possible to leave the tuner tucked behind the guitar's headstock, completely out of the way when I didn't need it.

Compared to the PolyTune, the accuracy of the PT40 was decent, but a little problematic at times. Pitch readouts would wobble between sharp and in tune frequently, especially when tuning down a whole step. Reading the LCD was easy though, and I was impressed by its legibility and color-coding between green (in tune) and a rather alarming shade of red (flat or sharp). With the Martin, the tuner's accuracy improved significantly, again likely due to the added acoustic resonance.

Street: $35.95

Fishman FT-1 Digital Tuner
Tuning Range: A0 - C8
Calibration: 435 Hz - 445 Hz
Modes for chromatic, 6- and 7-string guitar, bass, and ukulele
Easy to reach controls
Built-in switchable mic
Extremely vibrant display
Even though they're primarily known for acoustic instrument pickups, Fishman's FT-1 clip-on tuner is a device worthy of its own attention, even with a few quirks. It's one of the smallest tuners in this roundup, and also one of the hardest to position on a guitar's headstock. The LCD screen could only be moved up and down, and the tree it sat on had 360 degree access. After clipping the tuner to the tip of the Martin's headstock, I noticed it wouldn't have mattered if the LCD screen could move from side to side—the tree it sat on was so short, it wouldn't have had enough room to clear the headstock at a right angle for easy viewing. I had to strain my neck at an angle to read it, or move the guitar around to get a good look.
That's not to say that the FT-1 isn't a worthwhile little tuner. Multiple chromatic tuning modes for guitar, bass, and ukulele are present. A flat selection and a built-in mic round out the features of the tuner, which has one of the clearest displays in the bunch. The tuner's flat and sharp indicator arrows moved smoothly as I adjusted each string's pitch, and I didn't have any warble between semitones when dropping the tuning.

Even with the tuner set at 440 Hz, the range seemed a little sharp in pitch when compared to the PolyTune, and a few of the other tuners in the roundup. It wasn't a major difference that most people would even hear, but visible by a few cents in pitch.

Street: $24.95
fishman.com
GFS GFT-40 Guitar & Bass Tuner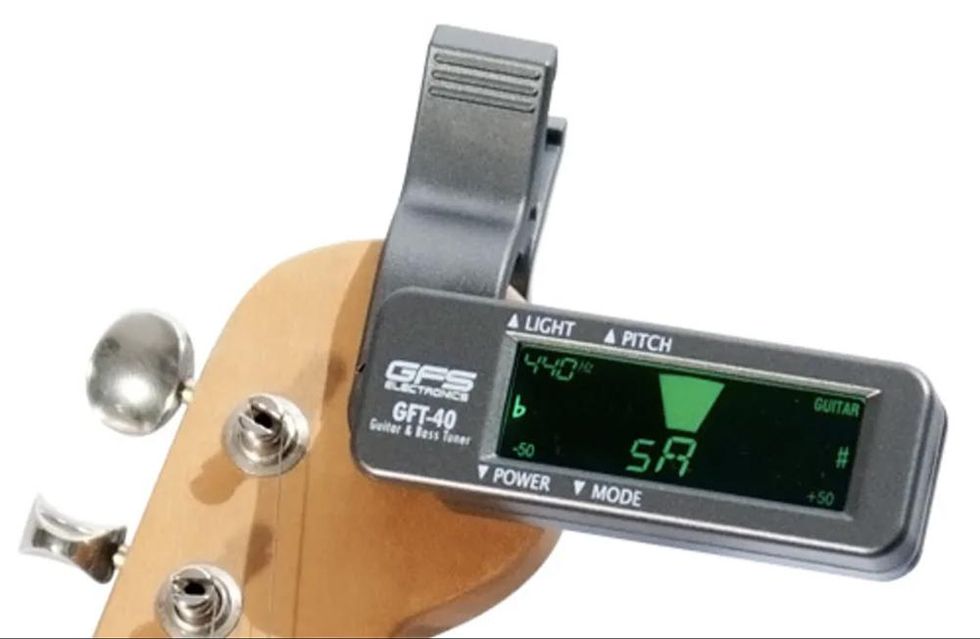 Inexpensive and lightweight, but flimsy feel
Very tight clip with a good amount of grip
Good tuning accuracy
LCD hard to read at angles
With a tight, snappy clip and a bright, highly legible display, the GFT-40 is the least expensive tuner of the bunch. The tuner's four buttons—one each for pitch adjustment, tuning mode, power, and backlight activation—were nestled on the back of the LCD display's plastic housing, a smart design decision which helps avoid any sort of accidental setting changes. Due to the clip's thick and ribbed rubber padding, I got a strong bond on both headstocks. It was difficult for me to move the entire tuner around without actually releasing the clip—this was nice and made the tuner feel substantial.
What didn't feel substantial was the tuner's overall build. The housing felt a little flimsy in my hand and gave me the feeling that its days might be numbered if I accidentally dropped it on a hard floor.

Despite the questionable quality of the build, the GFT-40 had a good amount of tuning accuracy and readability from its LCD screen—if the screen was adjusted to a head-on angle with my point of view. The display had the welcome feature of switching from blue to green when in tune. However, when I shifted the tuner slightly upwards or downwards, the screen showed a noticeable amount of washout, similar to looking at an inexpensive computer display or DLP television from the side. When compared to both the PolyTune and the F1 Aura, the tuning was only about a cent flat from the actual pitch—an impressive feat for such an inexpensive tuner.

Street: $14.95
guitarfetish.com
Seiko STX2 Clip-On Chromatic Tuner
Seiko has long been known for portable electronics, most notably for wristwatches. For many of us, our first digital watches in the '80s bore their name. The company's STX2 clip-on tuner actually has a similar look of their timepieces of yesteryear, along with near pinpoint accuracy.
One of the STX2's biggest strengths is its ability to be folded up into an easily pocketable unit. The look is delightfully retro, right down to the tuner's nine individual tuning indicators. The clip is only about an inch longer than the tuning display itself, and it attached firmly to both guitars with ease. Inside the clip is a thick strip of rubber that fits snugly against a headstock, which helped with the clip's tight coupling.

Tuning accuracy with the Seiko was excellent on both the Tele and Martin. I was even able to pick up some intonation issues with the tuner after I plucked a harmonic on the Tele's 6th string at the 12th fret. This was after I engaged the built-in sensitivity modulation function (which was designed to block out background interference like tuning in a noisy room) but it still stood out as being pretty extraordinary nonetheless. Being able to detect an intonation issue like this with a simple clip-on tuner is normally unheard of.

The STX2 could be positioned pretty much any way I wanted, except I couldn't twist the tuner readout around. Luckily, the readout was mounted on its own slider clip, allowing me to pop it out, flip it, and slide it back in, albeit with a little more effort than it should have required.

Street: $44.99

Rotosound AMT 530 Tuner & Metronome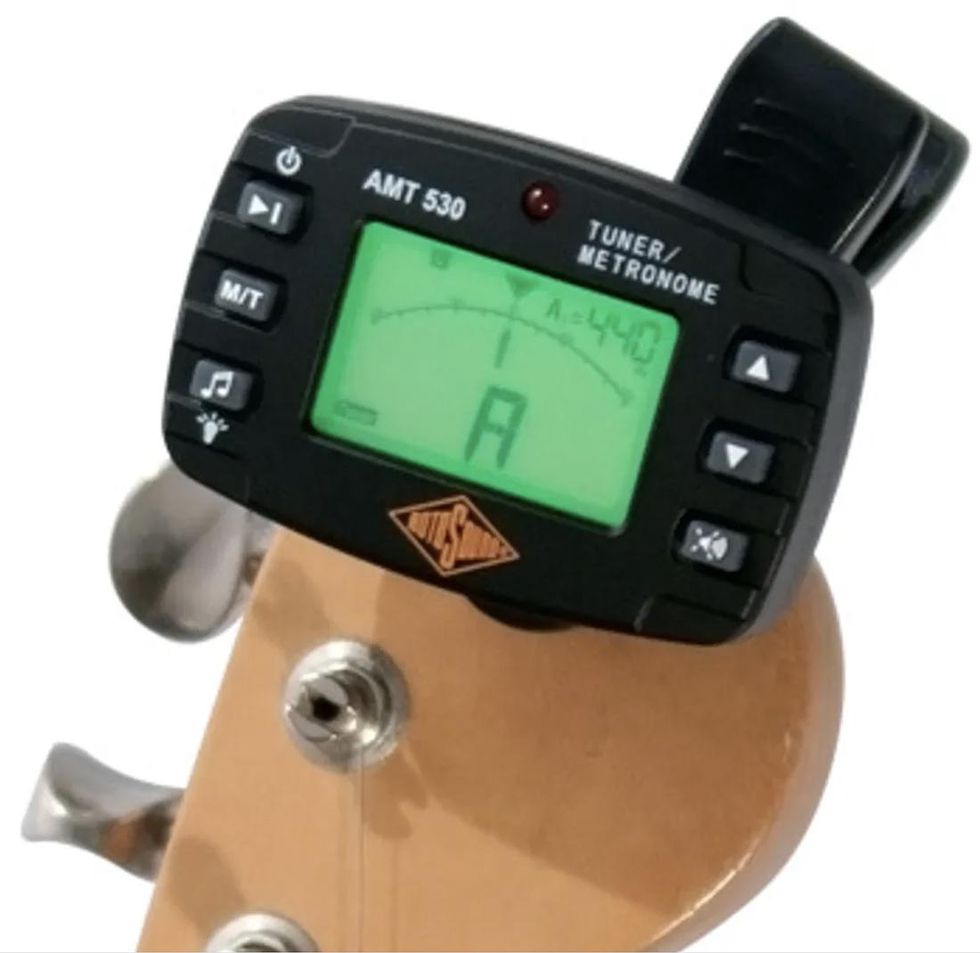 Tuning Range: A0 - C8
Calibration: 430 Hz - 460 Hz
Metronome tempo range: 30 bpm - 260 bpm
Limited mobility
Bright, vivid display
Rotosound—one of the oldest players in the electric guitar string scene—managed to produce a pretty nice tuner for the money with the AMT 530. The diminutive clip-on tuner is almost small enough to tuck into my front pocket comfortably, and had great tuning accuracy when compared to the Martin's onboard tuner. It faltered a little on the high strings of the Tele, forcing me to move the tuner around the headstock to locate a spot where it could pick up the guitar's vibrations a little better. In addition, the tuning indicators were a little jumpy as soon as I approached the in tune note, hopping between sharp and flat frequently—as if it couldn't decide if the tuning was correct or not.
Despite the small issues while tuning the electric guitar, the AMT 530's built-in metronome was a real treat to play with. I was pretty amazed at just how loud it was capable of getting, with it sometimes approaching levels loud enough to be heard in a noisy office. It was super easy for me to change the beat via the front panel's controls for tempo, beats, and rhythm patterns, and the display's backlight made everything simple to read and adjust. Unfortunately, I was unable to twist the tuner's readout, which meant I had to read it on its side when I was holding the guitar. It seemed as if it was designed for a guitar that would be lying flat on a bench.

Street: $18.99
rotosound.com

Snark SN-1 Clip-On Chromatic Tuner
Calibration: 415 Hz - 466 Hz
Colorful, easy to read display
360 degree display rotation
Tap tempo metronome
Just a little under 20 bones, the SN-1 gets high marks in every category, including an LCD that was very easy on the eyes, a high-degree of mobility, extraordinary tuning accuracy, a tough build, and a fantastic built-in metronome. It has a whimsical look that conjures up thoughts of the kind of tuner that Dr. Seuss might dream up, which may not appeal to all.
The tuner's "stay put" clip had the perfect amount of resistance to my fingers, and the little rubber strip inside the clip conformed to the shape of the Martin and Tele headstock edges well. Both the LCD and its plastic tree had almost complete freedom to be moved in a 360 degree motion, and be tilted in any direction as well. This made the tuner flexible for both right- and left-handed guitarists.

When compared to the F1 Aura and PolyTune, the Snark was pretty much dead-on with their readings. I was impressed at how well it interpreted each guitar's tunings when it was placed at various locations on the headstock—I was dumbfounded when I couldn't find a spot where it didn't accurately pick up on each string's note.

Street: $19.99
snarktuners.com
Planet Waves Chromatic Headstock Tuner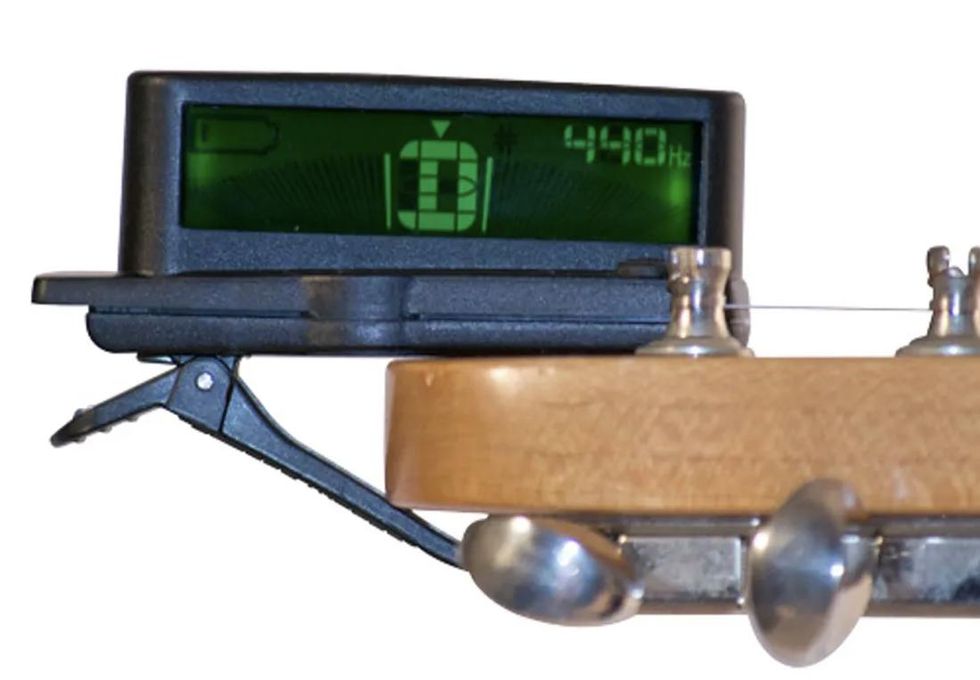 Calibration: 435 Hz - 445 Hz
Built-in piezo transducer
Good tuning accuracy
Limited display mobility
As a well-known name in the guitar accessories industry, it seemed only natural that Planet Waves would be in the clip-on tuner scene. Their Chromatic Headstock Tuner was designed with sleekness and portability in mind, and while it gets high marks in those regards, it's missing some key elements that separate the great clip-on tuners from the good ones.
Planet Waves' clip-on tuner is a sleek and slim piece, and it slid onto the headstocks of both the Tele and Martin while keeping a very low profile. The two-color LCD screen is angled at about 30 degrees from its base, with the tuner's single button—governing power and calibration—located at its edge. Because the tuner sat so close to each guitar's headstock, it was difficult for me to read the screen while I was tuning. The guitar's tuning pegs obstructed a lot of the view, so after hitting a note in the sitting position, I had to move the guitar closer to me and then adjust the tuning. Normally, I would have just moved the position of the LCD, but the screen is joined directly to the clip and completely immobile. This wasn't much of an issue when I had the guitars lying on a bench, but it was frustrating when I was sitting or standing with the guitar.

Compared to the Martin's onboard tuner, the accuracy of the Planet Waves tuner was pretty close, losing only a fraction of the accurate pitch on the higher strings. I feel that it could have been closer if the clip had a tighter bond with the headstock, which was a drawback of the design. Only a little strip of rubber on the bottom jaw of the clip kept the tuner in place, and it didn't take much to move it around by hand. With the Telecaster, the PolyTune was notably more effective in applying a precise tuning. The Planet Waves tuner simply wasn't able to pick up the resonance as well as the PolyTune could detect the notes from the jack output.

Street: $29.99
d'addario.com
Peterson StroboClip
Calibration: 400 Hz - 490 Hz
Peterson rates precision +/-0.1 cent
Includes "Sweetened Tunings" for various acoustic instruments (banjos, ukuleles, etc.)
SUS feature for extended note readout for instruments with small amounts of sustain
The reputation of Peterson tuners is well-deserved. From the immensely popular StroboStomp pedal to the Strobe Center 5000-II, their tuners sit on the benches and pedalboards of some finest guitarists and guitar techs in the world, and with good reason—they're incredibly precise. Peterson's StroboClip tuner packs the 1/10 cent tuning accuracy that all of their tuning devices possess, along with a plethora of features and facets that you probably won't ever use—but they're readily available if you need them.
The StroboClip felt like a solid piece of kit in my hand, with a firm grip when clipped to my fingers, and a bright, powerful readout on its LCD. All of the unit's buttons are easily visible and accessible from the top of the panel, except for the power button, which was placed directly on the front. Both the tree and the screen could be moved and tilted for 360 degree movement, a major plus for convenient placement.

Embedded in the StroboClip are 39 calibrated tuning modes for a wide range of instruments—including guitars, banjos, basses, woodwinds, orchestral stringed instruments, and even sitars. After clipping the metal-faced gadget to the headstock of the Martin and going through the tuning process, it really gave the built-in F1 Aura a run for its money. When the F1 Aura registered the guitar perfectly in tune, the StroboClip countered with a reading of being off by fractions of cents. Even the PolyTune—which was plugged directly into the Tele—had issues keeping up with the StroboClip. Every string I plucked registered on the StroboClip with such pinpoint accuracy, that it was almost maddening getting the strobe to sit perfectly still.
Street: $69.99
petersontuners.com
[Updated 6/3/2021]