Tools for the Task: Coated Strings
Not a fan of changing strings? Swap in a set that can offer longer life.
Extended-life strings—especially in the coated category—remain a hot debate. Visit almost any players' forum and you'll find a passionate thread about the subject. Some guitarists really love them, some really don't. The bottom line is there are a number of options like the 10 here that offer longer life, so you can spend more time working your strings—not changing them.
ERNIE BALL
Everlast Phosphor Bronze
These strings use nanotechnology to repel unwanted moisture and oils that can negatively impact tone. The proprietary treatment is applied to both the inner-hex core and outer-wrap wire to provide protection without compromising tone or feel.
$16 street
ernieball.com
ELIXIR
Acoustic 80/20 Bronze
The 80/20 coppper/zinc ratio and ultra-thin Nanoweb coating of this set was designed to deliver bright and lively tone together with extended tone/string life. The coating provides reduced finger squeak and a smooth feel for enhanced playability.
$14 street
elixirstrings.com
CLEARTONE
Heavy Series
Boasting heavy-duty reinforced construction and enhanced core-to-wrap ratios, these strings are intended for hard-playing guitarists. For extended life, the strings are "treated" with a 1-micron-thin application that's guaranteed not to flake.
$13 street
cleartonestrings.com
GHS
Coated Boomers
Made with top-quality, nickel-plated steel wire, these strings are produced using a process that coats the outer wires before wrapping them around the core wire. The plain steel strings are also coated for a well-balanced feel.
$8 street
ghsstrings.com
D'ADDARIO
EXP16 Coated Phosphor Bronze
These strings feature break-resistant, high-carbon steel wire for advanced strength and pitch stability, and the high-quality wrap-wire materials are micro-coated on D'Addario's proprietary machinery for a set that boasts uncoated tone and four times more life.
$11 street
daddario.com
DR STRINGS
Black Beauties
Proprietary K3 coating has been shown in factory tests to last at least nine times longer than the company's previous coatings and with no stripping away or peeling under any playing condition, yet players still report greater clarity and volume than uncoated strings.
$10 street
drstrings.com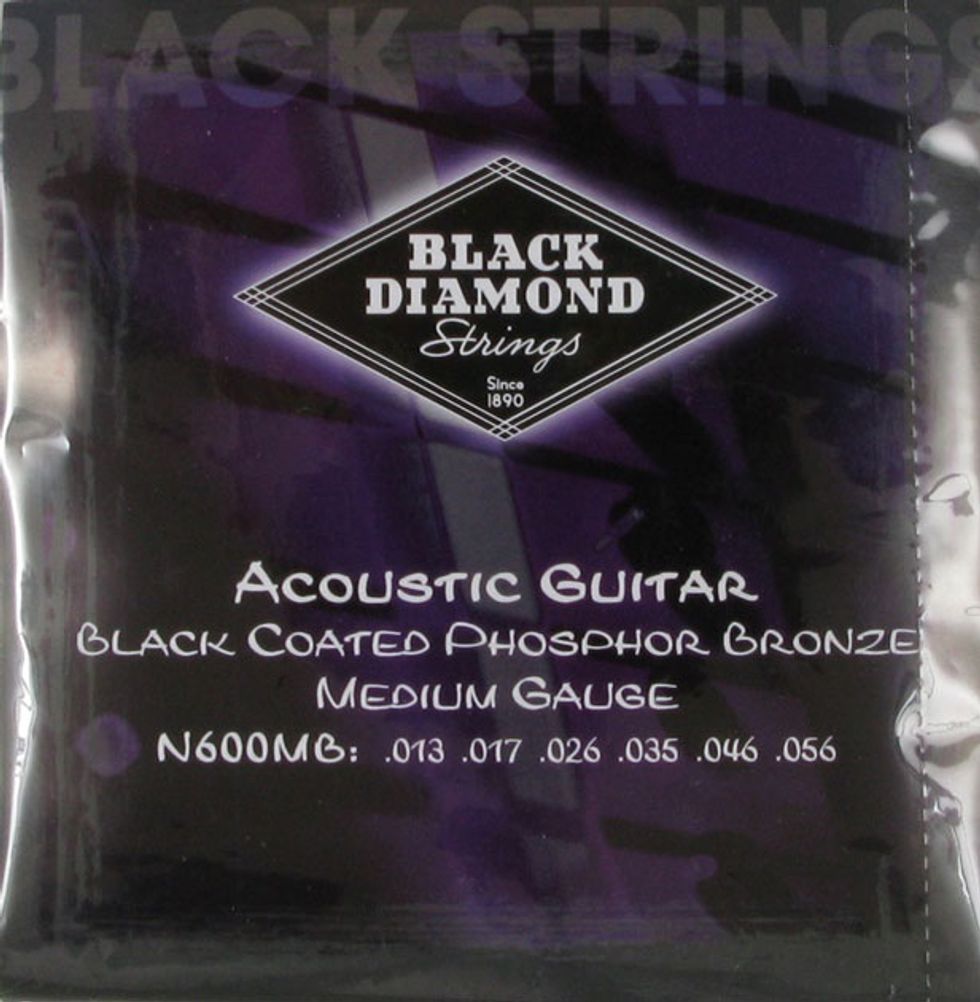 BLACK DIAMOND
Black Coated Phosphor Bronze
Designed for dramatically longer string life and to bring clarity to a guitar's tone, all six strings in this set are treated with Black Diamond's black coating for a balanced feel and full protection from hand oils and environmental decay.
$15 street
blackdiamondstrings.com
ROTOSOUND
Nexus
These strings feature a polymer coating that's intended to offer a smooth feel, windings that are almost self-cleaning and unaffected by perspiration, and tone that will outlast most conventional strings.
$12 street
rotosound.com
C.F. MARTIN & CO.
Lifespan SP
The SP core wire in this set is engineered to resist breaking and for superior tuning hold with a rich tone and responsive attack. All six strings are treated with proprietary technology to help deliver the longest possible string life without sacrificing tone or feel.
$9 street
martinguitar.com
CURT MANGAN
Nickel Wound Coated
The proprietary in-house coating process for these strings, which was developed in 2008, is four-to-five times more resistant to tarnish and corrosion than an uncoated string, and was designed to not compromise tonal quality or alter feel.
$12 street
curtmangan.com