If you want to hit your amp hard, you'll need some high-output humbuckers that are up to the job.
Whether you're looking to increase the heat on a lower-output instrument or just searching for a new flavor, this list has you covered.
HABANERO PICKUPS BY GROVER JACKSON
Bonney Bridge
Handmade in California, this overwound bridge pickup has a 16.7k resistance, and comes in nickel, black, or zebra.
$110 street
FISHMAN
Fluence Richard Z Kruspe Signature
Each pickup in the Rammstein guitarist's signature set features three selectable voices. This active set is rechargeable—a battery pack is optional. Red finish is encouraged, though stainless is also available.
$309 street (set)
GFS Pickups
SBS Arena Power PLUS
The most affordable alnico 'bucker on this list has a 14.5k resistance and features the company's Kwikplug system for fast swapping.
$39 street
SEYMOUR DUNCAN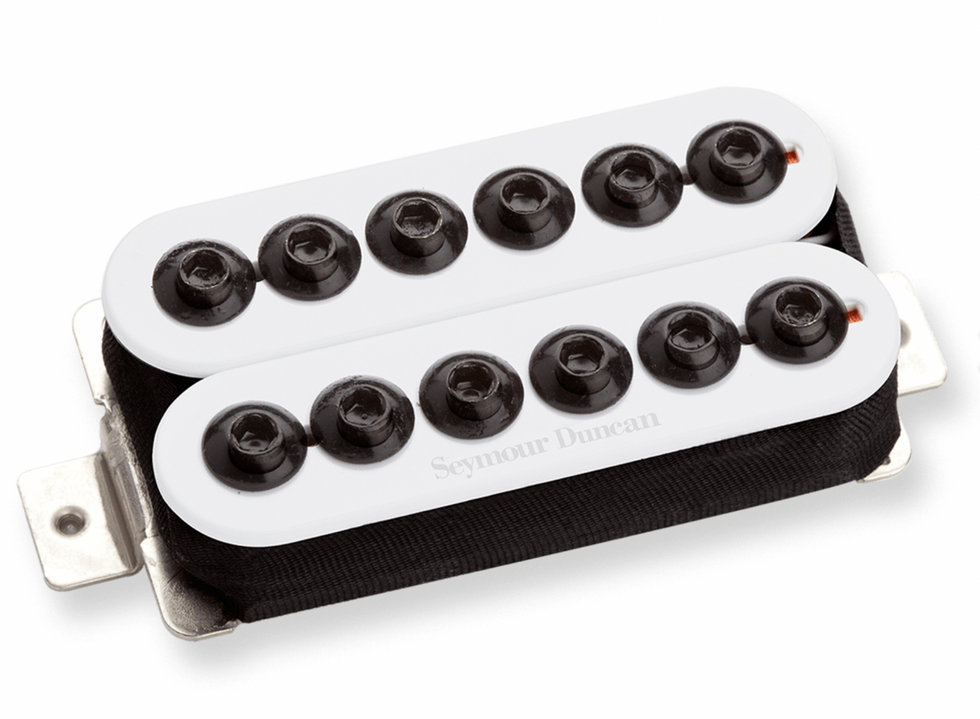 Invader
Featuring overwound coils, a trio of ceramic magnets, and oversized metal-oxide pole pieces, these humbuckers promise heavy bass response and are available in 6-, 7-, and 8-string sizes.
$109 street
DIMARZIO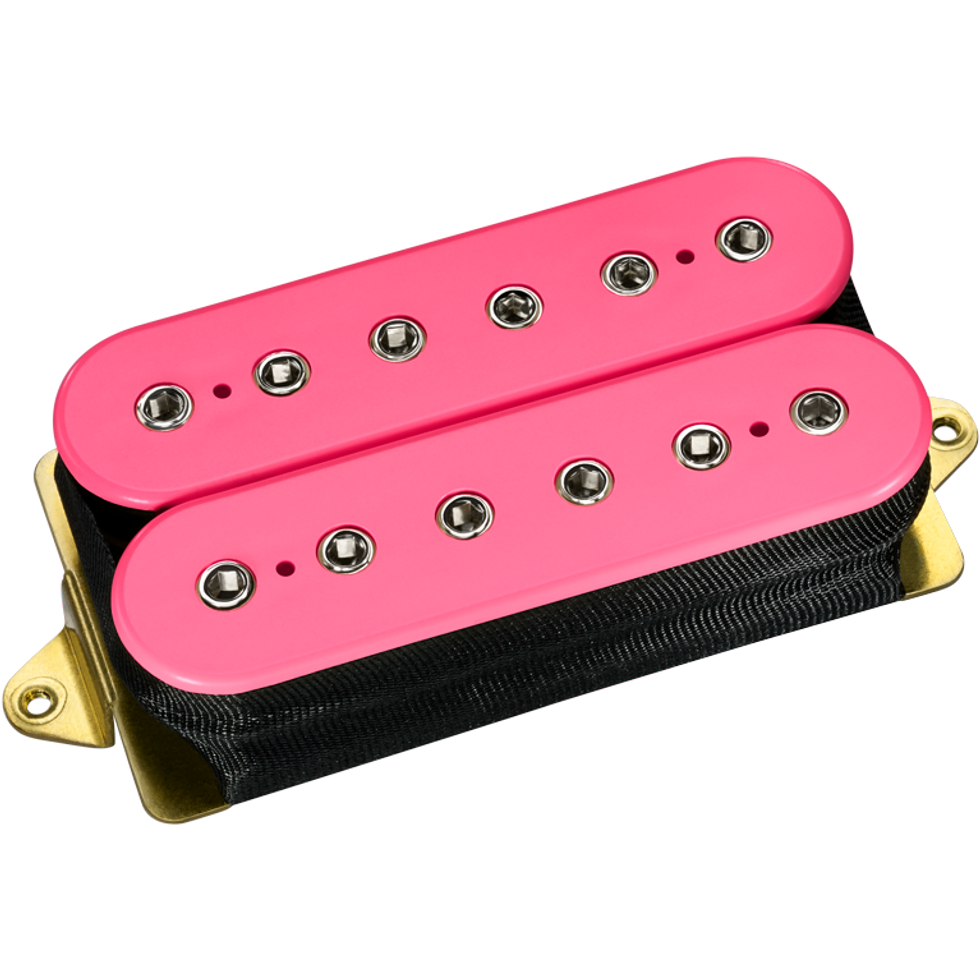 Super Distortion
A classic since 1972! This 'bucker, with its 13.68k ohms of resistance, is intended primarily for bridge-position installation and comes in a wide range of colors.
$89 street
GIBSON
498T Hot Alnico
A hotter spin on the 490 series humbucker, this boasts a resistance of 14.2k and is spaced for bridge position.
$119 street
PRS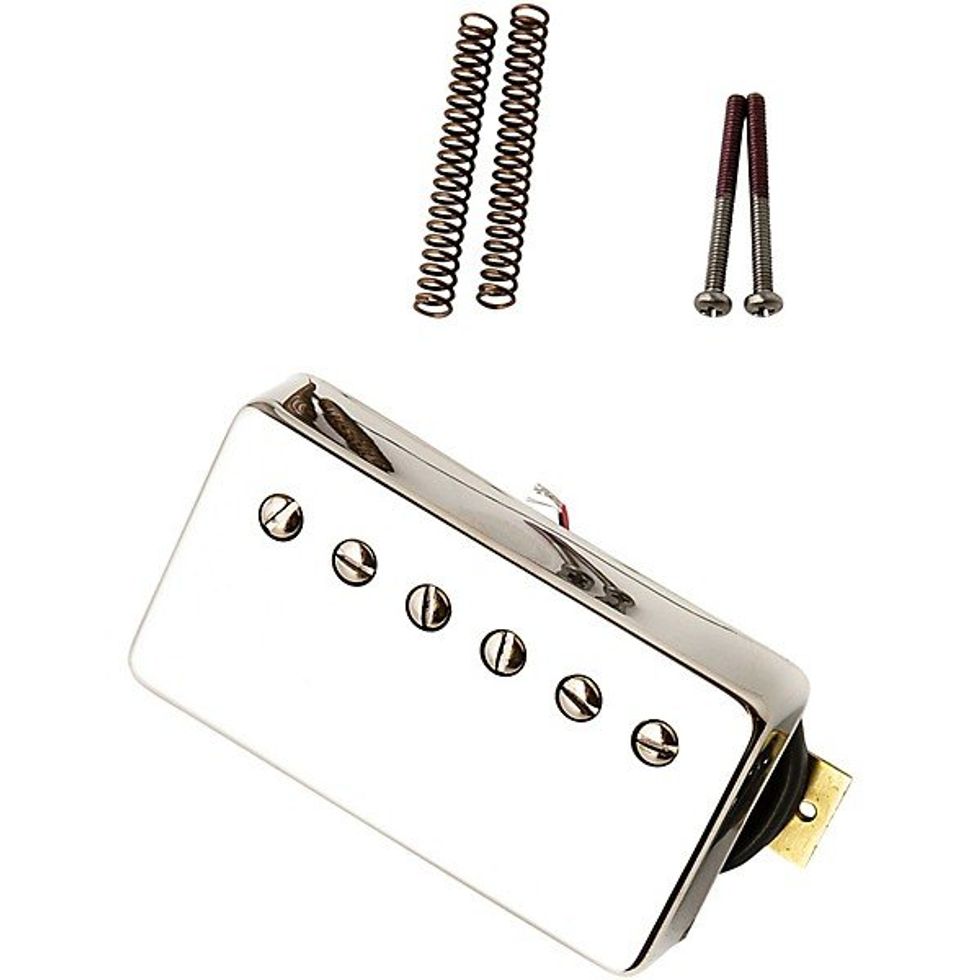 m Bridge Humbucker
The company's house high-output humbucker comes in gloss nickel and measures 15.7 k resistance.
$200 street
LOLLAR
dB Humbucker
While these boast the lowest resistance on this list (12.7k in bridge position), they're the pickup maker's hottest offering. Plus, they look hip!
$200 street
EMG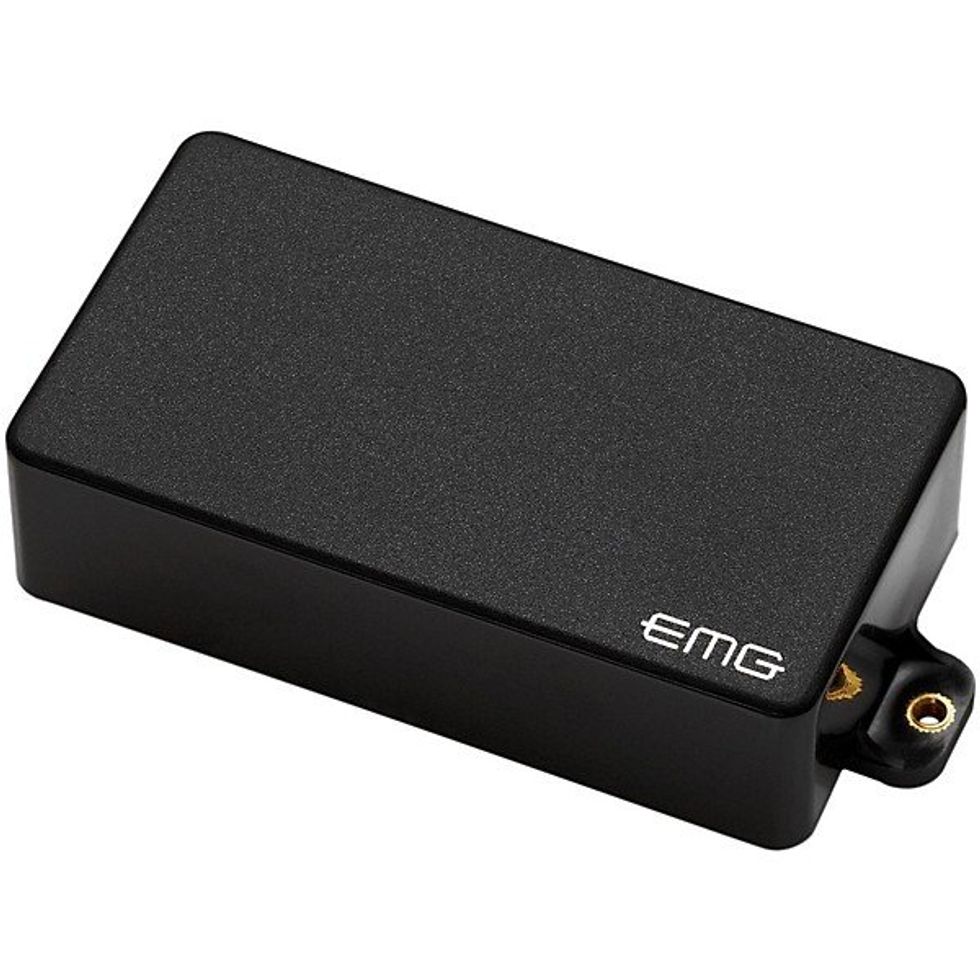 81
The classic active pickup boasts 3,000 hours of battery life and features the company's Quick-Connect cable for easy installation.
$99 street
LINDY FRALIN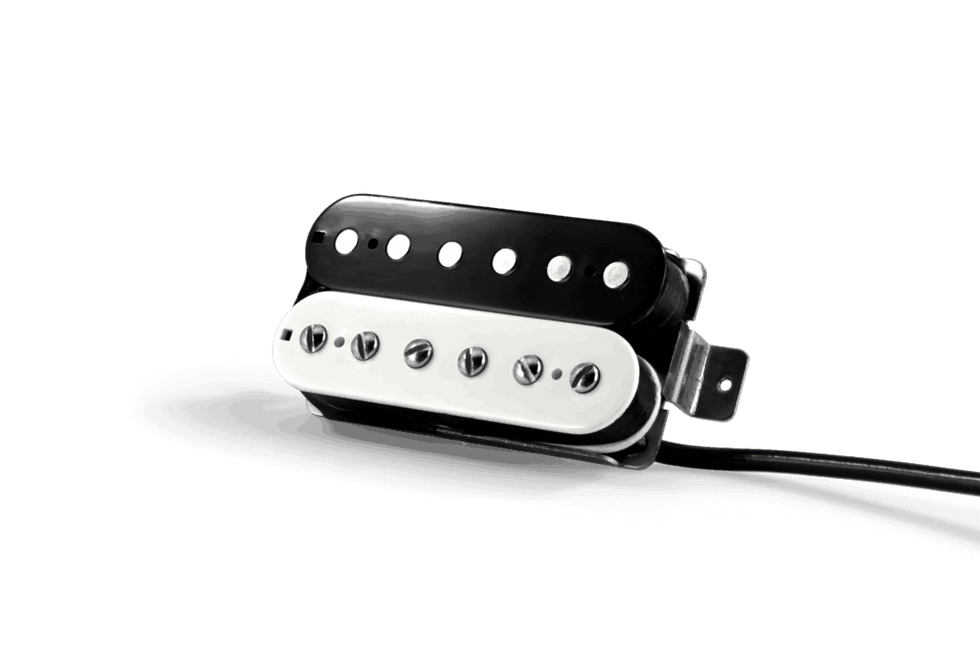 High Output Humbucker
The pickup maker's highest output offering is a hot take on a PAF and comes in a variety of color and cover options.
$160 street
Our columnist shares the devices and materials needed to do some of his favorite guitar maintenance tricks.
The problem with giving advice is that there are many different approaches to everything, and usually more than one "right" answer. With my five decades of taking guitars apart, and sometimes putting them back together, I take a lot of stuff for granted, and I admit that I'm still learning. But ignoring all that, I'll just forge ahead and share the inexpensive tools and materials needed to do some of my favorite little tricks.
Alcohol
The solvent, not day-drinking. Pharmacy grade isopropyl is a pretty good at most cleaning chores, and is fairly benign. It's great for cutting through the gunk that accumulates on guitars, and it won't harm your finish. If you've bought an entry-level Jazzmaster slathered with stickers, this is just the thing to get you back to a clean slate. You can usually degrease hardware and de-schmutz fretboards without fear of harming your prized axe. Isopropyl works great on sticky fingers, too.
Naphtha
When cleaning with alcohol fails, naphtha is a DEFCON-level higher. You may know it as benzine or lighter fluid. It's way more caustic than alcohol, and it's also carcinogenic, so wear gloves and a NIOSH-approved respirator rated for organic vapors when you're using this stuff. It's highly flammable (lighter fluid, right?) and dangerous enough that a half-dozen states have banned its sale. Oddly, it's mild enough to use on nitro finishes. I used this stuff for wet-sanding nitro for years, until a sander exploded in our shop. I immediately switched to dry sanding with open coat paper. I caution you not to use this solvent unless it's your last resort.
Tri-Flow
This is as close to a miracle as you can get for $15. A Tri-Flow pen is a great way to lube whatever ails your gear. Got a sticky truss rod nut? One drop on the threads and washer and you're off to the races. Noisy fan? Squeaky bearings? Rusty pliers? You guessed it, Tri-Flow to the rescue. Loosen up those case hinges and hasps. In Chicago, I put a drop in my shop door lock to keep it working when it was 25 below zero.
Flattening Paste
This is some old-school spray-painter tomfoolery. Want to get that dull matte or flat finish effect when painting your guitar? Don't pay for matte lacquers, just add a little of this stuff to your gloss clear and you're good to go. Build up the clear coats with your regular gloss clear, and then do a final coat with some flattening paste mixed in. You won't see it working when you spray, but when it dries, the effect kicks in. Experiment with the formula on a scrap piece starting with a mix of about 5 percent at first, and increase until you get what you want. The crazy thing is that if you don't like the way it looks, you can just buff it out to gloss like normal.
Diamond Nail Files
Luthier supply shops get serious coin for diamond-coated files because they work great and last almost forever. My suggestion is to get a set of German-made diamond nail files from Amazon. You can get a set of five different sizesfor 10 bucks! I use them to deburr sharp edges on bridges, frets, and anything that needs a quick smoothing. Buy two sets and put some in your gig bag. You can also file your nails with them.
Notched Fret Cauls
Check out StewMac to pick up a set of notched fret-press cauls. These things won't get used that often, but if you have a lifted fret at a gig, or if you're just too lazy to take the strings off, this is the nazz. The cool thing is that, in a pinch, you can place the caul on the high fret (the strings go in the notches) and just hammer it lightly with a Shure 58 to reseat that buzzy fret.
Watco Oil
Step up your fretboard prep to the pro level with Watco. Technically a penetrating varnish, it looks great and seals wood against moisture, which stabilizes your neck. Start with a cleaned fretboard, then apply natural Watco on your rosewood or ebony, being careful not to drip any on lacquer. If you're worried, mask off the sides of the neck. Follow the directions on the can. Apply with a soft rag or paper towel, and flood it with two or three liberal passes until it stops absorbing. Don't worry if you get a little on the frets, but generally try to avoid them. Wait 20-30 minutes—that's the secret, so go do something else for a while. Come back and add a light coat and buff to a shine with a cloth. Let it cure overnight.
There are a zillion little shortcuts and tricks you pick up with time and experience, and these are just some of the ones I use almost every day. Like I said, I'm still learning, so I'm passing these on to you. If even one of them helps you out, you've made my day.
A powerful pedalboard tamer for the masses.
A breeze to program. Ability to edit loops on the fly.
Only eight presets. Large footprint for small pedal boards.
5
4
4
Any time I come across a new, powerful piece of compact switching technology, I can't help but flash back to the fridge-sized racks and massive MIDI controllers that were once at the heart of many pro rigs. Until pretty recently, a pro-level switching system still cost serious coin. Carl Martin did a lot to close the affordability gap in that product category with their Octa-Switch series. But Carl Martin's latest (and slimmest) iteration of their Octa-Switch line, the Strip, is one of the easiest ways yet to manage your pedalboard and not break the bank.
Cruise Controls
The 23-inch-long Strip (which will fit at the foot of a Pedaltrain Novo 24 pedalboard) is built with eight effects loops and eight switches for presets, which Carl Martin calls "banks."The Strip also provides a MIDI input, four external relay switches, and two outputs in case you want to run a dual amp rig. Carl Martin also smartly added a switchable buffer, a mute, an instant access switch that enables preset customization or use of an isolated effect on the fly, a preset store button, and four sets of DIP switches for the four relays and two outputs. It's a well-engineered and designed unit that strikes a great balance between making practical features accessible and avoiding user option paralysis.
Getting your head around how the Strip works is simple stuff, even if you haven't used switchers extensively. Each loop contains a pedal—or a group of pedals. With a single tap of a bank switch you can turn any number of pedals on while simultaneously turning others off. And thanks to the DIP switches, you can also assign amp outputs, amp channel switching functions, and amplifier reverb to a dedicated presets.
It's a well-engineered and designed unit that strikes a great balance between making practical features accessible without giving users option paralysis.
Strolling the Strip
I wired the Strip up with an MXR Dyna Comp in loop 1, a Nobels ODR-Mini in loop 2, a Wampler Hot Wired in loop 3, and a Line 6 HX Stomp in loop 8—which was also connected via MIDI. My goal was to create a single preset that used the Dyna-Comp and Nobels, and then a second that used just the Wampler. With switch 1 engaged, I hit the instant access button, the LEDs turned blue, and I chose which loops I wanted assigned to preset 1. I chose loops 1 and 2, hit the little store button, and the instant access light blinked three times to indicate that preset was saved. I repeated the process bank 2. In short, I was able to program two distinctly different tones in less than five minutes. The process couldn't be much more straightforward.
Using the DIP switches to assign presets to different outputs is easy too. For my test, I placed a Revv D20 in output 1 and a Fender Hot Rod Deluxe in output 2 and assigned a preset to each output by selecting the corresponding DIP switch position under each output. If you prefer stereo operation, you can also use the two outputs in stereo via the stereo return on loop 8. And if you're into the four-cable switching method, which enables you to situate pedals before or after the preamp in your amp's effects loop, you can run loops 6, 7, and 8 via dedicated sends and returns.
The Verdict
Carl Martin's Octa-Switch is a real refinement of the already impressive Octa-Switch series. It's intuitive, the build quality is top notch, the ease of programming is tough to beat, and the unit and ease of operation reflect a thoughtful, user-oriented, real-world, stage-centric engineering sensibility. If you're looking for a pro-level solution to your increasingly complex pedal puzzle and don't have loads to spend, the Strip warrants serious consideration.