Give a P-style bass new life with an old-school sound by swapping in a set of vintage-flavored pickups.
The iconic Precision bass has served as the blueprint for countless manufacturers since it was first introduced by Fender in 1951, and for good reason. But no matter who built your P-style axe, dropping in a new pickup like the 10 we've rounded up is a pain-free and effective mod for brewing vintage tones.
SEYMOUR DUNCAN
SPB-1 Vintage
These pickups feature handground alnico 5 rod magnets and a vintage coil wind to aid in producing the smooth tone of a late-'50s Precision.
$75 street

NORDSTRAND AUDIO
NP4V Vintage
Available with alnico 3 or 5 magnets, these vintage-correct versions of the company's P4 design have a lower magnet load for a softer, smoother, and warmer output.
$123 street
nordstrandaudio.com
BARE KNUCKLE
'58 Split Coil P
Scatter wound by hand with 42AWG plain enamel wire, these alnico 5 pickups offer a tone reminiscent of later-'50s Ps, with strong bass, controlled highs, and slightly scooped mids.
$115 street
bareknucklepickups.co.uk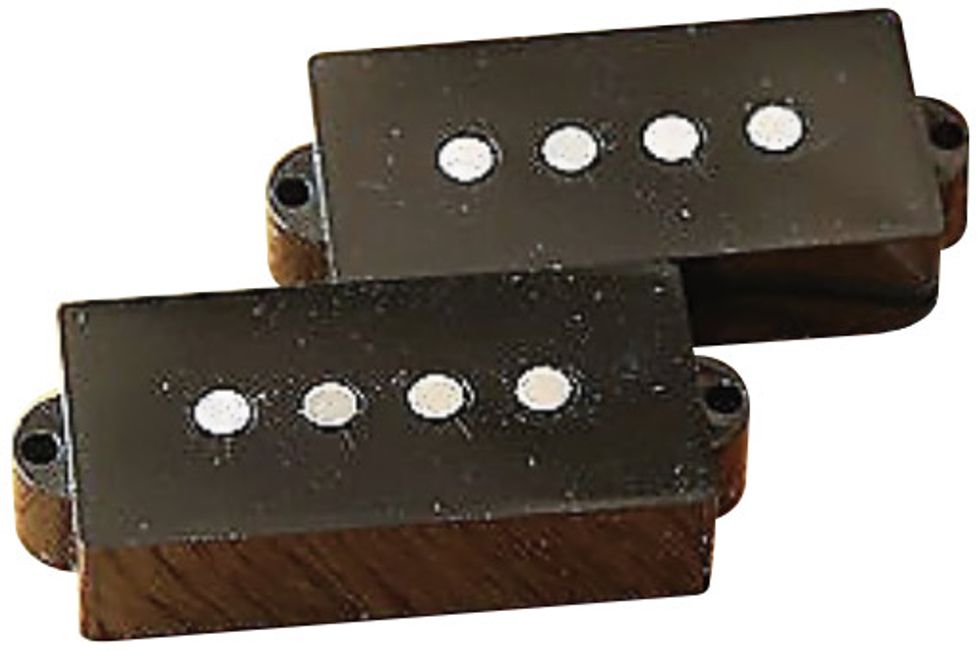 ARCANE-INC.
P-Bass 57' Experience
These period-correct pickup clones are handwound using select materials, including tuned, non-staggered alnico magnets and era-correct wire of the right gauge and type.
$130 street
arcaneinc.com
RIO GRANDE
Vintage P Bass
Using alnico 5 magnets, 42-gauge copper wire, and the company's "tonal enhancement," these pickups were designed to maintain the output, presence, and deep sound of the originals.
$138 street
riograndepickups.com
LINDY FRALIN
P-Bass Replacements
These alnico 5 pickups are handwound to vintage specifications for fat, round, and punchy classic sound, yet are designed to offer modern power.
$140 street
AGUILAR
AG 4P-60
Using the company president's personal '63 and '64 Precisions as a study guide, these pickups employ all-period-correct parts to deliver the ideal amount of midrange and deep support.
$109 street

WILDE PICKUPS
P-46
Developed by Bill Lawrence, these pickups come standard with four conductor wires and feature his multi-pole-piece system, which will accommodate 4-,5-, and 6-string basses.
$60 street
wildepickups.com
BARTOLINI
8SU
Cast in epoxy to remove unwanted feedback and microphonics, these P-style replacement pickups are voiced to deliver deep tones with plenty of lows and low-mids.
$124 street

EMG
GZR-P
Developed with Geezer Butler to deliver the bassist's early Black Sabbath tone, these solderless pickups employ alnico 5 pole pieces and custom-wound coils for punch and grit.
$109 street