This innovative head-and-cab pairing musters impressive thunder for its size. The PG Quilter Bass Block 802 and BassDock 12 review.
Recorded with Yamaha BB1025X using PreSonus FireStudio and PreSonus Studio One 3.
Clip 1: Octabass placed before Bass Big Muff. Normal volume at 2 o'clock, tone at 1 o'clock, octave at noon, range switched to low.
Clip 2: Normal volume at noon, tone at 11 o'clock, octave at 10 o'clock, range switched to high.
 

Ratings

Quilter Labs Bass Block 802Pros:

Compact. Sounds great. Plays well with others.

Cons:

An XLR out might make engineers happier.

Street:

$699

Quilter Labs Bass Block 802quilterlabs.com

Tones:Ease of Use:Build/Design:Value:

Quilter Labs BassDock 12

Pros:

Tight sounding cab. Ingenious amp chamber.

Cons:

Shaving off a couple of pounds would have been nice.

Street:

$549

Quilter Labs BassDock 12quilterlabs.com

Tones:Versatility:Build/Design:Value:
Quilter Labs has a solid history of building great-sounding class-D amps that somehow capture tube characteristics, and in turn, have made their presence known on big stages the world over. The company's innovation continues with the introduction of two new bass products we had the opportunity to check out: the Bass Block 802 and the BassDock 12.
Not Granny's Quilt
The Bass Block 802 is a step up from Quilter's 800 model, which is a no-frills class-D amp built for basic bass-universe domination. The 802 takes this platform a step or two higher with more user-friendly features and more control over the overall bass signal and path.
The first thing I noticed about the Bass Block 802 is the weight. At a scant 3 3/4 pounds, this little guy has a lot going for it. The Bass Block 802 offers 800 watts (at 4 ohms) of class-D power, and its front panel houses a 4-band EQ, effects loop, and a 3-way passive/active/mute toggle switch. There's also a line-out jack that's switchable between a post-master headphone out for silent practice or a pre-master out when playing live. Quilter designed the line out to work with a TRS cable (essentially the same connection as an XLR) in the pre position, and did so with the intention of working better with their cabs.
There was very little breakup at this setting, which is a testament to an improved signal-to-noise ratio.
The back panel of the Bass Block 802 is very straightforward. There is a locking IEC power cord, which can be helpful in preventing accidental unseating. There are a pair of dual Speakon combo jacks, which are compatible with just about every bass cab out there, and an XLR in. (Remember: The balanced 1/4" line out is on the front panel.) The amp also features a redesigned fan for quieter use.
It seems that a lot of small bass amps are running with similar features these days, relying on the tone to really set the amp apart, which is why we're here, right? Moving air and having a few knobs just won't cut it anymore. Quilter's guitar-tone reputation is far-reaching, and I looked forward to hearing if the same could be said for the 802.
New Kid on the Block
I plugged a passive '60s Fender Jazz bass into the Bass Block 802, which was paired with the Quilter BassDock 12. I set the four EQ controls to noon and got to work. With the EQ flat, my bass sounded great through the amp, which provided a true representation of the Jazz. Although I wouldn't normally totally dime out an amplifier, I went loud with the Quilter combination, and the amp and cab really held their own with the gain at ten. There was very little breakup at this setting, which is a testament to an improved signal-to-noise ratio.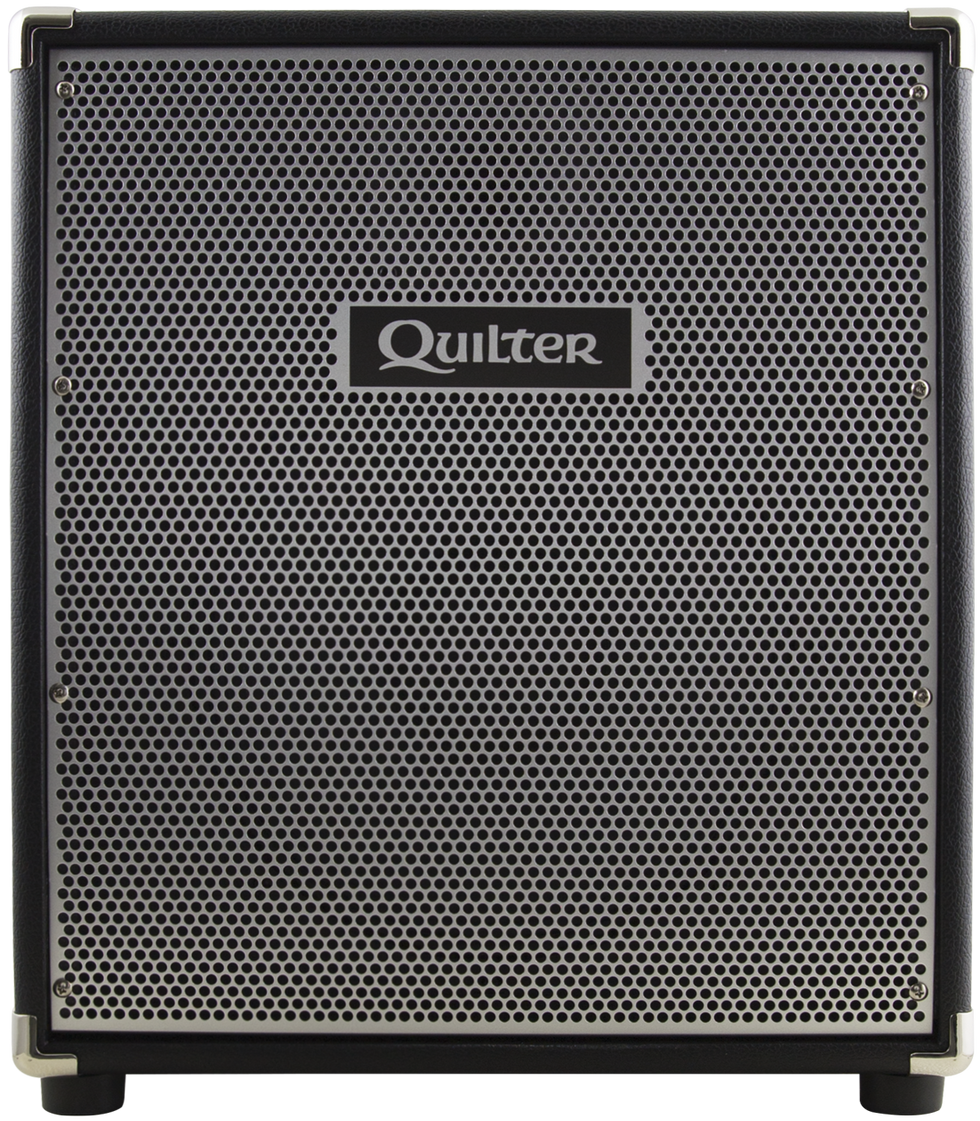 I was able to shape my Jazz into a variety of tonally different and exciting landscapes with the 802's 4-band EQ. The low and high EQs (labeled "depth" and "snap," respectively) offer 15 dB of cut or boost, while the middle EQs ("woof" and "bark") provide 10 dB of cut or boost. The depth control is just that, with the control set for 100 Hz. This 100 Hz dial is the magical control for engineers, since cutting this will help clean up a muddy bass signal in a mix. Small cuts and boosts with the depth control were quite useful without even moving any of the other EQ controls from flat. In fact, I found just enough bump and bite simultaneously to make this a "forever" setting.
When I was running down the other EQ controls, I was impressed with not only the clarity and tone, but also the overall usefulness of how each frequency paired with the initial tone of the amp. The typical smiley face EQ (boosting 100 Hz and 2k, while rolling off 300 Hz and 1k) gave my bass a lot of sparkle and just the right amount of low end, also making this setting one of my favorites.
I also went the opposite tonal direction by rolling off the depth and snap controls to about 10 o'clock, and boosting the woof (300 Hz) and bark (1k) dials to about 3 o'clock. This setting added a great mid bite to the tone without being overbearing or harsh. If you need to cut through a mix, this is where you'll want to be.
Dock and Roll
When is a combo amp notreally a combo amp? Well, when the amp can be lifted away from its home to be used in other applications. Picture this: The BassDock 12 is a brilliant way to store and transport your class-D micro head (it's not just limited to Quilter). With a simple screw-turn, the amp can be removed and taken wherever needed. To be able to carry a studio-quality preamp with you for recording, rehearsing, or practicing is a huge selling point of this setup.
But don't let the innovative design of the BassDock 12 trick you into thinking it's the main selling point. The BassDock 12 is a powerful cabinet that offers both a compact footprint and earth-rumbling goodness. And this cab—which boasts a 12" Eminence speaker and Eminence horn—has the same build quality of the Bass Block 802. It clocks in around 37 pounds, so it is a bit weightier than some other 1x12 cabs out there. I liked the overall tone of the cabinet, which allowed the bass to be represented well while moving a lot of air. I would have liked to have seen a Speakon connector in addition to the 1/4" jack, but this is just personal preference.
The Verdict
The role of the bass amp has been moving and shaking the past few years. Not that long ago it was big amps and lots of speakers before trends moved to automated digital DIs, and then the class-D amps showed up and gave us restored hope that we can have amps onstage again. Independently, the Bass Block 802 and the BassDock 12 are both fine pieces of gear. If you have a cab you like, then grab the Bass Block 802 and move some masses. It's feature-packed, sounds great, and is easy on your load in. If you have a micro amp you dig and it can fit in the dock of the BassDock 12, then pair them up and get rocking. Or, you could get really efficient and grab the pair, which are simply made for each other.
A tasty new bass rig from Laney that aims to please equally onstage or in the studio.
Lyndon Laney's story is pretty cool. The Laney amp founder was a bassist who built his own amps out of financial necessity. One of his early amps ended up in the hands of Tommy Iommi (who continues to play through Laney's wares today.) What's more, Laney was a member of The Band of Joy whose singer and drummer would move on to become half of Led Zeppelin.
Nice connections? Yeah, sure. But the bottom line is that Laney has always built solid amps. And while Lyndon has passed on the business to his son, the company still remains a vital and evolving amp builder. Case in point: the Nexus Studio Live, a compact, rack-mountable 1,000-watt bass amp built around a hybrid circuit with a tube preamp and solid-state power section.
Nexus Up
The Nexus SL generates 1,000 watts of power using a ECC83 tube in the preamp and two class-D amps (500 watts each.) The front panel controls, which include EQ and onboard effects make for busy set, but it's more user-friendly than it looks.
The back panel has a cornucopia of usable features built in. You'll see the usual speaker outs, a DI (pre/post/source switchable), FX loop, headphone jack, and tuner in. Laney added a USB out that sends a dry signal to the left side of a recording and full-amp sound (with EQ and effects) to the right. There's also a reamp send that allows a recorded sound to be sent back to the amp for re-processing when/if needed.
The EQ is set up for small adjustments to boost and cut just the right amount of spice for the soup.

Intervals and Space
I plugged a Fender Squire Vintage Modified Jazz V into the Nexus SL, which was paired with Laney Nexus N210 and N115 cabinets. With the EQ set flat, I adjusted the shape control—a 4-way selector with a quartet of preset EQ curves. The settings run from flat to slightly mid-scooped to heavily mid-scooped and mid-bumped. This control alone gives you a variety of tight tones. The shape control can also be maneuvered with the included footswitch.
The boost/cut EQ section has low, sweepable mid, and treble controls that move within a fairly narrow range. The reason behind the subtle EQ is that the Nexus has a not-so-subtle tilt control. Turning it to the left increases lows, and turning it clockwise increases the highs and mids for more presence. Pushing the tilt all the way counterclockwise would make Family Man Barrett smile—the lows are downright earthshaking. The treble side, however, can get nasty when cranked all the way, so use with caution and in small doses. Next to the tilt dial you'll find the touch control, which adjusts how the amp reacts to the player. You can open up your tone with less pronounced less attack, or ease the control counterclockwise for a tighter feel.
Laney Nexus Studio Live

Pros:
Great overall tone. Loads of cool, functional extras.
Cons:
Effects are a little anti-climactic. Would be better if the effects were available separately.
Tones:


Ease of Use:


Build/Design:


Value:


Street:
$999
Laney Nexus N210 and N115 cabinets

Pros:
Tight and precise. Great portability.
Cons:
Could use more tonal character.
Tones:


Versatility:


Build/Design:


Value:


Street:
$599
laney.co.uk
Laney threw a few tricks into the mix with the amp's onboard effects. There are three dials in the top row. Two are effects and the other a sweetener. Space, the first dial, is a combination reverb/chorus control. The next control is interval, which is a dual octave/5ths effect. These two (four) effects can also be turned on and off via the footswitch. The third dial in the row—called focus—is used in conjunction with the interval control. Turing it to the right while the interval is engaged adds shimmer to the highs. Dialed counterclockwise, it boosts the low end.
The Taste Test
It would be almost impossible to run through the seemingly unlimited amount of tone combinations, but there were a few that stood out for me. The mid scoop resulting from the shape control's third position really makes the onboard effects—especially the chorus—come to life, and it added slap-happy articulation to my passive bass and great overall tone for rock, R & B, or anything else high-energy. Things got interesting when I added in 5ths via the interval control, especially with the brighter top end. For solo sections or someone wanting to crank out some synth-type lines, this setting will make for a cool new twist.
The shape's mid-boosting fourth position gives the onboard effects more clarity and shine, and the mid bump will certainly come in handy if you need to punch through a muddy-sounding stage mix. Even the flat setting (position one) was impressive, revealing that this amp colors the tone very, very little.
The amp's touch feature is an interesting slant. If you were to just sit and turn the knob back and forth the audible changes are minimal. But to the touch it will get more responsive and tight, or a little more open and loose. I actually liked the amp in both extreme settings, but the that it can be dialed in to suit varied players is cool.
The 2x10 and 1x15 neo-loaded cabs Laney supplied for the review are just about the perfect combo setup for any bass situation. And they proved to be good matches with the Nexus SL by handling the octave crush with ease and rocking every bit of the 1,000 watts the amp can throw. I'm not a huge fan of horns in bass cabs, so I liked that I could toggle the horns to off or half-power settings if necessary. That said, the LaVoche horns sizzle without being too harsh and the crisp definition given to the N115 is a nice thing to have if you're running the 1x15 on its own. The compact N115 and N210 are relatively lightweight at 19 1/2 pounds each, which makes for a easy load out.
The Verdict
The Nexus SL is a mighty versatile and great-sounding amp on its own, and a force to be reckoned with when joined with the matching cabinets. The tone is tight and concise, and the pairing of high output, solid state power amps with the ECC83-based preamp is a combo offers everything from mean to warm. I certainly would have preferred the onboard effects as singular entities—there seems to be ample room on the front panel. That gripe aside, the reamping functionality makes the Nexus SL a very useful studio piece, the USB feature makes it a cool mobile recording rig, and you've got a standalone practice amp by simply plugging in headphones. The Nexus SL rig is worthy of serious consideration from any player looking for power, tone, unique features, and a solid presentation.
Watch the Review Demo:

A rare early-'80s bass amp model sometimes used by Paul McCartney.
Hey Zach,
I always enjoy your column, so I thought I'd pick your brain about a Vox V125 Bass tube amp I bought in the late '80s or early '90s. I can't find much info on it, and I wonder why you don't see them around. Vox's classic guitar amps are so popular, but this bass amp was not. Short of Sir Paul McCartney, I've never seen anybody use one. You'd think gear used by a Beatle would catch on more! I've owned all kinds of amps over the years, but I've never wanted to part with this one. Am I just weird?
Thanks,
Yvon in Edgewood, Kentucky
Hi Yvon,
A taste for unique vintage gear does not qualify as weird! I think Vox's bass amps aren't so highly regarded because Vox is one of a number of manufacturers who made guitar amps first, and then slightly tweaked their guitar offerings to make a bass amp. Marshall is another example.
Vox knocked it out of the park in the late '50s/early '60s with their AC30 and its variations, but the company didn't keep up with musicians' styles enough to remain a driving force in the industry—something Marshall did quite well. Marshall went on to build some of the greatest guitar amplifiers of all time, while Vox spent decades struggling to rediscover its identity. Partly this was due to Vox's messy ownership history—especially from 1967, when founder Tom Jennings and engineer Dick Denney exited the company, until the early '90s, when Korg purchased the brand. Sales, moves, and bankruptcies contributed to an unstable brand and many experimental designs.
It's no secret that Marshall and Vox were rivals for many years. It's interesting that Jim Marshall, who had a music shop in West London, was a Vox dealer early on. When Marshall started designing and building amplifiers that would compete with Vox, Tom Jennings was not impressed. But by the '70s the sides had switched, and many Vox amps were designed to compete with Marshall's successful stacks.
Vox knocked it out of the park in the late '50s/early '60s with their AC30, but the company didn't keep up with musicians' styles enough to remain a driving force in the industry.

Rose Morris was the exclusive Marshall distributor between 1965 and 1980. In the late '70s Rose Morris, correctly assuming that Marshall wouldn't renew their soon-to-expire contract, purchased Vox to fill the impending void.
Introduced in the early '80s and produced in England, the V Series amps were some of Vox's first amplifiers under Rose Morris ownership. They were derived from the AC120, first offered in the mid-'70s. These amplifiers—specifically the V125 Lead and the V125 Bass—were clearly designed to go up against Marshall's stacks. (Combo versions called the V125 Combo and the lower-wattage V15 were also offered.)
These amps were advertised as "pure valve power," but they actually have two transistors in the preamp stage. Otherwise, the V125 Bass is an all-tube amp with four preamp tubes (1 x ECC81, 1 x ECC82, 2 x ECC83) and four EL34 power tubes. It produces 125 watts and features two inputs (brilliant and normal), along with sensitivity, volume, and master-volume controls. A 5-band EQ section ranging from 50 Hz to 1,600 Hz rounds out the controls. The separate VR115 cabinet houses a single 15" Celestion speaker. The only noticeable differences on the V125 Lead are a distortion control instead of sensitivity, an EQ section ranging from 100 Hz to 2,300 Hz, and two 12" speakers.
When this amp appeared in the early '80s, bass-specific amplifier companies such as Hartke, SWR, and Gallien-Krueger were emerging, and bassists took notice. Why buy a slightly tweaked guitar amp when new amps designed specifically for bass were now available? Also, since this amp series was only offered for about two years, Vox didn't make many of them.
Currently, a V125 Bass rig (including both the head and speaker cabinet) is valued between $800 and $1,000 in excellent condition. The general consensus amongst collectors and players is that these are good-sounding amps, and most people who own them have enjoyed them.
Vox limped along through the '80s and early '90s before Rose Morris sold the brand to Korg. (Until 2010, Korg also distributed Marshall amplifiers in the U.S., uniting the two rival brands.) Since then, Vox has enjoyed over two decades of stability under Korg while re-establishing itself as a major player in the guitar-amp industry.
Don't let anyone tell you otherwise: Unique vintage gear that works well and sounds decent is cool, and liking it doesn't make you weird! If you can find these pieces relatively inexpensively, they can be treasures.