This Bass Head Redefines What It Means to "Get in the Pocket"
This innovative head-and-cab pairing musters impressive thunder for its size. The PG Quilter Bass Block 802 and BassDock 12 review.
Recorded with Yamaha BB1025X using PreSonus FireStudio and PreSonus Studio One 3.
Clip 1: Octabass placed before Bass Big Muff. Normal volume at 2 o'clock, tone at 1 o'clock, octave at noon, range switched to low.
Clip 2: Normal volume at noon, tone at 11 o'clock, octave at 10 o'clock, range switched to high.
 

Ratings

Quilter Labs Bass Block 802Pros:

Compact. Sounds great. Plays well with others.

Cons:

An XLR out might make engineers happier.

Street:

$699

Quilter Labs Bass Block 802quilterlabs.com

Tones:Ease of Use:Build/Design:Value:

Quilter Labs BassDock 12

Pros:

Tight sounding cab. Ingenious amp chamber.

Cons:

Shaving off a couple of pounds would have been nice.

Street:

$549

Quilter Labs BassDock 12quilterlabs.com

Tones:Versatility:Build/Design:Value:
---
Quilter Labs has a solid history of building great-sounding class-D amps that somehow capture tube characteristics, and in turn, have made their presence known on big stages the world over. The company's innovation continues with the introduction of two new bass products we had the opportunity to check out: the Bass Block 802 and the BassDock 12.
Not Granny's Quilt
The Bass Block 802 is a step up from Quilter's 800 model, which is a no-frills class-D amp built for basic bass-universe domination. The 802 takes this platform a step or two higher with more user-friendly features and more control over the overall bass signal and path.
The first thing I noticed about the Bass Block 802 is the weight. At a scant 3 3/4 pounds, this little guy has a lot going for it. The Bass Block 802 offers 800 watts (at 4 ohms) of class-D power, and its front panel houses a 4-band EQ, effects loop, and a 3-way passive/active/mute toggle switch. There's also a line-out jack that's switchable between a post-master headphone out for silent practice or a pre-master out when playing live. Quilter designed the line out to work with a TRS cable (essentially the same connection as an XLR) in the pre position, and did so with the intention of working better with their cabs.
There was very little breakup at this setting, which is a testament to an improved signal-to-noise ratio.
The back panel of the Bass Block 802 is very straightforward. There is a locking IEC power cord, which can be helpful in preventing accidental unseating. There are a pair of dual Speakon combo jacks, which are compatible with just about every bass cab out there, and an XLR in. (Remember: The balanced 1/4" line out is on the front panel.) The amp also features a redesigned fan for quieter use.
It seems that a lot of small bass amps are running with similar features these days, relying on the tone to really set the amp apart, which is why we're here, right? Moving air and having a few knobs just won't cut it anymore. Quilter's guitar-tone reputation is far-reaching, and I looked forward to hearing if the same could be said for the 802.
New Kid on the Block
I plugged a passive '60s Fender Jazz bass into the Bass Block 802, which was paired with the Quilter BassDock 12. I set the four EQ controls to noon and got to work. With the EQ flat, my bass sounded great through the amp, which provided a true representation of the Jazz. Although I wouldn't normally totally dime out an amplifier, I went loud with the Quilter combination, and the amp and cab really held their own with the gain at ten. There was very little breakup at this setting, which is a testament to an improved signal-to-noise ratio.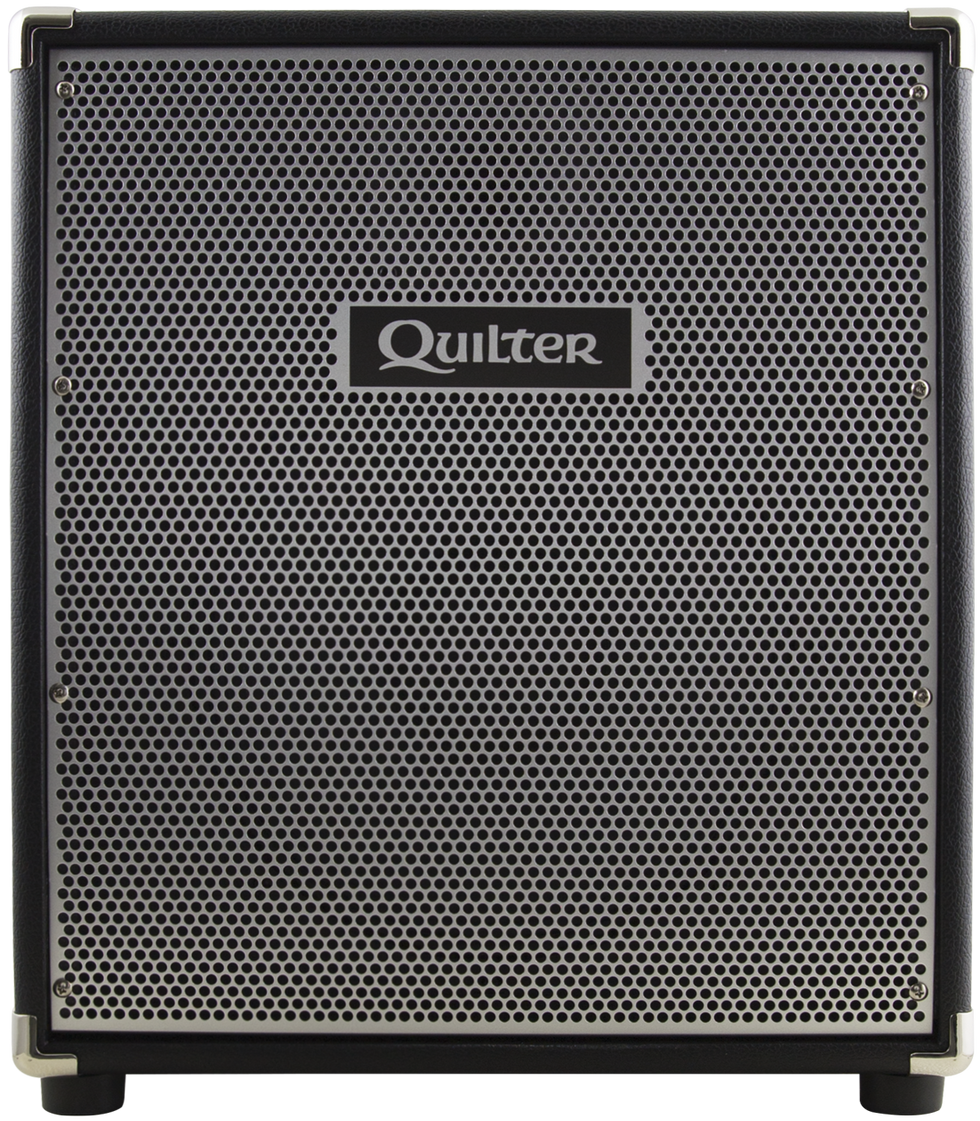 I was able to shape my Jazz into a variety of tonally different and exciting landscapes with the 802's 4-band EQ. The low and high EQs (labeled "depth" and "snap," respectively) offer 15 dB of cut or boost, while the middle EQs ("woof" and "bark") provide 10 dB of cut or boost. The depth control is just that, with the control set for 100 Hz. This 100 Hz dial is the magical control for engineers, since cutting this will help clean up a muddy bass signal in a mix. Small cuts and boosts with the depth control were quite useful without even moving any of the other EQ controls from flat. In fact, I found just enough bump and bite simultaneously to make this a "forever" setting.
When I was running down the other EQ controls, I was impressed with not only the clarity and tone, but also the overall usefulness of how each frequency paired with the initial tone of the amp. The typical smiley face EQ (boosting 100 Hz and 2k, while rolling off 300 Hz and 1k) gave my bass a lot of sparkle and just the right amount of low end, also making this setting one of my favorites.
I also went the opposite tonal direction by rolling off the depth and snap controls to about 10 o'clock, and boosting the woof (300 Hz) and bark (1k) dials to about 3 o'clock. This setting added a great mid bite to the tone without being overbearing or harsh. If you need to cut through a mix, this is where you'll want to be.
Dock and Roll
When is a combo amp notreally a combo amp? Well, when the amp can be lifted away from its home to be used in other applications. Picture this: The BassDock 12 is a brilliant way to store and transport your class-D micro head (it's not just limited to Quilter). With a simple screw-turn, the amp can be removed and taken wherever needed. To be able to carry a studio-quality preamp with you for recording, rehearsing, or practicing is a huge selling point of this setup.
But don't let the innovative design of the BassDock 12 trick you into thinking it's the main selling point. The BassDock 12 is a powerful cabinet that offers both a compact footprint and earth-rumbling goodness. And this cab—which boasts a 12" Eminence speaker and Eminence horn—has the same build quality of the Bass Block 802. It clocks in around 37 pounds, so it is a bit weightier than some other 1x12 cabs out there. I liked the overall tone of the cabinet, which allowed the bass to be represented well while moving a lot of air. I would have liked to have seen a Speakon connector in addition to the 1/4" jack, but this is just personal preference.
The Verdict
The role of the bass amp has been moving and shaking the past few years. Not that long ago it was big amps and lots of speakers before trends moved to automated digital DIs, and then the class-D amps showed up and gave us restored hope that we can have amps onstage again. Independently, the Bass Block 802 and the BassDock 12 are both fine pieces of gear. If you have a cab you like, then grab the Bass Block 802 and move some masses. It's feature-packed, sounds great, and is easy on your load in. If you have a micro amp you dig and it can fit in the dock of the BassDock 12, then pair them up and get rocking. Or, you could get really efficient and grab the pair, which are simply made for each other.
---