This year's highlights include an obsession with Lehle switchers, a literal charcuterie board repurposed into a stomp station, a pedalboard project to celebrate years of sobriety, and a guitarist who plays his wah like he's riding a skateboard. Enjoy!
When it comes to the pedalboard puzzle of assembling your guitar toys into an order that works for you and your sound, putting it all together is an adventure. Each year, we love to play voyeur to approaches wide and far … and learn about obscure stomps we've never tried before. Enjoy!
Aaron Juracek: Jackson Audio Enthusiast
I love Jackson Audio pedals. They sound amazing and are the only usable MIDI-controlled gain pedals I can find. There are other MIDI-controlled drives, but I find that whenever you play in a different room, the drive settings need to change, which, for a lot of them, means modifying presets every time you play in a different location. These have all of the gain and EQ settings as knobs, so I can just change them on the fly, and still have MIDI control whether it's on or off—the clipping type and the gain staging. I also love the combination of the Strymon BigSky and Neunaber Expanse reverb. The Cloud reverb from the BigSky into the wet reverb setting on the Expanse is one of the most beautiful sounds I have ever heard.
From my guitar I go to an Old Blood Noise Minim, FoxRox Octron 2, and a Keeley Dark Side before going into the loop of a GFI Synesthesia. In the loop sits a trio of Jackson Audio pedals: Golden Boy, Broken Arrow, and Abasi along with my amp's preamp section (via the effects loop) and a Jackson Audio Bloom. Out of the GFI's post-section sits a Walrus Audio ACS1, Keeley Halo, Strymon TimeLine, Strymon BigSky, and a Neunaber Audio Expanse. From there I can choose whether I need to go mono or stereo and if I need to use an amp or go direct.
Andrew Yankowsky: Simple, Not Elegant
I play, write, and record music for a local ska/reggae/punk/Afrobeat band called Zeme Libre out of Portland, Maine. I put this board together to take a bit of a beating at live shows with wonderful pedals that give me the tone and sound I'm looking for. Although my board changes every so often, I keep similar pedals in the mix to keep certain sounds I use on recordings. Simple, not elegant. Thanks for checking it out!
First, I go into the Boss TU-2, DOD FX59 Thrash Master, Ibanez TS9 Tube Screamer, EarthQuaker Devices Hizumitas Fuzz Sustainar, MXR Handwired Script Phase 90, Way Huge Supa-Puss Analog Delay, Boss DD-6 Digital Delay, Boss RE-2 Space Echo (connected with Boss FS-5U Foot Switch for tap tempo), DOD FX65B Stereo Chorus, and out to an Electro-Harmonix Holy Grail Nano.


Chris Voigt: My Modest Bass Rig
My board is still and ever evolving. At the moment, it has just about everything I need or want. People often ask me why I don't use a preamp. The answer is, simply, that I really like the tone of my Orange Bass Crush 100 and the gain it delivers. My favorite pedal is the All-Pedal Electronics Macrodose Envelope Filter. It's a very fun pedal with many face-melting psychedelic tones and shapes, and it pairs nicely with the Walrus Audio Slötvå.
This is my modest bass rig. Pedalboard is run through an Orange Bass Crush 100 FX loop: Electro-Harmonix EHX-2020 Tuner > Walrus Audio Kangra Filter Fuzz > Walrus Audio Mira Optical Compressor > Walrus Audio Julia Chorus/Vibrato > All-Pedal Electronics Macrodose Envelope Filter > Electro-Harmonix Canyon Delay & Looper > Walrus Audio Slötvå Multi-Texture Reverb.
Guido Stoecker: Love for Lehle and Weehbo
After two decades of using a Bogner Ecstasy, I was introduced to Eich Amplification, and I'm endorsing them now by using the GT3500 non-master volume head. It took me more than a year to come up with the concept of the board, testing tons of overdrive pedals, 'til I found Weehbo guitar pedals. On the spot, they gave me the sound I wanted. I took the board out on the road on a tour with the Sweet and it worked fantastic with no failure in any way. Easy to handle—it is big, it looks big—but it is, at least, very simple.
The board is controlled by Lehle switchers. My guitar runs into the Lehle 3at1 green switcher. From there, the signal runs into a Real McCoy Wah, into the first yellow Lehle D. Loop, from there to the next yellow looper, and finally into the red Lehle Dual switcher. Then we go stereo into the TC Electronic Quintessence, from there one channel to amp 1, the other channel into the BBE Sonic Stomp, then into amp 2. The yellow loopers allow me to only connect the pedal I need for each sound into the chain; all others are off then. I use a Weehbo JMP Drive and an MXR Delay for my slightly distorted clean tone, and a second Weehbo JMP Drive for AC/DC-like crunch. This can be boosted by the second looper. The blue Weehbo JVM Drive is my main distorted rhythm sound. The black Weehbo JVM Drive in connection with the T-Rex Duck Tail Delay is my lead sound (the Duck Tail has a tap function). I can connect up to three guitars to the board. For tuning, I press the button on the green Lehle switcher, and the signal is led then to the Fender PT-100 Tuner, so I can tune without any sound. The board is powered by two CIOKS power supplies.
Mako G: The Surfybear Board
This is my surf guitar rig. The Surfy Industries Surfybear Reverb provides the essential, classic spring reverb "drip"; the Boss OC-5 Octave instantly turns me into two thirds of a power trio; the Boss BF-2 Flanger is used as an organ simulator; the Ibanez TS9 Tube Screamer is used as a dirty boost. I originally got the Electro-Harmonix Oceans 11 to do what the Surfybear does, but kept it on the board even after getting the Surfybear, because it's so versatile. I mainly use it for tremolo. The Quilter SuperBlock is basically three classic Fender amps that fit on a pedalboard and can even be powered by a power brick at lower volumes. With the Joyo JP-05, the full rig can be powered without being plugged into a wall (I also use an adapter to turn a cell phone powerbank into a 12-volt source for the Surfybear).
Boss TU-2 Chromatic Tuner
Boss BF-2 Flanger
Surfy Industries Surfybear Classic Reverb
Powered by Joyo JP-05 (rechargeable power supply)
Marc Weakland: Like a Skateboard
When I was younger, I lost both my legs from the knees down. I have to play sitting down due to my balance. I can't flex my artificial foot, so I have my Wah horizontal on my board and play it with two feet like a skateboard!
Here's the breakdown of my pedals: DigiTech Drop, Boss TU-3W, Dunlop Kirk Hammett Wah, Electro-Harmonix Tone Corset, Does It Doom Sabbathi Fuzz, TC Electronic Spark Mini Booster, TC Electronic Eyemaster Metal Distortion, Wampler Dracarys, Wampler Ratsbane, Catalinbread Sabbra Cadabra, Boss NS-2 Noise Suppressor, TC Electronic Dreamscape, MXR Phase 90, Ernie Ball Tap Tempo, Electro-Harmonix Canyon Delay & Looper.

Matei Haskins: Divine Purpose
I'm permanently disabled with a neurological movement disorder, so I'm usually broke, but I got a year of rent assistance last year and was able to build up a recording studio again (I lost my original studio and instruments to homelessness). I got all of these in 2022, but this is it. Back to paying rent—I can barely afford to keep fresh strings on the guitar and bass. But I have what I need to stay creatively productive. These are bass and guitar pedals in one chain; I just switch the amps. The board is a coffee table cut short to 8" and spray-painted black. Music is the only effective treatment for my neurological condition and my divine purpose on Earth is to create music and dance. You can hear the music I make with this pedalboard at DECEMBERmusic.org.
My signal chain:
Guitar > TC Electronic Wiretap Riff Recorder > DigiTech FreqOut > Keeley Compressor Pro > Friedman Buxom Boost > Horizon Devices Precision Drive > Wampler Belle > Fender Pugilist > Amptweaker Tight Metal Pro II > Revv G4 > F-Pedals Lorion > Marshall DSL20CR, FX send > Behringer PEQ-2200 rack (not pictured) > Electro-Harmonix Tri-Parallel Mixer [Loop 1: Arion SFL-1 Stereo Flanger, Loop 2: Seymour Duncan Polaron, Loop 3: MXR Analog Chorus > TC Electronic Thunderstorm Flanger > DOD FX72 Bass Stereo Flanger] > DOD FX62 Bass Stereo Chorus (stereo out) > Source Audio Nemesis Delay > Source Audio Ventris Dual Reverb > Source Audio Vertigo Tremolo > Boss SL-2 Slicer > two BBE Sonic Stomps (not pictured) > FX returns (Marshall DSL20CR left, Marshall Valvestate 40V 8040 right)
Randy Johnson: Crunchy, Crunchier, Uber-Crunchy
I like the Boss BCB-60 Pedal Board because the foam padding can be shaped to hold your pedals firmly in place without having to use Velcro tape or zip ties, and provides for a very clean presentation. My board has evolved over the years, having gone through many different iterations before arriving at my current setup. The more I used my board in a live setting, the more I realized that certain tones could be improved more to my liking, or others were just not used that much. I'm very happy with how my personal quest for tone has evolved!
I've finally settled in (for now) on the thought that I like the sound of overdrive ... A LOT, so my board goes from clean to crunchy, crunchier, and uber-crunchy with a few extra tools to modify the sound.
It all starts from the guitar, as follows:
Wampler dB+: I've got enough pedals connected that it helps to give the chain a boost at the front end, so this one is left on.
Fender The Bends Compressor: I spent a lot of time going through compression pedals to enhance my sustain without making the signal sound squishy. This one does a great job of that, and I pretty much leave it on all the time.
EarthQuaker Devices Special Cranker Overdrive: I love this pedal in that, unlike other overdrive pedals, you can go from zero gain to a moderate amount.
Wampler Tweed '57 Overdrive: This pedal does a great job of sounding like an overdriven Deluxe Reverb amp, and holds the middle position in my dirty to dirtiest chain. I don't think that Wampler produces these anymore, so I'm really glad I was able to score one!
Fulltone OCD: What can I say.... This is a great pedal for super-overdriven feedbacky sounds! Another pedal you need to get while you can.
Boss TR-2 Tremolo: This comes in handy for shaping sounds on certain tunes. I don't know if there's anything better out there, as this one has always made me happy.
MXR Carbon Copy Analog Delay: This is a great delay pedal, and I tend to use it mostly for solos. A good way to jump out in the mix. From here, it's out to the amp.
I can't stress enough how important patch and power cables are to the overall tone. I upgraded my to EBS Premium Gold Flat patch cables and was amazed at the audible difference in my tone. Finally, I switched to a Truetone 1SPOT combo pack for my 9V AC converter. It turns out a good power supply greatly cleans up the buzzing and humming.
Scott Agner: Charcuterie Board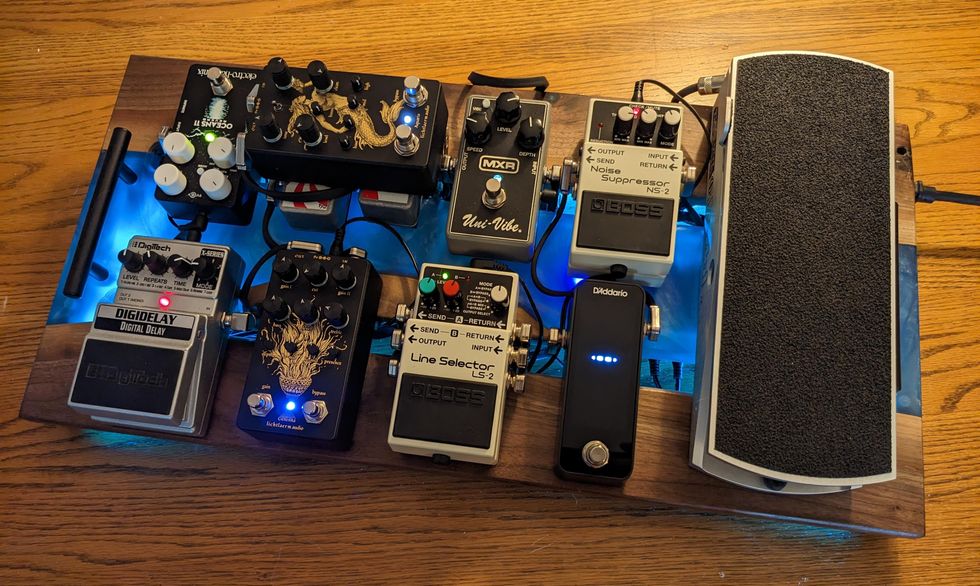 I started building my first pedalboard in August 2022 to meet some very specific needs, namely sending magnetic pickups and a piezo pickup to two different amps and using a Boss LS-2 Line Selector to switch between a high-gain tone and a psychedelic blues tone, which both include a common overdrive pedal (the Lichtlaerm Audio Aquaria).
I repurposed a black walnut/epoxy resin charcuterie board with homemade MDF base and added an LED backlight. I'm very proud of how it turned out and hope to make more wood and epoxy resin pedalboards in the future.
Signal chain as follows:
Boss NS-2 to D'Addario PW-CT-23 to Boss LS-2 (Loop 1: MXR Uni-Vibe to Saturnworks Passive Combiner to Lichtlaerm Audio Aquaria to Saturnworks Passive Splitter back to LS-2; Loop 2: Saturnworks Passive Combiner to Lichtlaerm Audio Aquaria to Saturnworks Passive Splitter to Lichtlaerm Audio Gehenna back to LS-2) to amp input, amp effects send to Ernie Ball Stereo Volume/Pan (fades between magnetic pickups to electric amp and piezo pickup to acoustic amp) to DigiTech DigiDelay to Electro-Harmonix Oceans 11 to amp effects return.


Scott McCue: Drilled My Own
It started with a medium Mono Pedalboard, but I didn't care for the huge holes. So, I mounted a piece of polyboard onto it and drilled the holes where I needed them. All of my power and patch cables are custom made to length. Of course, it's foolish to think I'm done. Lol.
Signal chain: Line 6 Relay G50 wireless system (underneath with power supply), Korg Pitchblack Poly tuner, A/B switcher. Path A of my chain starts with the mini wah, into the Friedman BE-OD Deluxe, Electro-Harmonix B9 Organ Machine, and Tech 21 Roto Choir to a Friedman Smallbox amp. Path B of my chain is a Boss PS-6 Harmonist, MXR Talk Box, Keeley Halo Andy Timmons Dual Echo, to the Boss RV-6 Reverb in the effects loop.
Stephan Stacey: Are you a Holdsworth?
Two Yamaha Magicstomp IIs (their modulations and multi-tap delays still can't be beaten) bookend Eventide H9 Harmonizer units for days! So much sonic flexibility in a relatively small footprint (by today's mega-board standards).
The two Magicstomps have been staples since they were released in 2001. (No, I'm not particularly an Allan Holdsworth, which is always the first question.) Many, many other pedals have come and gone until I realized that the Eventide H9 could cover so much ground. Then one became two, and two became four.
Stephen Cyford: The Illuminator
I could've gone crazy with the number of pedals but my goal with this board was to limit myself to the size of the Pedaltrain 2. I feel it's worthwhile to invest in a good soldering iron and make your own cables. On my Pedaltrain 2 board, I utilized a plexiglass top to increase surface area and to have an illuminated edge on all sides of the board.
It's a good idea to leave at least one auxiliary position on your board, two if you utilize an FX loop (one in front of the amp and one in the loop). In my setup, the DigiTech FreqOut (in front) and the MXR Smart Gate (in amps effects loop) can easily and quickly be swapped for another pedal.

Signal chain:
Guitar > TC Electronic PolyTune 3 > Dunlop Cry Baby Mini 535Q Auto-Return Wah > DigiTech FreqOut > Musicomlabs EFX MKII switcher input A > Xotic SP Compressor (loop 1) > Wampler Tumnus (loop 2) > (loop 3 and 4 empty) > Musicomlabs EFX MKII output A to input of the amp (Bogner Shiva 20th Anniversary or EVH 5150III) > FX loop send > Ernie Ball VPJR Super Bee > Musicomlabs EFX MKII input B > 1982 Boss CE-2 Chorus (loop 5) > MXR Smart Gate (loop 6) > Strymon TimeLine (loop 7) > Strymon Flint (loop 8) > Musicomlabs EFX MKII output B > Amp FX return.

Additional fun facts about how I use this board:
MXR Tap Tempo simultaneously sets tempo of the Strymon TimeLine and the Flint's tremolo.
Musicomlabs EFX MKII sends MIDI commands to the amps for channel switching.
Voodoo Lab Pedal Power 2 Plus powers everything. The Strymon TimeLine utilizes the Pedal Power's courtesy AC output for power.
All Mogami 2319 cables with a mix of HiCon, SP400, and Switchcraft plugs.
LED tape strip under board is also powered by the Voodoo Lab Pedal Power 2 Plus.
Altoids tin stores picks.
Board has been gigged routinely since 2016.
Steve Tumolo Jr: Two Tiers of Tone
My best friend and mad scientist Don Kern built this board for me. We went with a two-tier design for ease of getting to the back row of pedals. From the start, the plan was to run the A/B setup. The fatness of the Fender blends well with the Marshall. I keep the tuner all the way to the left because I use my right foot to hit all the pedals, and it made more sense to keep it out of the way and not waste the space by putting it in front of the other pedals.
This is what I've got going on: Morley Bad Horsie 2 Contour Wah, Dunlop Rotovibe, DOD Boneshaker Distortion, Ibanez TS9 Tube Screamer, Electro-Harmonix Big Muff Pi, DigiTech Nautila, Ibanez PT9 Phaser, Electro-Harmonix Canyon Delay & Looper, TC Electronic PolyTune, Electro-Harmonix Switch Blade Plus A/B box running to a Fender Hot Rod Deluxe and Marshall Valvestate VS65R.
Taylor Frost: Taking My Life Back
After my first year of sobriety after quitting drinking during the pandemic, I treated myself to my first effects pedal after playing for around 10 years. During my alcoholism, everything music-related seemed to drift away from me, whether it was my bandmates or my prized equipment.
As I begin my third year of sobriety, I look at my pedalboard as a reflection of the life I took back after nearly losing everything. Some pedals are the ones I lusted after in high school; others, like the FET preamp, have a special story. I repainted it purple and placed a pit bull decal on it to commemorate the dogs I've fostered over the years in my volunteer work for an L.A.-based pit bull rescue. Every time I fire up my board, it feels like a treat I give to myself for staying sober another day.
Effects loop: Ibanez FL9 Flanger > Pigtronix Moon Pool Tremvelope, TC Electronic 3rd Dimension Chorus > TC Electronic The Prophet Digital Delay > Electro-Harmonix Cathedral Reverb

In front: Dunlop Cry Baby 535Q Multi-Wah > Pigtronix Philosopher's Tone Compressor > homemade FET preamp clone > Boss MT-2 Metal Zone > Ibanez Tube Screamer Mini > Donner Noise Killer

Thomas de la Perrelle: Do It All Board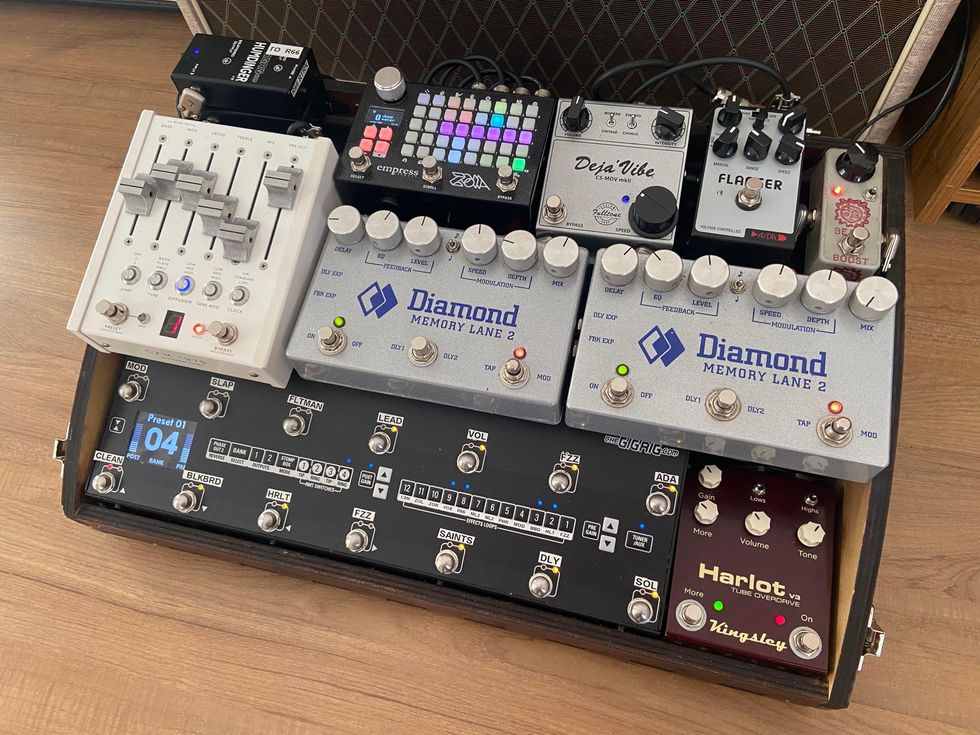 My pedalboard is my dream recording "do-it-all board," controlled via the GigRig G3 switcher. The signal chain:
Analog Man Beano Boost
Williams Supa Fuzz
Effectrode Blackbird Vacuum Tube Preamp
Kingsley Harlot
Universal Audio A/DA Flanger
Fulltone DejáVibe MkII
Moogerfooger MF-103 12-Stage Phaser
Diamond Memory Lane 2 Analog Delay
Diamond Memory Lane 2 Analog Delay
Empress Effects ZOIA
Chase Bliss Audio CXM 1978
The pedals are powered by a combination of an Eventide PowerMax and a variety of GigRig power adapters.
I mainly play pop, indie, and rock music, so the board was built with the intention of having a variety of gain stages and a powerful modulation/delay section. I run the pedals in stereo or wet-dry with a Vox AC30 and a Dr. Z Route 66. The pedalboard is perfect for everything from punchy drives to atmospheric soundscapes and juicy fuzz tones.
Mr. Blues Power remembers his inner Iommi being awakened when first nailing the haunting Paranoid classic.
Among the highlights are collaborations with Tony Iommi, Adam Jones, a new acoustic custom shop, and the Historic Reissue ES Collection.
Nashville, TN (January 10, 2020) -- For the past 126 years, Gibson has been synonymous with creating and shaping sound. The new Gibson era celebrates the iconic models of the Gibson Golden Era while leaning into the future with instruments that nurture new players across generations, genders, and genres of music. In 2019, Gibson emerged as the legitimate leader again by offering new, relevant and award-winning guitars. Combined with a re-energized brand and renewed commitment from all Gibson artists, 2020 is set to take Gibson to the next level as they showcase the new line-up, launch history-making new collections and artist collaborations during Winter NAMM 2020 in Anaheim, CA (January 15-19).
The Gibson Original Collection brings classic design, innovation and authenticity back into the hands of Gibson fans. These include the legendary Les Paul Standard 50's and 60's. "Less than one year ago we launched the new Original Collection as a way of going back to the 50's and 60's, to pay tribute to our iconic Golden Era bringing those classic designs back into the hands of Gibson fans" says Cesar Gueikian, Chief Merchant Officer of Gibson.
"The Modern Collection reflects a new era of innovation, something Orville Gibson started in 1894 and Ted McCarty fueled in the 50's and 60's. It incorporates many contemporary updates that players have embraced, such as lighter-weight bodies, push-pull systems to switch between the Burst Bucker and P90 sounds, innovative slim-taper necks with asymmetrical profiles, shaved heels for effortless access to the highest frets," adds Cesar.
Gibson is expanding the Original Collection with new 70s-style Flying V and Explorer. The iconic '70s Flying V has been redesigned with a bound rosewood fingerboard, slim taper neck, and a pair of uncovered '70s tribute burstbuckers all hand-wired with orange drop capacitors and available in classic white finish with matching headstock, silver reflector knobs and chrome hardware. The '70s Explorer has traveled stages the world over. Now featuring a pair of '70s tribute burstbuckers, hand-wired with orange drop capacitors, this new Gibson Explorer begs to be played loud. With its classic white finish, bound rosewood fingerboard, black speed knobs and chrome hardware, it looks as iconic as the generation of music it helped create.
Gibson is adding to the Modern Collection with a new Les Paul Special Tribute in two configurations of pickups (Humbucker and P-90) at an entry point of $999 and made in USA by the same hands that make the sister Original Collection Les Paul Special TV Yellow guitars.
"The Gibson Custom Shop is the pinnacle of craftsmanship, quality and sound excellence. Each instrument celebrates Gibson's legacy through accuracy, authenticity and attention to detail," says Cesar. "We recently created the Murphy Lab at the Gibson Custom Shop with Tom Murphy as Master Artisan. Together, we are re-imagining and implementing new ways of delivering the Gibson Custom Shop historic experience to our extended fan base of guitar enthusiasts." Tom will bring his expertise, authentic style and his passion for building historically accurate guitars to Custom Shop to shape the future of the Murphy Lab and cement his legacy.
2020 will introduce new 60th Anniversary 1960 Les Paul Standards in three versions. Those made in the first third of the year (V1) share the same specs as their 1959 peers, while the middle third (V2) have thinner neck profiles, different knobs and brighter colors. The final third (V3) feature even thinner neck profiles. Each version inspires generations of players in different ways, making music history all the while.
The Gibson Custom Shop is launching a new Historic Reissue ES Collection -- with True Historic parts, authentic dimensions and contours scanned from priceless vintage originals.
The Custom Shop will also be showcasing a new and limited run of historic reissues in a rainbow of custom colors. These include iconic models such as 1963 and 1964 Firebird V, 1964 SG Standard, 1965 Non-Reverse Firebird V, 1967 Mahogany Flying V, all with w/Maestro Vibrola, 1963 SG Special with Lightning Bar and the modern Les Paul Special Double Cut. The custom colors include Pelham Blue, Candy Blue, Frost Blue, Olive Drab, Classic and Polaris White, Inverness Green, Heather Poly, Silver and Gold Mist Poly, Kerry Green, Cardinal Red, Ember Red, Sparkling Burgundy, Purple Metallic, Black, Pink and others.
2020 will also bring multiple, limited-edition artist collaborations including a Trini Lopez Standard as a Core Historic Reissue model and the iconic Tony Iommi "Monkey" SG. "Tony Iommi's iconic riffs, heavy tones and massively-influential albums created the blueprint for Heavy Metal and many other genres to follow," explains Cesar. "Having the opportunity to work with Tony to recreate his original 1964 SG is the ultimate honor for all of us at Gibson."
"Recently I was invited to Nashville by Cesar and JC who I must tell you are so enthusiastic and passionate," explains Tony Iommi. "I had the opportunity to go to the factories, meet the people that work there, and I saw how dedicated they all are. Gibson guitars have lifted a million times, with the new team being totally involved and that's what's been missing in Gibson for a long time now. There's no stopping them, which is great for all of us guitar players," adds Iommi.
Tony Iommi's career, like the man himself, is universally loved and revered. And while his innovative tuning and playing styles were a major part of his monstrous tones, a Gibson SG named "Monkey" was at the center of it all. This heavily-modified 1964 SG Special was used extensively with the original lineup of Black Sabbath and heard on every album and tour of the 1970s. Thanks to the meticulous reverse-engineering and painstaking attention to detail employed by Gibson Custom Shop, 50 exact replicas have been created, 25 right-handed and 25 left-handed like the original, each signed and numbered by Tony Iommi himself. No detail was overlooked in the construction and aging, telling the complete story of the "Monkey" from the zero fret to the stop tailpiece bushings to the legendary pickups, which were hand-made in the U.K. by the apprentice of the late John Birch. Each guitar will even include an exclusive replica of Tony's silver cross necklace with a coffin case, a replica of Tony's leather touring guitar strap and a 1960s replica case.
The Gibson Custom Shop is also working with legendary and multi-talented Tool guitarist artist, sculptor, special effects designer, videographer and producer Adam Jones on recreating his original 1979 Les Paul Custom Silverburst that can been seen live on stage with Adam today in support of their world tour and blockbuster new album Fear Inoculum. More details to come on this project later in 2020.
"2020 brings a renewed focus on our acoustic guitars, just like we did with our electric guitar portfolio, applying the same principles of craftmanship. We are recalibrating our acoustic portfolio into Original and Modern Collections and launching an Acoustic Custom Shop with Historic and Modern Collections," explains Cesar. "Our acoustic guitars have defined sound for 126 years and we intend to leverage that heritage and bring new iconic instruments to the hands of new generations of players."
Gibson is pleased to announce the newly created Gibson Acoustic Custom Shop based in Bozeman, Montana. "With the Acoustic Custom Shop, we are bringing back all the acoustic icons in their true historic form with the Historic Collection and leaning into the future with our ornamented Modern Collection," says Cesar. The Acoustic Custom Shop Historic Collection includes a 1942 Banner J-45, 1942 Banner Southern Jumbo, 1934 Jumbo, 1936 Advanced Jumbo, 1939 J-55, 1952 J-185, 1957 SJ 200, 1960 Hummingbird, Pre-war SJ 200 Rosewood and more.
The Acoustic Custom Shop Modern Collection will explore the push and pull between classic designs and modern materials with bodies designed for comfort and modern voice, easy-playing slim-taper necks and a flatter fingerboard radius for enhanced feel. It includes a J-45 Deluxe Rosewood, Songwriter Chroma with Quilted Maple, Hummingbird with Custom Koa and many more.
The Acoustic Custom Shop recently launched the most highly customized Country Western in Gibson's history. Created for Sheryl Crow and based off her own Country Western, the features of this signature model are designed to deliver the sweet voice of our classic Country Western with the added punch created from our 1930's Advanced bracing pattern. The Thermally Aged Sitka spruce top and hide glue provide additional projection and increased expression with a wider dynamic range.
Gibson Acoustics continues the success of the new G line of acoustics--high-quality, USA-made guitars built by the same hands that make the J-200 and J-45's with a price point for younger, or newer, "generations" of players. The new Gibson Generation line's offerings, the G-45 Studio and G-45 Standard, priced at $999 and $1299 respectively, feature solid Sitka spruce tops and walnut back and sides and exquisite finishes. "We are energized by the success of the Gibson Generation G-45 guitars, we can't make enough of them!" says Cesar.
Adding to the new artist collaborations, Gibson worked closely with Frank Hannon guitarist, songwriter and co-founder of the multi-platinum band Tesla, to bring fans a new "Love" Dove in celebration of the 30th Anniversary of "Love Song," and Kazuyoshi Saito on a signature J-45.
"Teaming up with Gibson to create the timeless Love Dove acoustic guitar has been a joy because of the love that the Gibson team has for music, and the artists who make it," says Frank Hannon of Tesla. "I recorded many of Tesla's classic acoustic driven songs with an original 1970s Gibson Dove, and now we have together created the Love Dove acoustic guitar in its glory to celebrate the 30th anniversary of Tesla's 'Love Song'."
By leveraging its iconic past and leaning into the innovative future, Gibson has set the stage for the next era of shaping sound for present and future generations.
For more information:
Gibson