A surprisingly honest depiction of the blues legend's rise to glory, including his troubled years and his journey back from the edge.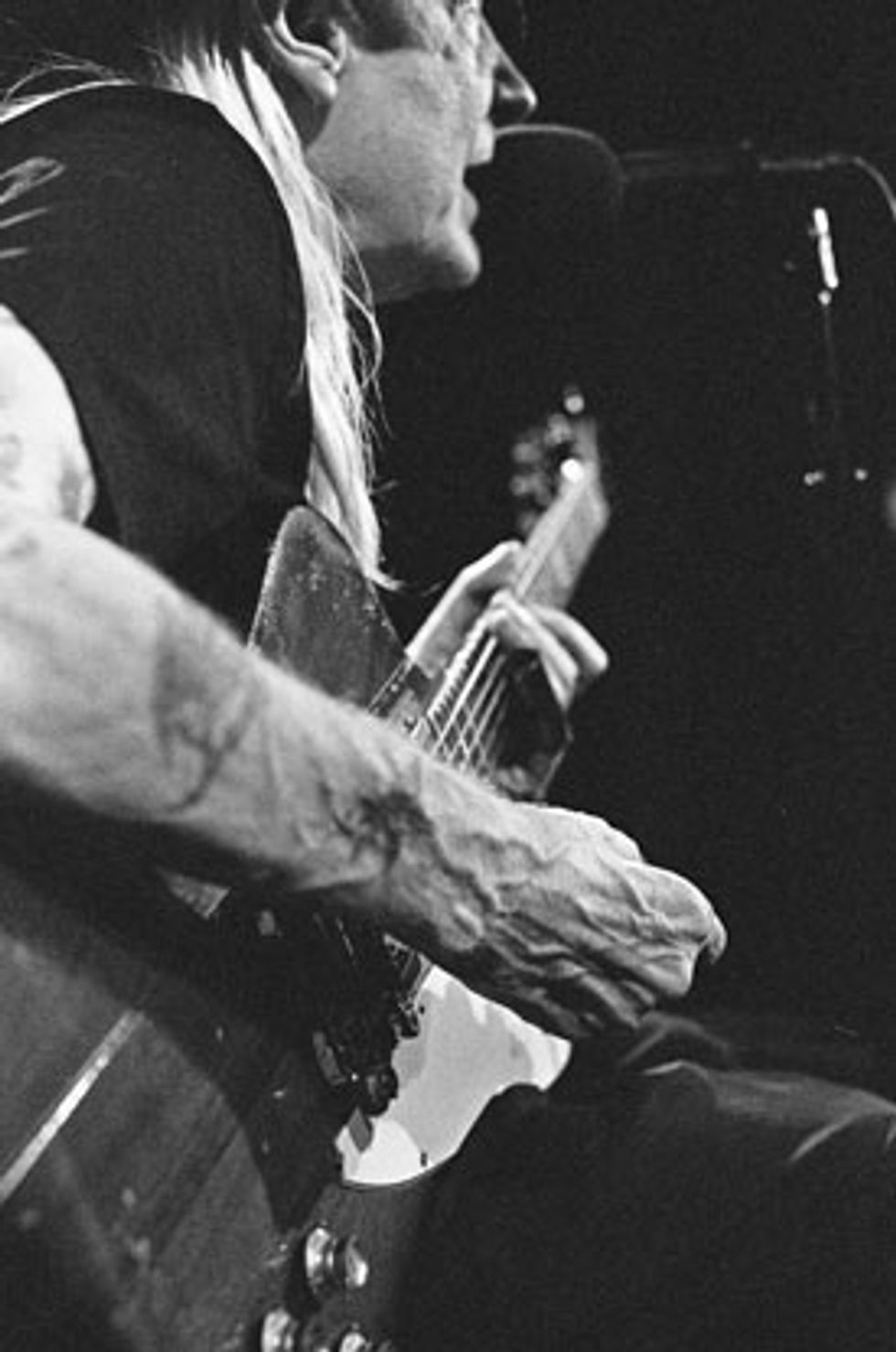 MOVIE
Johnny Winter: Down and Dirty
Secret Weapon Films

Johnny Winter has lived pretty much all of the stereotypical elements of a hard-living elder statesman of the blues—including bouts with drugs, bad management, and sometimes surprisingly subpar performances. However, Winter, now 70, still has undeniable spirit. Even if he'd hung up his Firebird decades ago, his career would be hall of fame-worthy. And in Down and Dirty, Winter's story gets its due through his own words and those who helped him through his darkest times.
Director Greg Olliver follows Winter and his crew from the swamps of Florida to the concert halls of Hong Kong in a quest to document his origins, where he is now, and the most important steps in between. The movie isn't a strict chronological journey of Winter's history, but nearly every era of his life is touched upon—the good and the bad.
The '90s were an especially bad decade for Winter, and here Olliver pulls no punches. Guitarist Warren Haynes tells us of a rehearsal for a 1990 John Lee Hooker tribute where Winter was so "out of it" that he knew something was wrong. And archival footage from a 1998 SXSW performance shows Winter wobbling back and forth, barely holding things together as he goes through the motions. Winter admits his embarrassment about this period, speaking openly and candidly about it.
According to the film, Winter's condition during this period was due to his then-manager encouraging him to rely on antidepressants that adversely affected his creativity. Down and Dirty contends that once Paul Nelson, guitarist in Winter's band, took over management duties, the legend began his trek back from the chemically induced haze.
When the topic of Muddy Waters comes up, Winter is visibly touched by the memory of his mentor. "I finally felt I was doing what I really wanted to do," says Winter about the time he spent playing with and producing the Chicago blues legend. Though Waters passed away over 30 years ago, the pain is still on the surface for Winter. "He called me his son. We were very close."
But it's not all tragedy—not by a long shot. The film captures everything from Winter's soulful rendition of Ray Charles' "Georgia on My Mind" in a sushi/karaoke bar to the quiet moments before he goes on stage. We see how today Winter struggles with OCD, but still manages to function quite well for a man of his age and history.
One of the most poignant moments comes when Winter puts his Robert Johnson King of the Delta Blues Singers LP on his turntable, listens to "Crossroads," and describes how much he learned from it—and how Cream's version "wasn't near as good." Yes, Winter is as outspoken as ever. Though his fretboard pyrotechnics have faded a bit, the fire still burns bright.
Watch the trailer: