A pedal builder collaborates with his pal, guitar tech John Taggart, on a chambered guitar with a built-in overdrive.
Name: Greg Droman
Hometown: Healdsburg, California
Guitar: Karmatar
My friend, John Taggart, is an A-list guitar tech to the stars: Waddy Wachtel, John McVie, Carlos Rios, Paul Gilbert, Bruce Conte, and many others. His true passion is building guitars, literally from scratch, including the necks. Several months ago, he told me he wanted to build us each a guitar incorporating an overdrive pedal I make and sell—the Karma MTN-10, a clone of the Ibanez Mostortion from the early '90s. I've seen and admired John's work, and I was thrilled to help with the design of the circuit for them.
The design John had in mind is a chambered body, loosely based on a T-style body shape. The front and back are pine from a dresser he grew up with back in the 1960s, and the hollowed center core is from old waterbed frame rails. John fashioned the 4-bolt necks from slabs of curly maple, with medium-jumbo frets and Kluson tuners.
Greg Droman
He told me to choose whatever pickups I wanted. After talking it over, we both ended up with Seymour Duncan Antiquity II Humbuckers. He's a big fan of the Pigtail wraparound bridges, so those are what we used. A sprayed-on lacquer finish completed it.
I modified the Karma MTN-10 circuit boards to make it easier for John to mount them inside the guitar. The overdrive is true-bypassed with a push-pull pot on the tone control. John cast the bigger volume and tone knobs (inlaid with white arrow pointers) from his own mold of some vintage 1960s Atwater Kent knobs he found in an electronics store back in the late '70s. A battery bag holds the 9V battery, which activates when a cable is inserted into the output jack.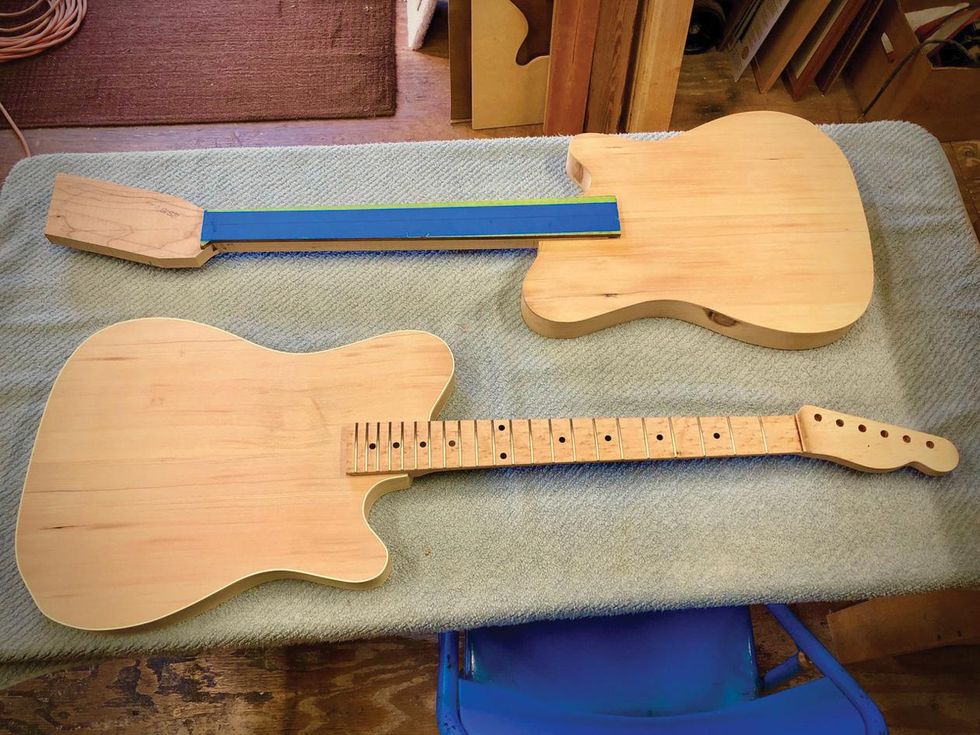 This guitar surprised us both! It's a total joy to play, weighing in at a back-friendly 6 pounds. It has a cool, hollow, woody tone without the feedback. The pickups sound amazing, with plenty of bite in the bridge and lots of warmth in the neck.
The neck itself feels like silk—fast and comfortable. I wasn't sure how I would bond with an overdrive built inside a guitar, as it's not usually the first in my chain, but it seems to take on a whole character of its own inside this guitar. And it's just plain fun!
We'd been calling it the "Tagg/Karma," but we've now changed that to "Karmatar." It's a beautiful, unique work of art. Definitely a keeper!