Our eclectic staff mourns and celebrates a year of unsurpassed heaviness with a look back at its music highlights—and forward to the healing tunes of 2017.
For months now—in retrospect, perhaps since the untimely passing of the inimitable David Bowie in early January—much has been made of 2016 being the most tragic and heartbreaking in recent memory. We've lost more than the usual number of entertainers who helped mold and bring light to our lives—musicians, actors, and artists of all sorts who came to define movements and eras … and others who felt like they had, at least in our own little worlds. We saw Prince, Scotty Moore, Merle Haggard, Sir George Martin, Glenn Frey, and Lonnie Mack fall during the first six months alone.
And yet, 2016 was still a year of musical magic. From the bittersweet triumph of Bowie's critically acclaimed and presciently morbid final masterpiece to shining gems buried in the rubble of the year's avalanche of obituaries.
So as we bring the year to a close and look forward with high hopes to a better 2017, the staff of Premier Guitar has come together to celebrate 2016's treasures. If you're new to PG, then you'll see that the music heralded by our eclectic bunch covers a lot of territory, whereas faithful fans are likely here precisely because of this.
Whichever it is, welcome, friends. May your New Year be bright, safe, and full of amazing music.
Oh—and don't forget to share your own favorites in the comments section!
John Bohlinger—Nashville Correspondent
Sturgill Simpson
A Sailor's Guide to Earth
Psychedelic pedal steel, trippy arrangements, Memphis-like horns, and unexplained noises all await like sonic Easter eggs hiding throughout Sturgill Simpson's A Sailor's Guide to Earth. Most country songwriters try to express relatable thoughts of the average working-class stiff. Simpson expresses the thoughts we keep to ourselves. And check out Simpson's cover of Nirvana's "In Bloom"—it's spacey, creepy, inscrutable. Cobain would probably love it … or hate it.

David Bowie
Blackstar
Bowie released his 25th album quietly, with no fanfare, on January 8th—his 69th birthday. Two days later, Bowie pulled the biggest shock of is 50-year career by privately dying of liver cancer. Blackstar was his final gift to the universe. Recording an album is a lot of work, even when everything is going right. One has to imagine that spending his final days working on an album while losing a battle to cancer had to have been incredibly difficult. You can hear the tension, fear, and beauty in all of the tracks, but the title cut is absolutely scary. Listen to it, and you'll feel trapped in or locked out.
Most-anticipated 2017 releases: Word has it Chris Stapleton is working on another with producer Dave Cobb, and I can't wait to see what these two come up with.
RICH OSWEILER—ASSOCIATE EDITOR
Toro y Moi
Live from Trona
When Chaz Bundick (aka Toro y Moi) decided to record a live album and accompanying film, he headed to the middle of the Mojave Desert. And, just as with Pink Floyd's famed Pompeii performance, there was no audience. Word. The majority of the super-groovy songs here come from 2015's more guitar-centric What For?, and with their dashes of funk, chill, R&B, and trip-pop sprinkled atop a smooth-indie foundation, Bundick's tunes will likely get you moving even if you say you don't dance. The frontman still puts in time behind the keys, but I like the spotlight on the guitar and especially dig all the flanger sounds on songs like "What You Want" and "Lilly." Toro y Moi is a tight force in the studio, but the live setting, arrangements, and production on Live from Trona show off a looser, rawer, more open vibe. And with its desert backdrop, the video is equally captivating. Either way, it's time well spent if you're into chillin'.

Car Seat Headrest
Teens of Denial
There's been a lot of hype this year about Will Toledo and his band Car Seat Headrest, but it's warranted. Here the lo-fi vet—he's only 24 but already has a dozen records under his belt—shows he's a songwriting guitarist to be reckoned with. Relative to his previous recordings, the new record certainly has a more polished and produced vibe, but Toledo doesn't entirely ditch the lo-fi, slacker-rock flavor. Big hooks, riveting melodies, and spirited guitar work are omnipresent throughout—from the fist-pumping indie anthems to the freak-out jams. There are welcome Pavement-like elements (Toledo can belt out Stephen Malkmus-esque screams that would make even Malkmus himself do a double take), but to me the album channels the energy and melodic mastery of old Lemonheads even more. Toledo's way around a fretboard, songwriting chops, and relaxed vocal style make for a big breath of fresh indie air.
Most-anticipated 2017 releases: Ride, Tears for Fears, Broken Social Scene, and Buffalo Tom.
TED DROZDOWSKI—SENIOR EDITOR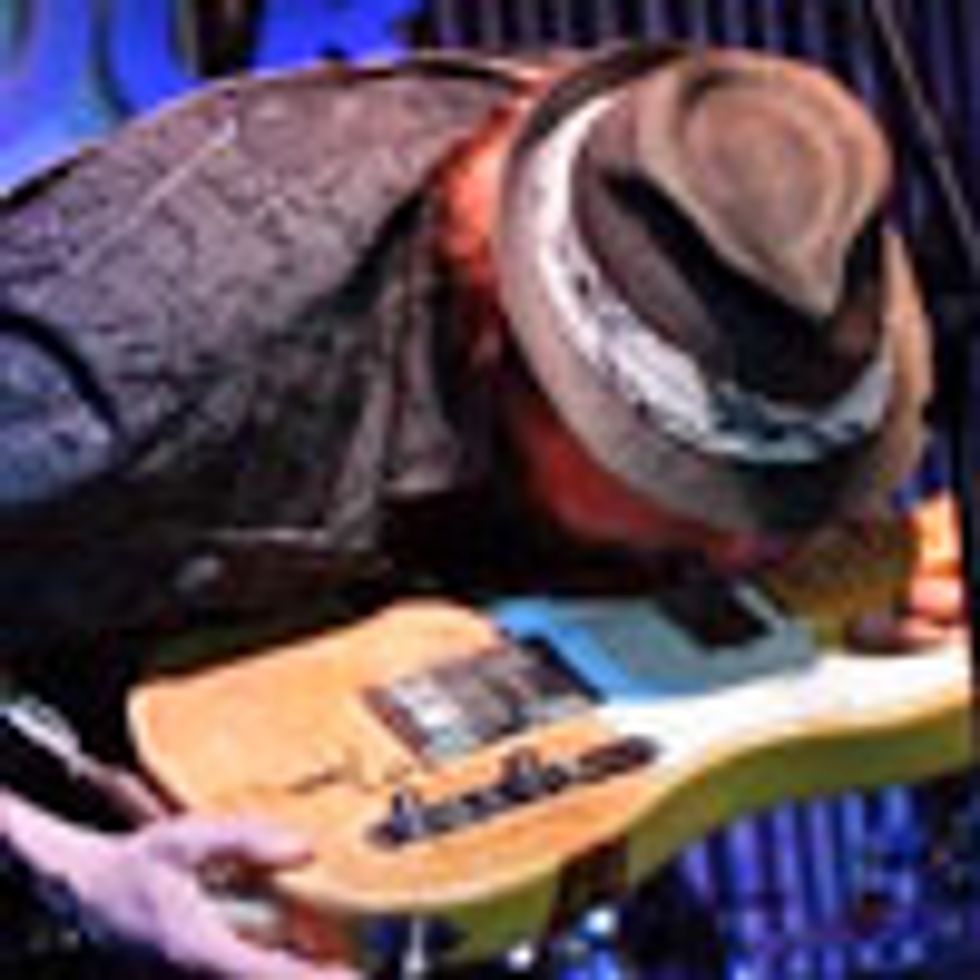 David Bowie
Blackstar
Bowie's complex, challenging, and evocative final jewel contemplates the spiritual, the corporal, death, life, and change, and amounts to an autobiographical requiem. The music draws on all aspects of Bowie's sonic palette throughout his half-century as an artist, primarily tapping jazz, rock, and electronics to create a dense and melancholic rainbow of sound, with layers that continue to reveal more nuances after almost a year of listening. And while Bowie took the biggest risks—revealing all of himself at his most vulnerable point and turning in gorgeous, emotionally charged vocal performances—his accomplices Donny McCaslin (reeds) and Ben Monder (guitar) jump fearlessly into the mystic too, creating something that's potent, majestic, beautiful, and heartbreaking all at once.

Lucinda Williams
The Ghosts of Highway 20
This cosmic folk-rock masterpiece weaves some of the great songwriter's most evocative narrative poetry with the potent guitar playing of Bill Frisell and Greg Leisz, taking more musical chances over two discs than the rest of the Americana music scene did collectively in 2016. The most striking proof is the mantra-esque "Faith & Grace," a gospel free-jam that blends hypnotic Caribbean rhythms with Williams' molasses-and-wine testifying and Frisell's magical playing. Guitar-wise, Leisz provides the bedrock throughout much of Ghosts, while Frisell applies watercolors in marvelously precise strokes to help bring to life the lost souls who populate this haunting collection. Sure, most Williams fans will cite the excellent Car Wheels on a Gravel Road as her finest work, but evolution is what defines an artist, and she proves her mettle with The Ghosts of Highway 20.

The Record Company
Give It Back to You
I've heard a lot of garage blues in my life, and initially I felt like this album was just another entry. But over the course of the year I found myself yearning for the post-Morphine vibe of "Off the Ground" when I turned on the radio, and digging the lazy, singsong melodies of "Rita Mae Young," and the revival-meeting rock of "Hard Day Coming Down." Bottom line: This L.A. trio writes catchy, energetic, feel-good pop tunes that inject oxygen-rich blood into a stagnating genre. And while Chris Vos is lead sled dog on slide guitars and vocals, it's bassist Alex Stiff who's the secret weapon, carrying the big, melodic backbone of the band's best numbers. For evidence, check out the aforementioned "Off the Ground" and the fuzzy bottom on "Give It Back to You."
Most-anticipated 2017 releases: Mark "Porkchop" Holder's Let It Slide, Otis Taylor's Fantasizing About Being Black, the Jesus & Mary Chain's Damage and Joy, and Valerie June's The Order of Time.
Andy Ellis—Senior Editor
Luther Dickinson
Blues & Ballads: A Folksinger's Songbook, Volumes I & II
Not only is Blues & Ballads my favorite album of 2016, so far it's one of my favorites of this entire decade. Over the years, Dickinson has brought us great music by way of the North Mississippi Allstars, the Word, the Black Crowes, and many other projects, but for me, this release reveals his musical depth in a powerful new way. That shouldn't be surprising, given Dickinson's history: His dad, the late Jim Dickinson, was a pioneering Memphis session player and record producer, and after the family relocated to North Mississippi in the mid '80s, Luther was schooled by R.L. Burnside, Junior Kimbrough, and other hill-country blues musicians whose unique sounds differ from the better-known Delta, Chicago, or Texas styles. There's often a playfulness and light touch to North Mississippi blues, and Dickinson perfectly captures this mood in the 21 songs that make up Blues & Ballads. Except for five tunes Dickinson wrote with others—including his dad—these are all his originals. Recorded unpretentiously, the music has a loose, funky groove that feels as familiar as a pair of well-worn overalls. At times, the beauty of Dickinson's slide playing makes me want to weep, and he sounds completely at home when he stretches out on mandolin, diddley bow, and piano. Dickinson is joined by heavy friends—Mavis Staples, Alvin Youngblood Hart, JJ Grey, and Jason Isbell among them—but it's his show all the way. Like Ry Cooder, Dickinson hasn't simply learned the music of the masters who preceded him, he has become one with it.

Bill Cooley
In Search of Home
Best known as Grammy-winner Kathy Mattea's longtime 6-string wingman, Bill Cooley proves he's a superb solo acoustic guitarist with In Search of Home. Weaving strands of Celtic music, West Coast impressionism, blues, and wistful folk into his 11 originals, Cooley makes his Bryan Galloup and James Olson flattops shimmer and ring. With impeccable technique, he drapes precisely articulated melodies over inventive bass lines and gorgeous counterpoint. Mattea joins Cooley to sing the album's one vocal number, a moving reading of Jesse Winchester's "That's What Makes You Strong." If you've been craving inspiring fingerstyle guitar work, you'll find it here.
Bill Cooley's Celtic side burns bright in the title cut from In Search of Home.

Marcus King
The Marcus King Band
This guy is on fire! He has it all—soulful vocals, ripping guitar chops, powerful originals—and he's only 20. Damn. Drawing on vintage Tower of Power, Memphis and Muscle Shoals R&B, New Orleans funk, Chicago blues, and psychedelic Southern rock, King reveals a musical maturity far beyond his age. For one thing, he makes you wait for his superb solos. There's no grandstanding or posturing—no "I'm badass, listen to me roar." King typically doesn't hit the gas until several minutes into a song, and even then he takes his time to destroy you, one phrase at a time. Though he favors the round, singing tones of Duane and Dickey, King constructs his solos with an ear to Jimmy Herring, Derek Trucks, and their respective jazz- and Qawwali-inflected improvs. Did I mention that King's rhythm playing—which percolates below his vocals, shadowboxing with the album's horns and fat B-3—is impossibly funky and harmonically sophisticated? And he also plays scorching pedal steel! Derek Trucks and Warren Haynes (who produced this album) each join King for a no-holds-barred guitar wrangle, and he hangs in with them, no problem.
Most-anticipated 2017 releases: Arbouretum's Song of the Rose, Ralph Towner's My Foolish Heart, and whatever Justin Kalk Orchestra does next.
Shawn Hammond—Chief Content Officer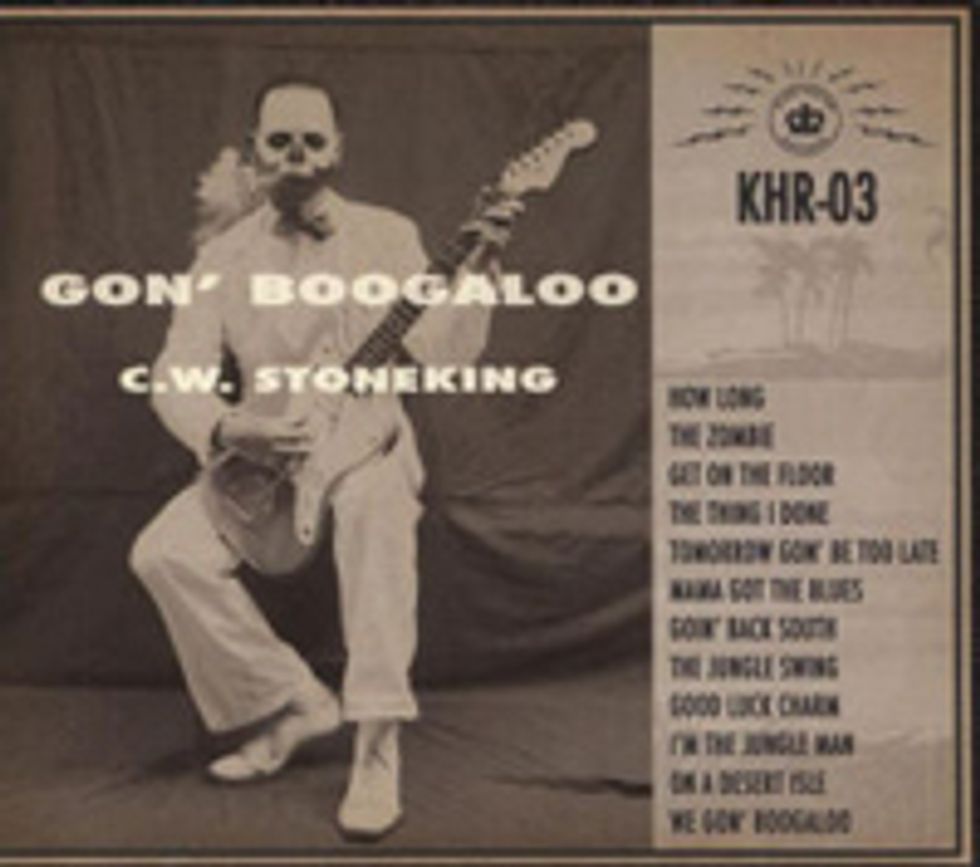 C.W. Stoneking
Gon' Boogaloo
It's damn near impossible for musicians in any genre to distinguish themselves with something approaching a singular voice, but blues may well be the most difficult idiom within which to do so—largely because legions of modern-day practitioners feel duty-bound to cling to traits that have become woefully cliché and unimaginative, no matter how well executed. Which is why Australian singer-guitarist C.W. (Christopher William) Stoneking's work on his sixth album, Gon' Boogaloo,is such a miracle. Those steeped in the work of early acoustic-blues innovators like Son House and Charley Patton will hear evidence of those century-old stylings in Stoneking's work, but like every great artist who's come before, Stoneking takes his influences and seamlessly incorporates them into a statement that feels fresh despite its visible bloodlines. From his gravelly, lispy drawl to his jungle-jazz grooves and the unconventional way he strums, chords, and records his Jazzmaster and Gretsch guitars—an approach informed by pre-Gon' Boogaloo years spent exclusively on a National Duolian—Stoneking is the real deal. How many other players do you know who could capture the magical vibe of "The Zombie," "Get on the Floor," and "The Thing I Done" while recording a whole band live with just two old microphones?

The Kills
Ash & Ice
One of things that's always made the Kills stand out is that instead of rehashing garage-rock recipes of yesteryear, they marry Jamie Hince's grungy, experimental guitars with big, danceable electro beats and frontwoman Alison Mosshart's sultry, mysterious vocals—and there's always a palpable groove and a warm, organic vibe. The same holds true on this year's Ash & Ice. Opening track "Doing It to Death" begins with a spare trance beat and ping-ponged synth echoes before Hince's reverb-soaked arpeggio hook bids one to sit down and relax while Mosshart indulges in confessions measured in a tantalizingly teasing meter. Meanwhile, "Hard Habit to Break" paints a vivid image of volatile love in both words and sonics: It starts with a bit-busted house shuffle and Mosshart's calm, cold assessment of an uncertain relationship, and then just after the minute mark Hince breaks in with a earthy riff whose graceful slides and willowy vibrato melt the mood and hint at fleeting moments of bliss—but by the middle section (a frantic, staccato fuzz break punctuated by digitized 6-string stutters), it's clear things are on the rocks again. Other highlights include "Hum for Your Buzz," which features rubbery gutbucket riffs, and "Echo Home," with its hypnotic chord warbles and sweetly aching pleas for an unspoken love to "come on home and make it all right."

Head Wound City
A New Wave of Violence
If you're craving something manically, cathartically cacophonous, then the first full album from this supergroup of sorts may well scratch the itch. Although Head Wound City's best-known member is Yeah Yeah Yeahs guitarist Nick Zinner, the band's sound hews far more toward coguitarist Cody Votolato and vocalist Jordan Blilie's former outfit, the Blood Brothers (one of my all-time favorite bands), than the moodier, artsier work Zinner heads up with Karen O—though fans of the Locust will surely dig the clockwork insanity provided by that band's rhythm section, drummer Gabe Serbian and bassist Justin Pearson. A New Wave of Violence doesn't boast the diversity and dynamism of the Blood Brothers' or YYYs best work, but "Scraper" and "Old Age Takes Too Long" get high marks for their spasmodic effects implementation, dissonance, and relentlessly grinding rhythms, while "Head Wound City, USA" is like a speed-punk/surf shitfit, and "Closed Casket" claws its way from a filthy lo-fi opening riff to an angular, shuffling rage that eventually gives way to a slightly slower chorus that's almost catchy … and then of course ventures off into more larynx-shredding mayhem.
Honorable mentions: David Bowie's Blackstar, Radiohead's A Moon Shaped Pool.
Most-anticipated 2017 releases: Together Pangea, Dot Hacker's No 3, and Division of Laura Lee (pretty please?!).
Tessa Jeffers—Managing Editor
The Kills
Ash & Ice
You know when you experience a piece music for the first time and you instantaneously fall for it? Love at first listen—that's the feeling I had the moment Jamie Hince's unforgettable "Doing It to Death" riff danced into my eardrums. And later, as I researched Hince's reimagined playing style for our Rig Rundown (a 2013 hand injury required him to change his entire guitar approach), I fell even deeper into this collection of dark, percussive grooves pierced through with ringing guitar. Hince describes his brand of scuzz as a clean tone but "distorting, 'cuz it's so loud." I can't get enough of it! Plus, I've always loved Alison Mosshart—she's one of the best rock vocalists in the game right now. This duo has alchemic swagger, and the magic they're making together is not derivative of anything I've heard. The Kills creatively murder with the best of them.

Jeff Beck
Loud Hailer
I'm relishing this time in music: Women are ruling. Even one of guitar's greats brought in the young female U.K. duo Bones (Rosie Bones and Carmen Vandenberg) to cowrite and inject fire into his latest "statement" album. It worked. While some criticized the political overtones on Loud Hailer, jams like "Live in the Dark" and "Right Now" were the 2016 anthems I turned to when I needed to crank up the volume and blow off some steam—or just rock out. It's probably sacrilege to some, but this might be the only Jeff Beck album I listen to for personal enjoyment in years to come. Music is a coping mechanism for me when things get rough—and 2016 royally sucked—but these barnburners helped take the edge off a bit.

Beyoncé
Lemonade
Queen Bey has been on top for years, and this year her enigmatic ability and prowess as a musical titan reached new heights. Never mind the buzz about how husband Jay-Z's supposed infidelity sparked this project (just listen to her woman-scorned lyrics and passion-fueled honesty—you don't put that on blast unless you've been through something!): It takes a strong, committed artist to transform with such vulnerability, and throughout Lemonade Beyoncé dips into uncharted territory. For "Daddy Lessons," the Southern R&B belle with Creole roots went country, garnering the attention of the Dixie Chicks, who performed it with her live at the CMA Awards and then collaborated on a remixed release of the song. Jack White, who produced the blistering "Don't Hurt Yourself," called her performance "bodacious," "vicious," and "incredible." But Lemonade is hardly all about romance and betrayal—there's plenty of social commentary, including tracks that talk of liberation from gender and racial oppression ("Formation" and "Freedom"). And while Beyoncé can do it alone, a cappella—she's that good—instead, she fronts a badass, all-female rock band in her live shows. She's got it all, and what's a woman who has everything to do? Make art with no apologies.
Honorable mention: Savages' Adore Life
Most-anticipated 2017 releases: Dear Ms. Lauryn Hill: We've been waiting for 20 years—please give us your sophomore album!
Chris Kies—Associate Editor
If These Trees Could Talk
The Bones of a Dying World
Most post-rock fanboys would point to Explosions in the Sky's 2016 release, The Wilderness,as the pinnacle for the genre this year—and trust me, I am a fan (I saw them live three times this year). But I'd recommend said fans check out The Bones of a Dying World, an album that pushes the genre to its extreme. If These Trees Could Talk incorporate familiar post-rock flavors like lush, airy reverb passages twisted with long delays (very much like Explosions or Toe), but they book-end them with crushing distortion and booming riffs in the vein of heavy instrumental outfit Pelican or defunct metalcore innovators Isis (check out "Solstice" and "One Sky Above Us"). In traditional post-rock manner, the cinematic sagas on Bones are best ingested in one sitting (try headphones for a warped ride), but it's also testament to the band's abilities that the songs can be enjoyed as single-serve chapters on their own, too.

Margo Price
Midwest Farmer's Daughter
After Being denied by nearly every record label in Nashville, Margo Price turned to Third Man Records' Jack White, who promptly signed her and released Midwest Farmer's Daughter. Recorded over the course of three days at Memphis' Sun Studio, it's an album soaked with the sounds of traditional, pre-'80s country. On "Hurtin' (On the Bottle)" and "Since You Put Me Down," Price's voice and evocative storytelling abilities sound like Loretta Lynn crossed with George Jones, and the album as a whole stands in stark contrast with the output from today's contemporary country stars. The 11 tracks here scream with freshness and real-life substance. If you're looking for a soulful narrator of life's woes and victories, lost chances at love, and late-night debauchery, all on a bed of twangy guitars and mournful pedal steel, look no further than this impressive debut—which feels equally old and new.

Twin Peaks
Down in Heaven
This year definitely needed to be prescribed some lighthearted fun. The medicine? Twin Peaks' party jammer, Down in Heaven—where garage-sale 6-strings power British Invasion jangle rock mixed with the grungier, garage-rock-revival sounds of the aughts (think Ty Segall and the Strokes). Having three guitarists may seem like a recipe for claustrophobic sonic space, but Cadien Lake James, Clay Frankel, and Colin Croom mainly shy away from dirt, yielding plenty of room to breathe on tracks like "Butterfly" and "Wanted You." Sure, you probably won't head to YouTube to cop hot licks or solos from Down in Heaven, but after spinning this good-vibe tribe's latest you'll be a little more likely to be able look back on 2016 with a smile and realize upbeat rock can bring light to dark times.
Most-anticipated 2017 releases: All Them Witches, Nikki Lane, Tool (?!), Ryan Adams, and Mastodon.
Charles Saufley—Gear Editor
Tim Presley
The Wink
The mad mind behind White Fence staggers gleefully through a collage of shredded and splintered guitar pop—this time with the help of fellow mad genius Cate Le Bon.

Feral Ohms
Live in San Francisco
Bear witness as the MC5 and Grand Funk are terrorized by SST Records' circa-'82 roster wielding Jackson Pollock action-splatter bombs.

Spacin'
Total Freedom
Barefootin' tribal scuzz from deep inside the gardens and brick lanes of Philadelphia's Kensington no-fly zone. Perhaps the finest slab of "Sister Ray" excavated from Exile on Main Street's hallowed Nellcôte birth caves in this century.
Most-anticipated 2017 releases: Six Organs Of Admittance, Cairo Gang, and Graham Coxon.
Jason Shadrick—Associate Editor
Julian Lage
Arclight
and
Live in Los Angeles
Okay, I cheated a bit here—but to be fair, these are two sides of the same coin. The songs on Arclight are balanced in a way that Lage hadn't fully realized on previous solo efforts: He went back to the Telecaster, plugged into a low-powered Fender Champ, and created the biggest tones he's ever put to tape. Fast forward through a few months of touring the material hard, and you get Live in Los Angeles—a pristine representation of how gig-tested tunes can morph and twist while revealing exciting new avenues for exploration. A decade from now, this will be looked back upon as the point where Lage found his groove.

Snarky Puppy
Culcha Vulcha
After recording a number of albums in front of live audiences, Snarky Puppy returned to Texas and recorded a "regular" studio album. The three-guitar attack of Mark Lettieri, Bob Lanzetti, and Chris McQueen duck and dodge through the arrangements without ever going full Skynyrd. Lettieri's "Jefe" is a standout with its angular, open-string funk riffs, while bandleader and bassist Michael League steps out on "GØ" and demonstrates exactly why Snarky is bringing young people back to improvised music—to dance. This is Extremely advanced music that's not only approachable, but fun.

Prince & 3rdeyegirl
Live in Louisville 3/5/15
Out of all the musical icons we lost in 2016, Prince's death hit me the hardest. Shortly after his passing a friend floated me this bootleg of his 3rdeyegirl group absolutely destroying a crowd in Louisville on the band's HITANDRUN tour. After his typically grinding version of "Let's Go Crazy," Prince lays out hit after hit without giving anyone a chance to breathe. Several times throughout the show he asks, "Have you ever heard nine hits in a row?" and with each passing song the crowd becomes more and more frenzied. Both Prince and coguitarist Donna Grantis (who steals the show on "Nothing Compares 2 U") are up front in the mix, and it's a revelation for fans who always wanted Prince to play more guitar.
Most-anticipated 2017 releases: Julian Lage & Chris Eldridge, Ryan Adams' Prisoner, and something by an artist I've never heard of.