You could WIN a Tremolo8 from Catalinbread in this week's giveaway. Enter before June 6, 2023 for your chance to win!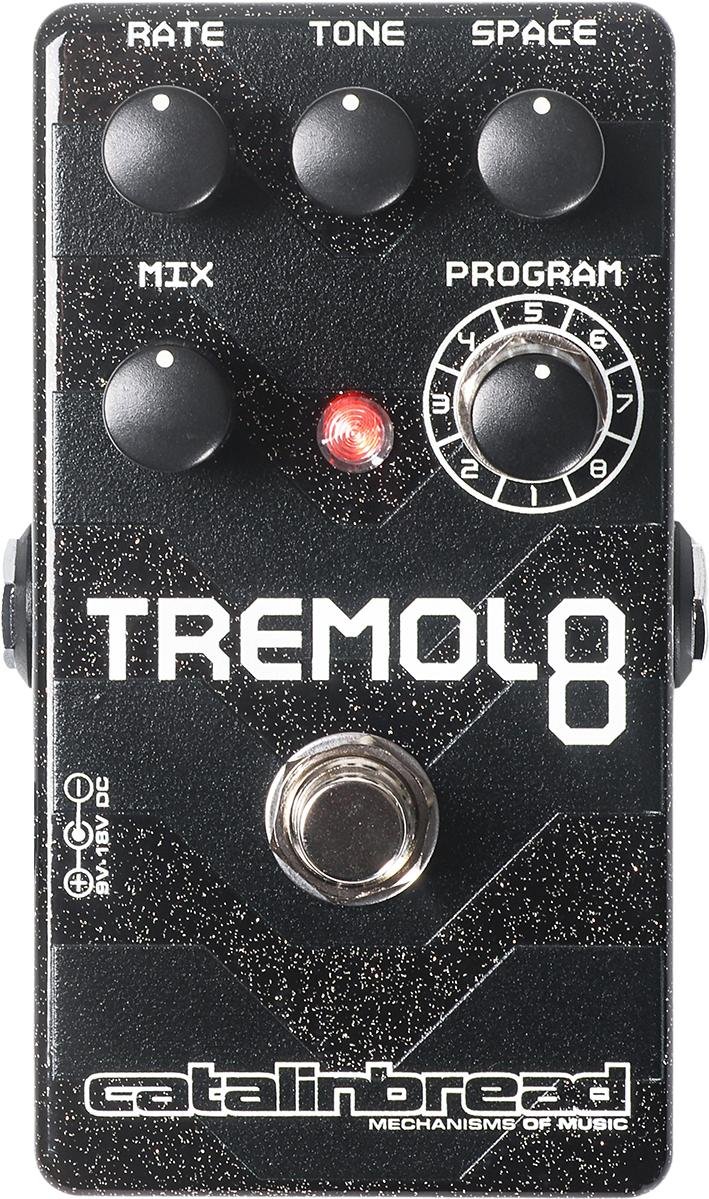 In a past life, this project started as a pedal for our personal enjoyment; a digitized model of the Fender Showman's "harmonic vibrato". The experiment was a resounding success, so we started experimenting with more LFOs and more tremolo styles. We really like the sound of tremolo splashing against a reverb like Magnatones or Vibro Champs and our previous work on the Topanga Burnside reflects this. At the same time, we are suckers for bigger ethereal reverbs so we decided to add some trem-specific reverb algorithms and a subtle tone control. After researching and implementing them to exhaustion, we discovered that not all LFOs are created equal and some are much more equal than others. A sawtooth LFO leads to wild reverse-esque sonic manipulation and a fluttery compressed sound when set low. A square wave with a duty cycle control ("on" time) leads to a thumping, stuttering reverb sound, so why not turbocharge the square wave to a few kilohertz and churn out some wacky sum and difference frequencies? In a completely different program, trem modulation with chorus floating on top sounded too good to leave out. When working on the Many Worlds we had so much fun with the envelope-controlled phase angle that we wanted something like that in here, so we crafted an envelope-controlled trem rate with adjustable sensitivity and attack/decay, leading to head-spinning effects when letting chords ring out or when cranking some touch-sensitive solos.
Catalinbread
Based on the Yamaha FX500, the Catalinbread Soft Focus is intended to be an instant shoegaze button, while attempting to address issues of the original pedal.
The Yamaha FX500 was widely used in the '90s by early shoegaze bands, most notably Slowdive on Souvlaki. With its roots in that patch, the Catalinbread Soft Focus is intended to be an instant shoegaze button, while addressing the most glaring issues of the original unit: no mix control, a sub-par preamp, and a ghastly tone-sucking bypass signal.
The Soft Focus is a heavily modified plate reverb with adjustable time, which is subsequently split into three paths. One path contains a multi-voiced chorus modulator, another features a well-appointed octave-up mixed in with the reverb, and the third path leaves the reverb untouched. The Mod knob controls the rate of the chorus on path one, and the Symphony knob controls the level of the octave on path two. All controls are "coupled" to the tone of the reverb to give users an expansive playing field of sounds to discover and fine tune.
Catalinbread Soft Focus Reverb Demo | PG Plays
Watch John Bohlinger take orbit on the back of the new 'verb pedal based on the iconic patch of the Yamaha FX500 unit.
This page contains affiliate links that help to support Premier Guitar financially.
Classic '90s shoegaze got its name from guitarists who seemed to fixate on their shoes, but in reality were fixated on complex pedalboards that typified the genre's thick, washy walls of sound. The Catalinbread Soft Focus Shoegaze Reverb channels this legacy, but cuts down on the required footwork with reverb, chorus, modulation, and enticing octave-up reverb all represented in one compact device. The Soft Focus is based on the extensive analysis of a quintessential rackmount multi-effect patch that shows up on numerous shoegaze classics, including Slowdive's Souvlaki. In true Catalinbread fashion, the developers went the extra mile to improve the patch's design with a mix knob, a lower noise floor, and an improved signal quality with the effect bypassed.
Catalinbread