The founding guitarist shows how he breaks the post-hardcore mold with single-coils, old-school amps, and extreme stereo effects.
As Cities Burn founding guitarist (and occasional frontman) Cody Bonnette opens up his home to PG's Perry Bean (a longtime friend) to talk through and demo the everyman gear that energizes his band's dynamic post-hardcore sound that can go from moody alt-rock to intense, swaggering hardcore pandemonium.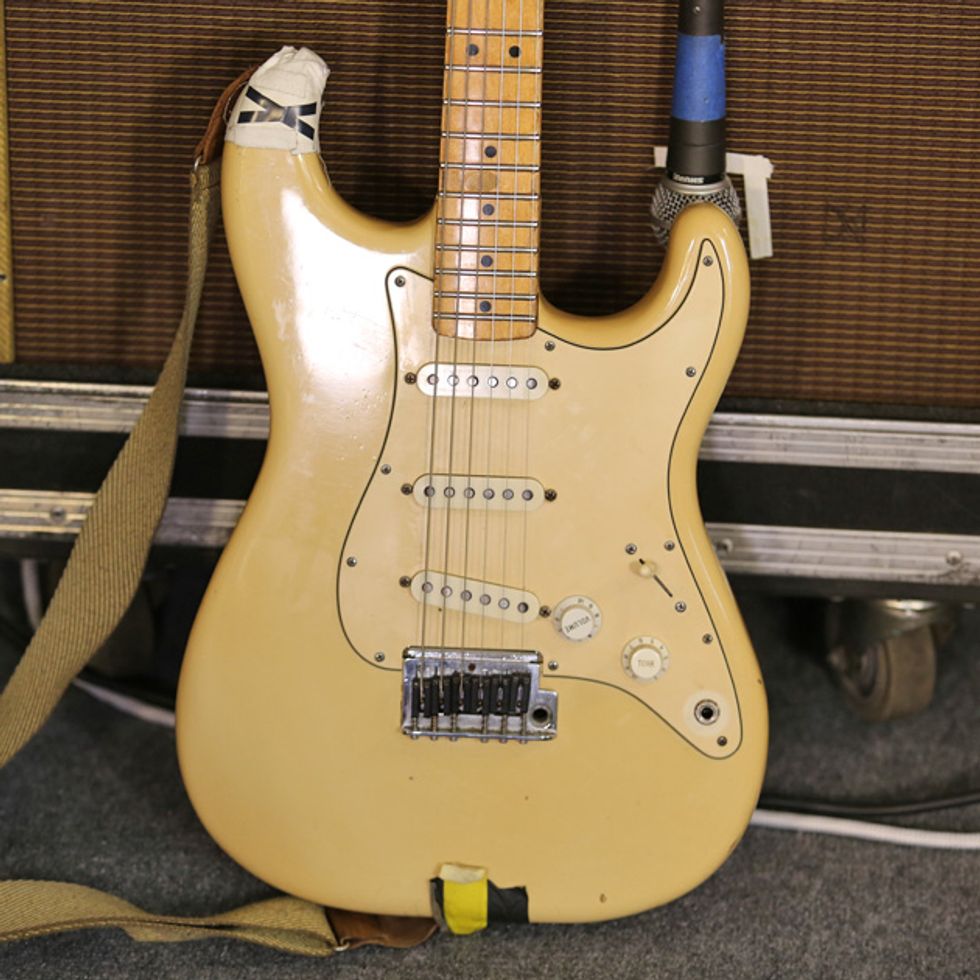 "Butterscotch" (named by Perry Bean) is Cody's birth-year guitar—a 1983 Fender American Strat. This one gets used on softer songs when Cody sings tracks from either Come Now Sleep or Hell or High Water. Tunings vary from C# standard and Eb standard.
Cody's main love is this 2004 Fender American Standard Telecaster. The only change he's done to it (other than the stage wear) is swapping the stock neck pickup for a Seymour Duncan Five-Two Tele model. He did this because it rolls off the EQ where the original one seemed too bassy and too shrill in extreme settings.
His "newest" guitar is this 1979 Peavey T-60 that he bought for $350. It sees some stage and studio time because of its flexibility. Backing off the tone control a bit turns the neck single-coil into a full humbucker. Additionally, it has a phase switch to provide some funkier Strat-like settings.
To fill venues with a blanket of coalescing tones, Bonnette goes with a stereo-amp attack. This tweed combo started life as a Fender Blues DeVille 410 reissue. Touring life took a toll on it, so Cody had a Nashville friend at Black Tape Amplifiers overhaul the components and simplify its circuitry that mimics a '60s Fender.
Here is the second part to Cody's amp equation—a mid-'60s blackface Fender Bassman that runs through a 2x12 cabinet.
Cody's stomp station is filled to the gills with goodies including an Electro-Harmonix 720 Stereo Looper, Dr. Scientist BitQuest, ISP Decimator II, Walrus Audio Warhorn, Classic Audio Effects Passive Volume Roller G2, Roland RE-20 Space Echo, Walrus Audio Julia, 1981 Inventions DRV, and an EHX Micro POG. A Radial BigShot ABY switcher controls the amps while the TC Electronic PolyTune keeps everything in check.