Tools for the Task: Volume Pedals
Ten volume pedal options aimed at making guitarists feel swell.
A volume pedal may not be the sexiest effect on a pedalboard, but for many, going without hands-free volume control—not to mention all the other interesting things you can do with one—is a scary thought. Here are 10 that'll help you get your swell on.
LEHLE
Mono Volume
The magnetic sensor in this pedal allows it to run nearly wear-free, and its buffered direct output can be used to supply a DAW, tuner, or second amp without affecting the sound.
$279 street
lehle.com
DOD
Mini Volume
Sized right to maximize pedalboard space, this pedal features a long-throw treadle for full range of control, a built-in treble-bleed circuit, and a gear drive for worry-free performance.
$99 street
digitech.com
JIM DUNLOP
DVP4
At about half the size of its big-brother DVP3, this mini features adjustable rocker tension, a low-friction band drive for durable action, and expression-pedal mode with the flip of a switch.
$119 street
jimdunlop.com
ERNIE BALL
MVP
Housed in aircraft-grade aluminum and designed to provide an ultra-smooth foot sweep, the MVP features a powerful gain boost permitting an increase of the audio signal up to 20 dB.
$154 street
ernieball.com
SONUUS
Voluum
Much more than a standard volume pedal, the Voluum also boasts onboard features such as a chromatic tuner and five effects including compression and tremolo.
$299 street
sonuus.com
GOODRICH SOUND
H-120 Standard
Whether you're behind a pedal steel or a 6-string, this stomp features dual outputs and is equipped with an Ultra Life million-cycle potentiometer to ensure many hours of trouble-free use.
$229 street
goodrichsoundcompany.com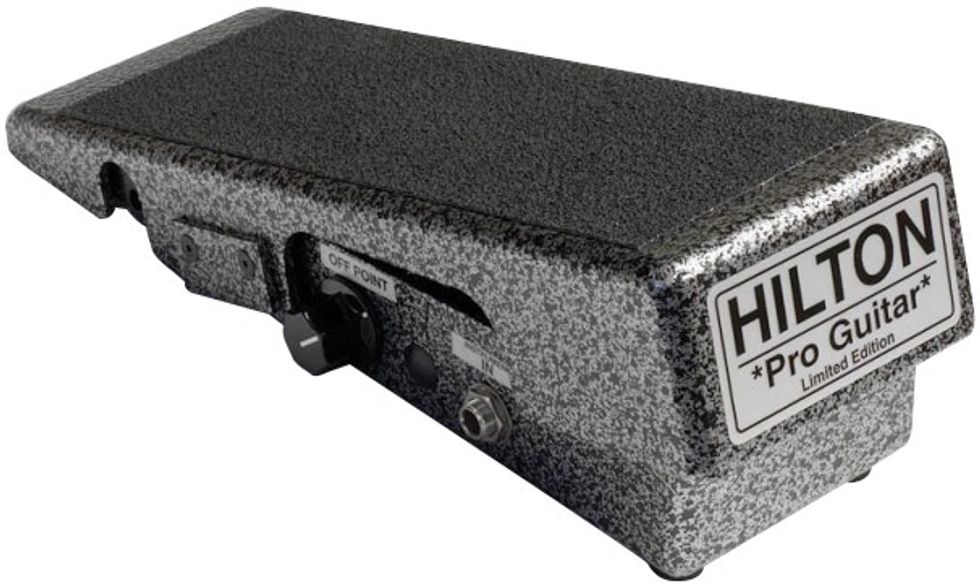 HILTON ELECTRONICS
Pro Guitar
Built to last and adjustable, these volume pedals house an internal preamp that's responsible for helping to preserve pickup frequency response at any volume.
$319 street
hiltonelectronics.com
MISSION ENGINEERING
VM-1 Aero
The ergonomically designed VM-1 Aero features an illuminating base and houses a passive "no tone suck" circuit, an isolated tuner out, and an integrated mode switch.
$179 street
missionengineering.com
CLASSIC AUDIO EFFECTS
Passive Volume Roller G2
This pedal incorporates a unique Kevlar drive-belt system and preserves real estate by trading the treadle for a roller to manipulate volume.
$119 street
classicaudiofx.com
ELECTRO-HARMONIX
Volume
This lightweight-yet-rugged volume pedal features smooth action and a selectable high- or low-impedance switch for universal compatibility.
$63 street
ehx.com