Live in the moment with this collection of real-time sound manipulators.
Expression pedals are probably the most underutilized pedals around. With a simple rock of your foot, you can alter any number of different parameters your favorite effect units. Yeah, there might be a bit of under-the-hood tweaking needed to get the full results, but trust me—it's worth it.
Purely on a value-per-inch basis, this volume/expression comes in heavy. At half the size of its larger counterpart, the mini offers an internal trim pot that controls minimum expression values, plus the aux output can also function as an always-on tuner output.
$139 street
In some corners of the sonic-sculptor set, using a Moog pedal without an expression control is near criminal. This wildly affordable pedal is universally accepted among pedals, synths, and more thanks to a polarity switch.
$59 street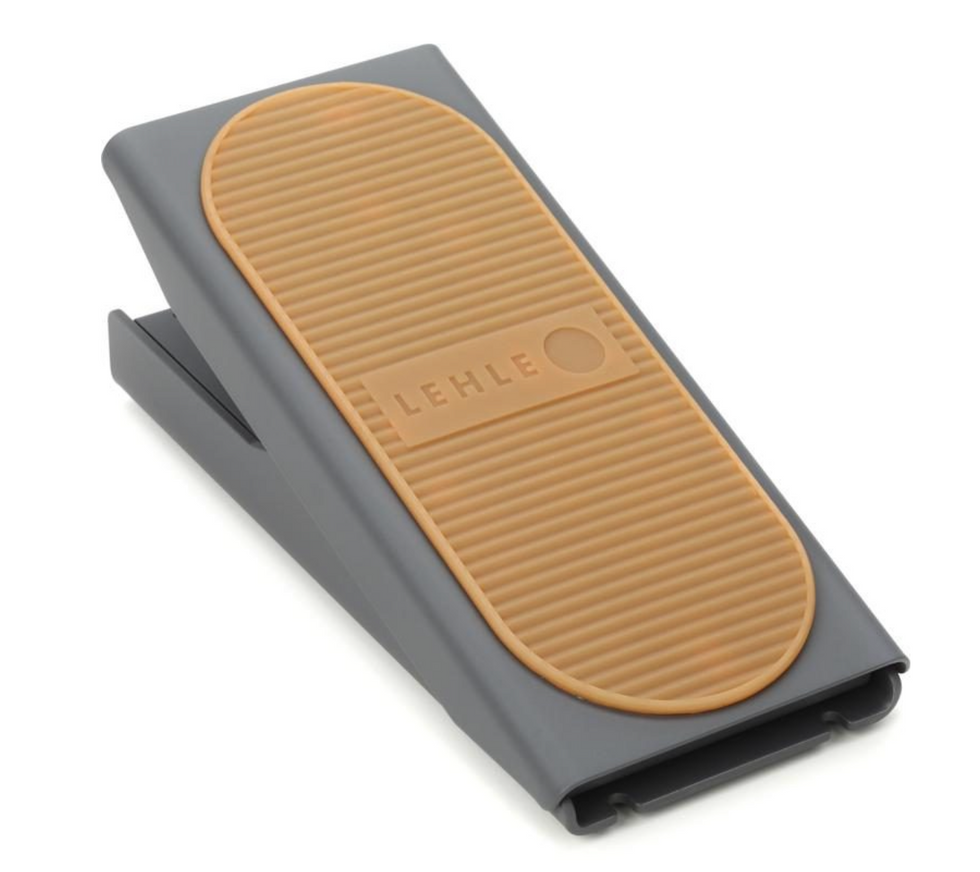 What if you need to control more than one pedal? This dual expression pedal offers a ton of features that include accommodating TS, TRS, or RTS inputs, switchable polarity, momentary or latching switching, and a USB port for MIDI capabilities.
$259 street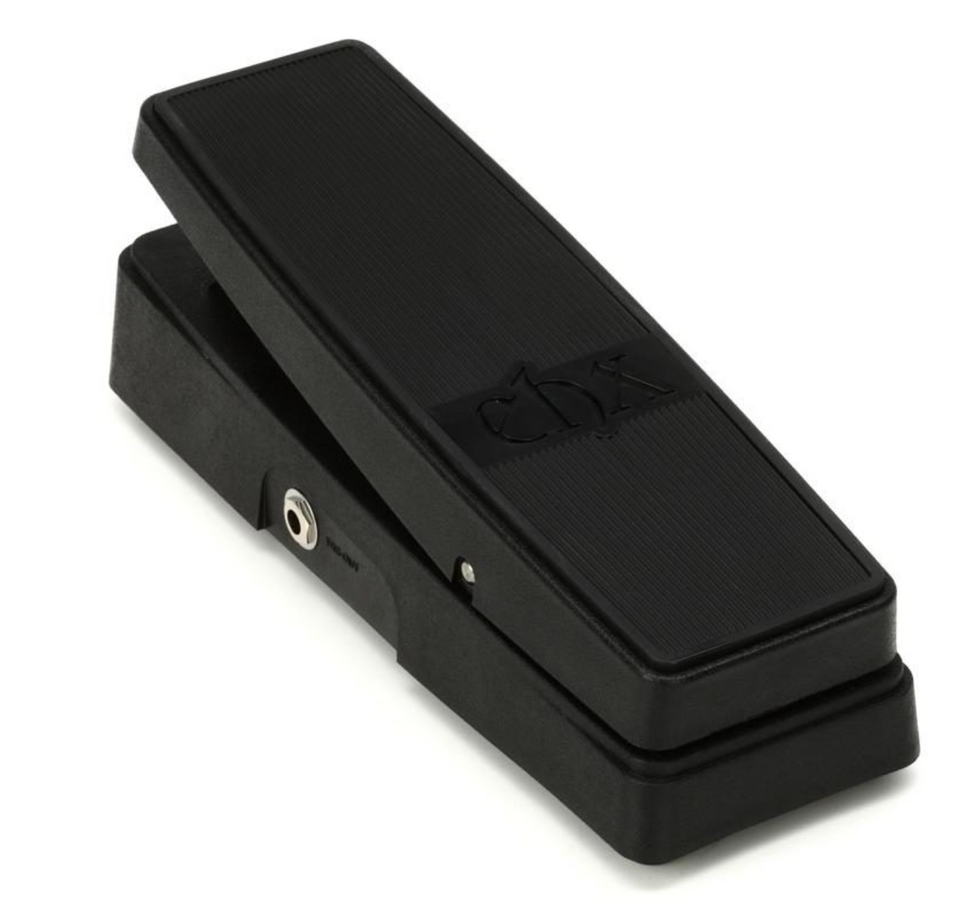 This lightweight, rugged design from one of the most esteemed pedal makers of all time features a polymer housing, range control, polarity switching, and a reverse switch that allows you to change the direction of the parameter you're controlling.
$72 street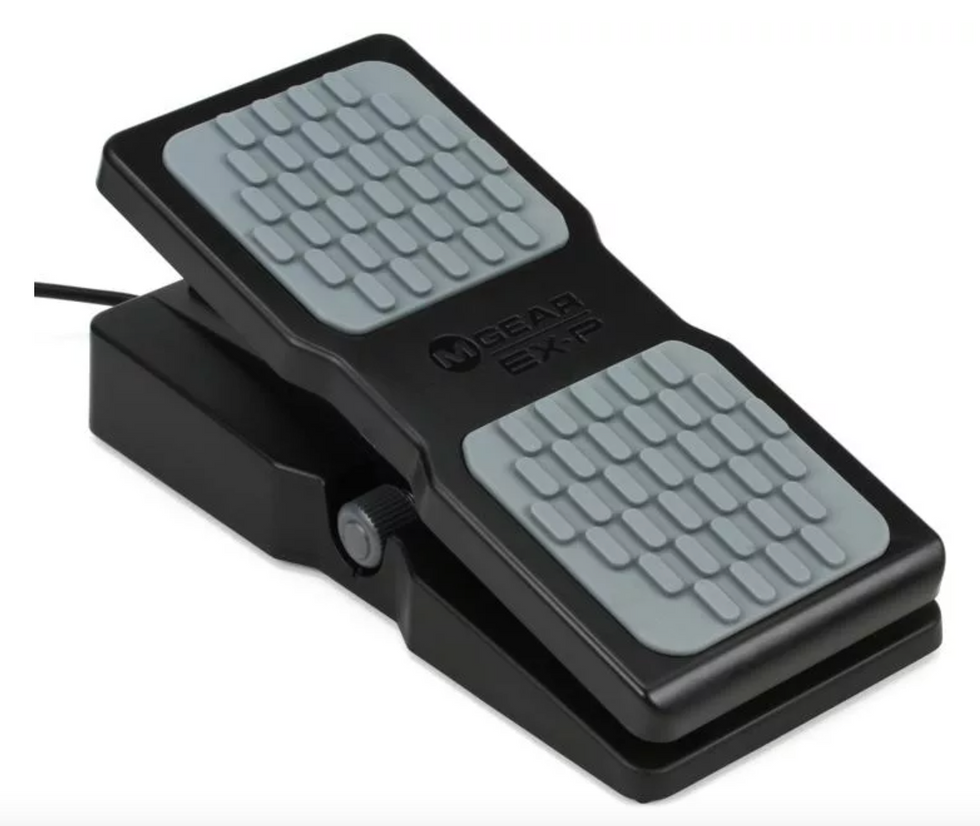 Crafted out of molded plastic, this expression pedal offers a slip-resistant surface, integrated TRS cable, and a polarity switch, which allows it to work with a wide range of controllers and pedals.
$29 street
Created around an original Fender circuit, this combo volume/expression pedal uses top-mounted jacks in order to squeeze into cramped spaces. It includes a switchable LED light and operates on
9V battery or center negative AC Adapter.
$119 street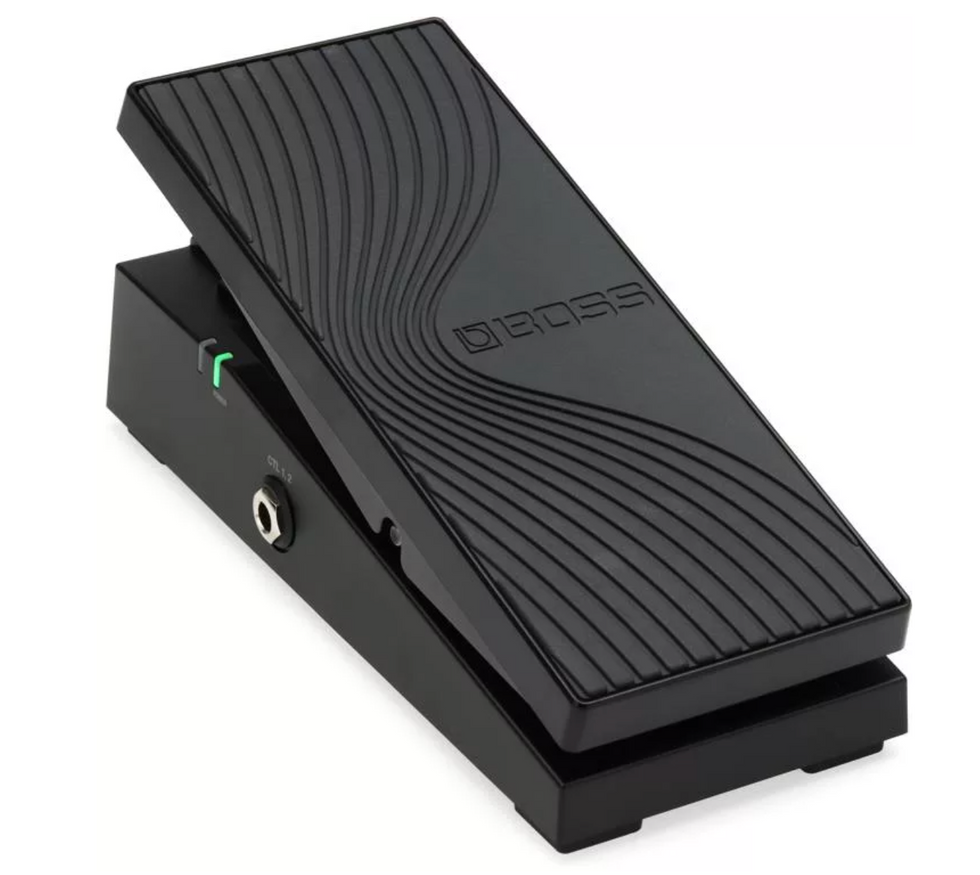 If wireless is your preferred routing solution, this expression pedal uses wireless MIDI in addition to Bluetooth, USB, and TRS to control any parameter you can think of. It also uses an iOS/Android app for even deeper editing capabilities.
$169 street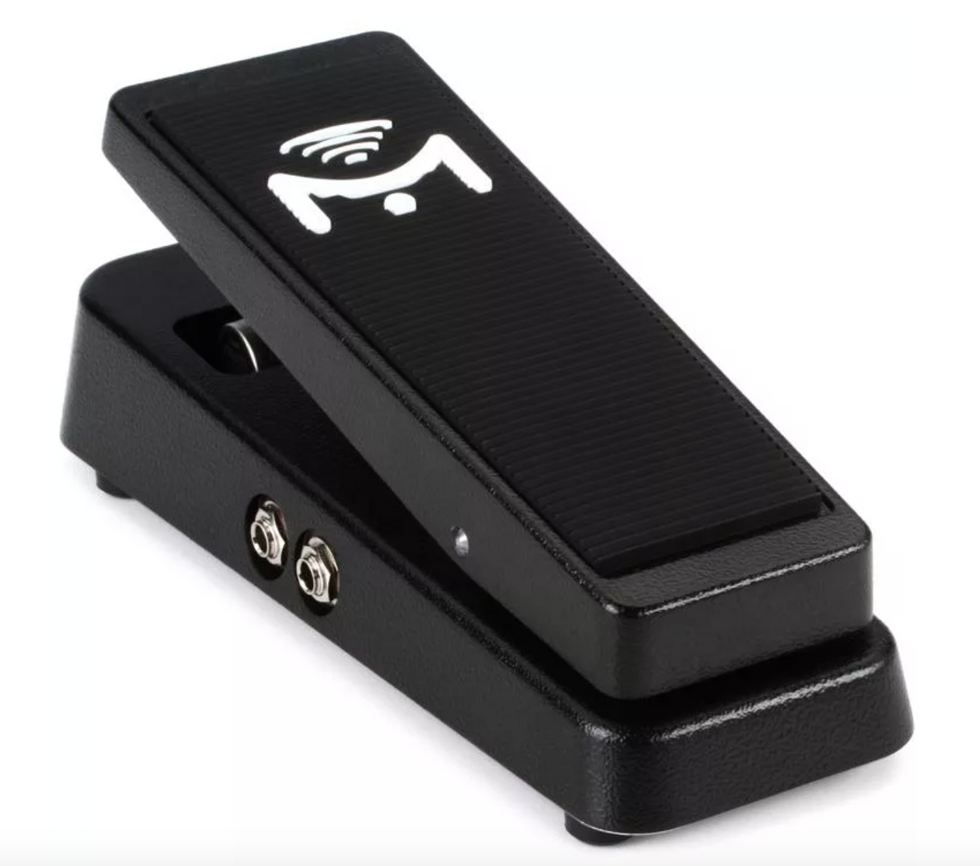 The company's most universal expression pedal is built to handle the rigors of night-after-night rocking. It's designed to work with nearly any digital amp, effects pedal, or MIDI controllers with a single TRS cable.
$149 street
This fully customizable pedal features two TRS outputs and a 3.5mm sensor output designed for the company's line of SoundBlox pedals. It also includes a range adjust knob that controls the sweep of the expression sent through the outputs.
$119 street
Space is never an issue with this pedal. It's only 5" long and 3" wide and built from solid steel. It also has selectable output modes (TRS, TS, or RTS) to ensure it works with nearly anything you can throw at it.
$119 street
Swooshing Pink Floyd vibes, kerranging Sleep chugs, and mutating mellow Motorpsycho tones symbiotically swirl in this guitar duo's growing setups.
Facing a mandatory shelter-in ordinance to limit the spread of COVID-19, PG enacted a hybrid approach to filming and producing Rig Rundowns. This is the second video in that format, and we stand behind the final product.
Since its inception with their self-titled debut in 2008, the band never succumbed to a singular sound. Pushing forward is their only direction. While Elder's early work (including their second album, Dead Roots Stirring, released in 2011) was akin to a relentless "Iron" Mike Tyson with overpowering attack and devastating delivery, they still allowed for dynamic shifts and sonic sabbaticals during calmer passages heard in "III" and the end of "Hexe."
And if Dead Roots Stirring was Tyson KO'ing people in 30 seconds, 2015's Lore saw Elder becoming a cerebral, manipulative, rope-a-dope Muhammad Ali from the Rumble in the Jungle. They graduated beyond worshipping the intimidating, hypnotic riff and explored the outer realms of stoner metal by including psychedelia from Colour Haze, jazzy progressions from Motorpsycho, and moodier, atmospheric Bo Hansson-y layers with mellotron, keyboards, and cleaner guitar tones.
Melody, space, and as an inverse result, power continued to blossom in 2017's Reflections of a Floating World. In any given song or moment of an album, those rooted pillars complementarily pull the band in various directions, but cohesively, it still moves them forward. To foster that perpetual growth, you need to put yourself in unusual scenarios.
2019's The Gold & Silver Sessions did just that by removing lyrics and putting the quartet in an experimental scenario focused heavily on organic jamming. Possibly indirectly, the exercise unlocked avenues echoed and embellished (with precise polish) that are felt throughout the just-released Omens. Allowing other instruments to lead and flourish (keyboards in "Embers" and synths in "Halcyon") help avoid the guitar fatigue when the shortest song is over nine minutes.
Each album and collection of music created by Elder advances their sound. Some fans argue they've departed from a genre they helped define. Others have enjoyed the expansion of their spacey storytelling. Both opinions are debatable. The fact of the matter is we should withhold cemented judgement and rather enjoy the unraveling metamorphosis until all their patterns of the kaleidoscopic have been visualized.
In this episode, Elder guitarist Michael Risberg (left) and founding guitarist/singer Nick DiSalvo (right) interview each other about their live setups. Each configuration centers around a custom instrument, blaring British heads, and scores of stomps that will eventually support the band's brand-new album, Omens. Later on in the video, bassist Jack Donovan runs us through his meat-and-potatoes, bass-battle station.
New features include an intelligent true-bypass relay circuit with active pop suppression.
Voerde, Germany (August 27, 2019) -- The Lehle Little Dual II is the successor to the Lehle Little Dual and is a maximum signalfidelity amp switcher for two amps. By using the soft-touch switches you can switch between two connected amplifiers hum-free and without sound loss. The Lehle-Switches work with a microcontroller and an intelligent True-Bypass-Relay-Circuit with active pop noise suppression circuit. Thereby they switch the Lehle Little Dual II even faster than mechanical switches and in addition to that wear-and noise-free.
The centrepiece of the Lehle Little Dual II is its high-end Lehle Transformer HZ, which galvanically isolates output A from output B, making history of hum loops - permanently! Additionally the Lehle Little Dual II is equipped with a TRS switch. Therewith it is possible to send in above-mentioned stereo- or dual-mono signals via a TRS jack or "stereo-jack".
These signals can be operated either in alternation or in parallel - without hum, and without sound losses, needless to say. The Lehle Little Dual II - small, but so utterly effective!
ABY switcher (A or B or both)
Hum and noise-free switching
High-impedance Lehle Transformer HZ
Phase and ground switch
Two different operating modes
Stereo-routing option
Active pop suppression circuit
Top of enclosure: rouge vermillon 31
Bottom of enclosure: gris foncé 59
Lehle Little Dual II MSRP $ 349.- / MAP $ 259,99
The Lehle P-Split III combines passive splitting with the highest possible signal fidelity. Its applications range from splitting signals and eliminating hum, to balancing and reamplification along with any signal routing that requires a clean signal free from noise.
At its core is the high-end Lehle Transformer HZ, which galvanically isolates the two outputs, eliminating any possibility of ground loops. The Lehle Transformer HZ was specially designed for use with high-impedance signals but also splits low-impedance signals with uncompromisingsound quality. The signal can be picked off either symmetrically or asymmetrically from the ISO output.
Passive splitter and DI box
Absolutely no signal loss or hum
High-impedance Lehle Transformer HZ
Phase and ground switch
Suitable for balanced or unbalanced signals
Top of enclosure: orange
Bottom of enclosure: gris foncé 59
Lehle P-Split III MSRP $ 239.- / MAP $ 179,99
For more information:
Lehle