Rig Rundown: King Crimson's Robert Fripp
The veteran prog-rock hero continues his fearless forays into the future with a tubeless setup heavy on digital effects and MIDI capabilities that give him ultimate control.
Although Fripp and King Crimson will forever be known for pioneering the prog-rock movement with 1969's In the Court of the Crimson King, his innovation on guitar technology and craft is staggering. His collaborations with Brian Eno, David Bowie, and Andy Summers are highlights of a solo career nearing 50 years. John Bohlinger went to Nashville's Ryman Auditorium to get the details from Biff Blumfumgagnge, Fripp's main road tech since 2005. Blumfumgagnge demoed Fripp's gear and explained the engineering behind the alchemy.
Fripp will forever be associated with his 1957 and '59 Les Paul Customs, the three-pickup Black Beauties he rocked with early King Crimson, as well as The Talking Heads, Blondie, and his other seminal work. Now Fripp plays a highly modified Fernandes LP-style goldtop. The Fernandes features a Seymour Duncan in the bridge and Sustainer in the neck. Fripp is the inventor of the New Standard Tuning, which is C–G–D–A–E–G. To facilitate that tuning he strings up with D'Addario Nickel-Wound XL strings (.009-.054).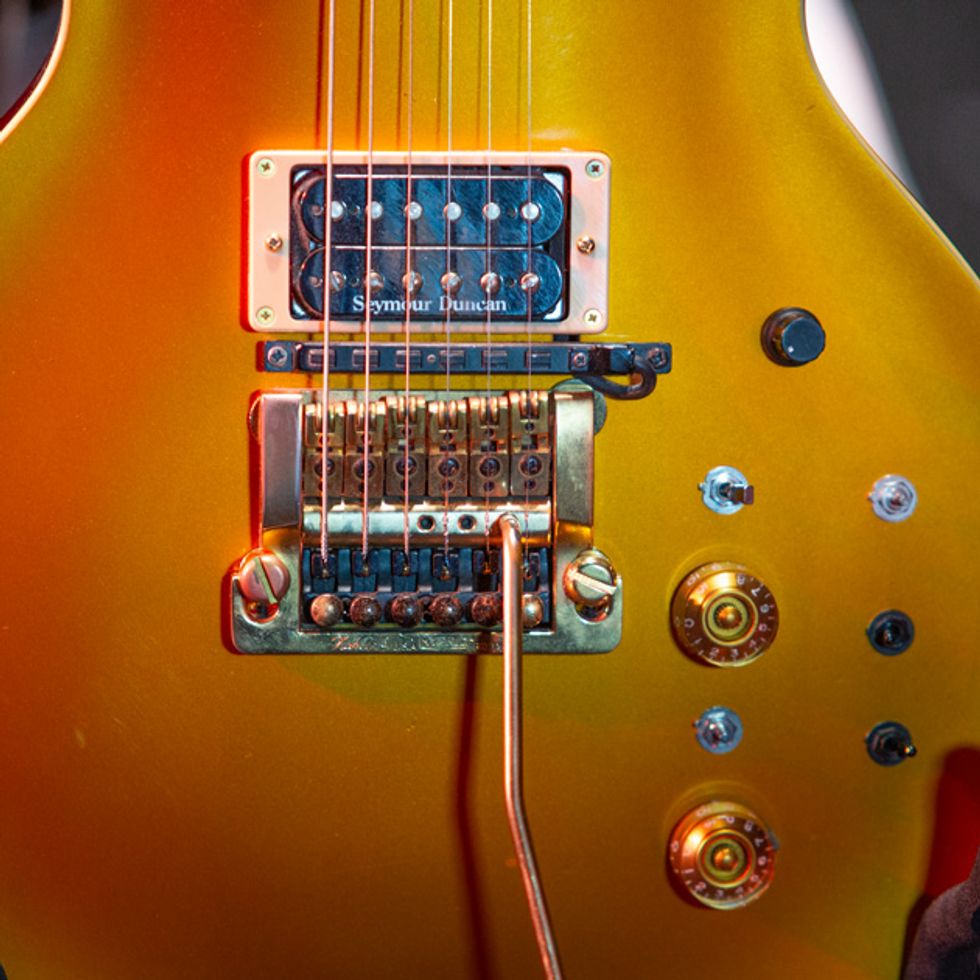 The controls on Fripp's Fernandes require a closer look. Let's start with the knobs. There's a single volume knob and a push/push tone knob that switches between the guitar signal and the 13-pin output. A small black knob controls the volume of the synth. The remaining toggle switches control everything from a fat switch on Fripp's GR-1, to the harmonic mode of the Sustainer, to scrolling through program changes.
Fripp uses light triangular picks that are custom made for him by friends in Japan.
Since Fripp doesn't use traditional amps in his rig these Fractal Audio Axe-Fx II XLs are where his core sound comes from. The bottom one is his main one and the top one serves as a backup, which thankfully has never been used during a show. Fripp is quite adept at using the Axe-Edit software, so he programs all of the sounds himself.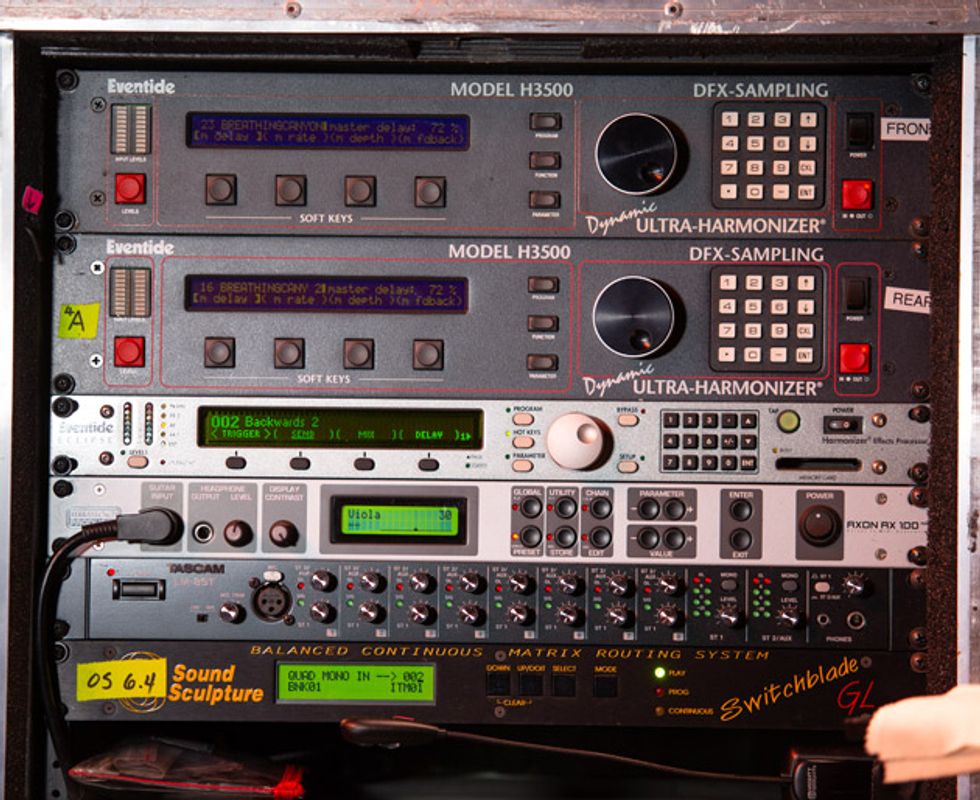 Inside Fripp's rack sits a pile of modulation and routing boxes. From the top we have a pair of Eventide H3500 Ultra-Harmonizers, then an Eventide Eclipse, a TerraTec AXON AX 100 MkII, a Tascam LM-8ST Rack Mixer, and a Sound Sculpture Switchblade GL switching system. How does all this work together? More on that in a bit.
Out front, Fripp has a semi-circle of pedal and controllers that he uses throughout the show. This Rocktron MIDI Raider allows him to move between patches, control loops, and go down a million other sonic paths during the course of the show.
One of the few "normal" pedals in Fripp's rig is this DigiTech Whammy II, which is placed in line right before the Axe-Fx II XL.
At the bottom of Fripp's rack sits a pair of Eventide H8000 units that are used mainly for looping. At any time, Fripp could have several loops going with one loop aimed at the front of the audience and another at the back. Since the band's FOH is a quad mix these loops interact differently depending on where you are sitting.
So how does all of this fit together? Well, after you watch the video check out this in-depth diagram from Biff on how the signal path snakes through this immense, but fairly straight-forward setup.
---
Click below to listen wherever you get your podcasts:
---
D'Addario XT Strings:https://www.daddario.com/XTRR
---