Tap tempo is king in a multi-voiced digital delay with creative echo-shaping controls.
Recorded with Schroeder Chopper TL and Wooly Coats Spanky MKII
Clip 1 - Lo-fi mode, eighth-note repeats
Clip 2 - Slapback mode, eighth-note repeats
Delay has evolved so much and become so functionally varied that whole user factions with independent value systems now exist. There's the slapback set, the ambient adventurers, analog adherents that like it dirty, and digital surgeons that prize pristine clean sounds. With a raft of modulation textures, filters, and colors ranging from filthy to squeaky clean, Walrus' ARP-87 addresses the needs of many of these groups. But it seems especially geared toward a unique breed of delay user known as the tap-tempo control freak—so much so that the pedal disposes of a time knob entirely and relies exclusively on a tap tempo switch and a subdivision knob to determine repeat rates.
Space Ranger Switches On
The ARP-87's 6-knob array isn't crazily unconventional, but it may throw trad-minded, 3-knob analog delay fans a curveball or two if they dive right in without referencing the manual. Apart from level and repeats, and perhaps the ratio knob, which enables selection of subdivisions, the individual controls declare their intent rather obliquely. They are, however, pretty easy to figure out on the fly. Dampen is a tone control, which is useful for taking the sheen off the digital delay or brightening the "analog" voice. X increases modulation intensity in slapback, analog, and digital modes, and adjusts filter width in lo-fi mode. Program enables switching between those four algorithms. The switches themselves have no detents, which can make adjustments tricky in the dark. Here again, though, the options are manageable enough in number to sort in the heat of performance.
It's easy to see how the ARP-87's analog voice could be the perfect "analog" delay for digital delay fans.
Construction is solid. The soft relay switches are responsive, if quite close together. The circuit board is an orderly affair, with pride of place given to the Spin Semiconductor FV-1 that serves as the delay engine. I/O jacks and the external tap tempo jack are board mounted, but don't seem especially vulnerable to shock or bumps. And though cool stompbox graphics are commonplace these days, commendation is due for the excellent sci-fi-paperback-style spacecraft graphic and the matte-sparkle grey finish.
X Factors and Mysterious Voices
The ARP-87's four delay algorithms manage to sound both distinct and of a piece, meaning switching between them from song to song won't require radical tweaks elsewhere in your signal chain. There were, however, times when I longed for slightly more distinct voices. The digital delay is a fine foundation for exploring the ARP-87s more texture-oriented controls. It's not a brittle digital delay, even at the brightest tone settings. In fact, extracting the liveliest tones and enhancing the rhythmic complexities possible via the subdivision control typically required tones on the brighter side of noon—even with toppy Danelectro, Telecaster, and Jazzmaster pickups driving the works.
The analog voice, meanwhile, distinctly softens repeats in a way that makes brighter tone settings very pleasing to the ear and easy to nestle into a mix. It also sounds great with small doses of modulation from the X knob. But as an avowed fan of bucket brigade delay, I usually found myself wishing for a little more color and the husky, cracked repeat overtones that I love so much in Memory Man, DM-2, and Carbon Copy delays. That personal bias aside, it's easy to see how the ARP-87's analog voice could be the perfect "analog" delay for digital delays fans that want to explore subtler shades of bucket brigade patina and chaos.
Ratings
Pros:
Intuitive controls. Solid fundamental tones that nestle nicely in a mix. Cool lo-fi textures.
Cons:
Slightly bland "analog" voice. No repeat rate knob.
Tones:


Ease of Use:


Build/Design:


Value:


Street:
$199

Walrus Audio ARP-87
walrusaudio.com
Perhaps it's my analog proclivities that made the lo-fi voice my favorite of the four algorithms. It's a hazy, characterful setting in general that takes well to delay-heavy mix settings, extended repeats, and long repeat rates, which reveal ghostly details in the echoes. And because there seems to be a subtle dose of modulation built into the lo-fi voice, the X control adjusts a filter that can narrow the frequency range to a profile reminiscent of an old television set or open up more expansive and frequency-rich spectrums. This filtering function also enables you to pair the lo-fi voice effectively with big reverb sounds, which might otherwise become an overwhelming wash when paired with the ARP-87.
The slapback setting, too, is a reliable and colorful mode that can be twisted into less familiar shapes with clever use of the subdivisions and modulations. (Triplet ratios, heavy modulation, and aggressive level and repeat rates create clangy, metallic Doctor Who-style echoes that sound wicked for simple melodies and slide solos.)
If there is one aspect of the ARP-87's design that really gives pause, it's the proximity of the bypass switch and the tap tempo switch, which becomes doubly critical in the absence of a repeat rate knob. And though most contemporary players are probably comfortable with tap-tempo functions—which can make the difference between sloppy and sublime in a tight, rhythmically driven song—they aren't for everyone. (This reviewer, for one, prefers dialing in repeat rates by ear using a knob). The tap tempo programmability and modifications you can make with the subdivision control certainly add up to a very wide rhythmic palette. That said, you should try the ARP-87 out to make sure that you can live without the ability to dial in time and create effects with quick repeat rate fluctuations and adjustments. Another small design curiosity is a default time setting for each voice that requires you to reset your tempo each time you switch between voices. And if you foresee switching between voices during a song, you should investigate this design limitation.
The Verdict
In a competitive market for compact multi-voiced digital delays, the ARP-87 delivers unique tones and functional simplicity enough to stand apart from several solid and similar competitors—most notably the TC Flashback and JHS Pink Panther. Analog delay fans looking for a more flexible digital solution might wish for more colorful analog simulations. But its cool lo-fi voice, and an agreeable, flexible nature that makes it easy to place this delay in the mix, make the ARP-87 a cool multi-purpose delay by any yardstick.
Scratching the surface of an eternal question for guitarists: What is left to discover in the guitar-effect universe?
Greetings, tone hounds! I've said before that we live in a golden age of guitar gear, but nowhere is this more evident than the massive range of effects pedals available today. Manufacturers large and small are constantly releasing new stompboxes and giving us guitarists access to a seemingly unlimited variety of tones. Sometimes, however, I wonder where it's all going. Are there really any new sounds left to discover?
I just returned from GuitCon 2017, the inaugural meeting of guitarists, gear manufacturers, and guitar-oriented YouTubers held at the Warwick/Framus factory in Markneukirchen, Germany. We jammed lots, created tons of great video content, and spent quality time just chatting about music and guitar. With questions in hand, I sat down with two guys who really have their fingers on the pulse of modern, guitar effects: TC Electronic's Tore Lynggaard Mogensen and Robert Keeley.
A small-body Gibson acoustic from the late '60s appears to have weathered the decades better than many others in its model line.
Hey Zach,
This has been my favorite guitar for many years. I bought it in the mid-1970s while I was at school and have loved it ever since. I like small-body guitars and the sound is very mellow. Aside from some finish cracking on the top, I've managed to keep it relatively clean. It has a serial number of 899XXX and I believe it is all-original, but who knows? Can you tell me anything about the history and what it is worth today?
Thanks,
George in Lexington, Kentucky
Hey George,
Gibson's small-body acoustics such as yours found popularity because of their size and affordability. While the company's B series guitars first appeared in the early 1960s, Gibson's small-body guitars go back many years and a number of notable guitarists from Robert Johnson to John Hiatt have played them.
Gibson's first flattops were introduced in 1926 as part of their L series, and many variations were produced through the 1930s. In the early 1940s, World War II affected the availability of raw materials—arguably like no other point in time—and this included wood for building guitars. By 1942, spruce boards that were wide enough for making guitar tops were becoming increasingly scarce, so Gibson designed a guitar that was 2" narrower than their SJ or J-45 models to utilize more readily available wood. Gibson also had a new style of neck they wanted to introduce across all their lines. This new series became the LG series.
Dating a Gibson guitar from this era isn't always an exact science, since serialization before 1975 is often unreliable.
Fast-forward to 1962 when, for reasons unknown, Gibson switched many of their LG models over to the new B series. While essentially still the same, the differences between the two series ranged from cosmetic (new 3-ply binding) to important (a new plastic bridge). This screwed-on plastic bridge found on the B series remains a major discussion point amongst purists, because on many guitars the plastic bridge would crack and often cause the belly of an instrument to warp. That's why a number of B-series guitars have replaced bridges and/or repaired tops, so one should be sure to double-check this when looking at one.
The B-25N featured a spruce top, laminated mahogany sides, a mahogany back, a rosewood fretboard with 14 frets clear of the body, dot inlays, 3-on-a-plate tuners, and the aforementioned plastic bridge. The scale length is 24 3/4", the lower bout (body width) is 14 1/4", the body length is 19 1/4", and the body depth is 4 1/2". It was available with a sunburst finish (B-25) or a natural finish like your B-25N. Other original-run B-series models included the B-15 (1967–1970), B-20 (1971–1972), B-25 3/4-scale (1962–1968), B-25 12-string (1962–1977), the B-45 12-string (1961–1979), and even a tenor version called the TG-25 (1962–1968).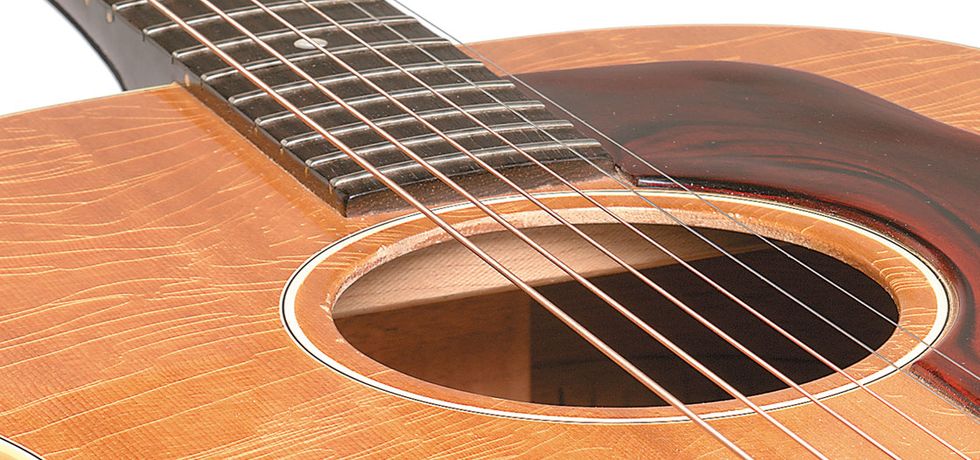 Our reader's B-25N has some obvious finish checking on its spruce top, but it's a clean instrument overall and would likely fetch somewhere between $1,200 and $1,500.
Dating a Gibson guitar from this era isn't always an exact science, since serialization before 1975 is often unreliable. However, according to the serialization charts, your number falls into the 1968 range, which is likely correct since the lower-belly style of bridge was introduced on the B-25 in 1968 (It had previously been an upper-belly style.) and the adjustable saddle on the model was discontinued in 1970.
As mentioned previously, the small size and affordability of the B series triggered Gibson to make a lot of them. Between 1962 and 1970, Gibson built nearly 34,000 B-25 and B-25N guitars combined, which is 4,000 more than the popular J-45 model during the same period of time. In 1965 alone, Gibson built close to 6,000 B-25 models during the height of the guitar and folk boom. All said, many did not survive through today. Fortunately for you, a bit of minor finish-checking is all this guitar shows and it's one of the cleaner examples you might find. Your guitar is currently worth between $1,200 and $1,500, and values have been relatively stable over the past decade. With proper care and the right humidity, your Gibson should continue to be a treasure for years to come.