Quick Hit: Radial Tonebone Texas Pro Review
Multiple shades of overdrive and boost come alive in a compact stomp built to last.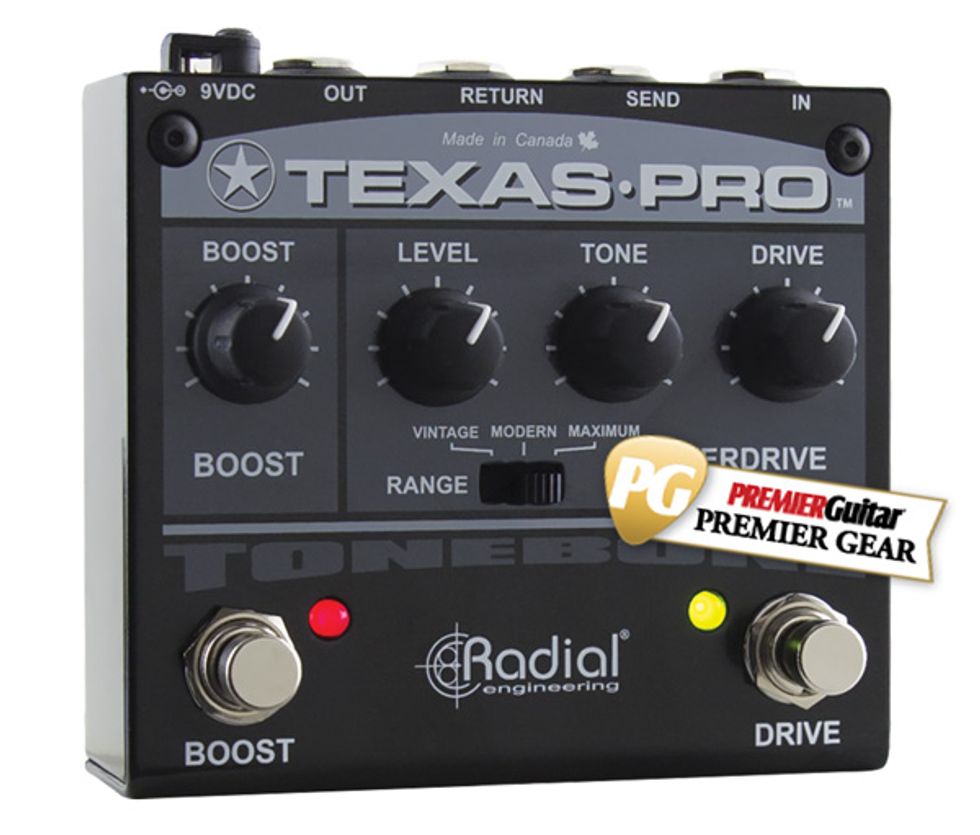 Radial is famous for reliable DI boxes tough enough to double as ball peen hammers. But the company's utilitarian image often seems to obscure how thoughtfully designed and musical their stompboxes can be. Those qualities are easy to hear, see, and feel in the Tonebone Texas Pro.
Like Radial's DIs, the Canada-built Texas Pro is ridiculously robust: heavy gauge steel, smooth, precise, and sensitive controls with perfect resistance, a smart effects loop, and switches and jacks that seem impervious to wear. The layout, too, is simple and sensible, with streamlined control sets for the boost and overdrive arrayed across the compact 4 1/2" enclosure.
The Texas Pro is solid on the sound side of the equation, too. I enjoyed the vintage overdrive setting most—especially its ability to deliver TS-style presence with a smoother, more even harmonic profile. It is perfectly matched to the boost. Together they are a magnifying glass for a guitar's essential voice, striking a cool balance between color, toughness, and transparency. The modern mode is killer for punky riffage and Jimmy Page-style lead heat. The maximum setting, meanwhile, seems best suited for searing leads and chunky, aggressive chording. Taken together, the tone variations—and possibilities—are striking.
Test gear:Telecaster Deluxe, Fender Jazzmaster, blackface Fender Tremolux
Clip 1 - Vintage mode, controls at noon
Clip 2 - Maximum mode with boost
Ratings
Pros:
Lots of overdrive colors in a compact package. Tough as nails. Beautifully built.
Cons:
Even harmonic profile can sometimes read as sterility.
Street:
$169

Company
tonebone.com
Tones:


Ease of Use:


Build/Design:


Value: