See how Doyle Bramhall II maximizes his stompbox real estate, firebrand Eric Gales adds bling to his setup, Jonny Lang upgrades to "spaceship" lighting, while Kenny Wayne Shepherd and Samantha Fish can't let go of irreplaceable favorites.
Cop-call-deterring boxes from Weber, Two Notes, Bugera, Radial, Mesa/Boogie, and more.
Sure, you could simply roll down your amp's volume when you receive the evil eye (or worse) from your bandmates, engineer, spouse, or neighbor, but then your tonal sweet spot disappears. We've rounded up 10 attenuation options, from $50 to $550, that'll let you hit your amp as hard as you like, while still maintaining your friendships.
Not just an attenuator, this little powerhouse also functions as an IR loader and cab simulator, and can be paired with your laptop or mobile device for expansive tone shaping.
TWO NOTES
This inexpensive and different device to attenuate allows you to tame your volume—while still pushing your amp's front end—by placing it in your series effects loop.
JHS
For any tube amp up to 45 watts, and for use with 4, 8, or 16 ohm loads, this attenuator mounts inside your favorite combo and out of the way while you enjoy bedroom-level audio volumes.
DR. Z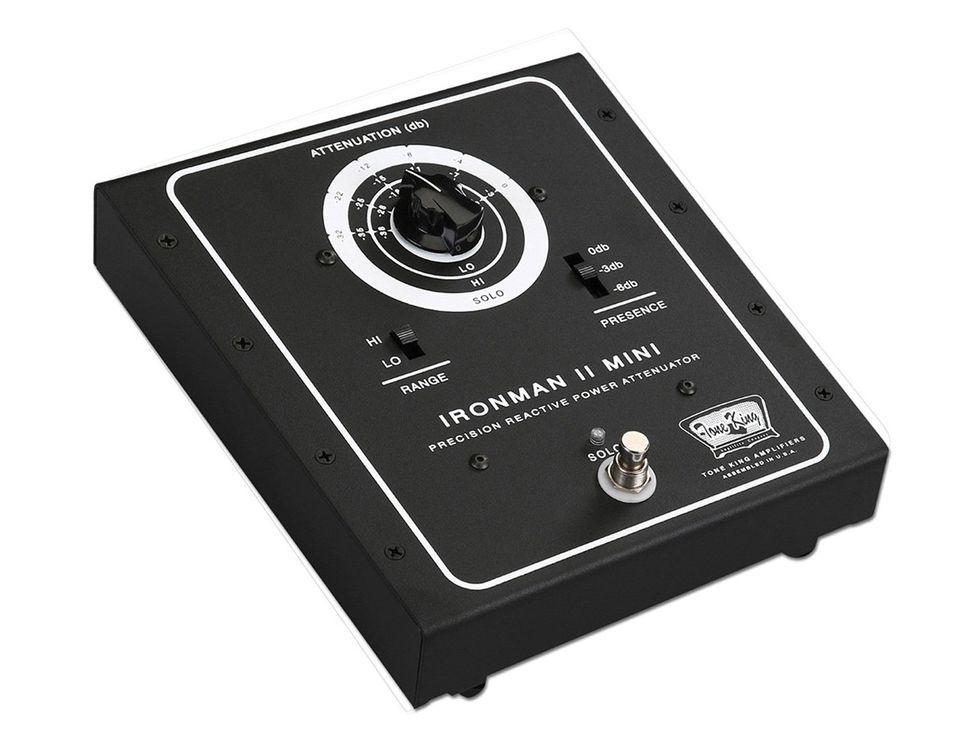 Ideal for tube amps up to 30 watts, and pedalboard friendly, this petite version of the company's 100-watt unit attenuates your amp's volume with the very same reactive load and transformer-coupled tech.
TONE KING
Priced attractively, this 100-watt unit's multi-impedance input connectors will match virtually any amplifier for cranked-amp tone at manageable volumes.
BUGERA
Developed in coordination with Tonehunter amps, this passive, point-to-point handwired attenuator features 200-watt power soak and is suited for amps with 4, 8, and 16 ohms.
SPL
Designed for 35-watt amps and lower, this box features a 3-position treble compensation switch and an actual speaker motor for realistic interaction between the attenuator and the amp's output circuit.
WEBER SPEAKERS
This load box offers selectable output levels or complete attenuation, and features a built-in DI and EQ as well as an onboard headphone amp for those times you need to be completely silent.
RADIAL ENGINEERING
Rated for guitar amps up to 150 watts, this attenuator features five levels of power reduction, a 3-position voicing switch (normal, bright, or warm), and a speaker/load switch for options galore.
MESA/BOOGIE
Boasting balanced XLR and unbalanced 1/4" outs for easy interfacing, this attenuator/load box was designed to ensure the amp and speaker see each other in a proper relationship of impedance and inductive/capacitive reactance.
RIVERA