Multiple shades of overdrive and boost come alive in a compact stomp built to last.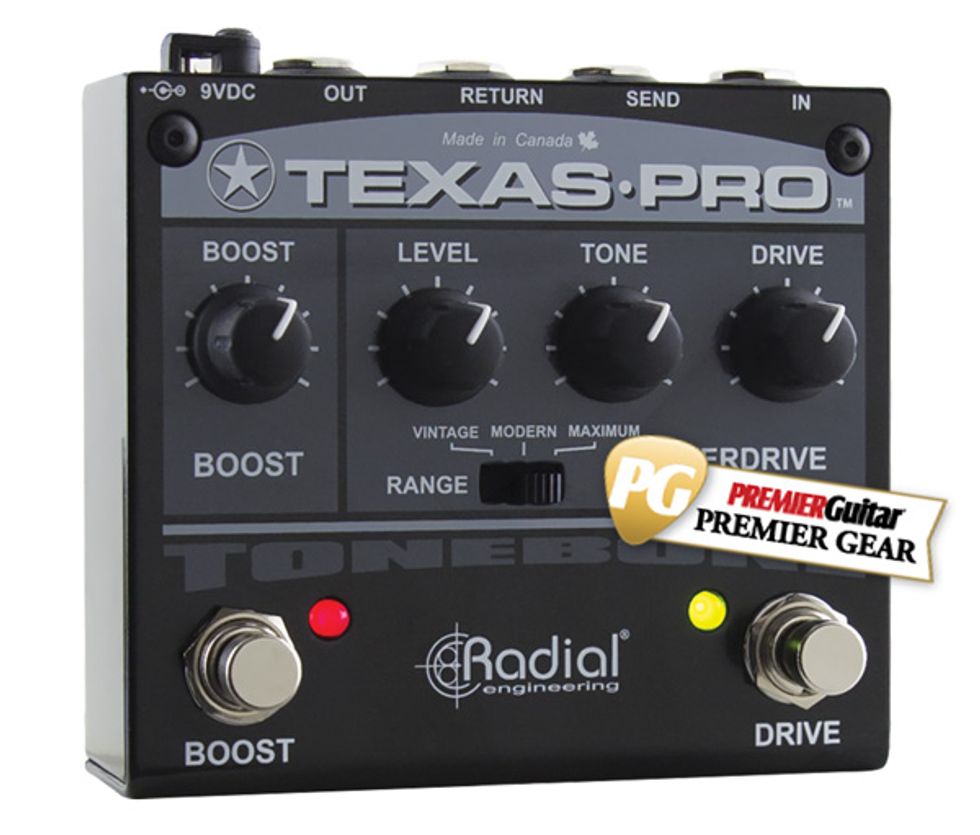 Radial is famous for reliable DI boxes tough enough to double as ball peen hammers. But the company's utilitarian image often seems to obscure how thoughtfully designed and musical their stompboxes can be. Those qualities are easy to hear, see, and feel in the Tonebone Texas Pro.
Like Radial's DIs, the Canada-built Texas Pro is ridiculously robust: heavy gauge steel, smooth, precise, and sensitive controls with perfect resistance, a smart effects loop, and switches and jacks that seem impervious to wear. The layout, too, is simple and sensible, with streamlined control sets for the boost and overdrive arrayed across the compact 4 1/2" enclosure.
The Texas Pro is solid on the sound side of the equation, too. I enjoyed the vintage overdrive setting most—especially its ability to deliver TS-style presence with a smoother, more even harmonic profile. It is perfectly matched to the boost. Together they are a magnifying glass for a guitar's essential voice, striking a cool balance between color, toughness, and transparency. The modern mode is killer for punky riffage and Jimmy Page-style lead heat. The maximum setting, meanwhile, seems best suited for searing leads and chunky, aggressive chording. Taken together, the tone variations—and possibilities—are striking.
Test gear: Telecaster Deluxe, Fender Jazzmaster, blackface Fender Tremolux
Clip 1 - Vintage mode, controls at noon
Clip 2 - Maximum mode with boost
Ratings
Pros:
Lots of overdrive colors in a compact package. Tough as nails. Beautifully built.
Cons:
Even harmonic profile can sometimes read as sterility.
Street:
$169

Company
tonebone.com
Tones:


Ease of Use:


Build/Design:


Value:



Though specifically designed for flatwound bebopping, this stellar instrument handles a variety of genres—including aggro ones—with aplomb.
Even for the most jaded of guitar writers, there are still times when you open a case and mutter, "What the … ?"

That was pretty much my reaction when I unboxed the SP1-1 Jazz Jr. from Los Angeles luthier Michael Pinter. Where to start? The unusual body shape suggests a long-lost cousin of the Coral Electric Sitar. There's wood-grain veneer on top of the pickups. The logo appears not on the headstock, but inlaid into the body on the bass side of the neck pocket.

And perhaps oddest of all, this slim, bolt-on-neck solidbody is pitched as a jazz guitar. "The SB1-J Jazz Jr. is our take on what a jazz guitar can be," reads Pinter's website. "What it is not is just an electric solidbody fitted with flatwounds. Rather, it was designed from the ground up with the jazz artist playing flatwound strings in mind. It is called the Jazz Jr. because it is not your traditional jazz box." Ya think?

Flats for Cats
The designed-for-flatwounds claim sent my BS detector into the red zone. Strats, Teles, Pauls, and 335s were all created with flatwounds in mind, as were almost all electric guitar designs that originated before the mid-1960s. And how can it be built from the ground up for jazz when Pinter's three non-jazz SP1 models feature the same neck and body?
Separately and together, the two pickups sound stunning. Their impact and tones are exceedingly piano-like, with definitive attack and phenomenal midrange complexity.
Oh, me of little faith. This is a fabulous guitar, and yes, it sounds sublime with flatwound strings.

A Righteous Sound
The biggest difference between the Jazz Jr. and Pinter's other models are the guitar's pickups. Joshua Spataro of Righteous Sound Pickups designed these especially for the SB1-J. Spataro is uncommonly secretive about his pickup recipes. He won't even disclose the DC resistance of his creations. But beneath those decorative faux-wood caps lie a bridge humbucker of modest output and maximum definition and Spataro's take on a traditional Tele neck pickup.

Separately and together, the two pickups sound stunning. Their impact and tones are exceedingly piano-like, with definitive attack and great midrange complexity. The pair is perfectly matched. The humbucker never outweighs the single-coil. Their colors run the gamut from "articulate warmth" to "slighter, brighter articulate warmth." Tones maintain remarkable string-to-string definition despite their sheer mass. They're perfect for solo jazz players who embrace counterpoint and chord-melody playing, though they're equally lovely for single-note soloing.

Built for Comfort
The Jazz Jr.'s playability is as extraordinary as its pickups. The alder body, with its understated belly and forearm bevels, balances nicely. It's light and zingy, with excellent acoustic sustain. The crafty cutaway makes the 22nd fret as accessible as the first. The asymmetrical 4-screw neck plate is another eye-catching detail.
Ratings
Pros:
Fabulous tones. Supreme playability. Original design.
Cons:
Costs $2,500.
Tones:


Playability:


Build/Design:


Value:



Street:
$2,500
Pinter SP1-J Jazz Junior
pinterguitars.com
And damn, the neck feels good. It's maple with a pau ferro fretboard and a 10"-to-16" compound radius. It's got a substantial D shape at the nut, gradually flattening out as you ascend the fretboard. The neck's rear surface displays lovely maple figuration, and the poly finish is glass-perfect. There's a cute little volute at the headstock and a fine hand-carved bone nut. The medium frets are masterfully installed—we're talking smooth, probably with a few extra o's in the word. Tastes vary, but I found it supremely comfortable. The fact that it arrived with a fine factory setup helped as well.

All hardware is fittingly top-shelf: a string-through-body Hipshot bridge, Hipshot locking tuners, CTS pots, and Straplok-ready buttons.

On Beyond Jazz
If someone played me a recording of the Jazz Jr. and told me I was hearing a hollowbody, I'd probably believe it. There's a bit more treble than you tend to get from hollowbody guitars strung with flatwounds, but not in a pushy way. There's simply an engaging top-end shimmer. (Dialing back the tone pot yields more orthodox jazz sounds.)

That extra shine pays dividends when you apply the Jazz Jr. to aggressive, non-jazz styles. That wasn't the builder's intent: This was conceived as a jazz machine. But I'm one of those weirdos who uses flatwounds for everything, and who raves about pairing flats and fuzz pedals till everyone in the room shuffles away, looking embarrassed. I love how the SB1-J sounds with heavy distortion, and I've included a crunched-out example in the demo clip.

The Verdict
Holy cannoli, is this a cool guitar! While its offbeat visuals might not please traditionalists, its stellar tones and glorious playability will. Sure, SB1-J excels at jazz, but it also sounds killer for other styles, including aggressive ones. It's beautifully made and easy to travel with. Priced at $2,500, Jazz Jr. is expensive for a bolt-on neck solidbody with minimal ornamentation, but its superb tones and playability would be standouts at any price. I loved spending a few days with this inspiring instrument.
A fantastically colorful and expressive bucket brigade analog delay at a ridiculously low price.
Curiously, TC Electronic never gave a name to the line of affordable, metal-enclosure stompboxes they announced late last year. That leaves it to the stompbox nerd community to contribute a label. And given how many of these pedals seem like budget classics in the making, we suspect a new handle—and a cult following—is fast forthcoming.
The Echobrain analog bucket brigade delay has a memorable enough name. But it's the resonant, colorful, and occasionally haunting lo-fi sounds it produces and its sensitive, tactile control set that make using it so addictive.
Echo Regeneration Redux
In the wake of Behringer's purchase of TC Electronic, it's quite likely the Echobrain is an improvement and update of the Behringer VD400 (Behringer designs are the heart of many new, affordable TC pedals). But the improvements are significant, and the upgrades to the controls and pots are enough to make this an altogether different and much more musical pedal.
Mix swells have a smooth curve, and the tactile sensitivity and control over repeat rates and delay times is superb.

The metal enclosure is robust and attractive with more than a hint of '60s transistor radio influence in the design. Some will lament the relatively large enclosure, but it probably facilitates use of the single PCB used to mount all the components, jacks, pots, and the footswitch. The enclosure seems sturdy enough that the board mounted jacks and pots won't be a problem. But the footswitch is of the type that activates the effect upon release, creating mechanical latency when you switch the effect on. Replacing the switch should be an easy mod, but mounting the switch on the board makes the procedure tricky to impossible. The upside? The manufacturing costs saved by the process are a huge part of the rock bottom price.
Ratings
Pros:
Insanely low price. Expressive control set. Sensitive, rangeful pots. Great repeat tones.
Cons:
Footswitch activates on release, which creates mechanical latency at bypass.
Tones:


Ease of Use:


Build/Design:


Value:



Street:
$59
TC Electronic Echobrain
tcelectronic.com
Tasty Time Tinkering
Echobrain's controls have great range and sensitivity, which enables very precise delay times, repeat rates, and mix levels. Better still, the large knobs and firm but smooth resistance of the pots enable and encourage highly expressive interactions. Mix swells have a smooth curve, and the tactile sensitivity and control over repeat rates and delay times are superb. That means you can creatively ride the feedback and resonant peaks that occur at the verge of self-oscillation, perform radical or gentle accelerations and decelerations of repeat rates, or create terrifying echo swells. Few contemporary delays are as fun to use for these creative effects (the Ibanez Echo Shifter is one exception), and the Echobrain can rival classics like the Deluxe Memory Man and Echoplex in terms of hands-on musical malleability.
At the fastest repeat settings, Echobrain twitches at hummingbird heart rates, and as you move through these speedy echo rates you can hear traces of ring modulation, ADT, and tile reverb. Some of the repeats are close enough to create a sort of phase cancellation—achieving a cool EQ filtering effect not miles away from a cocked wah. As the output veers gradually toward oscillation, cool metallic high-mid overtones appear prominently in the repeats, evoking spring reverb and some of the clanging tones of oil can delays, without the modulation.
Though most pronounced at high repeat rates and mix levels, those overtones are a fundamental part of the pedal's voice. And they lend transportive vintage color to the slapback-style repeats, which occur with the time knob between 9 o'clock and noon. (I won't be surprised if Echobrain becomes standard issue for the lead-sled-and-Gretsch set, in time).
Longer echoes (with a 300 millisecond ceiling, they only get so long) have just as much color and provide ample space for early Pink Floyd sojourns, lo-fi psychedelic trips, deep dub skanking, and Joe Meek sci-fi textures.
As colorful as Echobrain can be, the high-end content in the repeats can be tricky with fuzz or the wrong amp. I might be hesitant, for instance, to tinker with Echobrain's most resonant tones with a Tone Bender Mk II and Twin Reverb on either side. (Actually I wasn't hesitant to try this formula at all, but it was hairy business!)
The Verdict
Echobrain is just about the most fun you can have for 60 bucks. The footswitch is annoying, but that shortcoming is offset by a superb and sensitive control set, and echo tones that you may never want to play without for certain songs. Echobrain can enliven the dreariest guitar and amp tones. (In fact, it sounds especially amazing with cheap, solid-state rigs, if you have such lo-fi proclivities.) I could even see using this pedal at a mixing desk for adding bold vintage colors and performing radical effects during a mix. Indeed, Echobrain is everything that's great about analog delay at a price you almost can't refuse.