The EHX Satisfaction Fuzz, released in 2014, was designed as an homage to the tone of the early fuzz pedals of the '60s. The Satisfaction Plus has expanded controls and a FAT mode for a wider pallet of fuzztones.
​Housed in EHX's Nano-sized chassis, the Satisfaction Plus features Volume, and Attack knobs like the original plus Tone and Bias controls and a FAT/NORM mode switch. Volume controls the overall output volume level while the Attack control sets the amount of gain. The Tone control is an active tilt-shift EQ that inversely controls both the treble and bass of the fuzz. The Bias control lets you dial in the fuzz character from balanced and open to gated and sputtery. The FAT/NORM mode switch toggles from the original circuit to a circuit with a bigger, warmer tone.
Electro-Harmonix Satisfaction Plus Fuzz
Satisfaction Plus Fuzz Pedal
Electro-Harmonix
​The EHX Satisfaction Plus features true bypass switching, comes equipped with a 9 Volt battery, and accepts a standard EHX 9 Volt power supply. It is available now and features a U.S. Street Price of $99.00.
For more information, please visit ehx.com.
The L.A.-based session ace takes PG through his studio and talks about his love for "player grade" guitars.
Tim Pierce's guitar can be heard on more than a thousand recordings, starting in the '80s, when he played on hits by Bon Jovi, John Waite, and Rick Springfield. In subsequent years, he's added to his resume with recorded performances for Crowded House, Christina Aguilera, Seal, Avril Lavigne, Tracy Chapman, Joe Cocker, Ricky Martin, Meat Loaf, Rod Stewart, Elton John, Michael Jackson, Bruce Springsteen, Rob Thomas, Rick Springfield, Phil Collins, Madonna, Toy Matinee, Don Henley, Santana, Rascal Flatts, Chris Isaak, Jewel, Faith Hill, Celine Dion, Dave Matthews Band, the Goo Goo Dolls, Lana Del Ray, Demi Lovato, Jason Mraz, Kelly Clarkson, and many more.
These days, Pierce also has a popular YouTube channel with more than 400,000 subscribers and offers an online masterclass program for thousands of users. You can get more information at timpierceguitar.com.
Meanwhile, here's what we saw—and learned—when Pieces shared the wisdom and the gear he's accumulated in four decades of playing sessions.
Brought to you by D'Addario XS Strings.
Tim's Troupe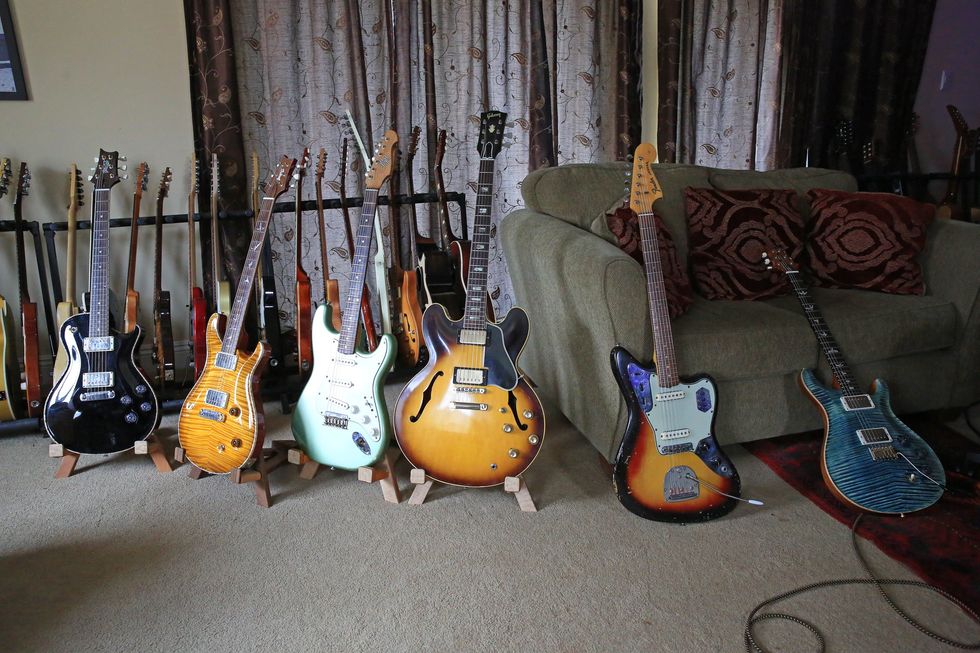 Here's a look at Tim Pierce's go-to instruments, including a 1962 ES-335, a 2020 Gibson Custom Shop 1960 Les Paul reissue with Arcane humbuckers, a one-off PRS McCarty 594 Singlecut in black with binding, and a '62 Fender Jaguar strung with flatwounds.
Ol' '35
After nearly four decades of sessions, Pierce has pretty much every tool for any job. His heavy rotation includes this 1962 Gibson ES-335, which has enough wear to be considered "player grade," with Ron Ellis pickups. Most of Tim's electric guitars are strung with Elixir nanoweb strings, either .009 through .042, or .010 through .046.
Green Machine
This 2022 Mario hardtail S-style with a paulonia-wood body weighs a mere 4 pounds 13 ounces!
The Right Stripe
You'd be hard pressed to find a more beautiful flame top than this 2019 PRS McCarty Flame Top Doublecut. It sports a carved flame maple top on a mahogany body, a rosewood fretboard, two volumes, two push-pull tone controls, and a 3-way switch.
Marshall Power
Pierce has a lot of amps to choose from in his control room, including this 1967 Marshall Super PA 100 head (top) and 1968 Marshall Super Tremolo plexi.
A Park, Divided
There's also a Park JTM 45-100 from a limited run of 10 and a Divided by 13 RSA 23 head, with 23 watts, natch.
More Amped Up
Rounding out the lineup of Pierce's amplifiers is a Bad Cat Lynx, a Bad Cat Hot Cat, and a Joe Morgan custom 15 head (not pictured).
That's 16 x 48
Pierce's amp cabs live in a separate, sealed room, built specifically for isolation, far from the control room. They include these four vintage Marshall 4x12 cabinets, dating from 1968 through the early 1970s. There's also a vintage Vox 2x12 with 15W Bulldogs.
He keeps his cabs miked with Shure SM57s, two Royer R-122V tube ribbon microphones, and two Sony C800 large diaphragm condensers from the early '90s. A Scheops CMC5 condenser microphone is used for acoustic guitars.
Tim Pierce's Pedalboard
Pierce began the interview playing though his main mobile Pedal Board, which includes a Nobels ODR-1, a Strymon Lex rotary, a Keeley/Timmons Halo delay, a Meris LVX delay, a Karma MTN-10 overdrive, an XTS Modded Boss GE-7 equalizer and Boss TR-2 Tremolo, a vintage Boss VB-2 Vibrato, an MXR Reverb, a Fairchild Circuitry Shallow Water modulation pedal, a Providence System Tuner, two Dunlop mini expression pedals, a Dunlop volume pedal, a Voodoo Lab Dingbat pedalboard, and a Voodoo Lab Pedal Power Mondo.
Pedal Muscle, Part II
While in his studio cockpit, these are Pierce's effects, which you can hear him play in his online videos: Ibanez MT10 Mostortion, Vemuram ODS-1, Nobels ODR-1, MXR Boost/Line Driver, Way Huge Red Llama, Boss OC-2 Octave, Boss VB-2 Vibrato, Way Huge Supa-Puss Analog Delay, Fender MTG Tube Tremolo, Universal Audio Golden Reverberator, Neon Egg Planetarium 3, Ebo E-verb, three Eventide H9s used with the iPad App, and a Boomerang Looper. And as you can see with the additional gear photos, Tim Pierce owns (nearly) every tone-tweaking device ever made!
Tim Pierce Rig