An envelope filter that uses simplicity to its advantage.
Simple. Easy to find great sounds. Enough options to cover most player's bases.
If you want deep control over your sounds, look elsewhere.
4.5
4.5
5
4.5
I'm of the mind that a good envelope filter should be simple and sound distinct. I also think there's a fine line between an envelope filter that sounds good and one that's too much. And when I plug one in, I don't want to spend too much time twiddling. While I realize that sounds like an awfully particular set of personal preferences, they seem to be pretty common ones.
The DOD Envelope Filter 440, however, hits the sweet spot for me. It's simple enough to plug and play. I can easily find the sounds I want and dial them in with accuracy. Better yet, the DOD 440 has its own personality—a distinct warm voice that sets it apart from the competition—as well a long history behind it.

What's Old Is New
The Envelope Filter 440 was first introduced in the '70s, and you may have heard that unit on the pedalboards of sonic pioneers like Jonny Greenwood or Steven Drozd. It was reissued by DOD back in 2014, before the company's temporary demise. But now that they're back, so is the 440.
While the 440's colors have changed occasionally, this pedal has always had a simple, retro look to it. That aesthetic is in line with the pedal's utilitarian controls. The original version's knobs for sensitivity and range are duplicated here (though the sensitivity control is called level, it performs the same function). With such simple features, any addition is dramatic, and the reissue includes a voice switch, not found on the '70s iteration, that reverses the direction of the filter—a welcome and crucial addition.
Fun Funk
There's something inherently fun about envelope filters, and the DOD is no exception. It's a responsive unit with a wide range of sensitivity, so I was able to find the sound I wanted as I switched around on different guitars. And the range of the two knobs led me to some great sounds.
The sweep of the 440's filter can be smooth and fairly quick. It's fast enough to reward high-energy melodic playing, where a note's attack gets an assist from the filter. But it's not so quick that you don't hear the sweep, and a big part of the fun is finding the settings where that sweep can be coaxed for dramatic effect. Using the 440 in combination with overdrive and delay amplifies that sweep into a synth-y goo, a great reminder that envelope filters are great, not just for funk jams and Jerry-heads, but also for cathartic noisy adventures.
The switchable voice direction elevates the 440 from a super-basic two-knob unit to a still-basic pedal with twice as much functionality. It's a cool, useful feature that lots of envelope filter tourists, myself included, would love to have without going all-in on something more option-heavy like a Mu-Tron, fantastic as those might be. I loved contrasting the light-to-dark/dark-to-light voices and finding inspiring tones that kept me writing riffs and layering my sounds.
The Verdict
Simplicity is a key for a lot of envelope filter users. The 440 absolutely nails simple, sticking closely to the original's user experience and adding one really cool control in the voice switch. In both settings, the 440 delivers a warm, responsive tone with a just-right filter sensitivity that will scratch the itch for most players. Other brands offer more features to varying degrees at a similar, reasonable price. But if simplicity is key, the DOD still sounds great right out of the box. PG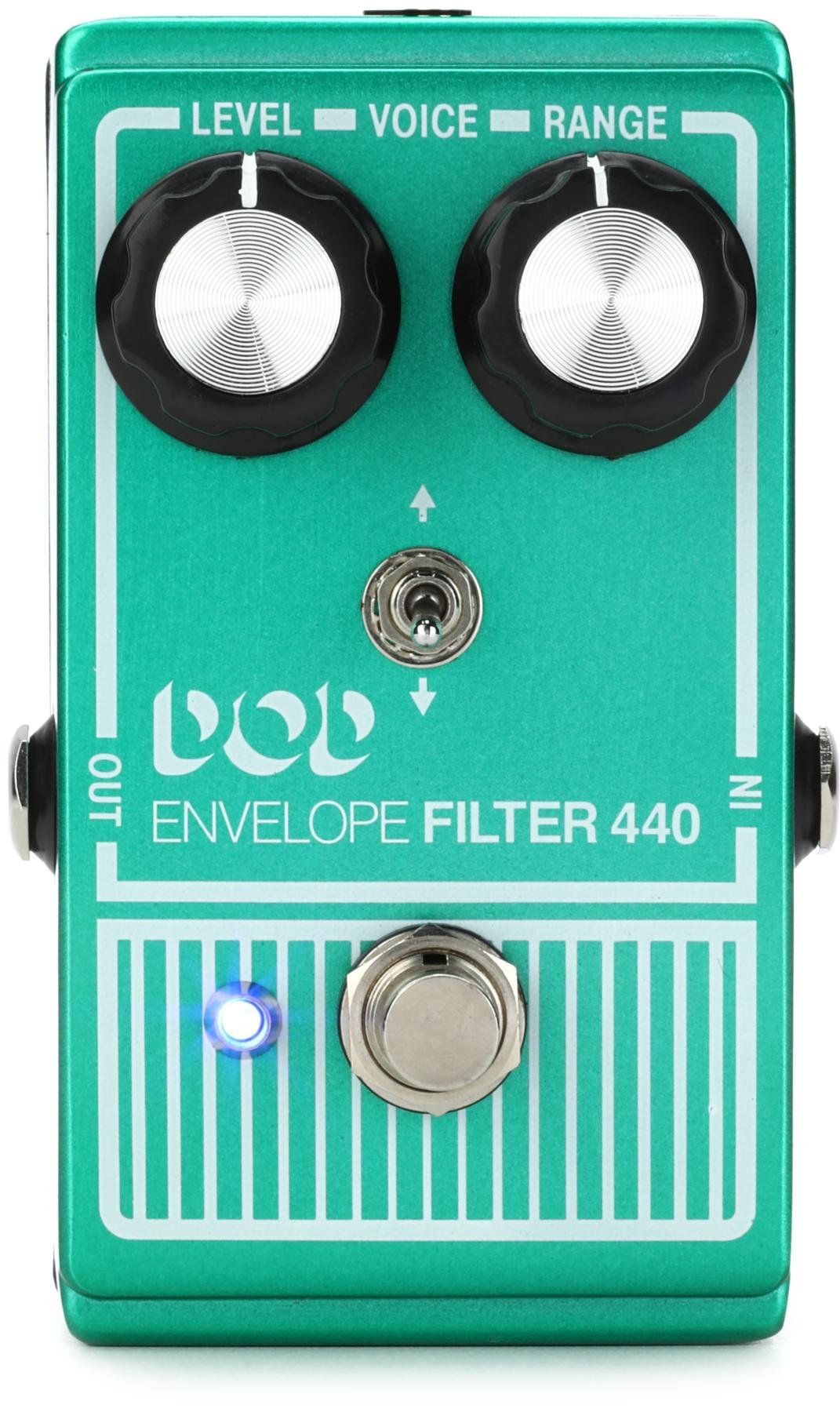 DOD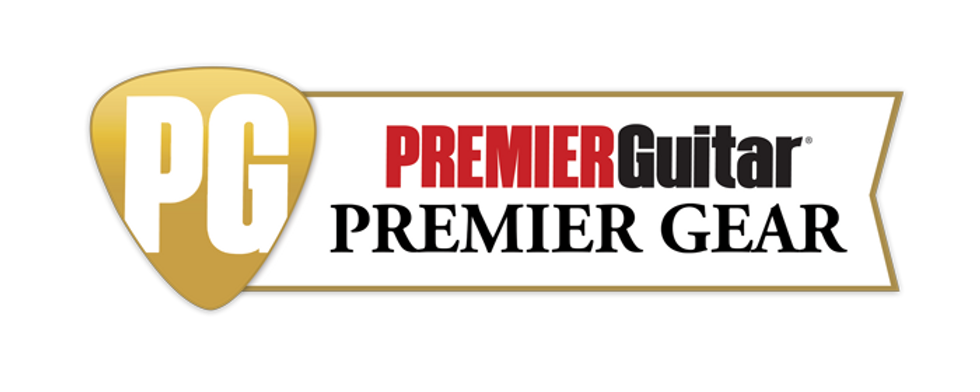 Check out part one of this year's New Gear Showcase gallery!
Keeley Effects 
With over 30 models to choose from, Keeley's line of handcrafted and innovative effects covers a full range of sounds for professional and enthusiast musicians of every kind. Industry standard compression, expressive analog drive and fuzz, mind bending, lush modulation or expansive delay and reverb, all of Keeley's effects have the finely tuned, soulful sound quality that you can only get from over 15 years of obsessive dedication to tone. Beyond that one of the industry's most serious lifetime warranties ensures there will never be a time your Keeley pedal won't be ready to perform.


Street Price:$99 – $299


Connect on Facebook
Play Videos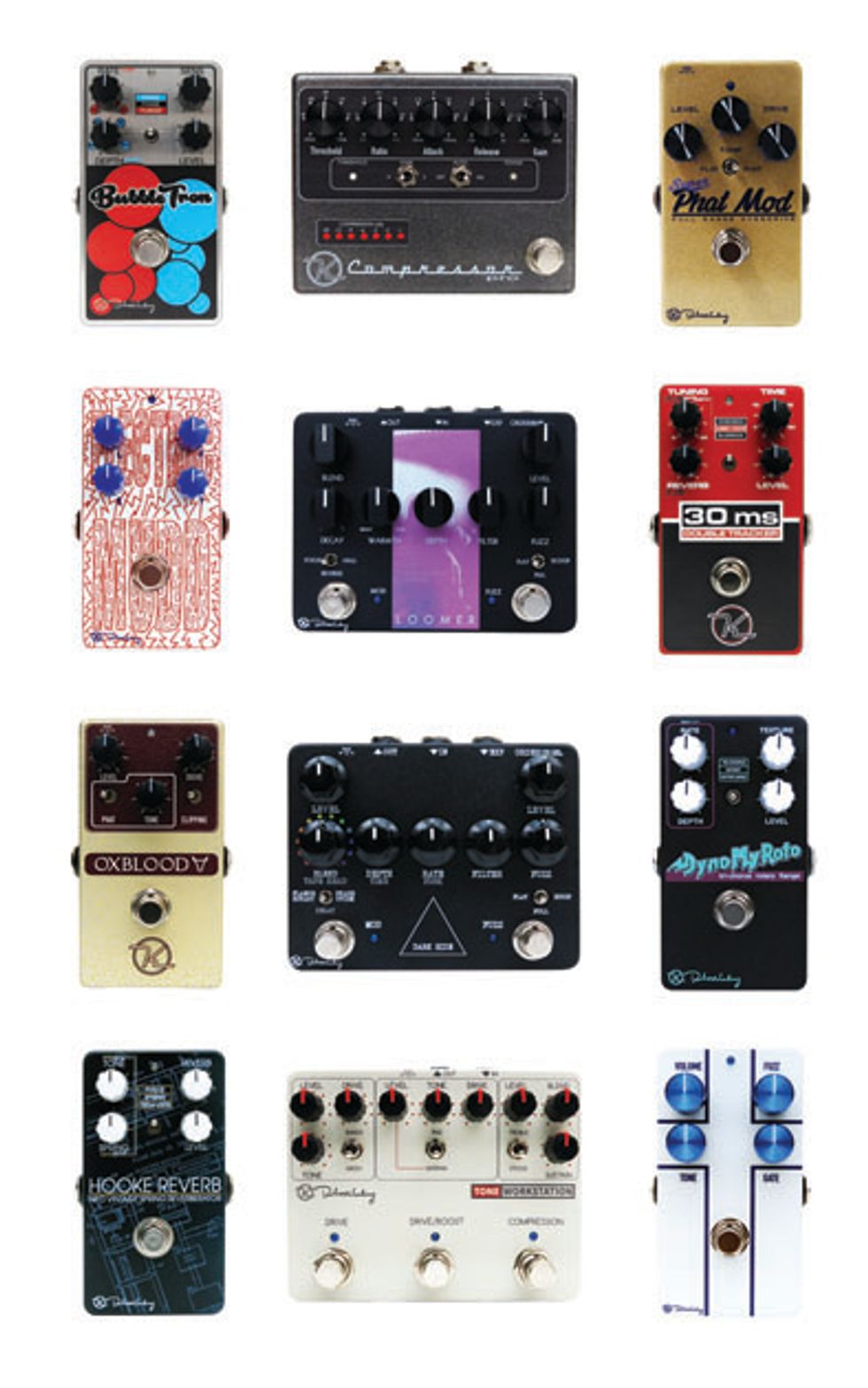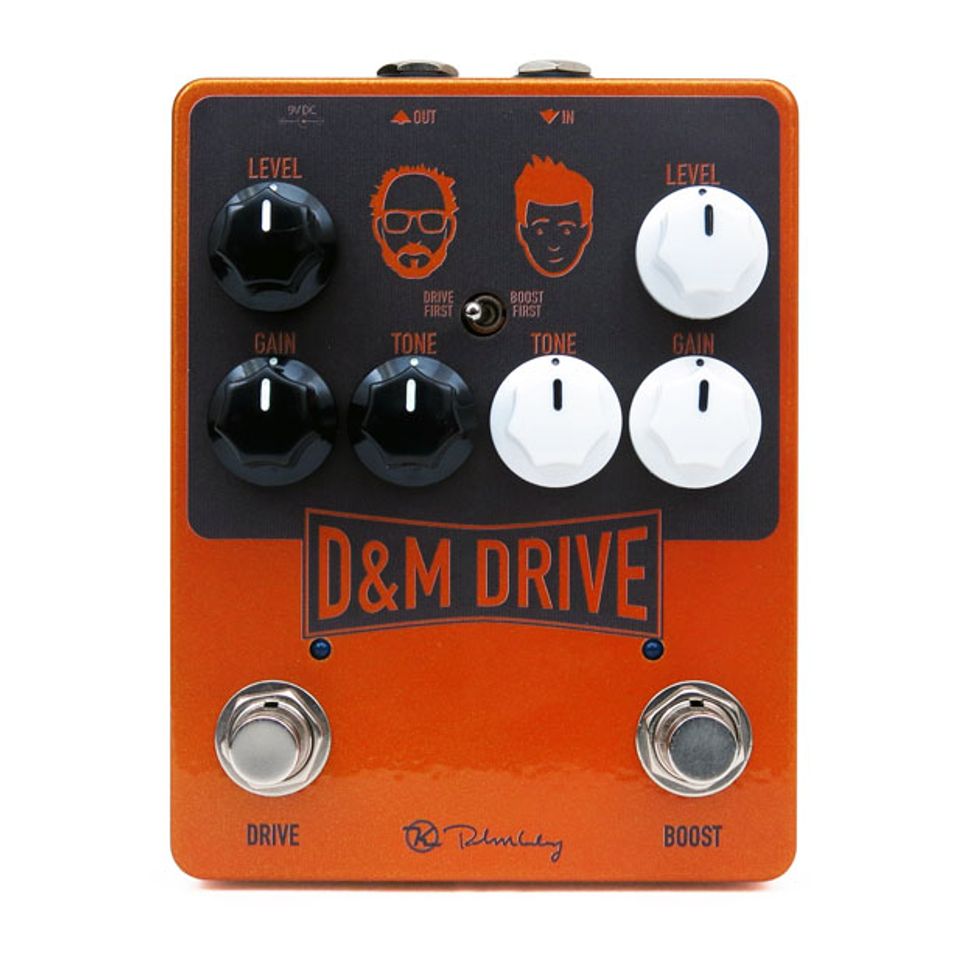 D&M Drive
The D&M Drive, a collaboration with Dan & Mick from That Pedal Show. This dual overdrive brings together Dan's full-range overdrive/distortion on one side, and Mick's more mid-humped boosty drive on the other. Each side can be used independently or stacked into one another in either order. So whether you like the super-gained harmonic bliss of boost into drive, or the solo-lifting punch of drive into boost, the D&M Drive has you covered.


Street Price: $229

Connect on Facebook
Play Videos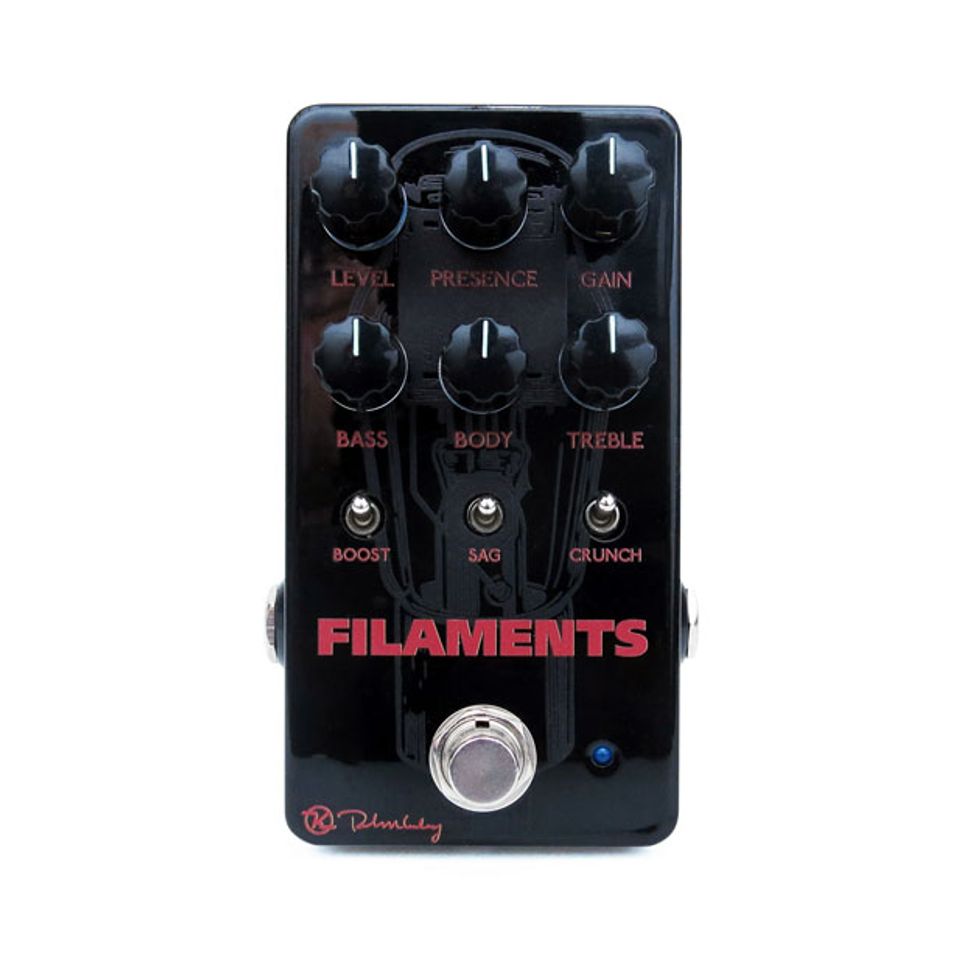 Filaments
The Filaments is a red-hot full-stack in a box and a knob-tweaker's dream! Amplifier-like controls for Bass, Treble, Presence and Body matched up with power sag simulation, crunch, and pre-boost make for a nearly endless number of organic, warm, tube-like tones, from mellow and sweet to at-out extreme. Incredible touch-sensitivity and high output make this highly flexible drive pedal a great partner to your tube amp, as well.


Street Price: $189

Connect on Facebook
Play Videos
 

Viper Quilted Sapelli
Ovation reintroduces one of its most iconic guitars – the Viper. This extremely fast-playing, semi-hollow acoustic is part of Ovation's Exotic Series. The top is outfitted with highly figured sapele, while the super shallow chambered mahogany body, ebony bridge, and solid spruce top produce a sonic combination that complements all playing styles – from rock – to chicken-pickin' country to soft jazz. The 22-fret (25 1/4" scale) mahogany neck is topped with a deluxe- grade ebony fretboard and is extremely comfortable as well as easy to navigate. As is tradition with Ovation, this guitar is outfitted with high-end electronics.
A Viper 3-band EQ and Ovation OCP-1K pickup let you customize your tone to add the perfect amount of color and vibrancy. Easy on the eyes, and a dream to play, the Ovation Viper pushes the boundaries of what a guitar can and should be.


Street Price: $1,099

Connect on Facebook
Buy it Now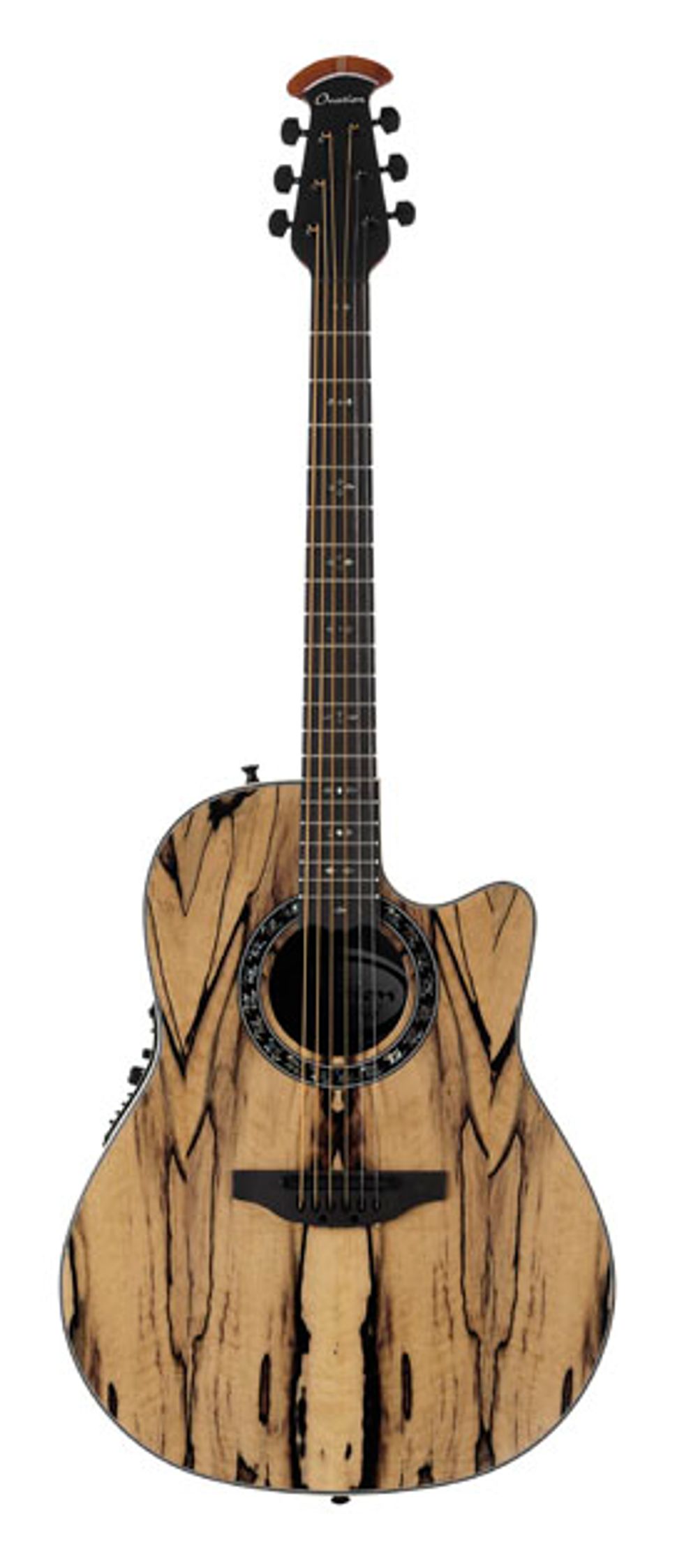 Ovation Legend Plus Royal Ebony
The Ovation Legend Plus offers unparalleled projection and clarity to enhance any playing situation. The cutaway style offers access to the 20-fret, 25 1/4"-scale, 5-piece mahogany-and- maple neck, and the roundback design features an extremely comfortable, deep-contour body that makes playing effortless. Other features include abalone appointments, deluxe-grade ebony fretboard and bridge, oak-leaf rosette, and Ovation's OP-Pro preamp and OCP-1K pickup. The striking royal ebony exotic wood top is an absolute standout.


Street Price: $1,299

Connect on Facebook


Elite TX Black 8-String
Ovation proudly presents our first roundback 8-string guitar. Building on our philosophy of constructing unique instruments for visionary players, this massive-sounding guitar opens up a new realm of playing possibilities. Featuring 25 1/4" scale with a 2.14" nut, the hard-rock- maple neck is specially designed to handle the extra low end with maximum comfort, speed, and tonality. Also included is Ovation's OP-Pro preamp and OCP-1K pickup for complete tonal control.


Street Price: $1,099

Connect on Facebook
Buy it Now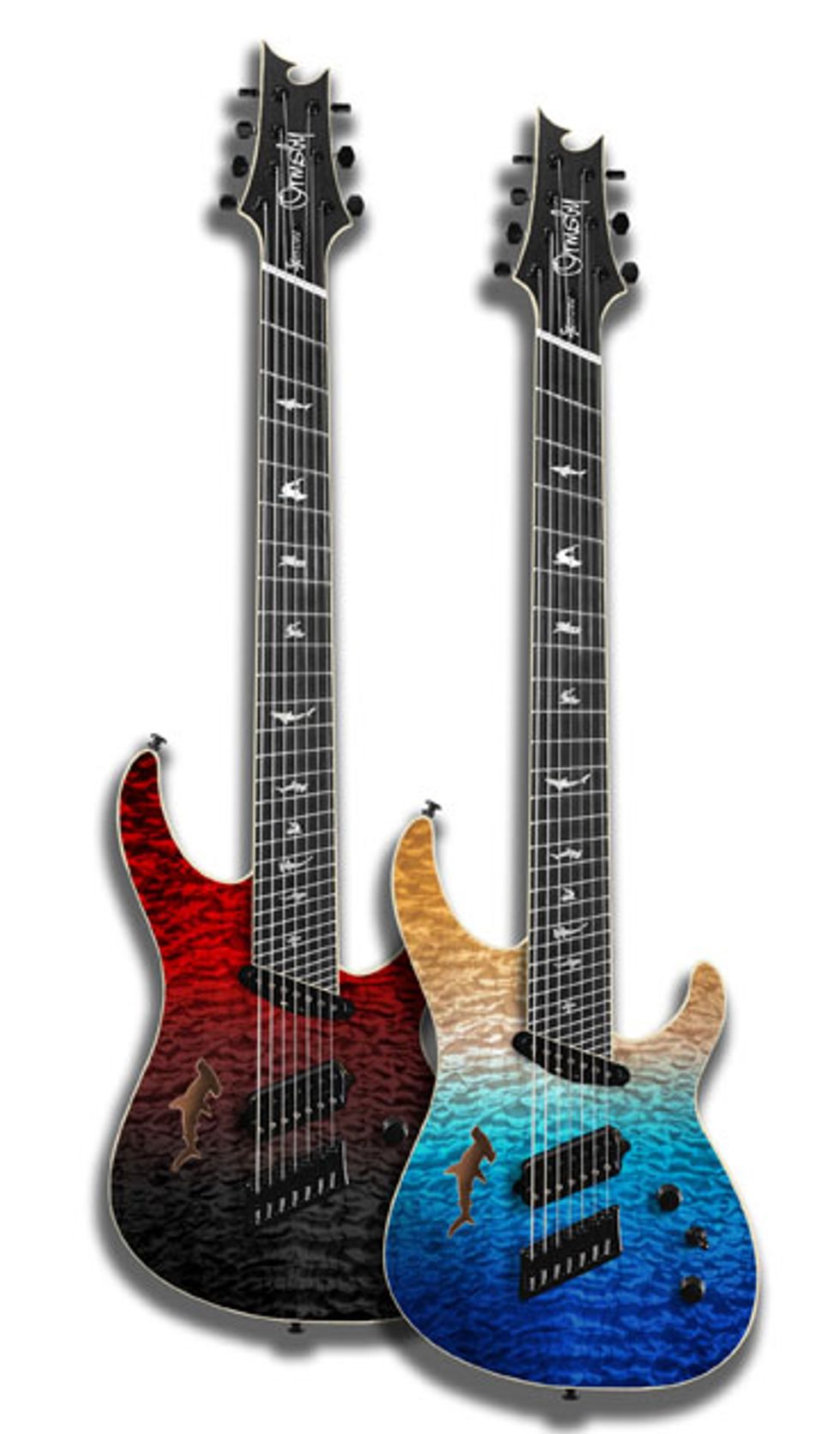 Ormsby Shark GTR
Over 10 years ago we created a handmade custom shop guitar known as the Shark. It was a striking piece that has gone on to become synonymous with the brand. This year we see the evolution of the species with our new SX GTR Shark 2017 model.
Utilizing the high-caliber specifications of its custom single-cut predecessor, it features a chambered mahogany body with a quilted maple top and a distinctive shark f-hole. The neck features 3-piece flamed-maple construction with ebony pinstripes that pay homage to the original. The ebony fretboard features our "school of sharks" inlays, and the headstock has an ebony cap. There's also ivoroid binding just about everywhere.
Custom shop Hot Rock A8 and Apex pickups feature push-pull coil taps for extra tonal variety. Hardware, including locking tuners, is by Hipshot USA.
Limited to only 250 guitars worldwide in two unique finishes - Ocean Dream and Blood Bath.

Street Price: $1,599
Connect on Facebook
Buy it Now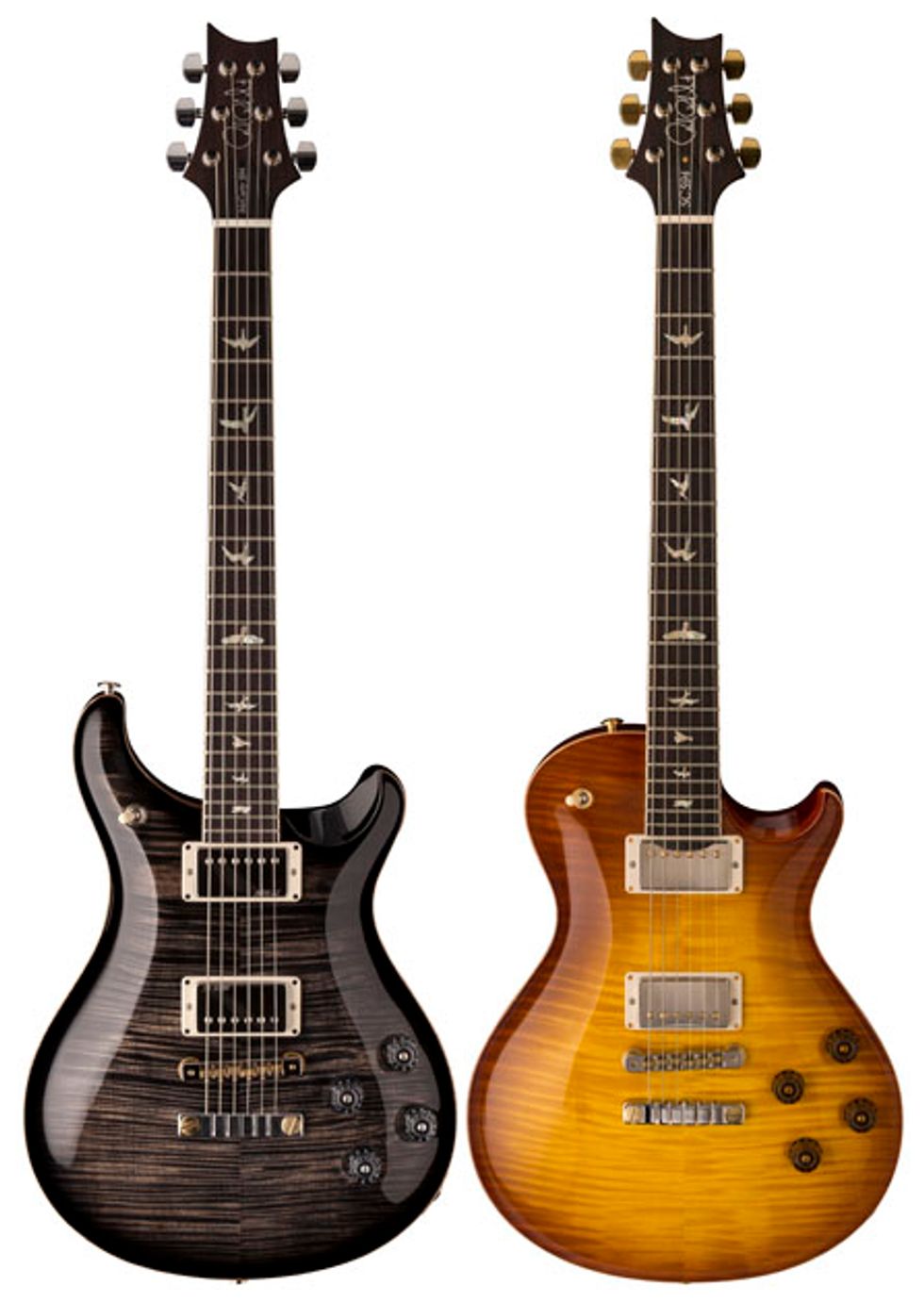 McCarty 594s
"The 594 is the best new guitar I've played in years. It has a vintage heart and soul but without the technical limitations that usually come along with an old instrument." —John Mayer
Whether you are looking for rich, authentic vintage humbucking tones or nuanced, sweet single-coil sounds, the McCarty 594 can seamlessly master both sonic territories, thanks to the 58/15 LT pickups and push-pull coil taps on the tone controls.


Street Price: $3,600

Connect on Facebook
Play Videos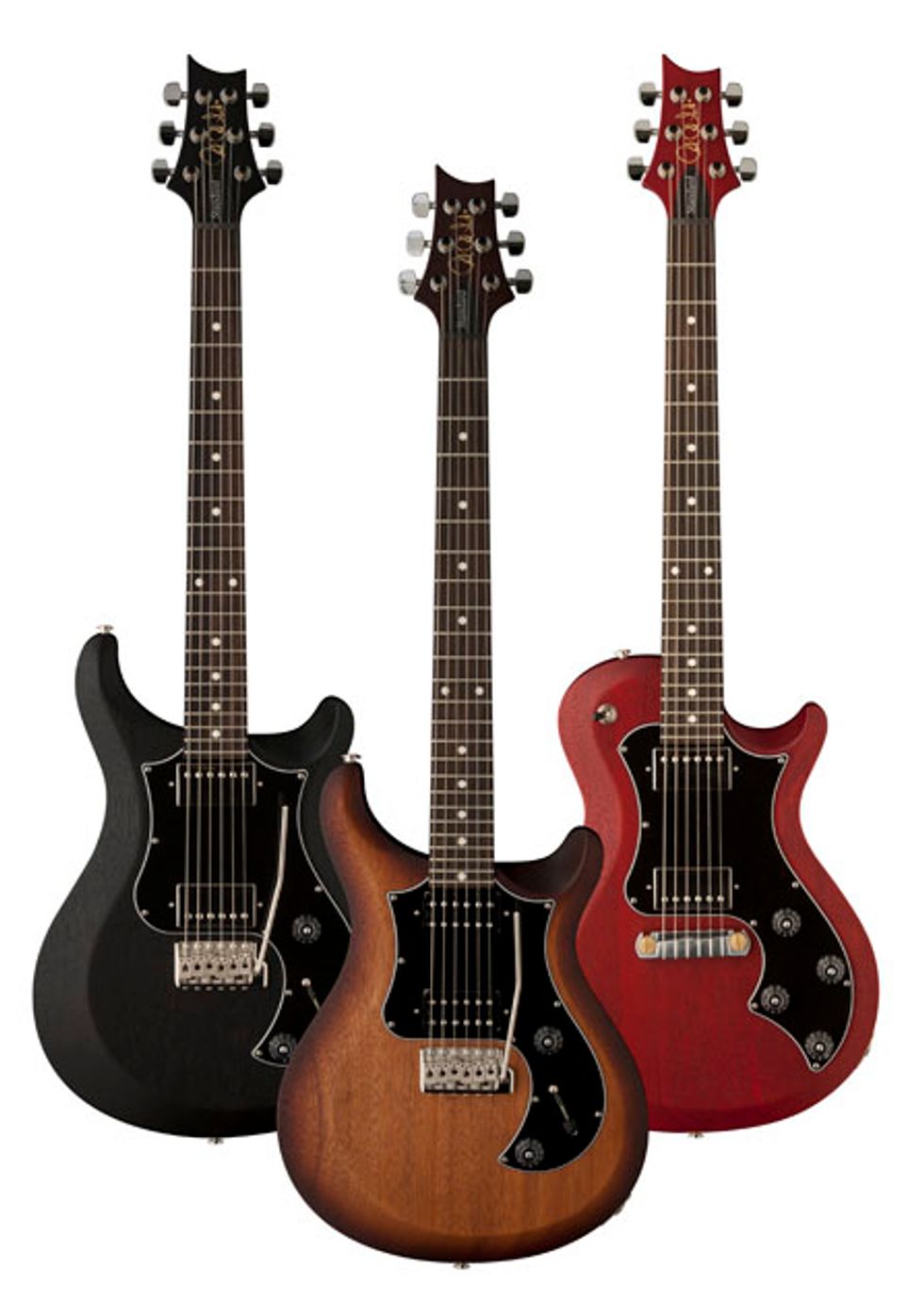 S2 Standard Satins
The thin, hard satin nitro finish gives this instrument a wonderful resonance and an open clarity that's noticeable even when unplugged. The push-pull tone controls allow for coil tapping and on-the-fly versatility. For effortless playability, unmatched reliability, and stellar tone, the S2 Standard Satins fit the bill.


Street Price: $999-$1049

Connect on Facebook
Play Videos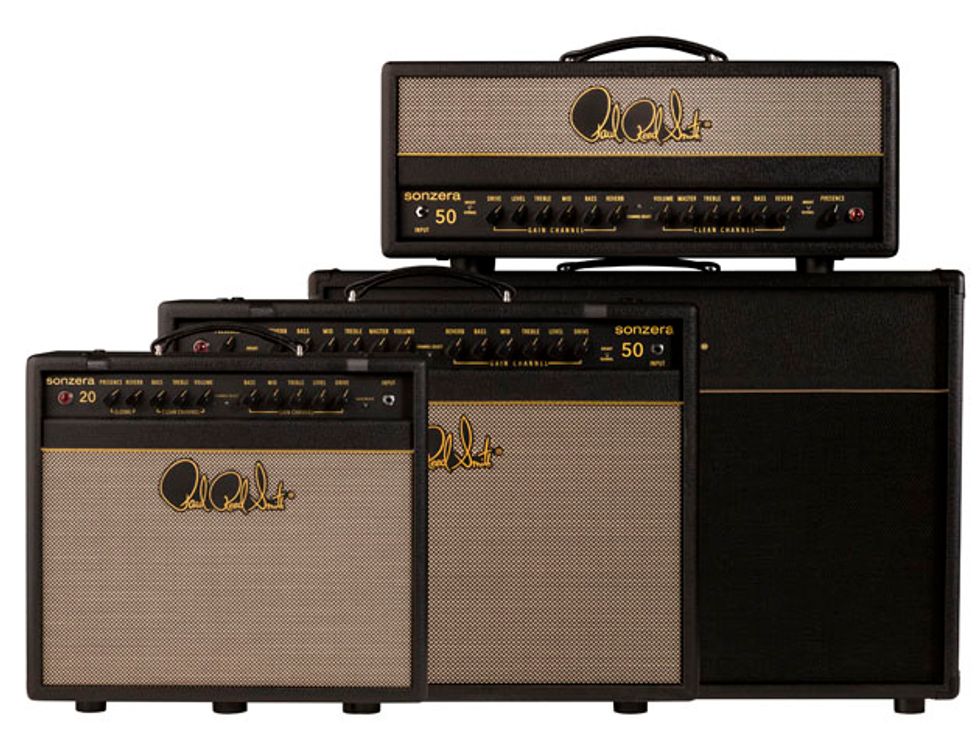 Sonzera
All-tube tone. A big, full, 3-D clean channel combined with a rich 3-spring reverb produces an abundance of shimmering, chimey tones, while the Sonzera's lead channel carries a punch—from edgy overdrive to a stacked onslaught of full-on soaring lead tone. Both channels are maximized for note clarity and definition. Destined to be a go-to choice for pros and amateurs. Clean and lead channel with independent controls for maximum versatility.


Street Price: $799 – $899

Connect on Facebook
Play Videos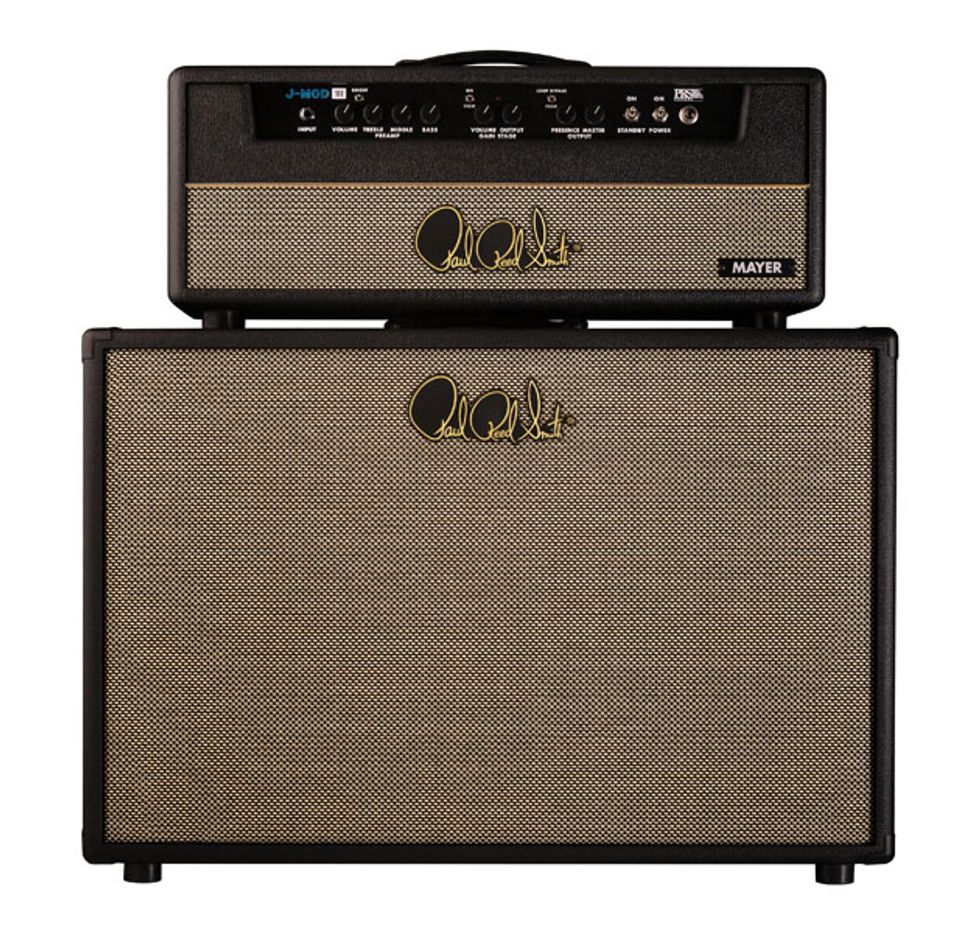 J-Mod 100
"The J-MOD 100 is the result of a lot of searching ... what is my sound? What are the elements of all these amps I own that should be chosen to go together in one amp and have this really distinct voice? What we ended up with is a really open and expressive amplifer that I feel is a real evolution and a step forward in guitar amps." —John Mayer


Street Price: $5,990

Connect on Facebook
Play Videos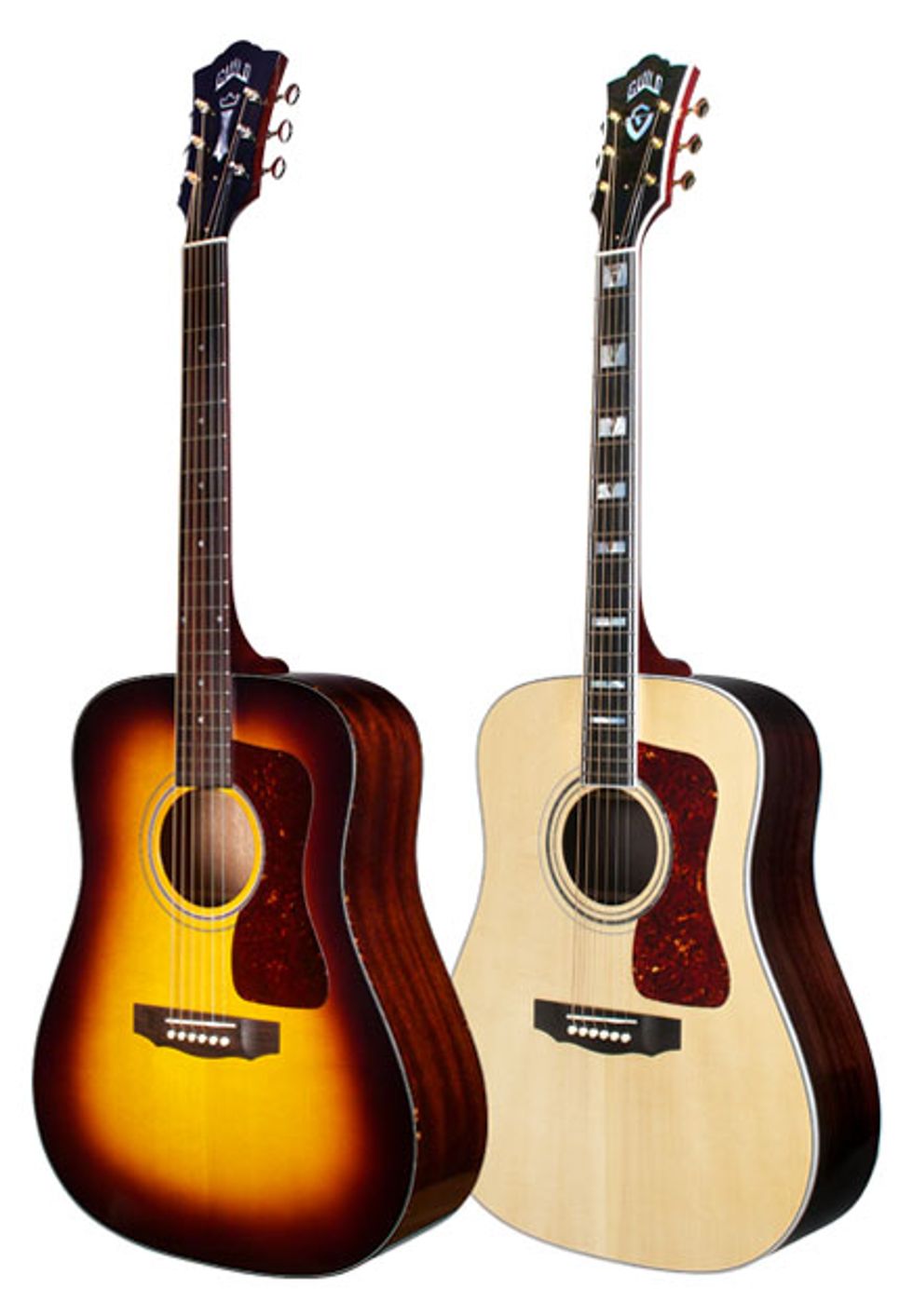 The D-40 Traditional adds premium appointments to Guild's dreadnought release from Summer NAMM 2016, the D-40. These include a tortoiseshell binding, a heritage chesterfield mother-of-pearl inlaid logo on the headstock, and a nitrocellulose gloss finish.
Back after a two-year hiatus is the D-55, Guild's flagship dreadnought acoustic. First introduced in the late 1960s, the D-55 featured a solid Sitka spruce top and solid Indian rosewood back and sides. Guild's 2017 D-55 keeps all of the same exceptional embellishments as its predecessor, such as an abalone rosette, mother-of-pearl/abalone fretboard inlays, and a mother-of-pearl Guild "Peak and G-Shield" logo on a flamed ebony headstock overlay. Internally, a modern dovetail neck-joint and Adirondack spruce braces refined by master luthier Ren Ferguson make this generation of D-55s the lightest, loudest, and best yet.


Street Price: Starting at $2,399.99

Connect on Facebook
Play Videos

T-Bird ST Vintage White w/LB-1s
Based on the S-200 T-Bird reissue, the T-Bird ST features the same unique, asymmetrical shape, but with a simplified feature set. Minimalist players will appreciate the added stability and reliability of a stopbar tailpiece and pared-down electronics, while enjoying the T-Bird's retro vibe. The T-Bird ST features dual LB-1 Little Bucker pickups, mother-of-pearl block inlays, and the famed asymmetrical headstock with Guild's logo and Thunderbird icon in mother-of-pearl. Padded Guild deluxe gigbag included.


Street Price: $799.99

Connect on Facebook
Play Videos

M-240E Troubadour
The M-240E Troubadour is a petite guitar ideal for fingerstyle playing and light strumming.
Featuring a solid Sitka spruce top over an arched mahogany back, the M-240E Troubadour also features a thin, resonant satin polyurethane finish with a vintage sunburst top. Completing the Troubadour's vintage vibe is the DeArmond ToneBoss, a user-friendly humbucking magnetic soundhole pickup with built-in volume control that is compatible with any amplifier. A deluxe padded Guild gigbag is included.


Street Price: $469.99

Connect on Facebook
Play Videos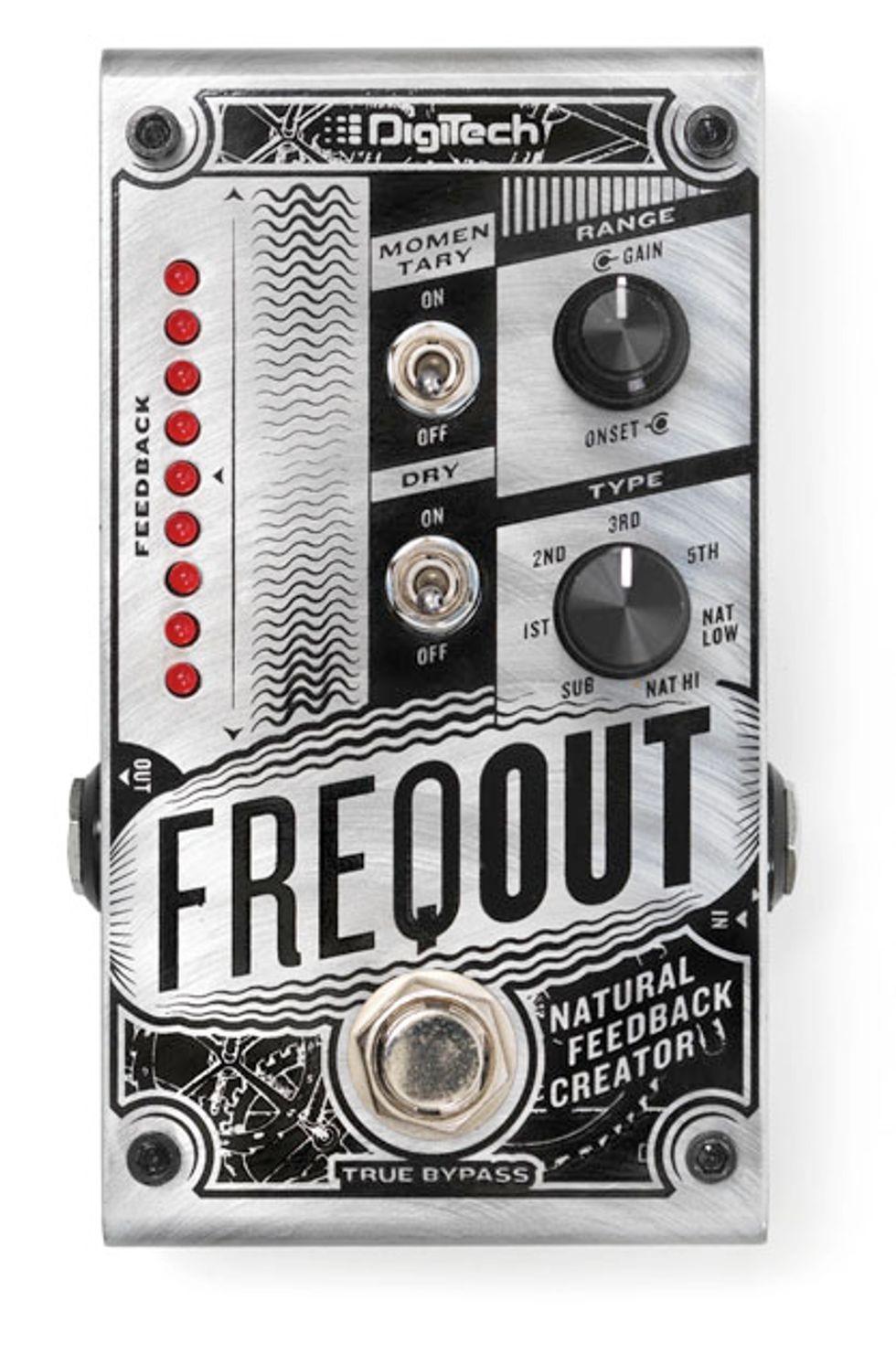 FreqOut
The DigiTech FreqOut Natural Feedback Creator allows you to get sweet, natural feedback at any volume, with or without distortion. The FreqOut is perfect for situations where volume must be controlled—in the studio, with in-ear monitors, or in low-volume performances or practices. However, it can also be used at gig volume to focus out-of-control feedback on a preferred harmonic at any stage position.
The FreqOut has adjustable feedback Onset (delay before feedback begins), Gain (feedback level to balance with your dry signal), Dry On/O , latching or momentary operation, true-bypass, and a rugged, road-tough steel chassis.
The FreqOut uses a 9VDC power supply to easily integrate into your existing pedalboard.
Features
Natural Feedback at any level with or without distortion

Onset Delay and Level balance controls

7 Harmonic Feedback types

Dry Defeat

Momentary and Latching modes

True-bypass


Street Price: $179.95
Connect on Facebook
Hear Sound Clips
Play Videos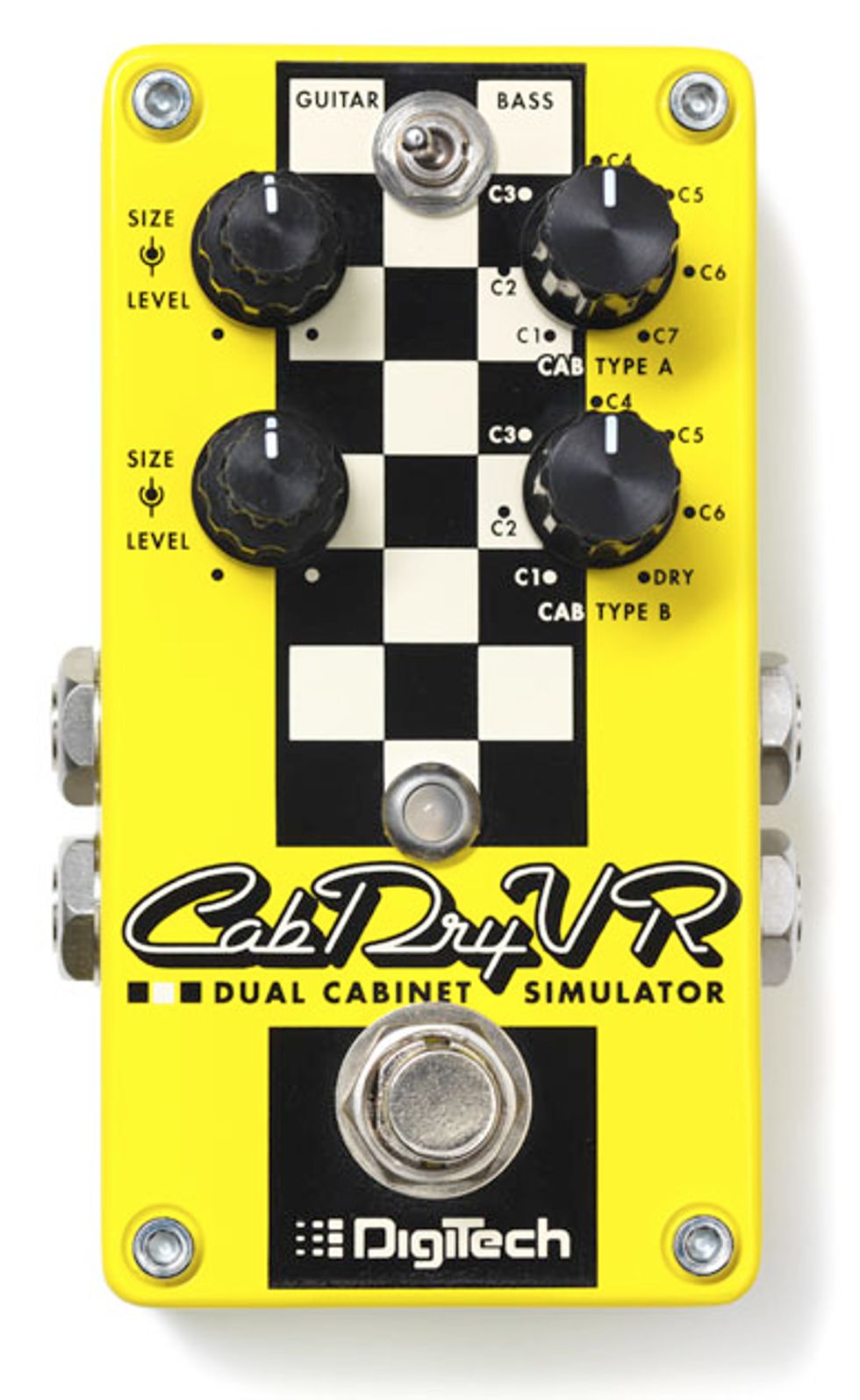 CabDryVR
The new DigiTech CabDryVR Dual Cabinet Simulator pedal features
a selection of 14 all-new, great- sounding guitar- and bass-cab impulse responses. Now you can run direct from your pedalboard or preamp through the CabDryVR to your mixing board, in-ear monitors, or DAW, and get high-quality cabinet emulation without the need for a real cabinet.
The CabDryVR features dual inputs and outputs, one of which has an optional dry path that can run to your onstage amp. The CabDryVR Cabinet TuningTM Size control was developed for the venerated GNX Series and morphs the resonant peak of the cabinet to create custom cab sizes and tones. Individual output level controls let you balance each cabinet's volume in the mix.
The CabDryVR uses a 9VDC power supply to easily integrate into your existing pedalboard.


Street Price: $149.95

Connect on Facebook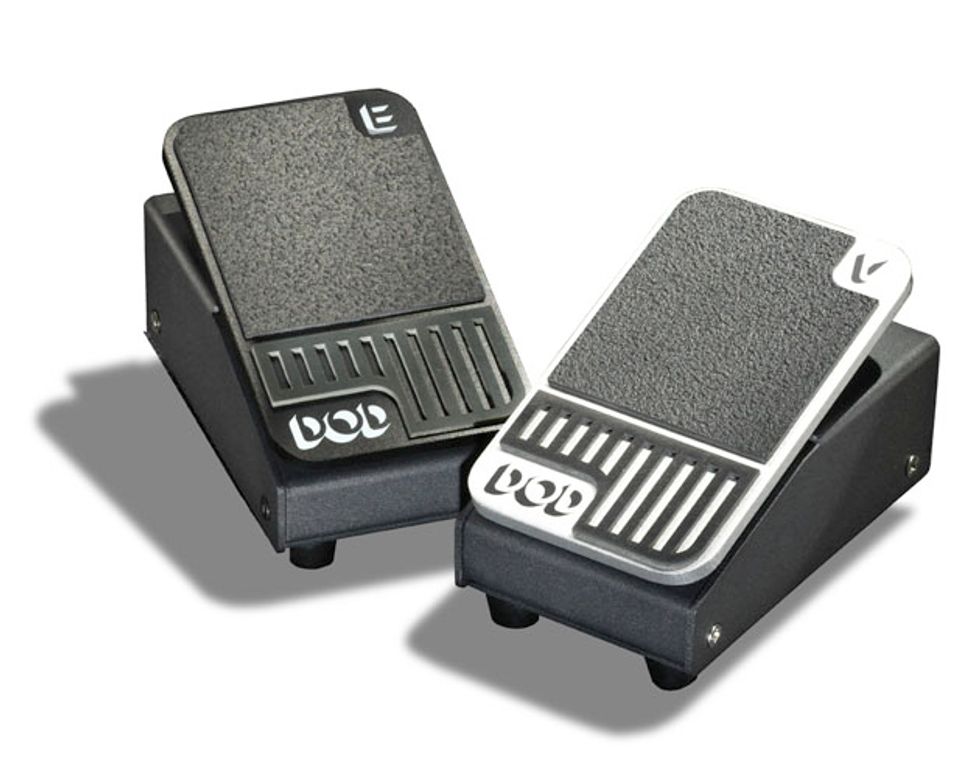 DOD Mini Expression/DOD
Mini Volume
The new passive DOD Mini Expression Pedal and Volume Pedal are just the right size for your pedal board, and your wallet. Rugged all-steel construction and gear drive means that there are no strings to break. Despite their compact form factor, they're designed to have the same feel and throw as pedals that are twice their size (and price).
The Mini Expression Pedal features a TRS (25kΩ)/TS (10kΩ)/RTS (25kΩ) selector, making it flexible to work with most gear with expression-pedal inputs. The non-slip rubber pads and a peerless industrial design by DB Instrument Amp ensure a high-quality expression pedal that will last the test of time.
The Mini Volume features a high-quality 500kΩ potentiometer, making it perfect for any volume-pedal application. The non-slip rubber pads and a peerless industrial design by DB Instrument Amp ensure a high-quality volume pedal that will last the test of time.


Street Price: $99.95

Connect on Facebook
 

The Monaco is a comfortable, carved-top single-cutaway design built with a solid maple cap on mahogany and a set neck for great tone. The MONF-CS is visually stunning with a Cherry Sunburst Figured Maple veneer, and it features a smooth-playing mahogany set neck and a rosewood fingerboard that is capped off with classy victory inlays.
MODEL: The Monaco
STYLE:Double Cutaway
TOP: Solid Maple cap w/ flame Maple veneer Tune-O-Matic 
BRIDGE: Mahogany
NECK: Mahogany
FRETBOARD: Rosewood
INLAYS: Pearl Split-Crown inlay 
NUT: Graphite
NUT WIDTH: 1 5/8"
TUNERS: Chrome Diecast
SCALE: 24 3/4"
PICKUPS: 2 Hamer Humbuckers
CONTROLS: 2 Volume, 1 Tone

Street Price: $749.99
 

Revival Series Solo DeLuxe RSG200SWVSK
The 1939 Washburn Solo DeLuxe Super Auditorium 5246 is the inspiration behind the all-solid Revival Series Solo DeLuxe. Period details such as the narrow "Crown" headstock, 1939 Vintage Sunburst, ivoroid binding and rosette, fingerboard inlay, and period faux- tortoise pickguard combine to create a visually stunning acoustic guitar.
The torrefaction process is applied to both soundboard and bracing to age these materials such that internal resins are crystallized and suspended water removed—much like what would happen over the course of 20+ years of natural air drying. Mated with solid Indian rosewood back and sides and a bone nut and saddle, it features a pre-War voice that will give pause to anyone listening to this magnificent instrument. The Solo DeLuxe's 1-3/4" nut width and narrow C-shaped neck optimize playing comfort. Graphtech Ratio-Tuned open-back tuners and Cleartone 7412B light-gauge phosphor-bronze strings complete this exquisite instrument. Hardshell case included.


Street Price: $899

Connect on Facebook
 

Washburn Woodline WLO100SWEK
The Woodline WLO100SWEK is a Washburn Orchestra body acoustic- electric featuring a 1-3/4" nut width that fingerstyle players and more comfortable to play. The smaller body of the Orchestra, paired with a torrefied Sitka spruce soundboard provides for a focused voice that is both dry and immediate, whilst being intimate and not overbearing.
Arriving pre-installed with a Fishman Presys Blend system, when amplified, the player will enjoy Fishman's industry standard acoustic-electric sound with the added option to blend in microphone.
All Woodline Series Solidwood
acoustics share the following cosmetic details: 2-ring Abalone / Maple rosette, Rosewood body binding, Pearl headstock logo, Graphtech Ratio-tuned tuning machines w/black knobs, Cleartone 7412B strings and a hardshell case.

Street Price: $749

Connect on Facebook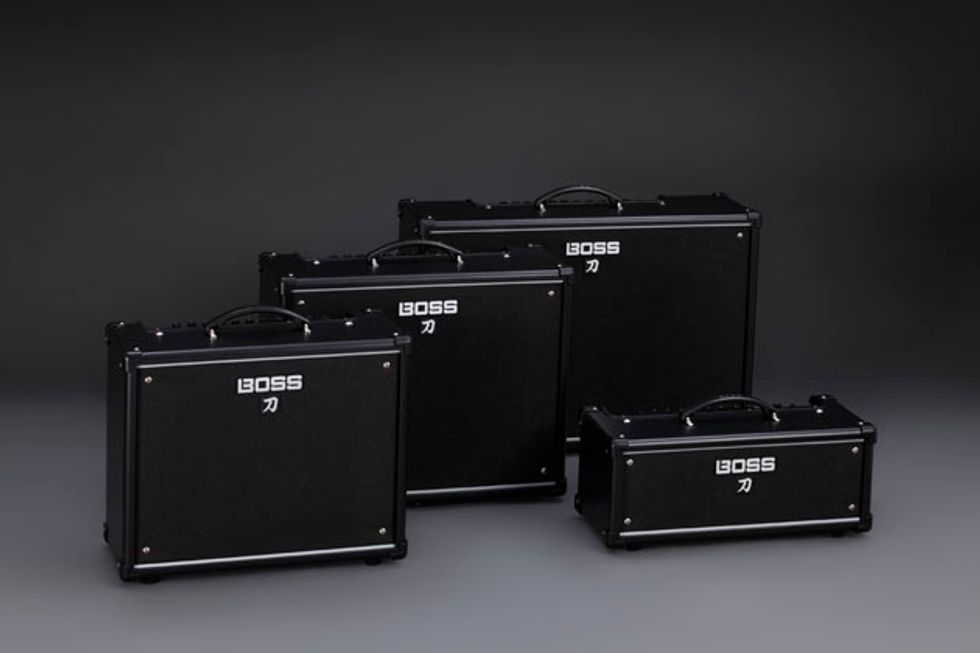 Katana Guitar Amp Series
The new and affordable BOSS Katana amps deliver a wide range of versatile tones with a rock edge. They also feature onboard support for 55 different BOSS effects, with customization options accessible via the free BOSS Tone Studio editor software. And a quick web search will show the overwhelmingly positive impressions of the Katana's sound and price-to-performance ratio.
The current Katana lineup consists of three combo amplifiers and an amplifier head. The 50-watt Katana-50 and 100-watt Katana-100 come equipped with one custom 12-inch speaker, while the Katana-100/212 has 100 watts of power and two custom 12-inch speakers. The compact 100-watt Katana-Head is designed for use with an external speaker cabinet such as the 4×12 Waza amp cabinet. It also includes a very convenient built-in monitor speaker that works great for practice, checking tones, and even recording.

Street Price: $199 – $399

Connect on Facebook
Play Videos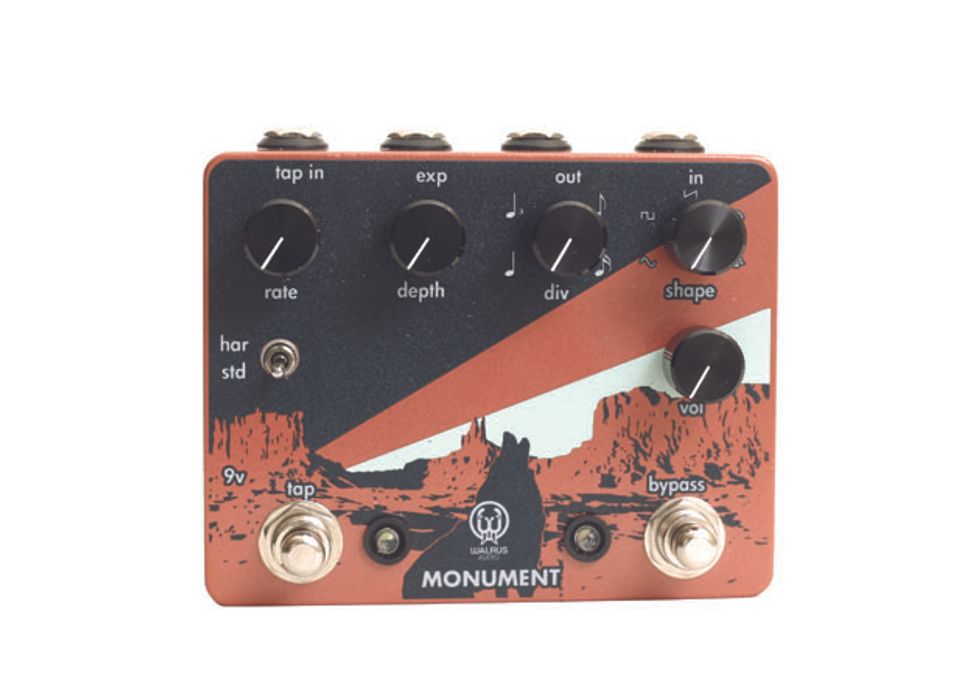 Monument Harmonic Tap Tremolo
The Monument is rich with standard features that musicians expect like Rate and Depth control, but Walrus has included a couple new features to help the new tap tremolo pulse a little brighter. In Harmonic mode, a low-pass and high-pass version of your guitar signal are modulated opposite of each other, or 180o out of phase (high and low frequencies rise and fall opposite of each other). The result is a warm, almost "chewy" tremolo.

Street Price: $249

Connect on Facebook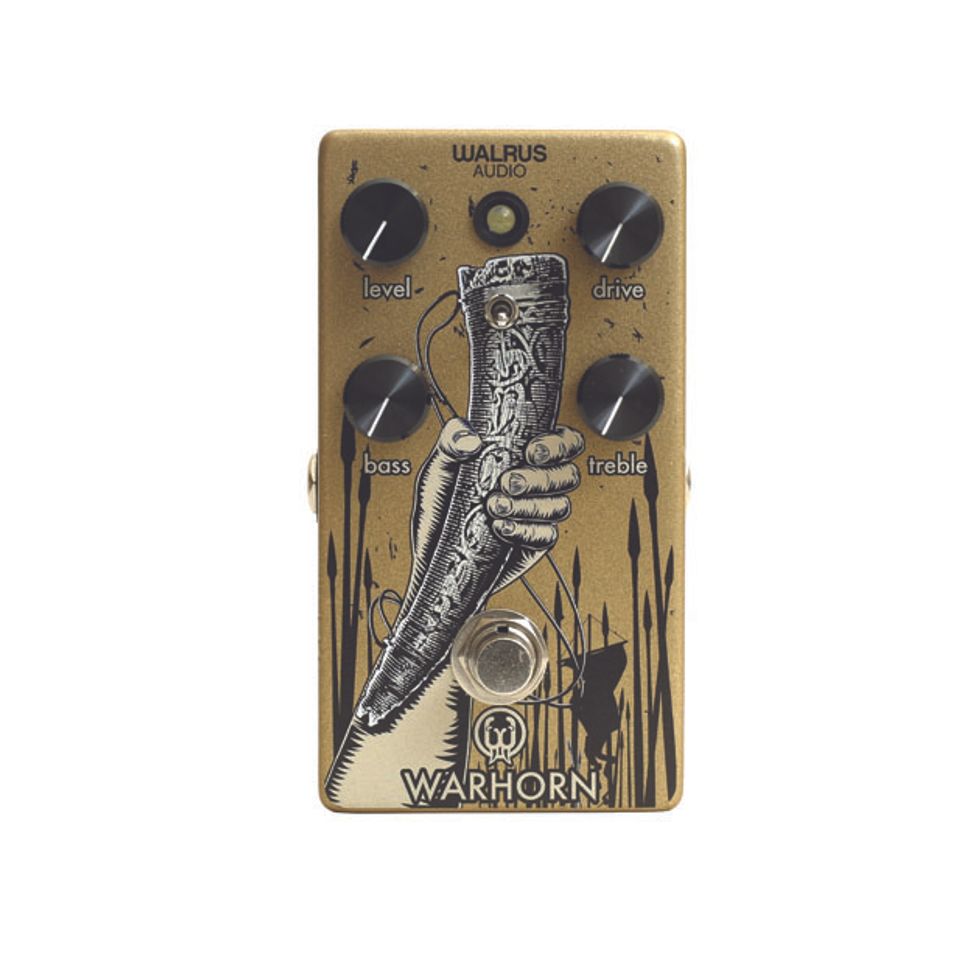 Warhorn Midrange Overdrive
From punchy rhythm to searing Texas Blues leads, the new midrange overdrive with a two way compression switch is ready to lead your sound into a glorious battle of pure tone. Putting the switch in the up position gives a more compressed signal while the down position creates a punchy open sound. Transparent, organic breakup with split high and low tone control makes this overdrive a very versatile and useful addition to your gain stage!
Street Price: $199

Connect on Facebook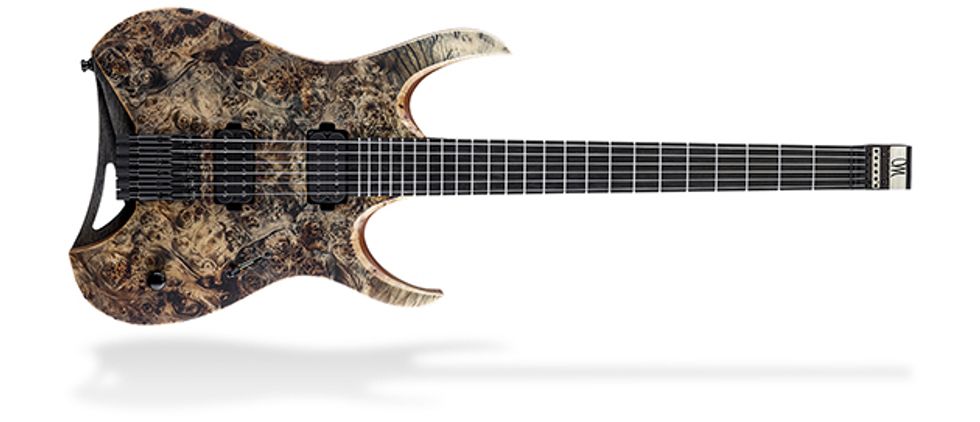 Elite
Hydra in Greek legend was a gigantic water- snake-like monster with multiple heads, one of which was immortal. Any daredevil who attempted to behead the Hydra found that, with one head chopped off , two more emerged from the fresh wound.
And so are the Hydra Elites, the new series of headless guitars by Mayones. Harmless and unarmed at first look, it is ready to strike its deadly bites with each played note.
Based on our top-selling Duvell series, Hydras combine Duvell features (Eye Poplar top, Mahogany body, Wenge-Purpleheart neck, Ebony board) with Hydra distinctions: headless bridge with locking nut, U-Rest protecting against out-of-tune issues during playing while sitting, and S-Clamp, providing more weight to its small yet thick headstock.


Street Price: $189

Connect on Facebook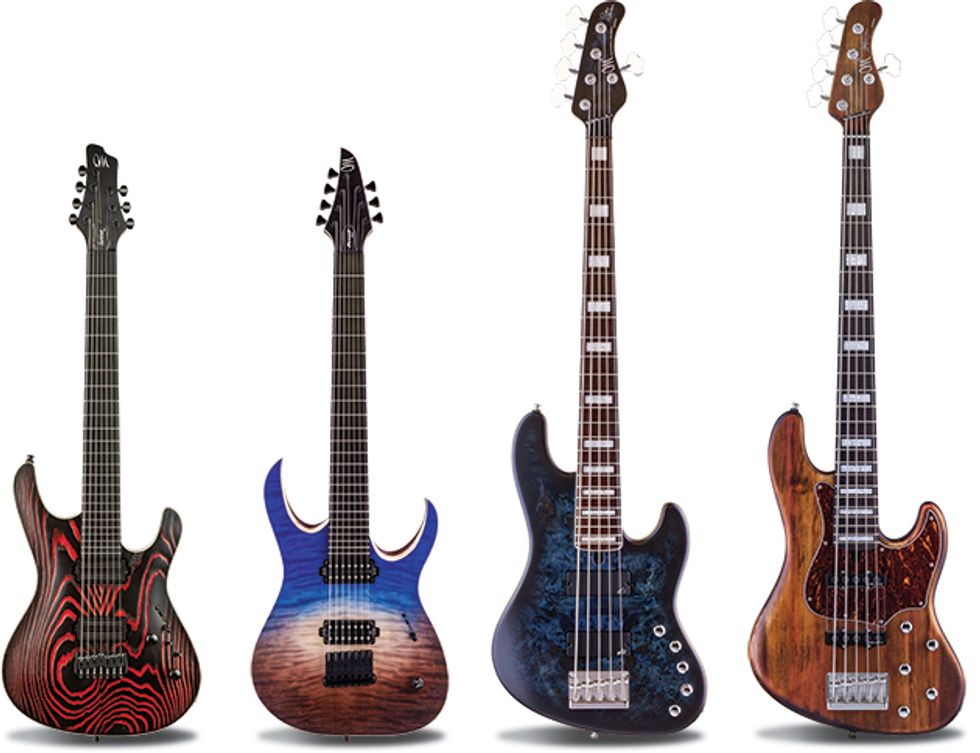 NEW SIGNATURE GUITARS & BASSES
SETIUS AK1 7
ACLE KAHNEY / TESSERACT
MAP price: $3,424
Body: American Ash TEW
Top: Ash
Neck: 5-ply Mahogany-Maple
Fingerboard: Ebony
Pickups: BK Blackhawk + Piezo
Tuners: Hipshot Grip-Lock
Bridge: Hipshot Fixed
DUVELL QATSI DELUGE 7
JOHN BROWNE / MONUMENTS
MAP price: $3,596
Body: American Ash TEW
Top: Quilted Maple 3A
Neck: 5-ply Wemge-Purpleheart
Fingerboard: Ebony
Pickups: BK Nailbomb + Cold Sweat
Tuners: Hipshot Grip-Lock
Bridge: Shaller Hannes
JABBA MALA 5
FEDRICO MALAMAN
MAP price: $2,955
Body: Swamp Ash
Top: Eye Poplar
Neck: 1-pcs Hard Rock Maple
Fingerboard: Rosewood (9.5" radius)
Pickups: Aguilar DCB
Tuners: Hipshot HB6C
Bridge: Mayo Vintage
JABBA HF 5
HADRIEN FERAUD
MAP price: $3,188
Body: Swamp Ash
Top: Spruce
Neck: 1-pcs Hard Rock Maple
Fingerboard: Rosewood
Pickups: Delano JMVC 5FE
Tuners: Hipshot HB6C
Bridge: Mayo Vintage
Play Videos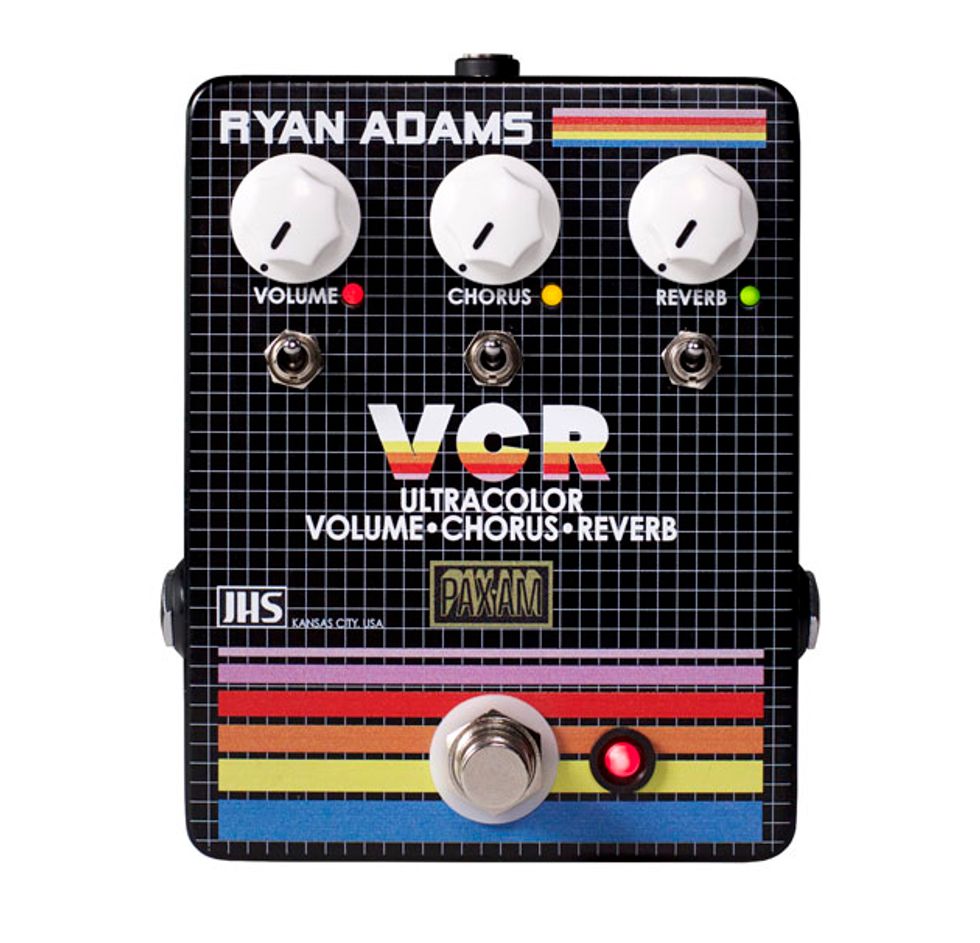 Ryan Adams, The VCR
The VCR pedal is a first in a new collaboration between PaxAM, Ryan Adams, and JHS Pedals. The VCR pedal is Ryan's signature Volume/ Chorus/Reverb pedal inspired by the tones of the Cure, the Smiths and a hefty dose of 1980s angst. Dial in the perfect movement, ambience, and volume/boost level to create an instant three-effect analog preset.

Street Price: $269

Connect on Facebook
Play Videos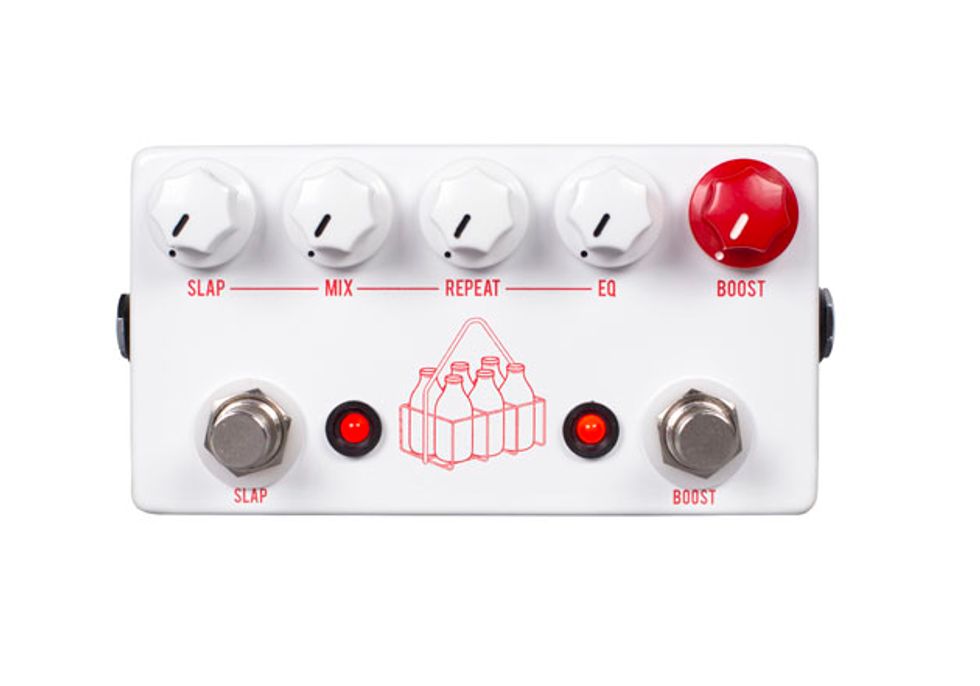 The Milkman Slap Echo
The Milkman is a collaborative idea between JHS Pedals and Milkman Sound. The concept is simple; a single pedal that covers up an echo/ slap delay and a boost that can be used as an always-on enhancer or as an overdrive for small-wattage amplifiers. Here we are, a small footprint, easy-to-use boost/echo 2-in-1 that fits into any style of player's rig with ease.

Street Price: $179

Connect on Facebook
Play Videos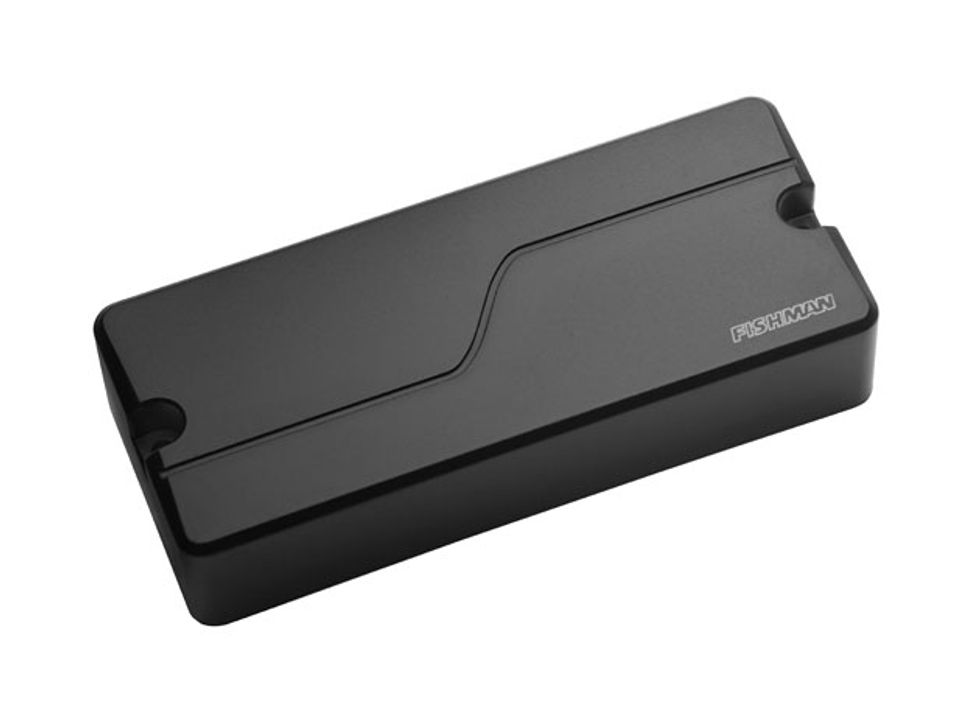 Tosin Abasi Fluence Signature Pickup Set (6, 7 & 8 String)
The Tosin Abasi Signature Set is unique in the way it makes multiple coil combinations available, in conjunction with different voices. Even the magnetic circuit is tuned, with pole pieces and a blade magnet combined in the neck position for authentic single-coil interaction.
For neck and bridge, Voice 1 is our Modern recipe, with a fattened-up low midrange and adjusted output level. Voice 2 is bright and clean, with extremely fast and detailed top end, for percussive attack and crystalline cleans. In the bridge, Voice 2 is a classic- and hard-rock tone that melts into any rig or mix. The cutting midrange of an overwound 'bucker with the glassy highs of a vintage P.A.F. The single-coil modes each have their own unique Voice. The neck pickup's is reminiscent of a vintage Tele, and the bridge pickup's focuses on the quacky, Strat-like "2 & 4" tones.


Street Price: $259.95 – $279.95

Connect on Facebook
Play Videos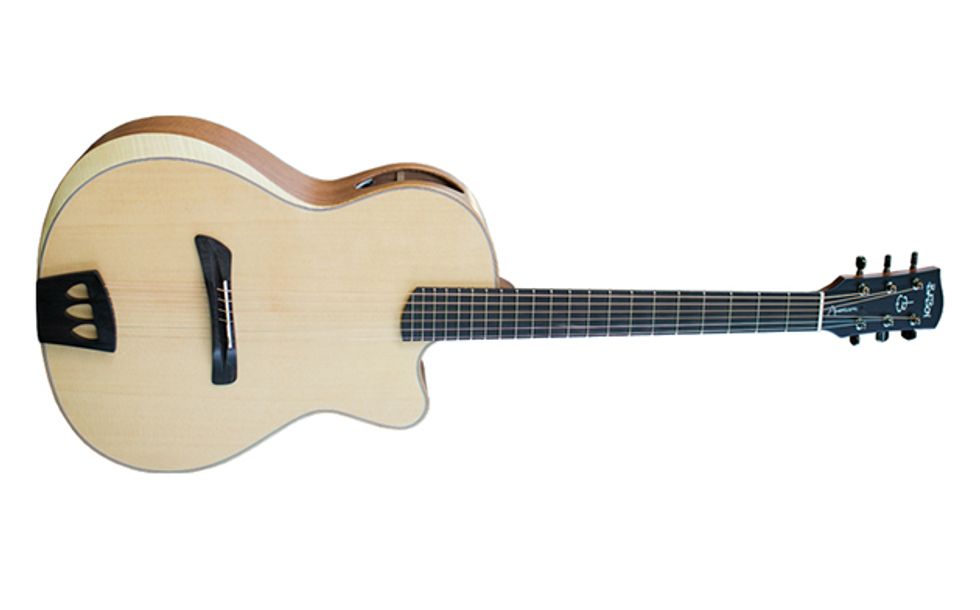 The Americana
The affordable new Batson acoustics combine revolutionary design with several high-end features that have been previously available only on expensive, custom-built guitars. Hybrid bracing, cantilevered fretboards, and tailpiece bridges allow the soundboard to move more freely and create the sonorous Batson voice. Comfortable armrest bevels, Batson'sClear Voice piezo pickups, and hole-less soundboards (no feedback ever) make Batsons the perfect performing artist guitars. Batson's oversized soundports allow players to hear themselves play like never before and provide songwriters with a wealth of inspiration.
Order now for the Holidays.

Street Price: $1,599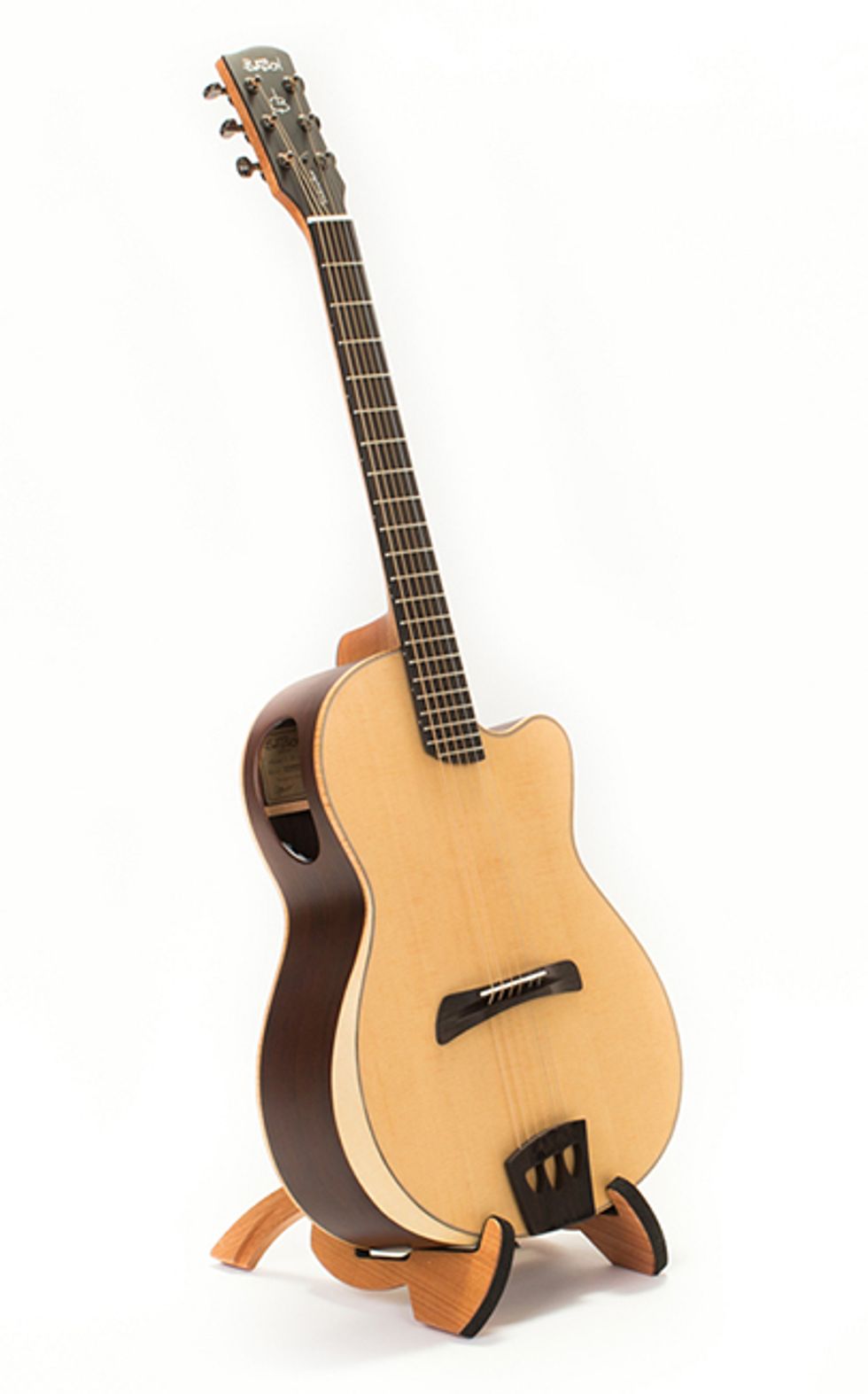 Troubadour
The New Batson Acoustics are design-built to replicate the looks, sound, and feel of the more expensive handmade Batson custom acoustic guitars known among professional players for their exceptional voicing and versatility. Batson's signature voice and design allow players to extract a wide array of sonic tones and textures from the guitars, ranging from fingerstyle folk and soft, sultry jazz licks to full-tilt bluegrass flatpicking and driving rhythms.

MSRP: $2,430, $1,699 (intro price)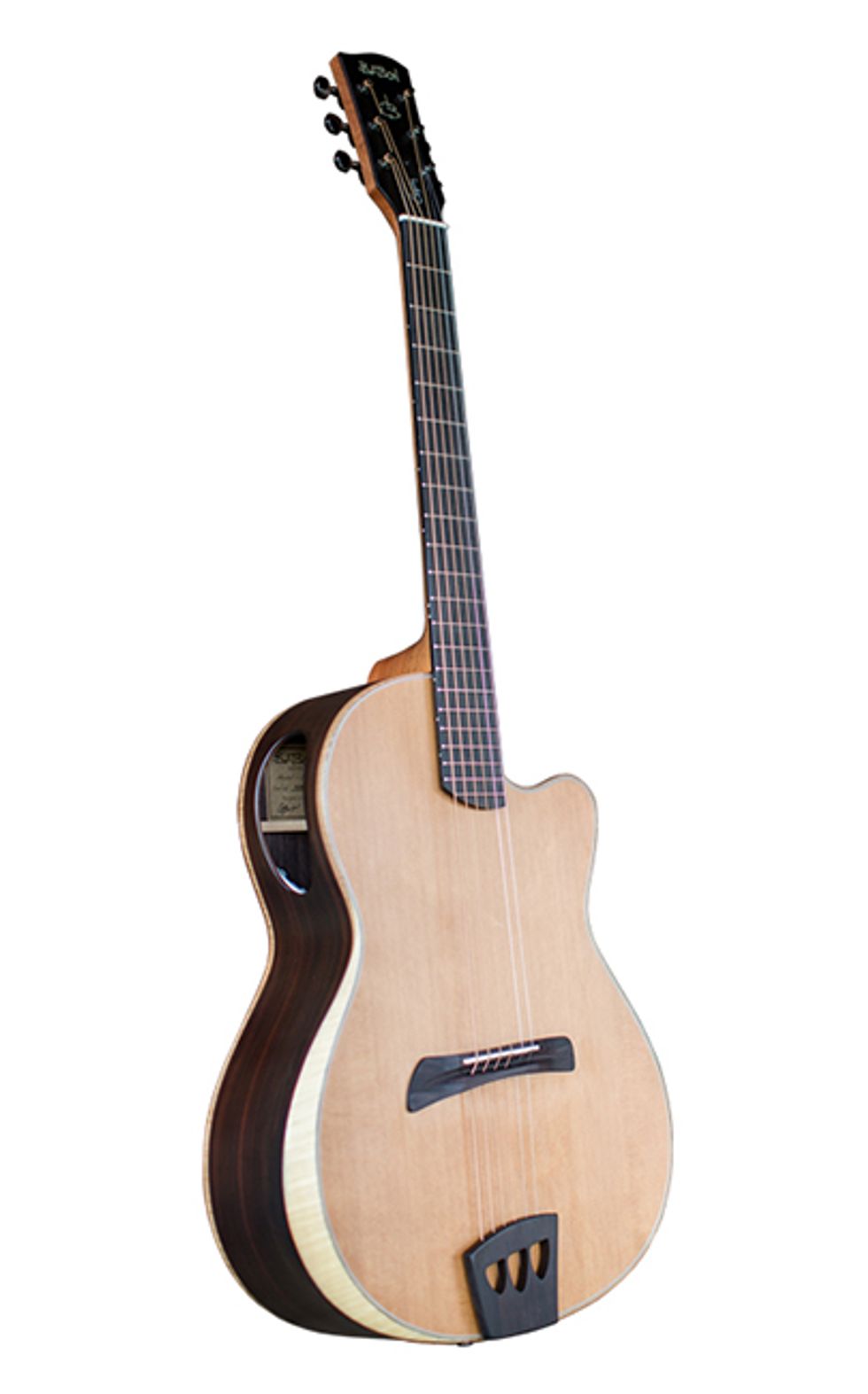 Gypsy
Gypsy—Batson's fingerstyle guitar—features East Indian rosewood sides and back, and a Western red cedar top.

MSRP: $2,430, $1,699 (intro price)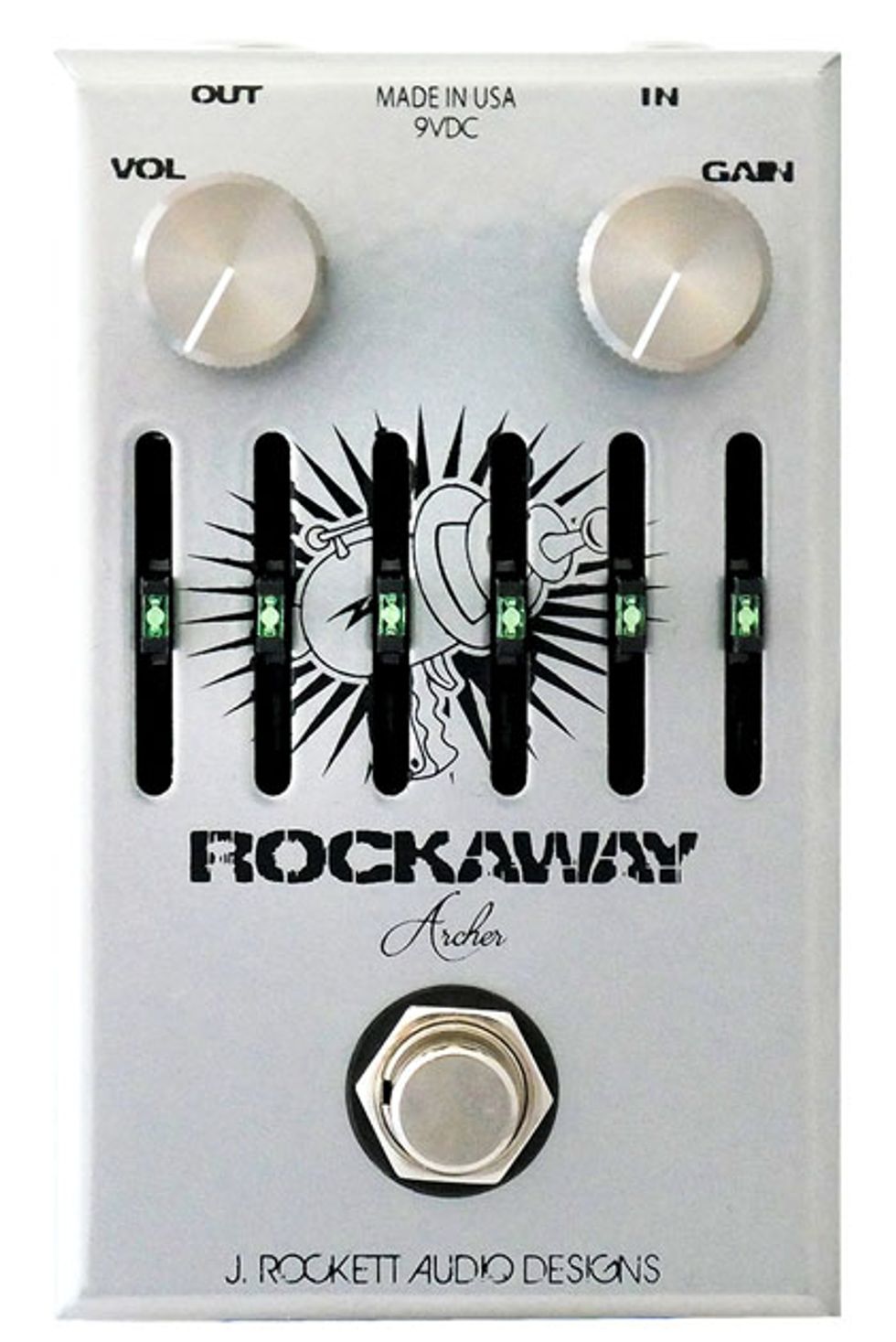 Rockaway Archer
The Rockaway Archer is an overdrive and EQ all in one. The Rockaway Archer was developed for legendary guitarist Steve Stevens as an all in one solution to Steve's overdrive and EQ needs.
Rockaway Archer features:
Six band graphic EQ

Volume and gain knobs

I/O jacks at the head of the pedal

9V DC operation with standard – tip and + sleeve

Approximately 4" x 2.50" in size
The settings include Up to 18dB of cut or boost at 6 di erent frequencies. Each frequency is increased by pushing its corresponding slider up on the pedal
or decreased by pushing them down. This also adds or decreases volume. It is a great way to hit the front end of an amp harder than a stock Archer. The Rockaway Archer has an incredible variety of sounds due to the multitude of ways the EQ section can be used!

Street Price: $249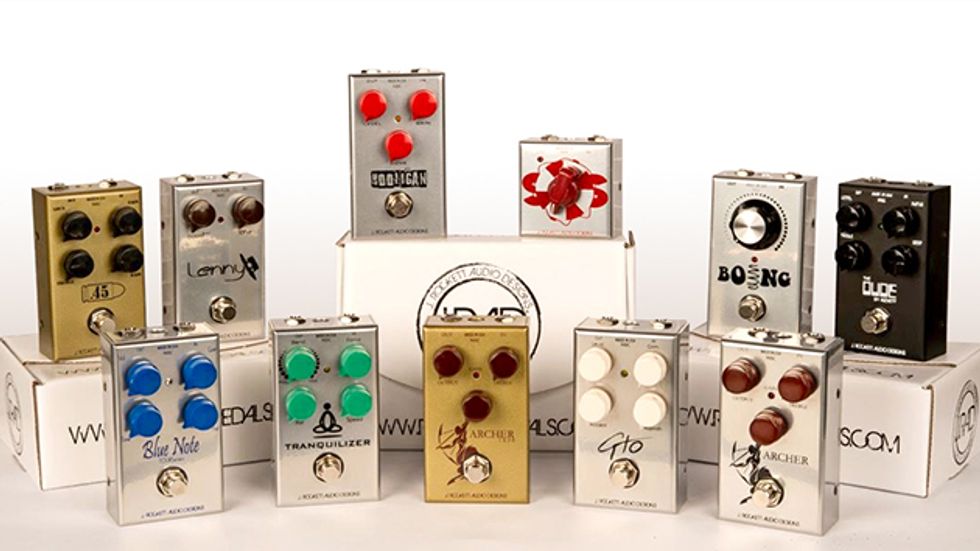 Tour Series Pedals!
The Tour Series line of pedals was developed in collaboration with touring musicians and top session players to create pedals that are amp-like sounding, transparent, tour rugged, and pedal board friendly!

Street Price: $79 – $199


Connect on Facebook
Play Videos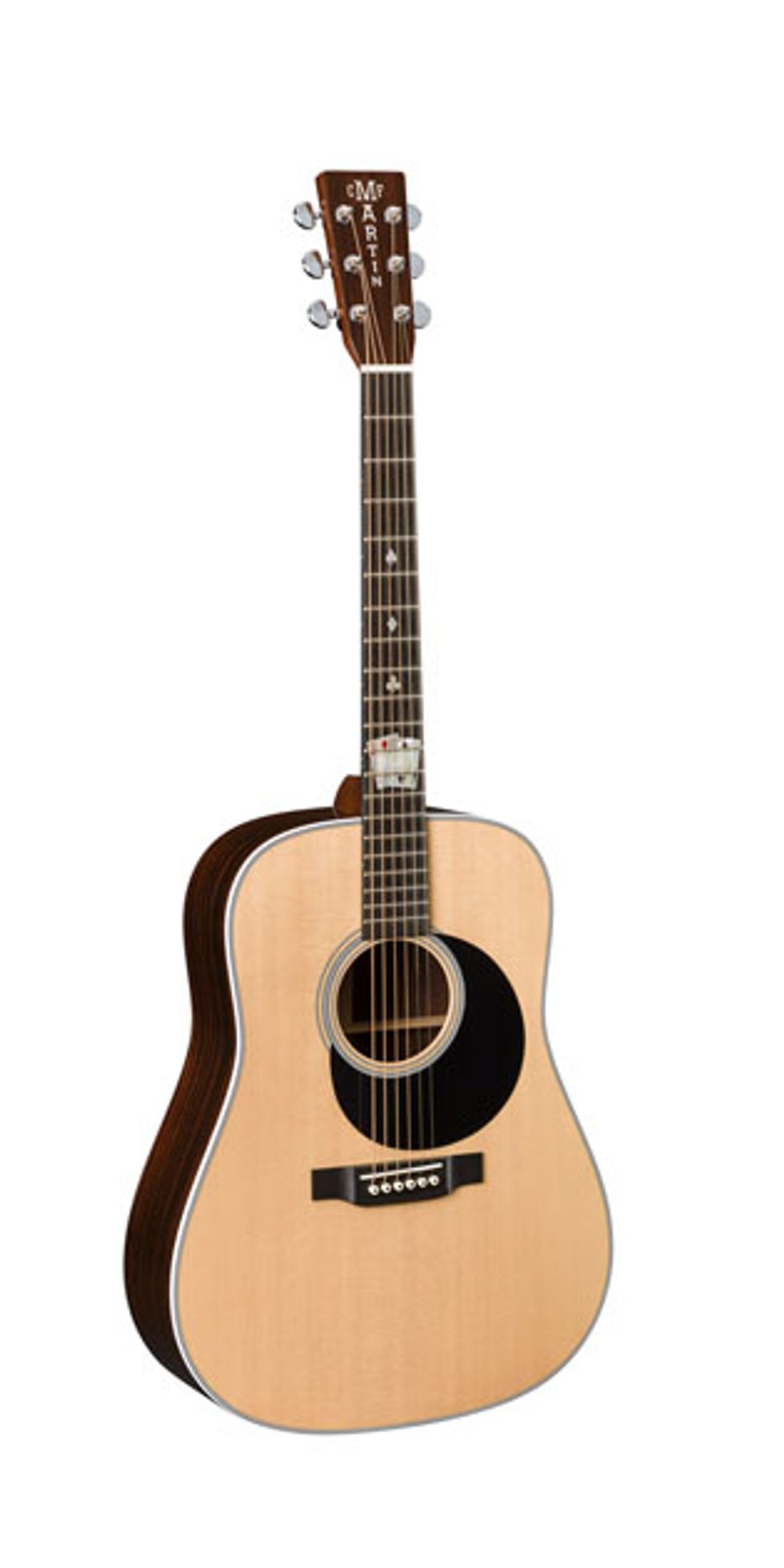 The Dwight Yoakam DD28
The Dwight Yoakam DD28 is inspired from a 1972 D-28, the guitar Dwight has played his whole career. He has always loved the sound of his guitar and his custom signature model could not be anything less. Honky tonks and casinos are the theme for this model. Crafted from Sitka spruce top and East Indian rosewood back and sides, this model honors the classic booming sound of the Dreadnought. An ebony fingerboard is the backdrop for the inlaid mother- of-pearl and recon stone playing cards. The other truly unique feature of this instrument is the bull's horn shaped pickguard. This guitar is sure to be a treasured instrument for years to come.


Street Price: $5,999

Connect on Facebook
Play Videos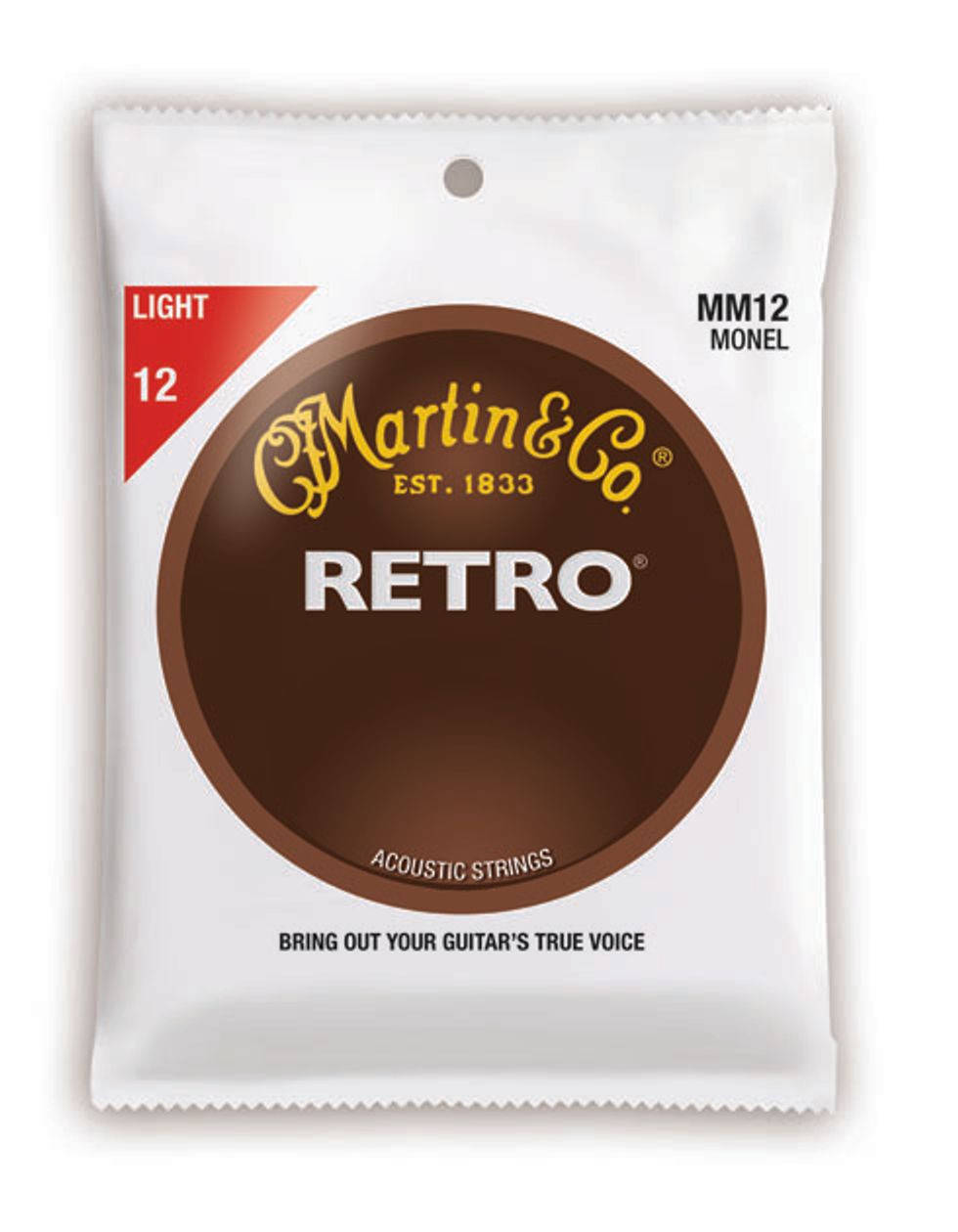 Retro Strings
Retros are the original Nickel acoustic string – the real deal – all the way from the 1930s. Retro strings o er a uniquely mellow, yet crisp, sound that allows your guitar's natural tone woods to be heard, not overshadowed. They are crafted with Monel, a solid Nickel/Copper wrap wire - not nickel-plated - meaning there is no chance for defects in the plating to allow for corrosion. Instead, Martin's proprietary wrap wire is naturally corrosion resistant and it is incredibly strong. We also employ a sophisticated winding process in the making of our Retro String that controls the coupling between the core and wrap wire to maximize intonation. Martin Retros are the real deal. Not an imitation. With Martin Retros, you get one tough set of strings that will last a long time and give you true, consistent tone that sounds like nothing else on the market.


Street Price: $9.67

Connect on Facebook
Play Videos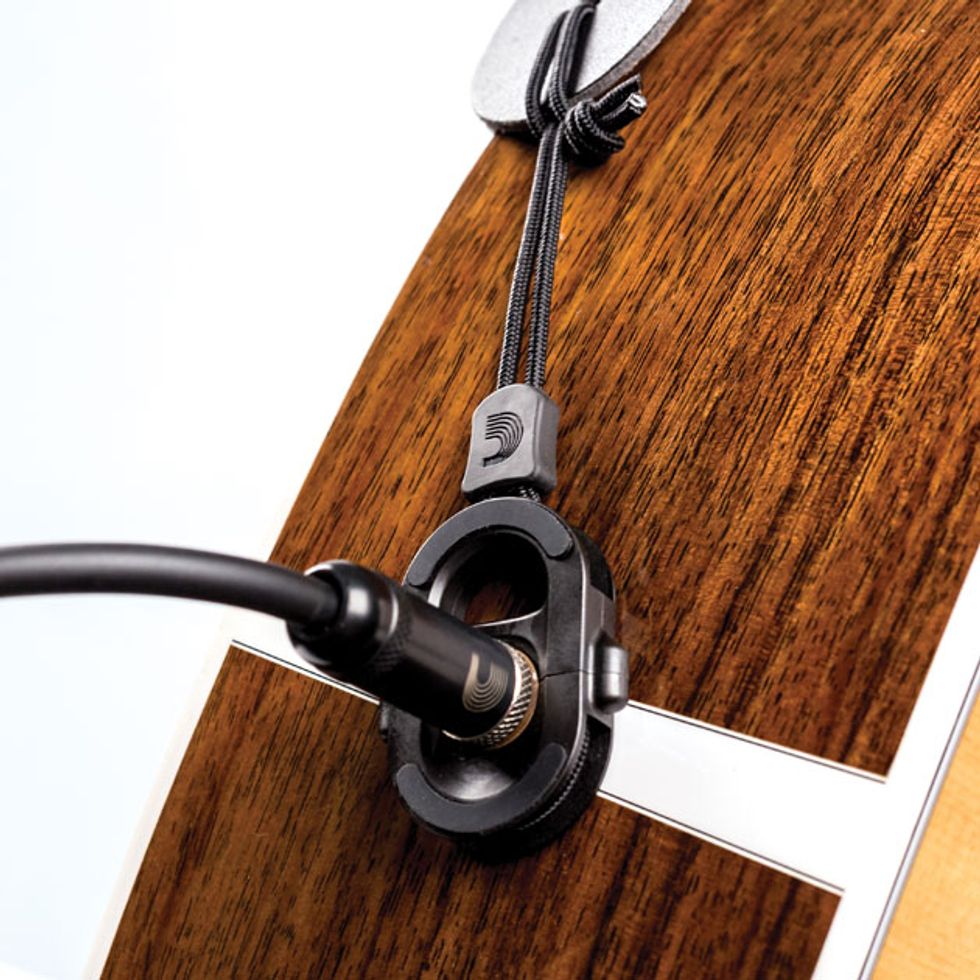 Acoustic Cinch Fit
The D'Addario Acoustic Cinch Fit is the fast and easy way to attach your strap to acoustic guitars with endpin output jacks. The Acoustic Cinch
Fit loops through the end of any instrument strap and its cinch clamping action allows easy application and removal, utilizing the weight of the instrument to remain locked onto the endpin so your guitar is always held securely.


Street Price: $15.99

Connect on Facebook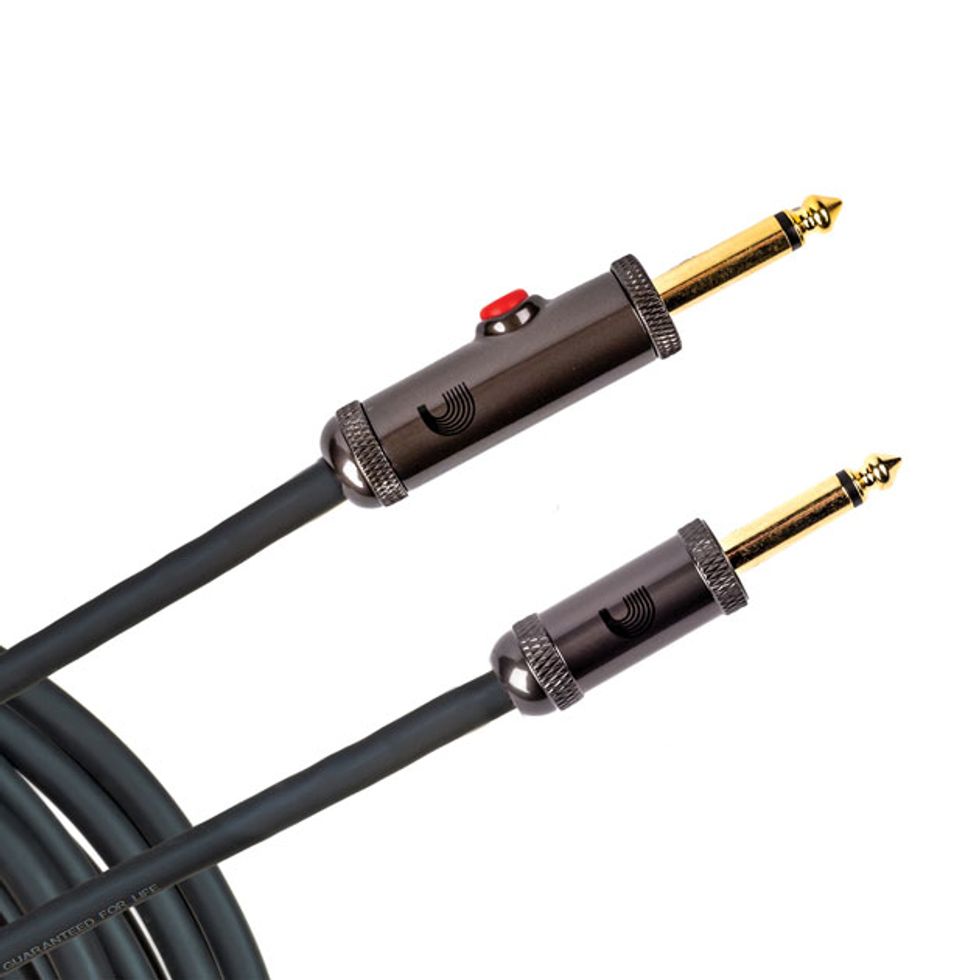 Circuit Breaker Instrument Cable with Latching Cut-O Switch
New to the Circuit Breaker line of instrument cables is the Latching Cut-O Switch models. This new model has the same solderless plug connection as its predecessor, but features an actuated "kill switch" that allows for noise-free instrument changes. Press the switch once to mute the signal to the amplifier completely. Press again to reactivate the signal ow. Available in straight and right angle plugs in a variety of lengths.

Street Price: $29.99

Connect on Facebook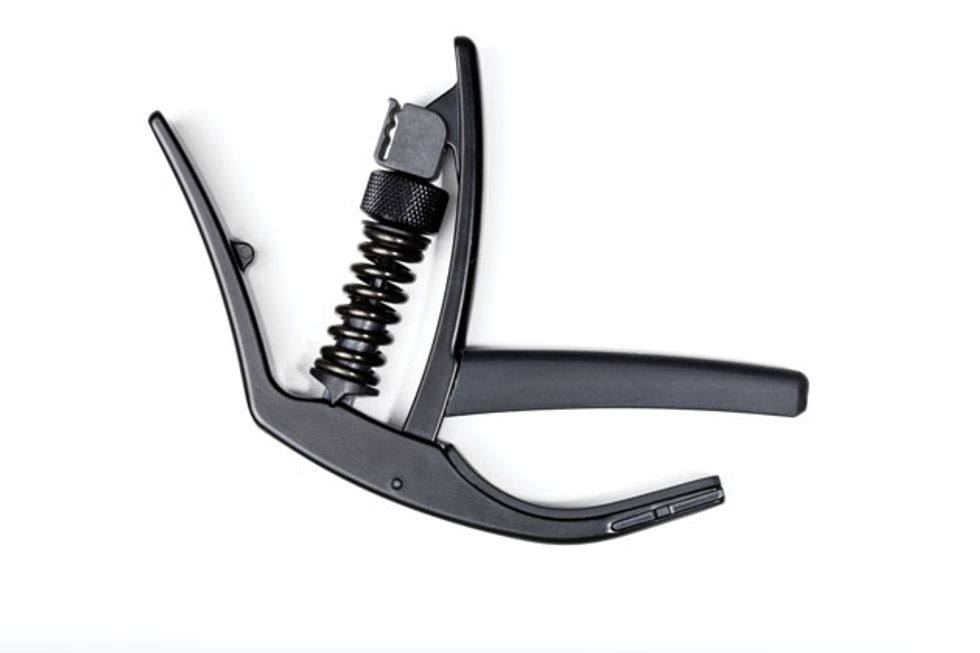 NS Artist Capo
The NS Artist Capo utilizes a patented tri-action geometry reducing the force required to open and close the capo while applying even tension regardless of neck profile. Combined with the micrometer tension adjustment and direct horizontal pressure, the NS Artist Capo eliminates pulling the strings side to side and the need to retune during use. Additionally, the trigger-style design and lightweight aluminum construction add no obstruction or noticeable weight to the neck of the instrument.


Street Price: $17.99

Connect on Facebook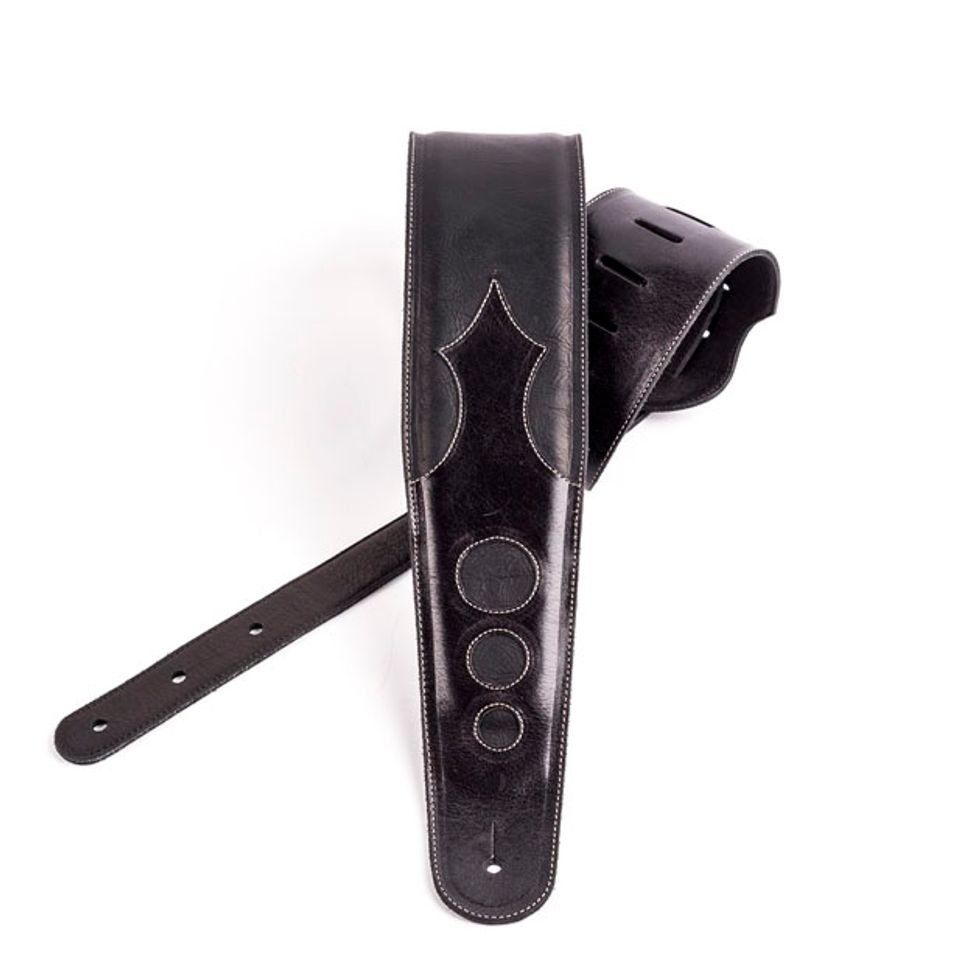 Premium Leather Straps
Made from the highest quality of leather, this line of straps uses precision stitching and cutout designs that not only look great but feel great. Each strap is padded for comfort and adjustable from 49" – 58" for maximum adjustability. With strap designs such as Onyx, Rustic Cutout, and Crimson Burst, the D'Addario Premium Leather straps feature something for every type of player and exude class, style, fashion, and function.


Street Price: $199.99

Connect on Facebook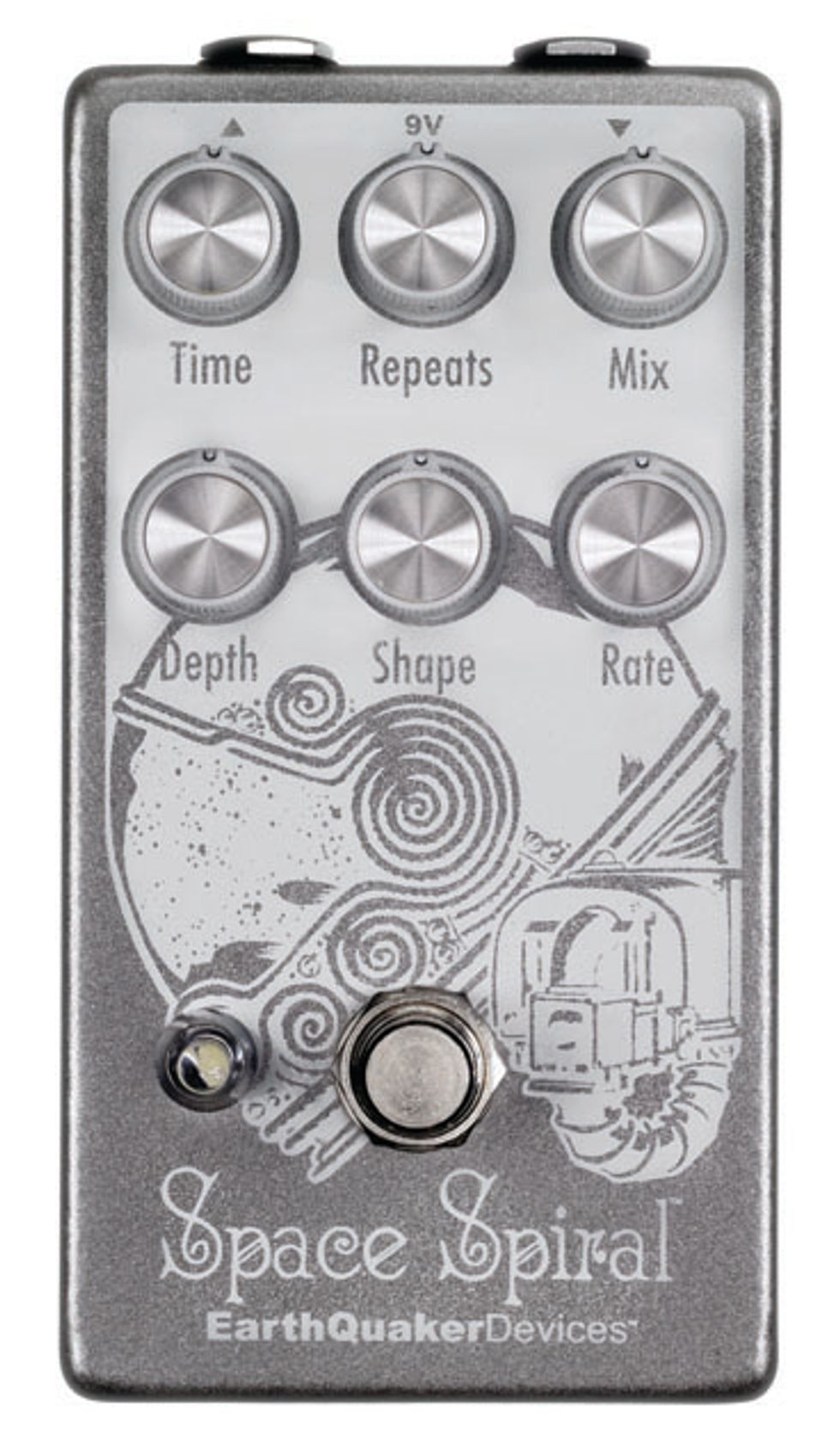 Space Spiral
The year is 2016 and you can digitally model any amplifier under the sun on a clock-radio type apparatus. Literally anything is possible. What do we do? We decide to build a lo-fi delay based on a processor meant for a cheap karaoke machine. Why? Because it sounds awesome and we are in the business of making things that sound awesome, that's why.
The Space Spiral's delay time ranges from a tight 30ms to a fast and loose 600ms. Can you imagine having 600ms of delay time at your fingertips? With all of this adjustable delay time, you can create anything from a classic slapback to a rhythmic wash of cosmic proportions. You want to take it even further? Crank up the onboard modulation, dime the Repeats, and let the infinite oscillation of the Space Spiral take you to the other side.


Street Price: $195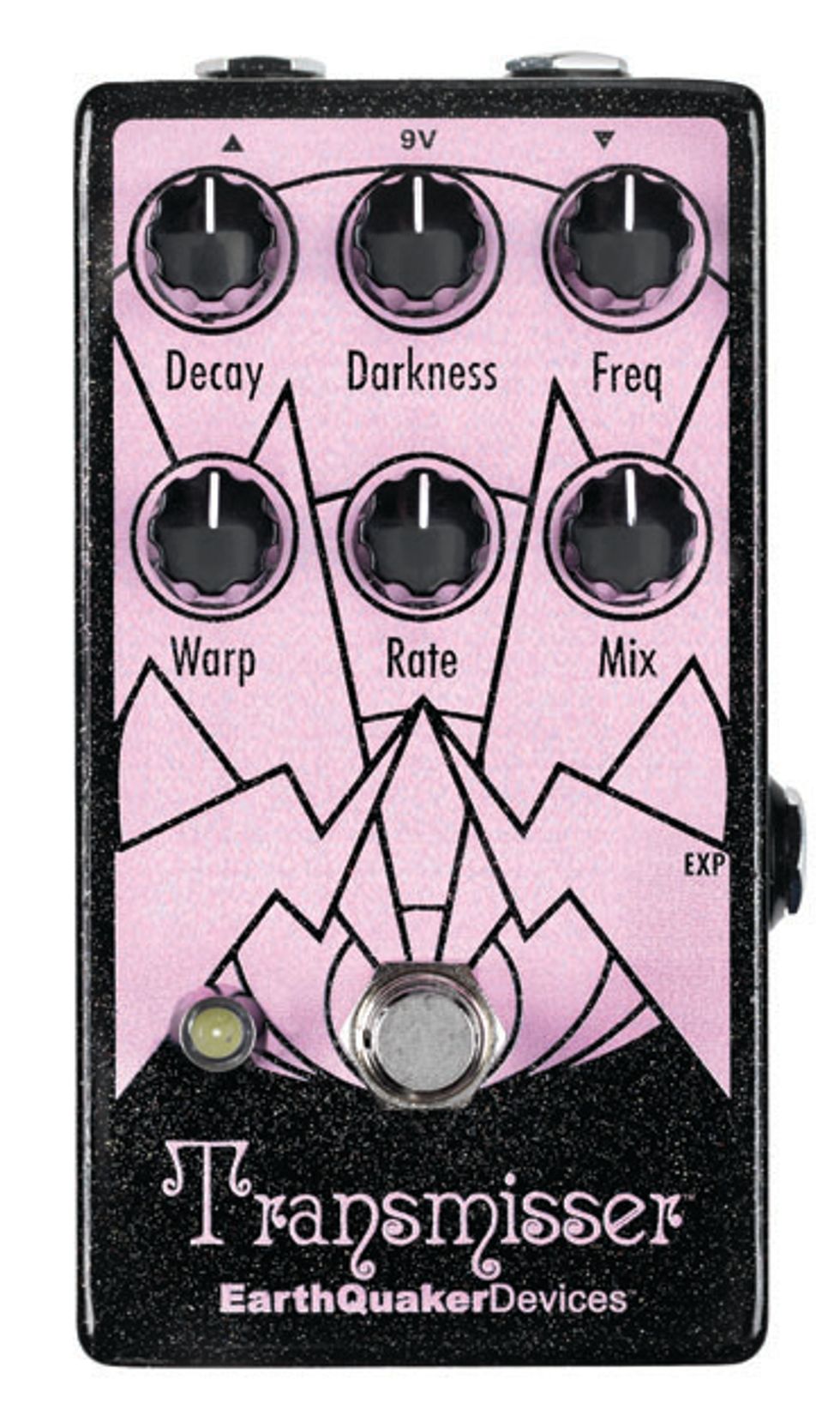 Transmisser
The Transmisser is a modulated reverb with extra-long decay fed to a highly resonant filter. It is the sonic recreation of blowing your signal to bits, shooting it through a black hole, then beaming it back down on a cloud of cosmic dust. It is a blazar for musical instruments.
The Transmisser is not your everyday reverberation device. It does not do subtle. It does not do spring. It does not do a wood-paneled rumpus room with 1" thick carpet. It will not recreate the classic sounds of the '60s, '70s, and '80s. It'll create an ultimate soundscape-y backdrop to your all-night guitar freak- out, turning you into a one-note-per- minute knob-twiddler. The Transmisser will get you out of that stupid ergonomic chair, make you close that laptop computer, and force you to enjoy playing music again—and that's the most important thing, am I right? Huh? Hello?

Street Price: $225
Connect on Facebook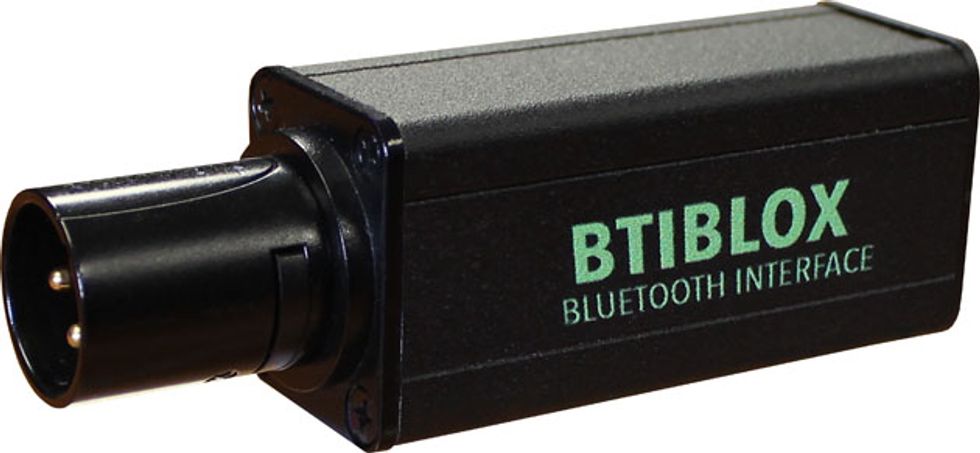 BTIBLOX
The new RapcoHorizon BTIBLOX is a unique and essential tool for DJ's, presentations, Houses of Worship, recording studios, live events, and
pro audio. The BTIBLOX quickly and conveniently pairs with most Bluetooth devices including smart phones, tablets and computers. The BTIBLOX operates on phantom power or its own internal rechargeable battery.
PRODUCT HIGHLIGHTS
Phantom Powered Bluetooth Audio Receiver with

Internal Rechargeable Battery

More than 75 feet range

(Line-of-sight)*

Bluetooth 4.2 Specifications

XLR-male connects directly to the input of your mixer, powered speaker, wall-plate, or snake channel, just as you would with a microphone or any other Lo-Z input.

Translucent back cover allows view of LED status

Includes usb charging cable

FCC, RoHS Compliant
Street Price: $149.99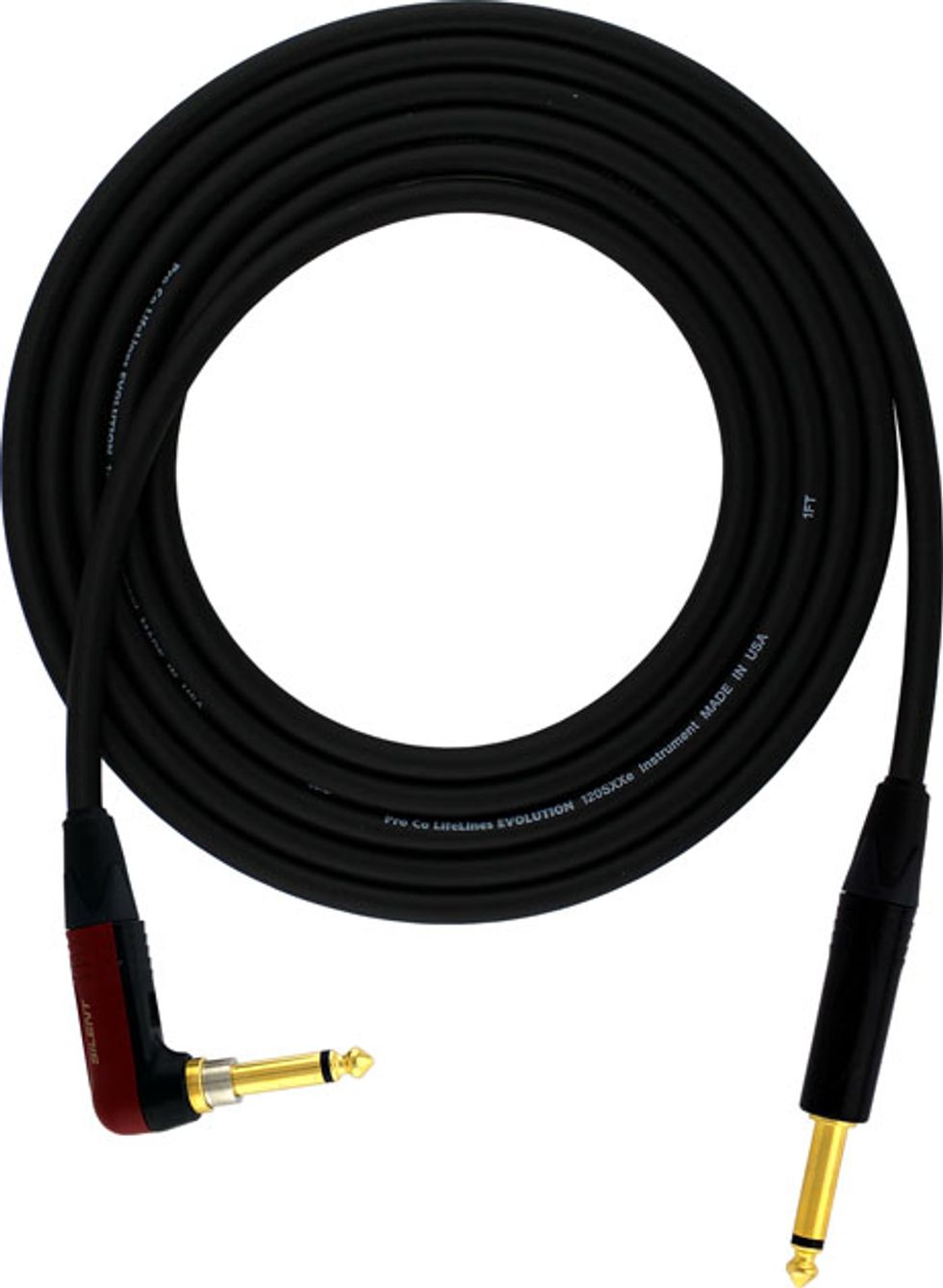 Evolution Silent Right Angle Cable
Evolution Silent Cables are uniquely designed for both the studio and the stage. The over-sized, "Soft-Touch" jacket feels like a studio cable but withstands the road like a touring cable. Then combining Neutrik "X" series 1/4" connectors, USA made Evolution Wire and the assembly quality of Pro Co...a truly evolutionary cable was created.
Features:
100% oxygen-free, USA made wire for reliable performance and clean sound.

Noiseless dual-shielded design eliminates outside noise.

Neutrik "X" series 1/4" connector for a solid connection.

Neutrik Right Angle Silent Plug eliminates pops from the amp.

Supple "soft-touch jacket"

Street Price: $59.99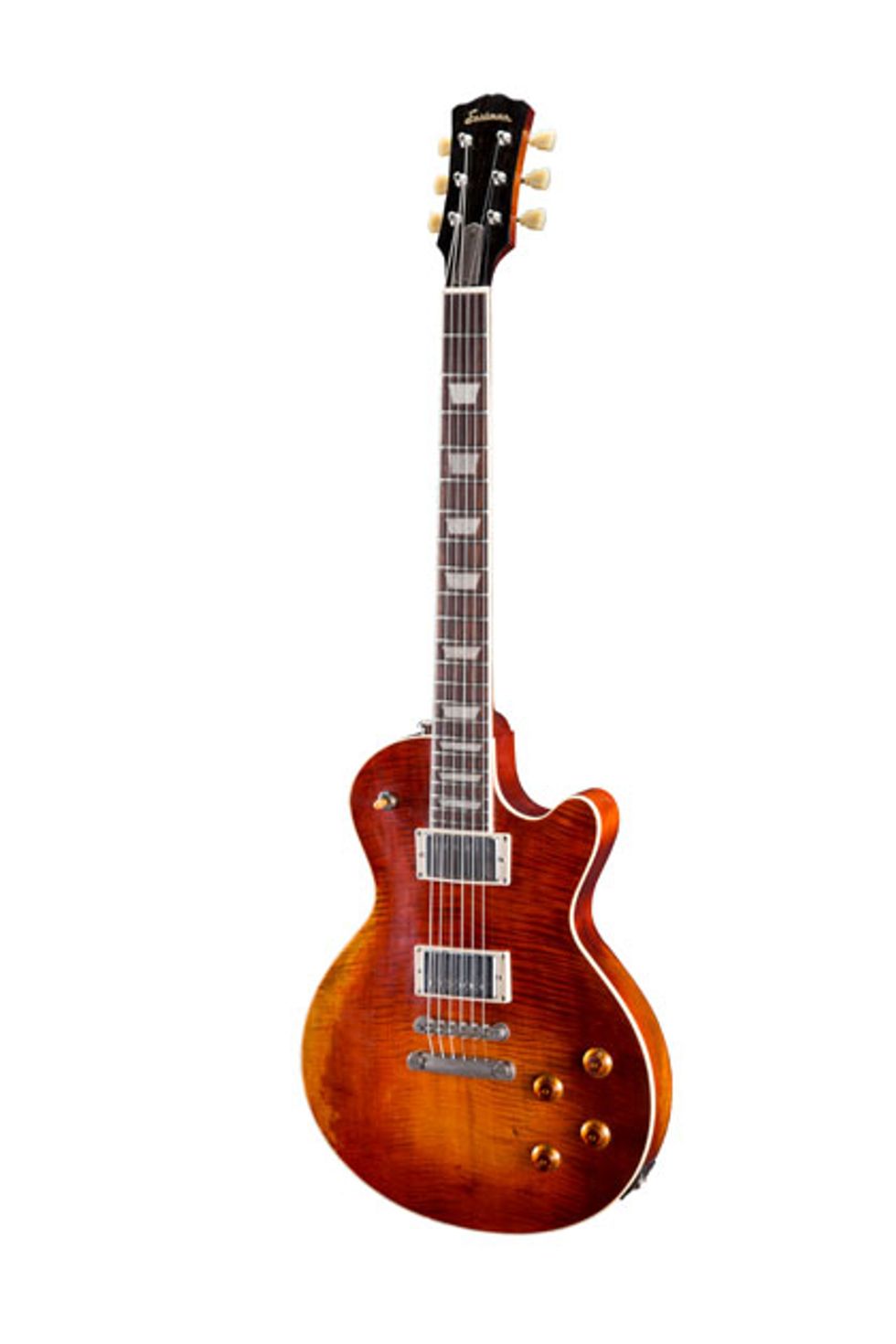 SB59/V
When Pepijn 't Hart and Pim Schilperoort designed our first solid body they set out to create something new with Eastman's signature written all over it. Antiqued and varnished in our orchestral string shop, the SB59/v has the look, feel, and tone, of a 58-year-old guitar.
The SB59 will also be offered in a nitrocellulose finish. Both models will feature a handcarved, solid flamed maple top on a solid mahogany body. The Gotoh hardware and Seymour Duncan Antiquity humbuckers on the SB59/v and the Seymour Duncan 59 humbuckers on the SB59 complete one of our hardest-rocking instruments to date.


Street Price: $1,999

Connect on Facebook
Buy it Now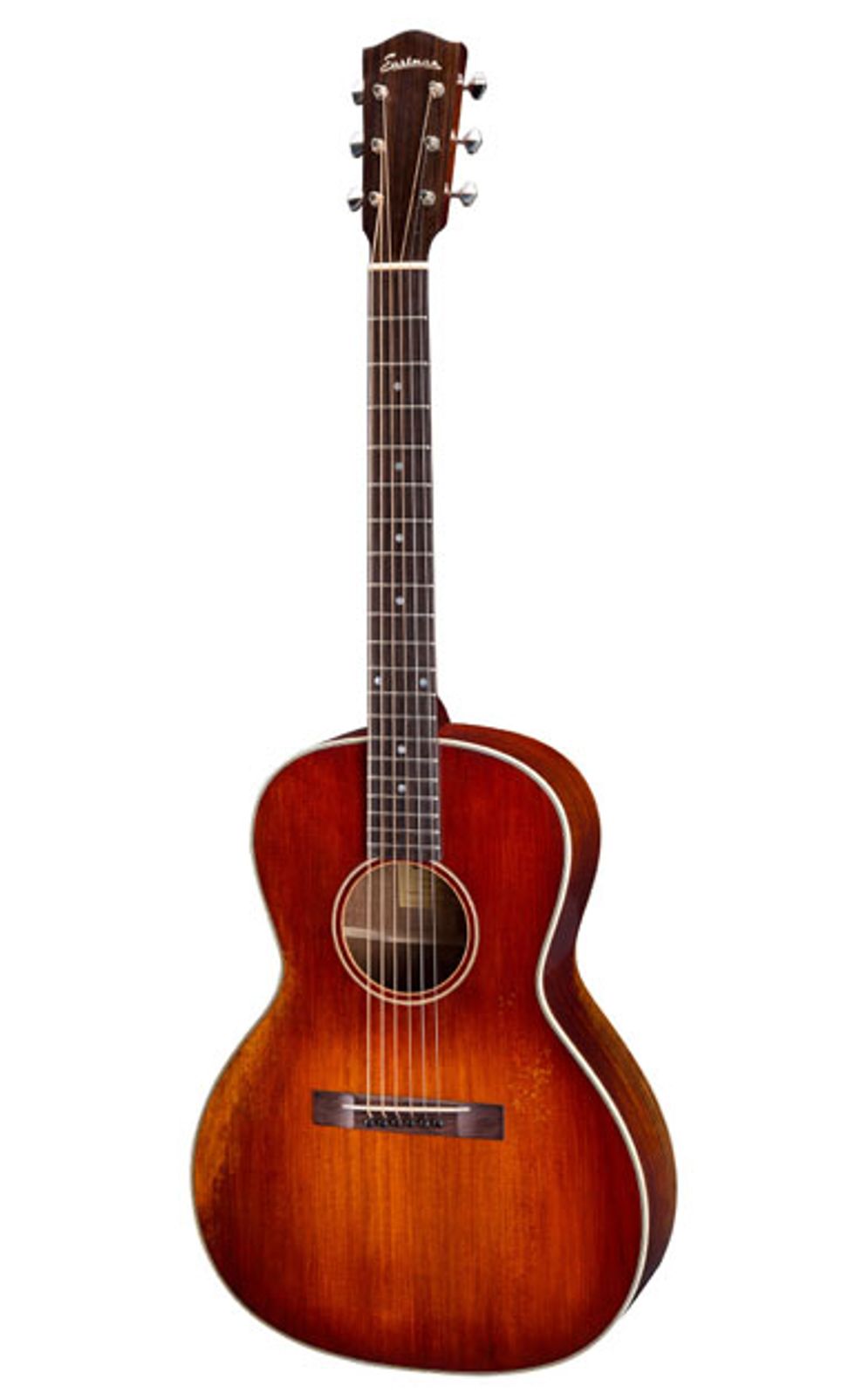 E10OOSS/v
Antiqued and varnished in our orchestral string shop, the E10OOSS/v has the look, tone, and feel of a 58-year-old guitar. The E10OOSS/v features a premium blend of select mahogany, solid Adirondack spruce, and rosewood tonewoods, making it ideal for the back porch, the stage, or the studio.


Street Price: $1,499

Connect on Facebook
Buy it Now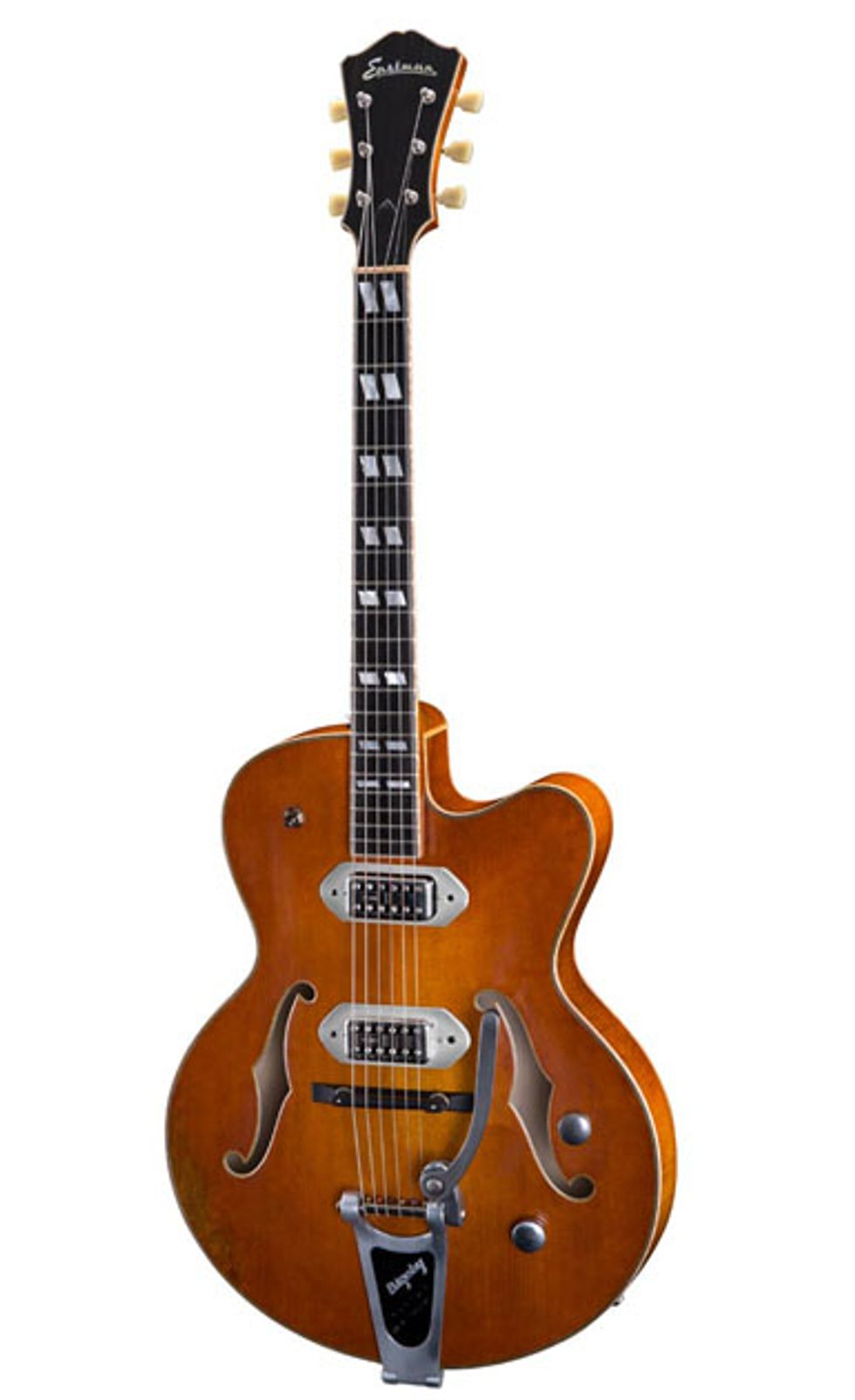 T58/v-AMB
A fully hollow 16" jazz box antiqued and varnished in our orchestral string shop, the T58/v-AMB has an unparalleled vintage tone and feel. With dual TV Jones pickups and a USA Bigsby, this
is sure to establish Eastman in the rockabilly world.


Street Price: $2,299

Connect on Facebook
Buy it Now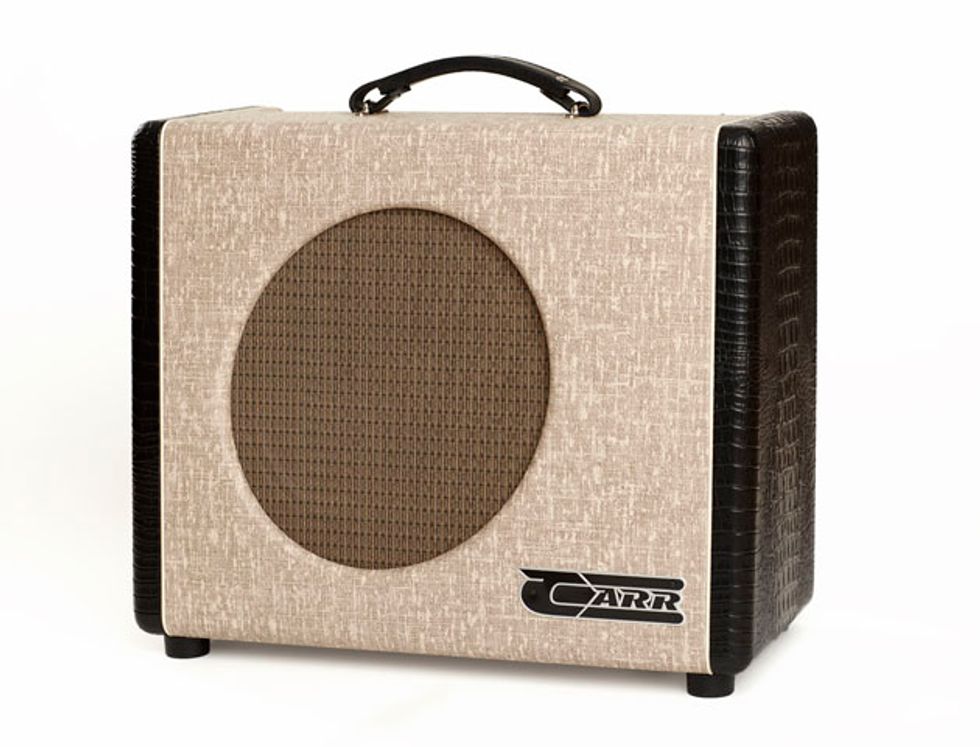 Mercury V
The British flavored Mercury V offers a highly evolved feature set borrowing the best of the past while rocketing into the future.
Enjoy super touch sensitivity with a huge range of English tones from 60s aggressive clean thru 70s, 80s, and 90s tasty crunch. Our built in attenuator delivers real power tube overdrive at whisper levels retaining the feel of full volume fun. Features include Line Out, Luscious Spring Reverb, full ranging Overdrive options, and effective tone controls. Home player? Experience big amp satisfaction with domestic tranquility. Gigging musician? 16 burly watts in full power means the Mercury V is a commanding stage amp. Mercury V wins the six string triathlon - Home - Studio - Stage.
Plus you get everything Carr is known for, in-house crafted solid pine dovetailed cabinets, bleeding edge power supply components mixed with Mid-Century signal elements, and true point to point wiring. Scary Good!


Street Price: $2,530

Connect on Facebook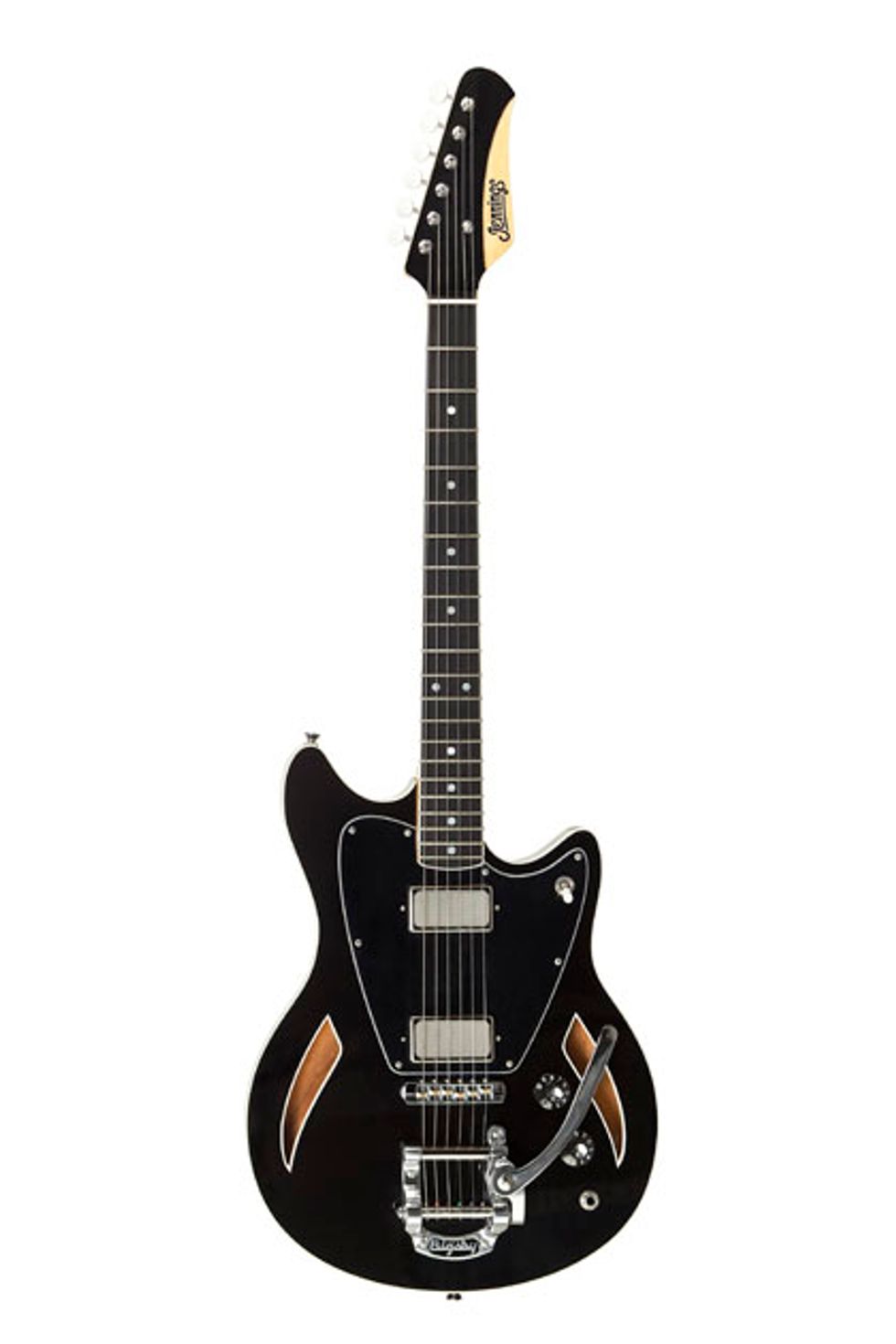 Custom Catalina
The Jennings Catalina is a fully customizable semi-hollowbody. It features fretboard, neck, and body materials of your choice, topped off with a nitrocellulose lacquer finish to optimize tone and resonance. Jennings Guitars uses McNelly's handwound pickups and a custom choice of hardware to match the tone and feel you are after. Give the guys at Jennings Guitars a call to build the guitar you have been dreaming about or check out their pre-built stock.


Street Price: Starting at $1,800

Connect on Facebook
Play Videos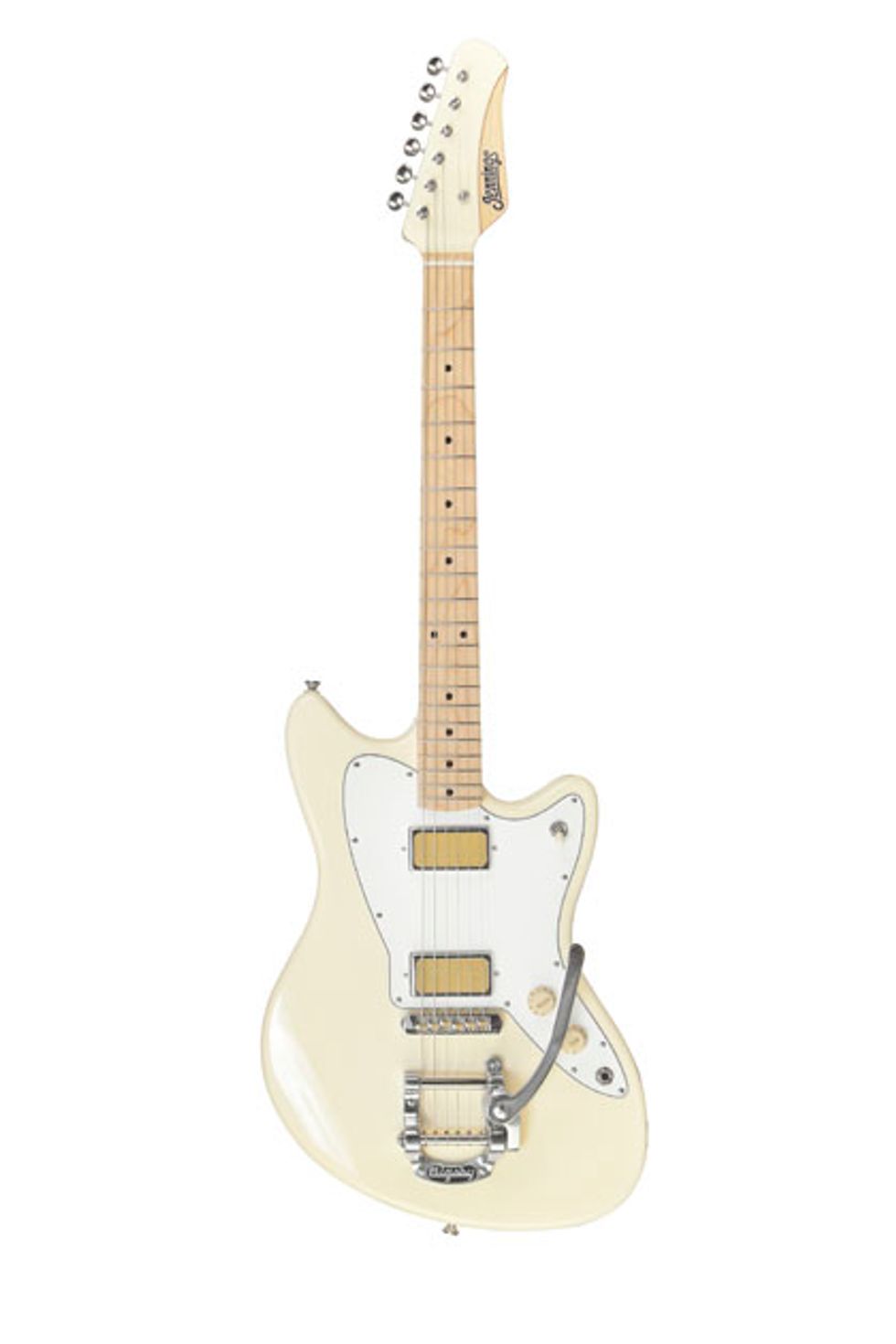 Custom Voyager
The Jennings Voyager is a fully customizable solidbody or semi-hollowbody guitar. It features fretboard, neck, and body materials of your choice, with a nitrocellulose lacquer finish to optimize tone and resonance. Jennings Guitars uses McNelly's handwound pickups and a custom choice of hardware to match the tone and feel you are after. Call in to build the guitar you have been dreaming about or check out their pre-built stock.


Street Price: Starting at $1,500

Connect on Facebook
Play Videos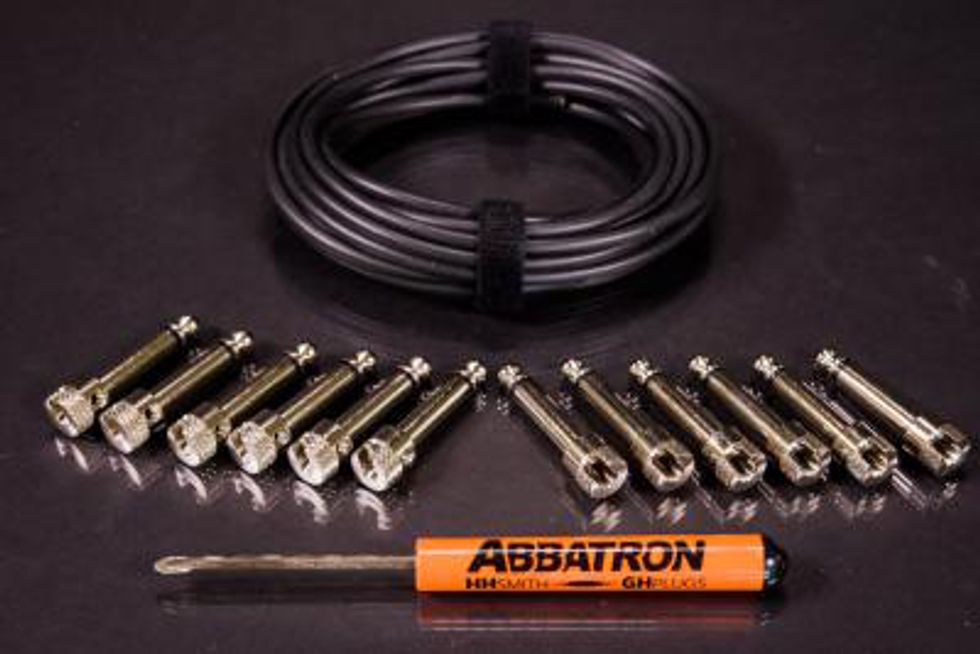 Solderless Cable Kit
The G&H Solderless Connector is designed for quick, easy and secure termination of customized audio cables. The design of the G&H Solderless Connector gives the end user simple and reliable solution for custom cable needs. You can choose the length and angle by using our uniquely designed cable and solderless connectors.
The G&H Solderless Connector was designed with close- contact pedalboard use in mind. The G&H Solderless Connector has the lowest profile on the market today, which enables the board maker and user to maximize available space on the board. It is also an effective solution for making fast repairs for faulty connections when time is critical.
This solderless connector kit comes packaged with 12 connectors and set screws with 12 feet of black cable and a screwdriver.

Street Price: $95.99

Connect on Facebook
Buy it Now
In the market for some new tone toys? Here's a head start for the latest gear in 2017.