Tone King Royalist Combo
Available in an all-tube head or 1x12 combo format, the Royalist MKIII includes a pair of cabinet options: a 1x12 and 2x12 cabinet are also available.

Tone King has launched the new Royalist MKIII amplifier line, a 40-watt, two-channel, all-tube amp that expands on that legacy by faithfully reproducing the iconic British tones of that era. Ranging from the sweet, singing JTM45 to the iconic "Plexi" sound, all the way to the raging "Super Lead".
Tone King Royalist 2x12"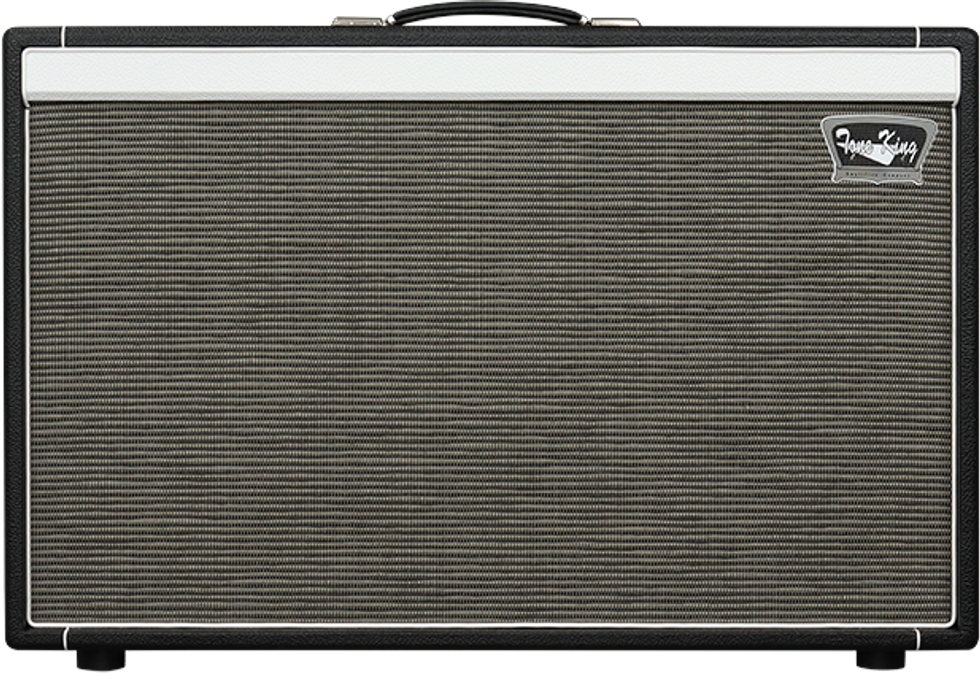 Tone King Royalist 1x12"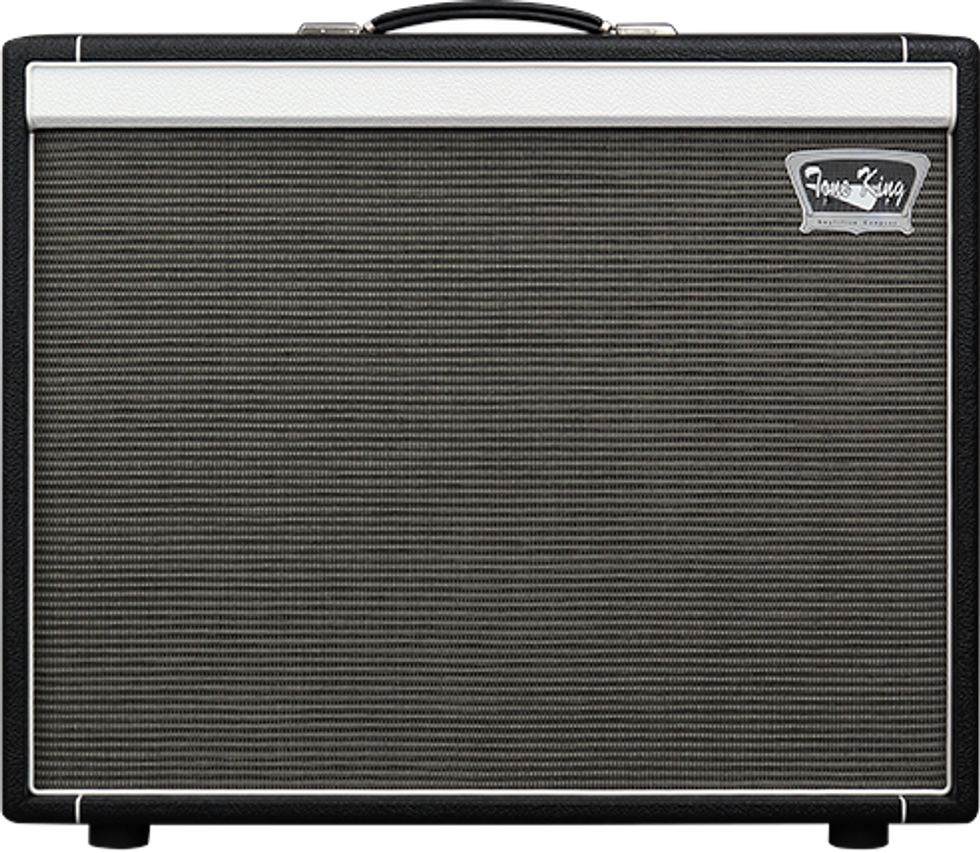 Tone King Royalist Head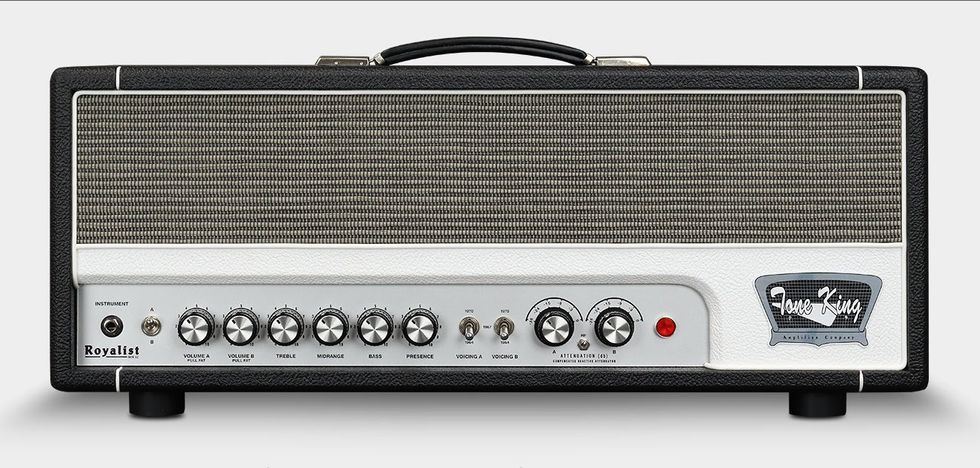 The Royalist MKIII authentically captures the vintage nature of these iconic amplifiers, delivering tone that spans from clean to edge-of-breakup, to the bright-crunchy leads found on countless classic rock records that helped shape music history. The Royalist MKIII Offers Three Inspiring New Features:
Two channels with independent Volume and PULL FAT feature. The Volume controls for both Channel A and Channel B feature a PULL FAT option which changes the feel of the amplifier by delivering more low-end at the first gain stage. The FAT setting is ideal for clean tones and single coil pickups or if you really want to add some juice to your lead tone.
Three-way 1964, 1967 and 1970 voicing switch, assignable to each channel. The 1964, 1967 and 1970 three-position voicing switch on each channel allows you to choose the particular preamp, tone stack and negative feedback from three of the most iconic vintage British amplifiers.
Tone King's legendary Iron Man II attenuator, one for each channel, with HF switch. The built-in Iron Man II attenuator on each of the channels features a tuned reactive load and special compensation circuitry that allows the power tubes to be fully driven, yet only allowing a fraction of the signal through to the speaker.
Features and Pricing
Key Royalist MKIII Features:
Two Channels with Volume Control and PULL FAT feature.
Three-Position 1964, 1967 and 1970 Voicing Switch, Per Channel
6-Step Iron Man II Attenuator, Per Channel
Wide Variety of Vintage British Tone
Made in the USA
Pricing is as follows:
40W Head -- MSRP: $2,495
1x12" 40W Combo -- MSRP: $2,695
1x12" Cab -- MSRP: $695
2x12" Cab -- MSRP: $995
The Catalyst family of modern amplifiers feature custom boost options, 18 onboard effects, and a power attenuation feature.
The six Original Amp Designs were crafted using HX sound design techniques to provide exceptional tone and feel. Amplifier types range from pristine clean to classic crunch to modern high-gain—and each includes a switchable Boost specially designed to complement the individual amp type. Any two amp types and their settings may be saved as A and B presets, then instantly switched between using the onboard A/B switch or an optional LFS2 Footswitch (sold separately). Up to six A/B amplifier combinations may be saved into memory for rapid recall.

Catalyst amplifiers feature controls designed to be familiar to most guitarists, including standard Bass, Mid, Treble, Presence, Gain, and Master volume knobs. There are also knobs for the dedicated Boost and Reverb sections, as well as an Effects level knob. What guitarists won't find are LCD screens and menus.
The Reverb section offers a choice of six reverb types: Spring, Hall, Chamber, Plate, and two Line 6 original reverbs that provide shimmering spatial effects. Additionally, there are 18 Delay, Modulation, and Pitch effects, six of each type. The reverbs and other effects are all drawn from the Line 6 HX and Legacy effects libraries. The tempo for time-based effects may be set using the Tap/Tuner button, also used to engage the onboard tuner.
Additionally, Catalyst amplifiers feature effects loops for inserting external effects and other devices into the signal chain, and Power Amp inputs, allowing Catalyst to be used as a powered speaker by bypassing the preamp (perfect for use with amp modelers and amp simulators). There's also a professional XLR direct output for live performance and recording, MIDI In (Catalyst 200 and 100 only), and a 4/4-channel audio interface, MIDI, and Mac/PC connectivity via USB. A power attenuator provides a choice of half-power, 0.5-watts, or Mute. Headphone and Aux inputs make practicing with any Catalyst amplifier easy and enjoyable.
Line 6 | Catalyst Guitar Amps | Overview
Pricing & Availability:
Catalyst 200 $699.99 USD (MSRP)
Catalyst 100 $559.99 USD (MSRP)
Catalyst 60 $419.99 USD (MSRP)
Catalyst 200 Cover $54.99 USD (MSRP)
Catalyst 100 Cover $39.99 USD (MSRP)
Catalyst 60 Cover $39.99 USD (MSRP)
LFS2 Footswitch $55.99 USD (MSRP)
Available now worldwide. Learn more at https://line6.com/catalyst-guitar-amps
The all-new Royale is the first loud clean amp in the brand's product lineup and is available in both 1x12 and 2x12 formats.
The Royale was designed to deliver loud and vivid clean tone with a responsive, tactile low end. A high-headroom, 50W tube amplifier with a powerful EQ, foot-switchable boost, tube-buffered effects loop and glorious tube-driven spring reverb, the Royale captures all of the nuances in your playing, both on stage and in-studio.

The 5881-loaded power amp in the Royale offers a choice of Class A (35W) or Class AB (50W) operation, as well as a master volume to control sound pressure level. Class A mode delivers the traditional, cathode-biased Supro sound with a bold, spongy midrange. Class AB delivers a grid-biased California sound with more scooped mid-range, tighter bass and faster transient response. Housed in poplar cabinetry with vintage-inspired Black Scandia tolex and a hemp grill cloth. Features the custom Supro BD12 speaker.
Royale Demo with Eric Krasno | Supro