The latest addition to the Blackstar's Debut series: the Debut 50R.
The Debut 50R is designed to be a simple, all-analogue alternative to entry level digital modelling amplifiers. Ideal for pedal players, the Debut 50R focuses more on tone and usability rather than unwanted "bells and whistles."

The features have been carefully selected to cover all an aspiring guitarist's practise and gigging needs: two footswitchable channels, our patented ISF (Infinite Shape Feature) tone control, power reduction down to 5 Watts, series effects loop and custom-voiced digital reverb with Plate and Hall options. This amp is available in two vintage designs; cream covering with oxblood fret, or black and 'biscuit' basketweave.
To deliver the natural sounding response of a valve amp, Blackstar's UK based design team have chosen to implement a discrete MOSFET (Metal Oxide Semiconductor Field Effect Transistor) preamp. The overdrive characteristics of MOSFETs are similar to those of valves. Our R&D team have gone beyond other manufacturer's MOSFET implementations to deliver a preamp design that is virtually indistinguishable from the chosen valve references.
Features
50 Watt combo
2 Channels – Clean + Overdrive
MOSFET preamp
Clean / Bright voicing for the clean channel  Patented ISF tone control
50W - 5W power reduction
'Plate' and 'Hall' reverb options
Line In for jamming along or listening to music
Speaker emulated Line Out for 'silent' practice or recording
1x12" custom-designed speaker, producing true Blackstar tones
Series effects loop
Stereo playback of Line In sources through headphones
Dual footswitch control for channel switching and enabling/disabling Reverb
Compatible with any 2-button latching footswitch (available separately)
Vintage styling in cream and black options
Debut 50R | Demo | Blackstar
Blackstar
This bruising 60-watt powerhouse is ready for anything, with three speakers, five reverb and tremolo controls, and a fat boost.
I'd like to pay respect to the Fender Vibro-King. I still remember how I first admired it, brand new in guitar magazines, in 1994. It was the raw, wild, and blonde Viking cousin of the classic vintage Fender amps. I immediately wanted one and got my first in 2004. So, let me share my view on this flagship from Fender's Custom Shop.
The most recent model, the 20th Anniversary Edition, was discontinued in 2014. Other than a change from EL84 to 6V6 tubes in the reverb section for improved durability, the amp circuit was fairly consistent during its years in production. There were various color schemes: blonde, black, light brown, dark brown, naked maple, and hand-tooled Tolex. And for its 3×10 array, Fender used various speakers, starting with blue-framed Eminence alnicos, then Jensen P10Rs and Celestions in custom models.
With dual 6L6GC power tubes and a class AB push/pull configuration, its big-iron transformers produce a whopping 60 watts at 2 ohms. The large power transformer contributes significantly to an overall weight of about 70 pounds. With the right or wrong speakers, this amp can weigh as much as 88 pounds. But contrary to older, less robust vintage Fenders, the Vibro-King's massive, solid cabinet can carry heavy speakers and deliver tons of punchy bass response. A set of Weber 10A150s or Eminence Swamp Thangs has never been more fun. Fender did offer a matching 2×12 extension cabinet for those who wanted a full Vibro-King stack, but I find it loud enough with the three-speaker complement.
Sonically, the Vibro-King falls between tweed and black-panel-era Fenders, whether sparkling clean or wildly cranked, and even at low volume. The amp's distortion is attributable to the design of the preamp section and the lack of a negative feedback loop in the power section. You can dial in a wide span of tones using volume, EQ, and the fat boost—more than a typical vintage Fender amp.
Players seem to either love or hate the Vibro-King. I suspect the haters haven't experimented enough with speakers and EQ settings. The Vibro-King also has an unusual control panel, with a dedicated reverb section, with dwell, mix, and tone dials, and the usual tremolo depth and intensity, plus volume, treble, bass, and mid knobs, and a slider for that fat boost.
If the amp is set in its sweet spot, the footswitchable fat boost will allow you to flip between a clean tone for rhythm or a cranked-up lead tone for solos.
I've kept the light Eminence alnico speakers in my own 1994 Vibro-King. I love the loose low end and strong upper mids. I've found some of the best modern Jimmie Vaughan tones with my amp, but it can also easily do Keith Richards. The quick, snappy response and touch sensitivity allows trebly nuances from your fingertips, strings, and fretboard. If you're into more generic tones or the familiar black-panel Fender sound, Jensen P10Rs or C10Qs will do that for you, too.
Some advice to those who are not into reverb or tremolo: Steer away from this amp! As mentioned, five out of nine faceplate controls are dedicated to reverb and tremolo. If you're into that, the Vibro-King is a delight. The reverb section has the same controls as the classic vintage Fender standalone reverb unit and offers a huge selection of tones. However, the EL84 Vibro-King is known for occasional issues with the reverb circuit, causing overwhelming waves of reverb and burnt tubes. But you can get lucky. I had an EL84 reverb tube in mine for over 15 years.
If the amp is set in its sweet spot, the footswitchable fat boost will allow you to flip between a clean tone for rhythm or a cranked-up lead tone for solos. For some players, this eliminates the need for a boost pedal. It's also worth noting that the tone controls are quite sensitive and differently biased than black-panel and silver-panel Fenders. Expect to spend some time finding good settings.
Here are two tone strategies to try:
Low volume and high/maximum EQ settings with the fat boost on, which creates a tweed/blonde tone with little clean headroom and lots of preamp gain at low volumes.
High volume and low EQ settings with the fat boost off, to craft a clean, scooped, black-panel tone, with little or no preamp gain and lots of headroom.
If you haven't played a Vibro-King, you're missing an exciting experience. It's not the amp for everyone, but for some it's the Fender amp they've always looked for. Skeptical? Watch the YouTube clip below of Gary Clark Jr. onstage with the Rolling Stones and John Mayer. As difficult as it can be to cut through when four guitarists are playing together, Clark tears it up with a humbucker-loaded ES-335 through a Vibro-King. Until the next time, may the tone be with you.

The Rolling Stones, Gary Clark Jr. & John Mayer_Going Down Live
One watt sounds monstrous in this '50s-meets-modern mighty mite.
Solid class A tone at an affordable price. Responsive and fun to crank. Simple design. Line level signal from the line-out jack adds useful functionality.
Probably too quiet for a gig-able clean tone.
4.5
4.5
5
4.5
Since its 2014 revival, Supro has given fans of small, low-wattage combos plenty to talk about. This should come as no surprise. Tiny but ferocious amplifiers with the Supro logo have been on the scene since the early days of the electric guitar and landed on some of the most classic guitar records of all time. And the company's recent offerings have captured the sonic essence of those vintage models with a line of well-built, modern amps that look just as cool as they sound.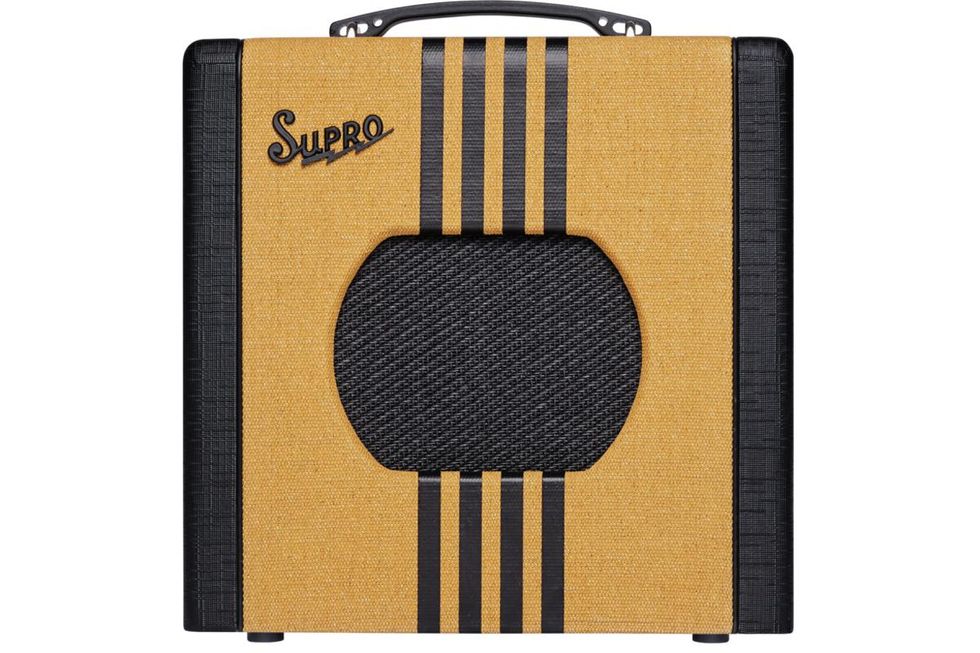 Thus far, the current Supro team have drawn inspiration primarily from their 1960s models. But the new Delta King series digs in a little deeper, delivering the sound and aesthetics of their 1950s combos—stripes and all. The Delta King 8 is the tiniest of the bunch, offering just 1 watt of all-tube class A power via a single 12AX7 preamp tube and a single 12AU7 power tube. While it may be small, this amp lives up to the sonic legacy of its vintage predecessors and projects a surprisingly fearsome roar.
Recorded using a Creston Jazzmaster with Lollar JM pickups and a Shure SM57 going into an SSL 2+ with no EQ, compression, or effects.
Clip 1: Controls at noon, miked.
Clip 2: Controls at noon, direct line out signal.
Clip 3: Full volume, tone control at noon, full master volume, miked.
Clip 4: Full volume, tone control at noon, full master volume, direct line out signal.
Clip 5: Full volume, tone control at noon, master volume muted, line out plugged into a 1971 Fender Deluxe Reverb, miked.
Robust, Balanced, and Nasty
Playing the Delta King 8 is immediately satisfying. Using Telecaster- and Jazzmaster–style guitars, I set all three knobs—volume, tone, and master—to noon and got a clean, smooth, midrange-focused tone. This is, however, just about all of the clean volume that this amp has to offer. Turning the volume knob above noon gently eases the combo into an overdriven sound that, at full volume, is gnarly and cutting but retains warmth and clarity. The boost switch bumps the volume and adds a little more gain. Naturally, I had the most fun with everything cranked and the boost on. But while it's impressively loud for 1 watt, the Delta King 8 will be most useful for recording, practicing, or for extremely quiet gigs.
Turning the volume knob above noon gently eases the amp into an overdriven tone that, at full volume, is gnarly and cutting but retains warmth and clarity.
The 8" Supro DK8 speaker sounds robust and balanced, and easily handled the overdriven tones without sounding trashy. I've probably spent too much of my life wondering about speaker swaps for other small combos, but I'd be quite satisfied with this stock speaker.
A Cure for the Backline Blues
The line-out jack on the back of the Delta King 8 provides a line-level signal that is perfect for direct recording. This feature was thoughtfully positioned before the master volume control (an unusual feature on an amp this small), which means you can get warm tube preamp tone straight into your audio interface and opt to have the speaker muted when you turn the master volume down to zero.
That isn't the only trick up the Delta King 8's sleeve. To unlock its hidden superpower, go ahead and plug the same line-out straight into another amp. In this setup, the Delta King 8 essentially becomes a tube-driven overdrive unit. Chronic sufferers of the backline blues will celebrate the fact that this little Supro can lend its low-watt, class A tone to bigger, flatter-sounding stage amps. I was blown away by the snarling sounds it generated with my Deluxe Reverb at very reasonable volumes. And by keeping the master volume up on the Supro, you can also create cool A/B blends if you mic up both amps. If you're used to playing house gear but can figure out a way to schlep an extra 15 pounds, this tiny amp could be a game-changing addition to your gigging rig.
The Verdict
The Delta King 8 delivers much of the vintage Supro experience in a hip, well-built package. It's fun, sounds good in clean settings, and great in more overdriven ones. At $449, it's a great deal for those reasons alone. But the convenience and versatility that comes with the addition of the pre-master line out opens up possibilities in the studio and offers solutions to backline woes that make the price even more appealing.