We've got the scoop from Goodsell, Soultone, Blackstar, Egnater, Red Iron and Bogner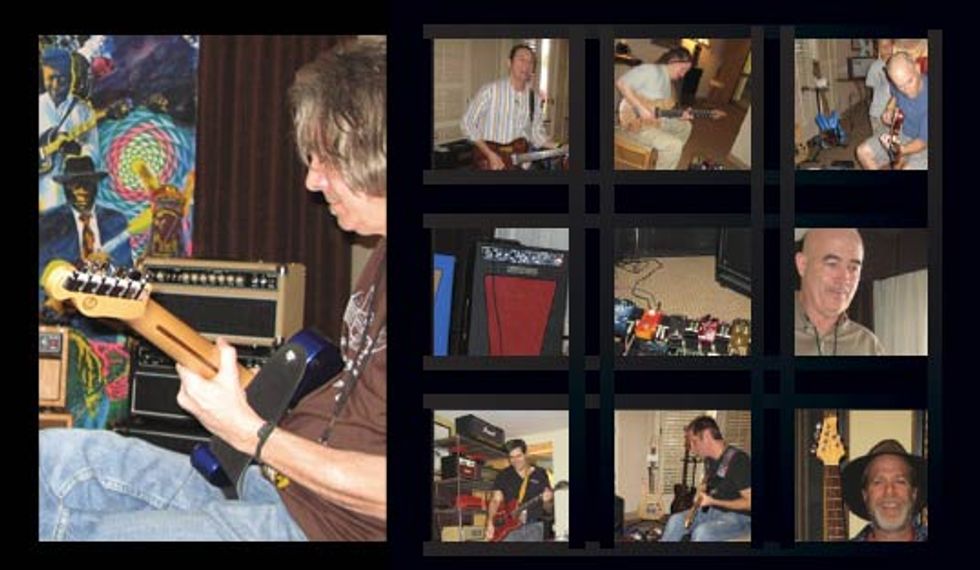 Not to disrespect any guitar or amp shows involving big, open convention halls that sound like twenty Guitar Centers on a Saturday afternoon—we're big fans of going anywhere gear is gathered—but there's something to be said about Loni Specter's L.A./N.Y. Amp Show formula. Instead of booths, each vendor has a hotel suite. You walk from room to room and fire up any piece of gear you want, as loud as you want, all while spending some quality time with the manufacturers themselves. Imagine rolling into the Fuchs room with your guitar, plugging into the new ODS-HRM and having Andy Fuchs himself show you how the amp's unique post-overdrive tone stack works.
---
Click here for a listing of all of our 40+ video demos from the Amp Show.
This year's L.A. Amp Show involved about 50 manufacturers—most of them were amp manufacturers, but some guitar, effects and accessories companies were there, too. Held at the Airtel Plaza Hotel in Van Nuys, California over the weekend of October 4th and 5th, the fourth year of this event involved the usual sights. There was an interesting mix of celebs like Warren DiMartini, Steve Trovato, Zakk Wylde and Tommy Smothers—who managed to beat Zakk at arm wrestling in the hotel bar; live performances by Carl Verheyen, Raj Phanse, Marc Ford, and the Travis Larsen Band; a "Tone Wizards" panel session; and of course, lots and lots of gear. New this year was a "Vintage Amp Exchange," where owners of pre-1970 amps were welcome to bring their stuff to sell, trade or simply show off.
As for the actual show of newer gear, there was no shortage of buzz-worthy stuff. With so many big name manufacturers, boutique operations and startups bringing their "A" game (knowing that NAMM is around the corner), we needed both days to check everything out—and we still ended up missing a few rooms. Here's a sampling of what our staffers and contributors on the scene in L.A. got excited about: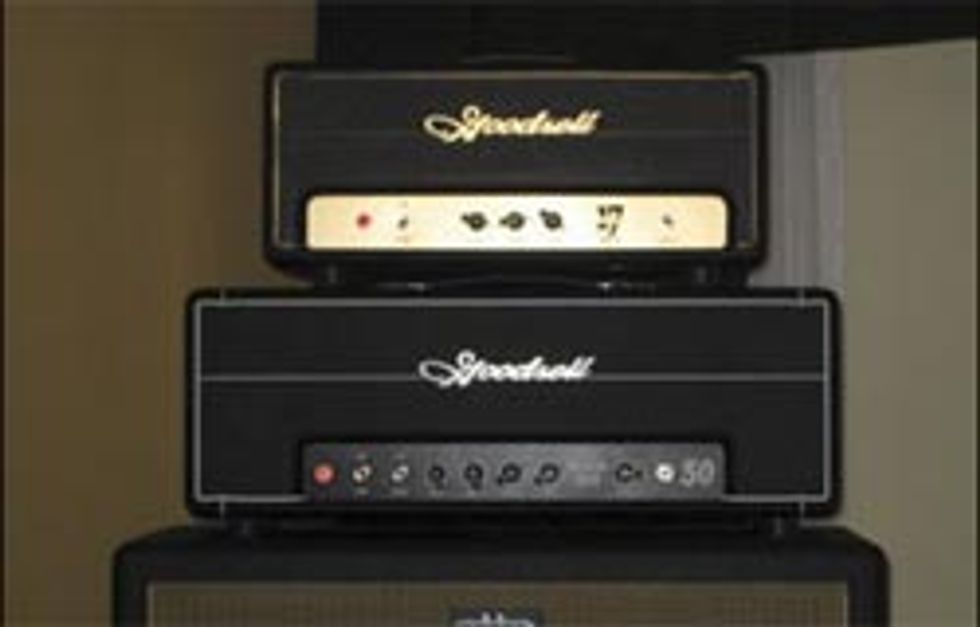 Goodsell Amplifiers
The words luscious and sweet come to mind when you talk about what Goodsell is known for; their amps sound amazing, too. The Atlanta company's reputation for versatile, pro-level tone is best exemplified by their line of Super 17 amps, but Richard Goodsell is now making a high-gain growler called the Black Dog. This 50-watt, EL84- equipped, face-melting head is loud as hell, with thick overdrive and Goodsell's famed touch sensitivity. Look for the street price to come in under $2000 when these puppies make it to retailers.
Video Demo
superseventeen.com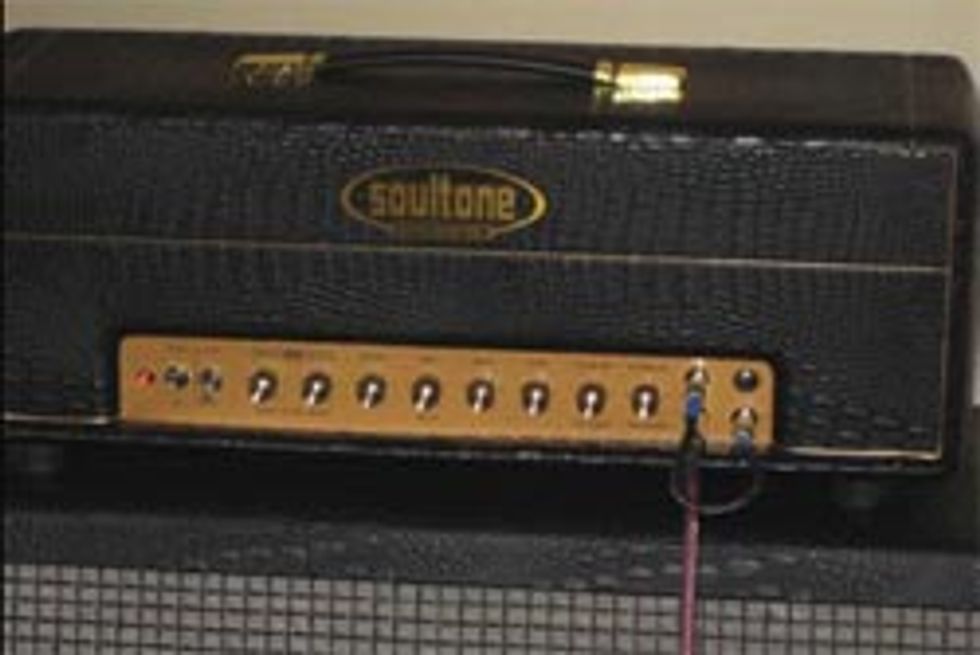 Soultone Amplification
When we walked into the Soultone room, we were greeted with righteous JTM45-ish sounds by a player who was readily channeling Hendrix. Yes, the chops were there but the Soultone head had a lot to do with it, too. There was some serious, unadulterated plexi action going on in the room.

With a wide range of looks, from vintage to classy gator-skin luggage, Soultone's amps had a commanding visual presence as well. The company offers what it calls a Heavy Duty line and a Pro line, in addition to kits for DIYers.
soultoneamps.com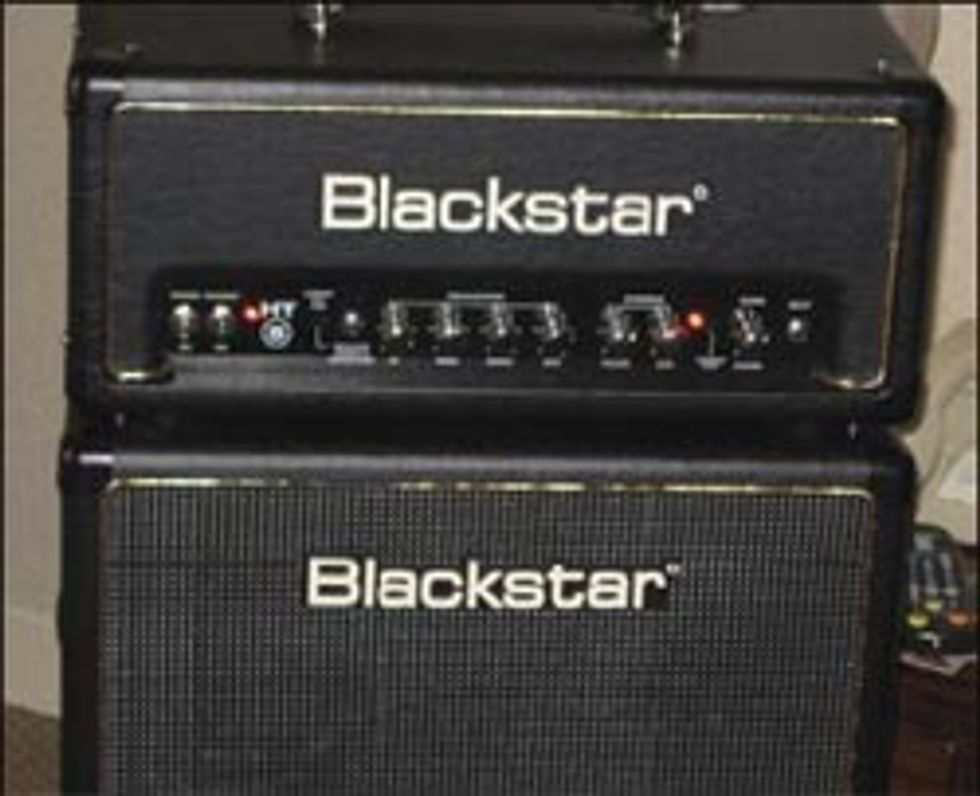 Blackstar Amplification
"That's only 5 watts?" was a commonly heard response from guitarists after playing Blackstar's HT-5, the British company's new mini-stack consisting of a 12BH7 dual-triode valve head with two Celestion-loaded 1x10 cabs. While it will definitely find a spot in studios and practice rooms for its ability to breakup without shattering eardrums, it just so happens that this little rig can do a bit of blasting, too. The head's preamp borrows from the company's HT pedal circuitry, offers speaker emulated output and a convincing voicing switch for 1x12 or 4x10 characteristics. Suffice it to say that AC/DC licks were in abundance as people demo'ed the HT-5. Due for release in mid-November, the company is also planning a combo version with a single 10" speaker. British music stores are pricing the mini-stack and the combo at around £400 and £300, respectively.
Video Demo
blackstaramps.co.uk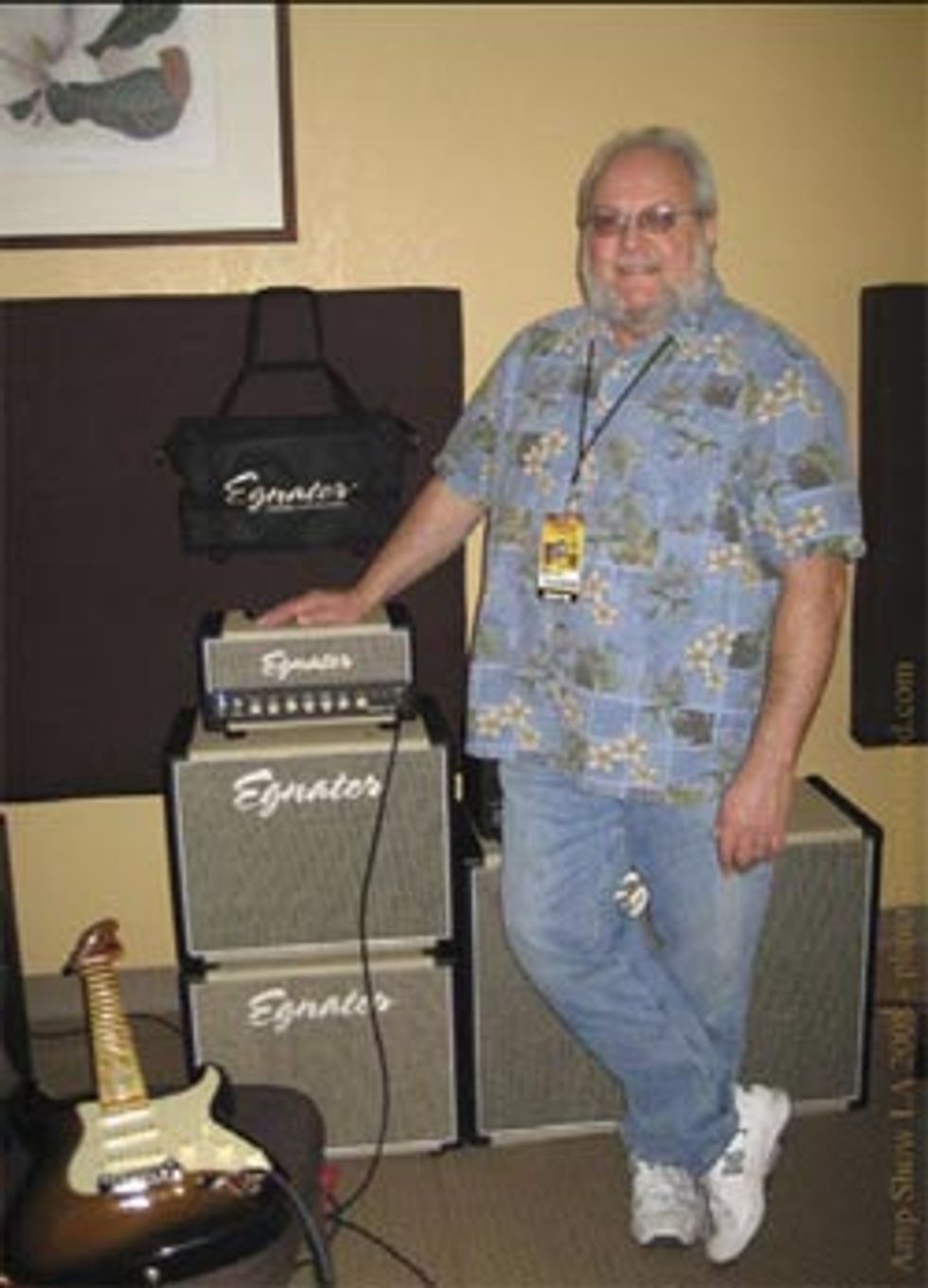 Egnater
Mini-stacks are indeed in right now, and nothing proved this more than Bruce Egnater's Rebel 20 head. Although we first ran into it at the N.Y. Amp Show back in May, this was the first time we've heard the final version. This 20 watter has undergone some changes since its initial release in January of this year, and is now ready for prime time with variable wattage and the company's unique tube mix feature. It comes equipped with three 12AX7s and both EL84 and 6V6 power tubes, which can be blended with a dial instead of simply being switched from one set to the other. Rebel cabs are equipped with a custom-voiced Celestion Elite 80 12" speaker that provides plenty of heft in a half stack configuration— but you might as well get a full stack to hear this rig in its element. The Rebel has plenty of pop but allows you to match your guitar's pickups and your own taste like no other amp can—pick your own wattage (1 to 20 watts) and blend of tubes, not to mention your own 3-band EQ and tight/bright settings. See our first-on-the-block review for more information. Guitar Center is selling the head for $600 and the cabs for $250

Also of note was Bruce's new Renegade 50 amp, which made its debut at the show. It features a 50-watt, 2 channel setup with blendable 6L6s/EL34s, separate EQs and all the Egnater touches you should be used to by now. Look for this amp to make a big splash at NAMM early next year.
Video Demo
egnater.com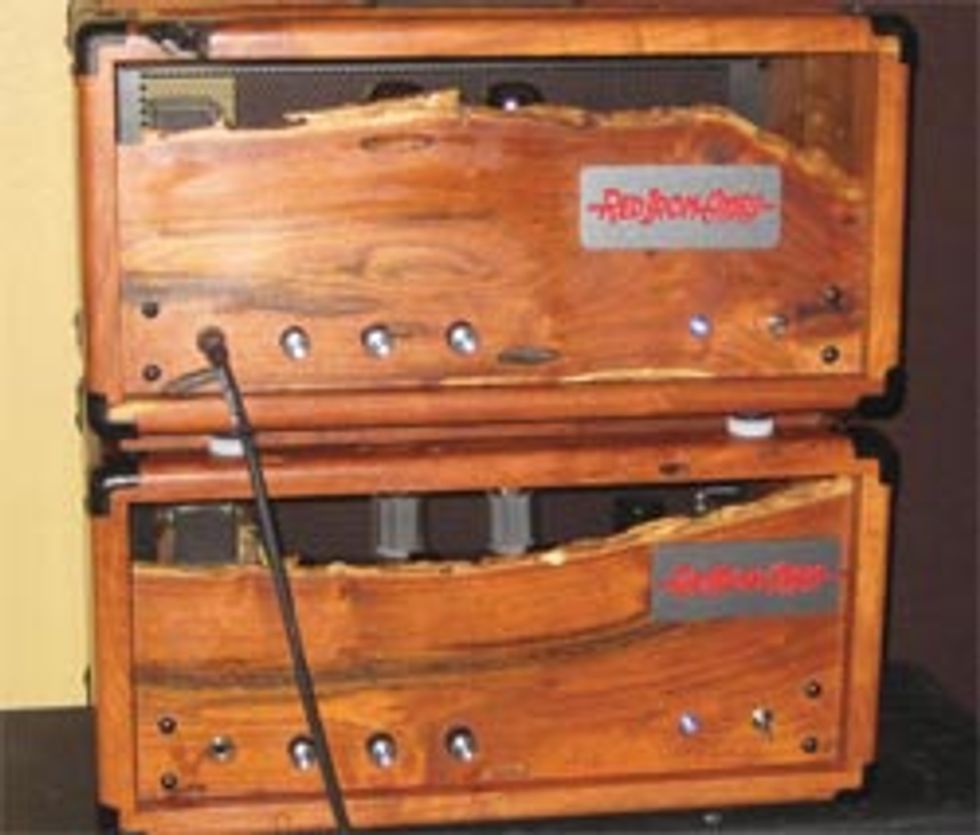 Red Iron Amps
Red Iron Amps have one of the coolest, freshest looks we've seen in a long time. Made from mesquite, a squatty little tree commonly found in Texas and mostly known for its ability to smoke ribs, you'd think they had sent a guy out into the middle of nowhere to bring back the oldest, most distressed chunks of wood they could find. The wood has a burnt orange look to it and features natural knots, rips and crevices that truly make each amp unique. Red Iron Amp maker Paul Sanchez joked with players that you can even see worm trails in the wood and that the worms were specifically chosen for their ability to enhance tone.

With that kind of a setup, you know that the amp is destined for burnin' in one way or another, and we're happy to report that people did so with their axes and not their matches. These amps are unlike anything you've heard before—the highs were fat, the upper-mids had girth and the lows had a crisp richness to them. We found ourselves looking at each other in disbelief as each demo punched us square in the chest. Burnin', indeed.
Video Demo
redironamps.com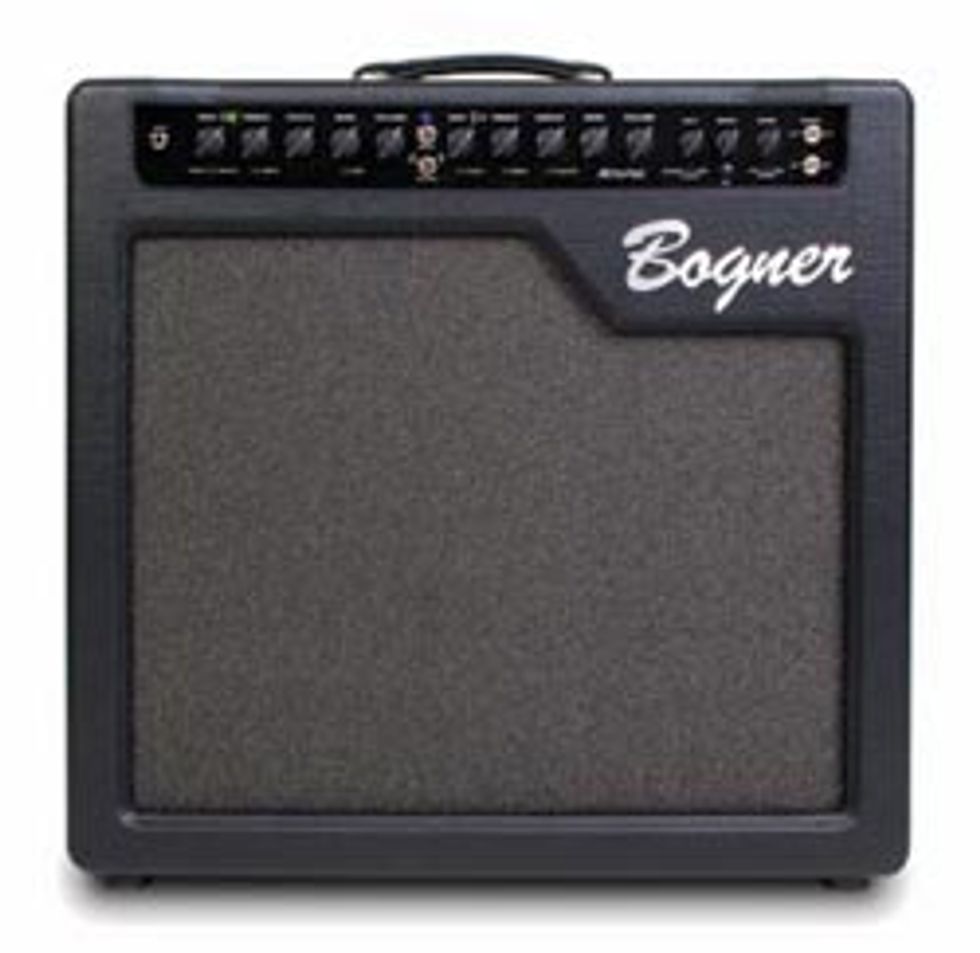 Bogner Amplification
The Bogner room stayed pretty busy as people stood in line to fire up the Alchemist amp. The huge sounding amp is an affordable import that Reinhold Bogner tricked out with built-in reverb and delay. Other notable happenings in the mood-lit room include demos of Reinhold's amps made in North Hollywood, which are now being referred to as his Custom Shop line. We found ourselves geeking out over some new tweaks to the Duende. The Duende Sequese Mojado takes a 1x12 combo, and makes it a 1x12/2x8. In addition to the 12" speaker it has two 8"s pointing out of the left and right sides of the amp. They can be adjusted to handle different parts of the signal, like the echo-only part of reverb, and the effect is amazing. The amp can fill a room with three-dimensional sound that's out of this world. We looked at an 18-watt unit that had a second power amp for driving the built-in 'verb or an external effect. The rest of the amp was traditional Duende: 6V6 tubes, two channels that can be used separately or blended and built-in trem/reverb.