Bluegrass Authenticity: Gallagher Guitars
An inside look at Gallagher Guitar''s Guitar Shop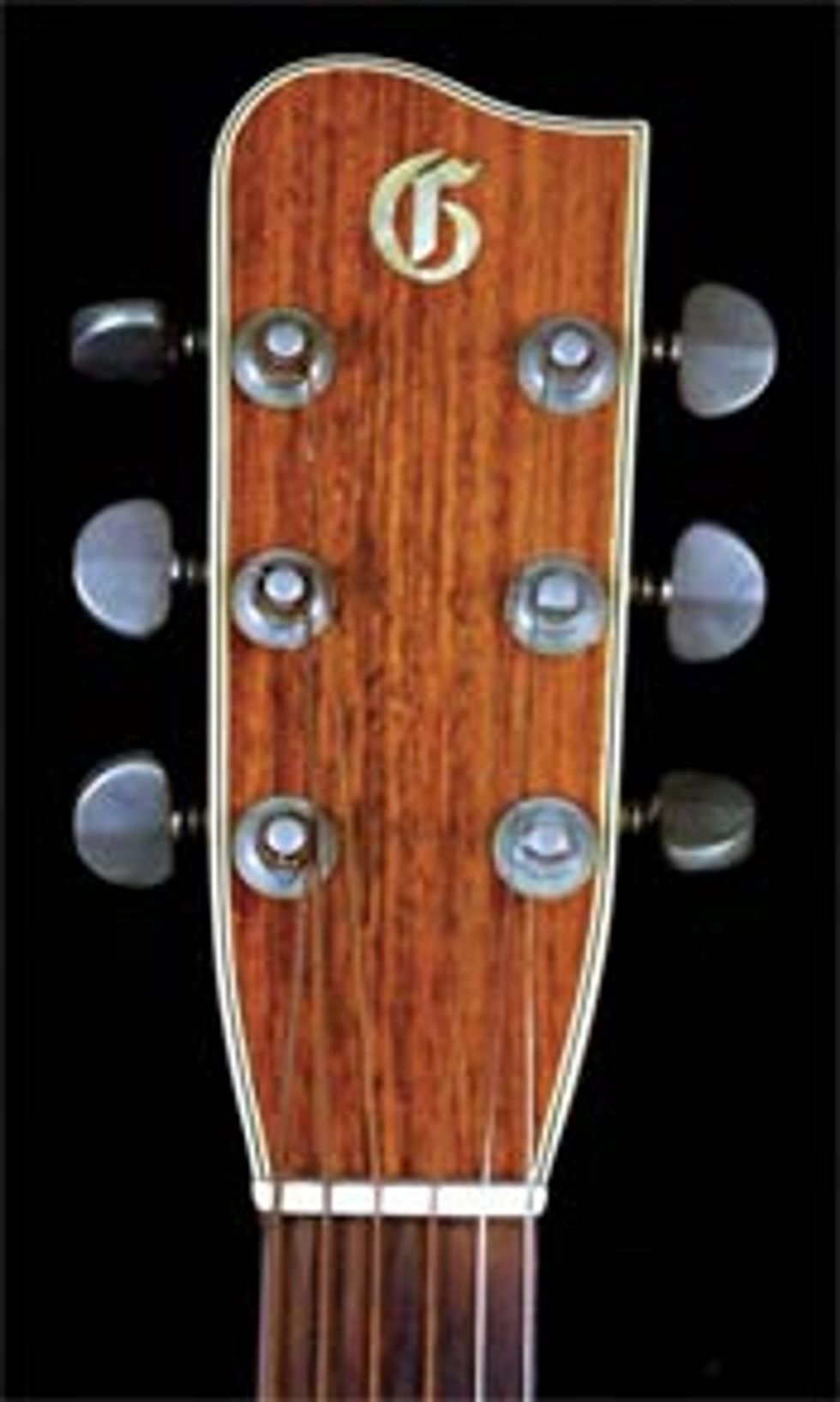 Cities and regions are often unavoidably linked to styles of music. When you think of New Orleans, you think of jazz and zydeco. When you think of New York City, you think of bebop and jazz. When you think of Memphis, you think of blues and R&B. And of course, when you think of Nashville, you think of country. But what happens when someone mentions Southern Middle Tennessee? Anything come to mind?
It could be argued that Southern Middle Tennessee is the porch pickin' jam capital of the world. In a beautiful region full of rolling hills, plateaus and lakes, there lies a thriving community of acoustic musicians who enjoy playing bluegrass and Americana music. In towns and communities like Lynchburg, Bell Buckle, Flat Creek, Wartrace and Shelbyville, you'll find a number of porch pickins' and jams held in grocery stores, churches, parks and often times, on front porches of homes out in the country. These towns have built a sense of community and tradition into their music that in turn has created a vibrant scene bubbling over with talent. This region has raised national flatpicking champions, fiddle champions, fingerpicking champions and bluegrass champions. In fact, the youngest person ever to win the national flatpicking championship in Kansas (Cody Kilby) is from Southern Middle Tennessee. So is the IBMA's two-time best guitarist award winner, Kenny Smith.
Right smack dab in the middle of all this intensely musical, yet bucolic southern culture is a friendly little guitar builder's shop in a town called Wartrace. The shop itself is unassumingly nestled in a small row of businesses. No gaudy guitar-shaped sign out front, just "Gallagher Guitars" in worn lettering on a sign out front. I had the opportunity to tour the shop, and learned about the legacy of Gallagher Guitars.
The Shop
When I stepped into the Gallagher guitar shop foyer, a big, sweet, tail-wagging yellow dog named Honey Bear greeted me, and to the right sat a stately older woman named Hazel who kindly said hello with a smile and asked, "Can I help you?"
I got the sense that this woman has seen it all, and then some. She seemed like the glue that keeps the whole thing together. Indeed, Hazel has helped take care of the business since her husband, J. W. Gallagher, opened the shop in the sixties. Today, Hazel and J.W.'s son, Don Gallagher, owns and runs the business, but I toured the shop with Don's youngest son, Stephen.
After a firm handshake and some chitchat, Stephen took me on an insider's tour that would make any acoustic aficionado drool. The shop was filled with perfectly aged woods of all types from all over the world. There were endless slabs of highly figured, 50-year-old rosewood and hand-tuned tops with customer specific bracing. There was an inlay station that had several works in progress, some for special orders and some for standard models. And scattered all over the shop were guitars in various stages of the build process. All in all, the shop looked like what you would expect to see in a successful, high-end, acoustic guitar builder boutique.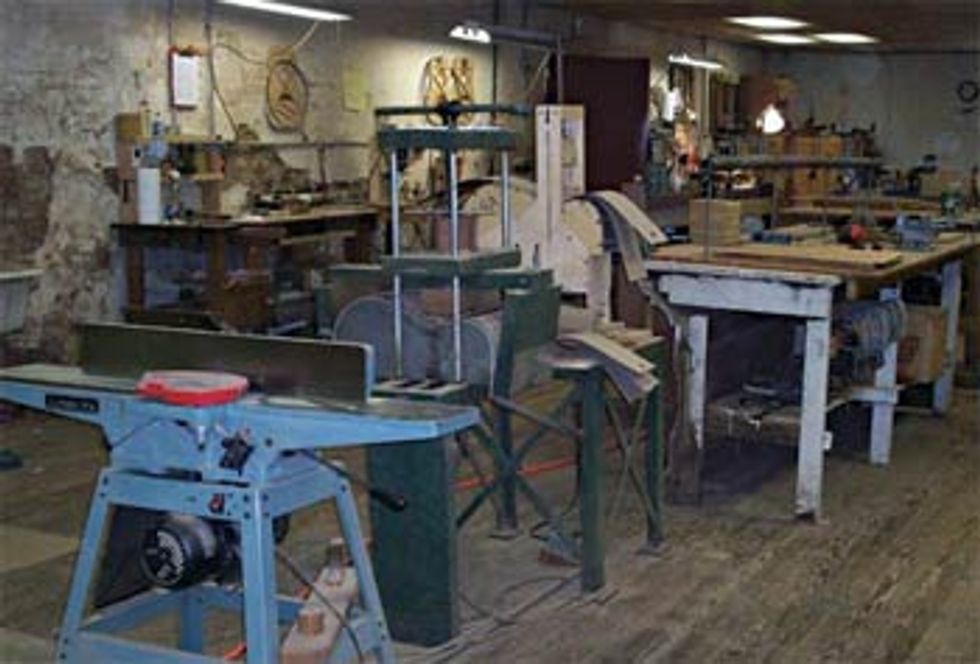 But a closer look revealed some things not found in other shops. The main difference was in the vibe; the shop felt distinctively vintage. Not fake, Cracker Barrel-vintage, but real back-in-the-day vintage. There was not a fancy CNC machine or computer screen in sight. Most of the machines looked unique and well worn. Many of the machines, forms and jigs were designed and built by J. W. himself.

Dogwood Custom GA's blossom inlay
"Back in Grandpa's day," said Stephen, "part of the luthier's art was in designing, fabricating, and building the machines used to make the guitars. Some have been retired, but we still use a lot of the stuff he designed and built today."
Everything about the place was totally unpretentious. During a break in the tour, craftsman Tom Fuss took me to a room filled with special orders and experimental guitars. It wasn't a fancy showroom, dressed up to accentuate how "down home" they are, but a dusty old room filled with guitars of all shapes, sizes, finishes and levels of completeness. No secrets here.
Tom put guitar after guitar in my hands, passionately expounding on how the various tonal properties were achieved by the different woods and bracing techniques. He wasn't trying to boast, or sell Gallagher to me—he was just a guy who loves building guitars and likes to get them in a player's hands. He watched my reaction and waited for the feedback. It actually appeared as though my comments were important to his work. In fact, each craftsman I met was in a good mood and jovial, but quite serious about what they were doing.
When I asked Tom how he liked working at Gallagher he said, "It's like family. I can't think of a better place to work. I love making Gallaghers."
"Aww, c'mon," I said with a grin. "You're towing the company line."
Tom said, "Look, I don't play a Gallagher because I can get one for cheap. It's because this stuff is the real deal. We're making great stuff."

This form and bracing sample, gluing jig and side bender were all hand-built by J.W., who built cabinets and models before turning to guitars.
History With An Eye to the Future
When my tour was finished, I got a chance to talk with Don. All serious bluegrassers know about Don Gallagher and Gallagher Guitars. Flatpicking legend Doc Watson has been playing a Gallagher since the seventies. Doc's first Gallagher, nicknamed "Ol' Hoss," hung in the Country Music Hall of Fame for decades. When I told him how impressed I was that many of the machines his dad designed and built that were used to make "Ol' Hoss" are still in use today, Don beamed.
"My dad was a mechanical wizard," he said.
I learned that long before J.W. started building guitars, he was a cabinetmaker, model builder for the aerospace industry, carpenter and auto restorer among other things. The first official Gallagher production model was made when J.W. turned 50—hence the model name G50.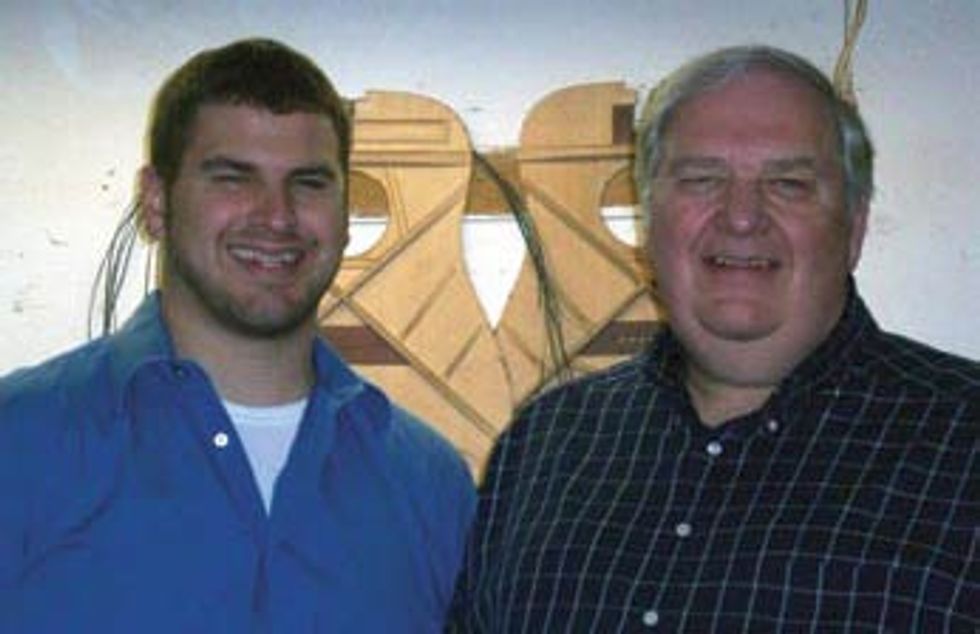 Stephen and Don keep it in the family
J.W. started making guitars in the late-fifties under contract with the Slingerland drum company. The manager of Slingerland's stick and head plant located in nearby Shelbyville, knew of J.W.'s woodworking expertise. A connection was made, a deal was done and the Shelby student guitar line was born.
While the line was successful, these inexpensive, beginner guitars ran counter to J.W.'s instincts as a craftsman. So in 1965, J.W. and his son Don opened up Gallagher Guitars in Wartrace.
"Our approach was from a woodworking perspective. We weren't musicians, so we really listened to the players' feedback," said Don. "Back then, we were working in a vacuum. There weren't a bunch of small shops back then like there are today. Musicians and luthiers all shared information. We had a wonderful relationship with Mike Longworth [longtime Martin Guitars craftsman and historian]."
But when push came to shove, it was the musicians who provided the Gallaghers with the information they needed to make a truly useful instrument.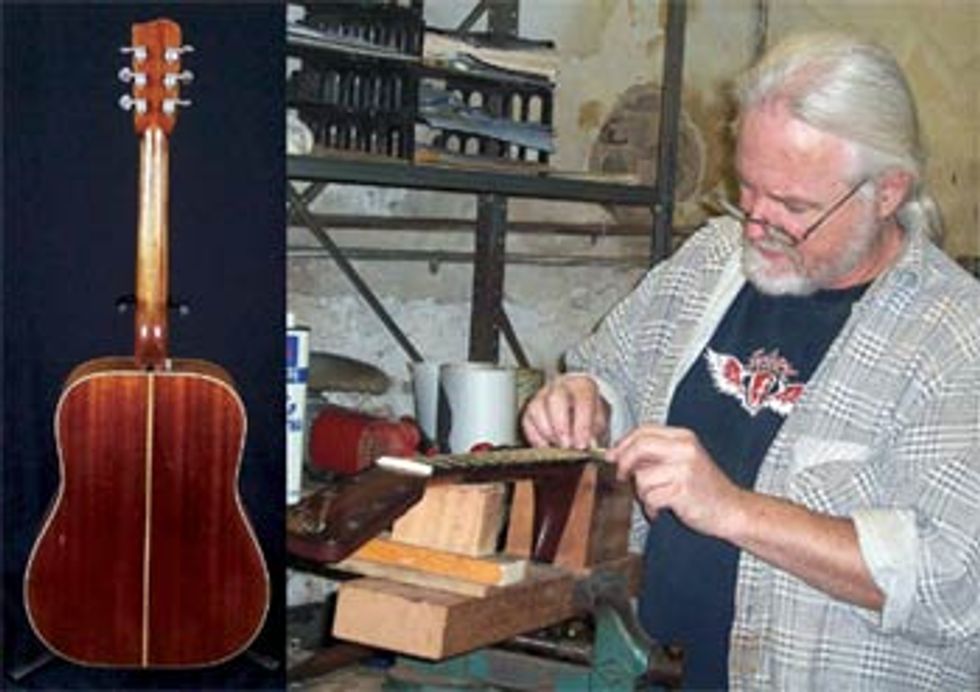 Craftsman Tom Fuss carefully works on a guitar's frets. He says that working for Gallagher is, "Like a family."
"Traditionally, acoustic guitars were used as a rhythm instrument. But in the sixties, guitarists were transposing fiddle tunes and playing more melodically, which necessitated a guitar that was more playable," said Don. "They also wanted a balanced sound so that the musician could put the emphasis where they wanted it; they wanted good character, projection and note distinction. Sam McGhee, Doc Watson and some of the local people were the early [players] who gave us focus and direction in trying to achieve a sound, and a basic playability."
The Gallaghers constantly use musician feedback to make refinements to every part of the process.
"Rather than buying a guitar, hacking it up, and copying it, we always build on what we have done in the past," said Don. "We are constantly trying to perfect what we do."
I noticed some things set Gallagher apart from other guitar building companies, one being the amazing way they document the history of each guitar.
"(My dad) started a ledger of every guitar we've sold since 1965—the year we went into business full-time," said Don. "The model number, the serial number, who bought the guitar, where they lived when they bought it, when it was purchased, when and why it comes back in for repair or modification… it all gets recorded. If we are made aware of an ownership change, we put that down too. Some guitars have an amazing history. It also helps us track our progress and see trends."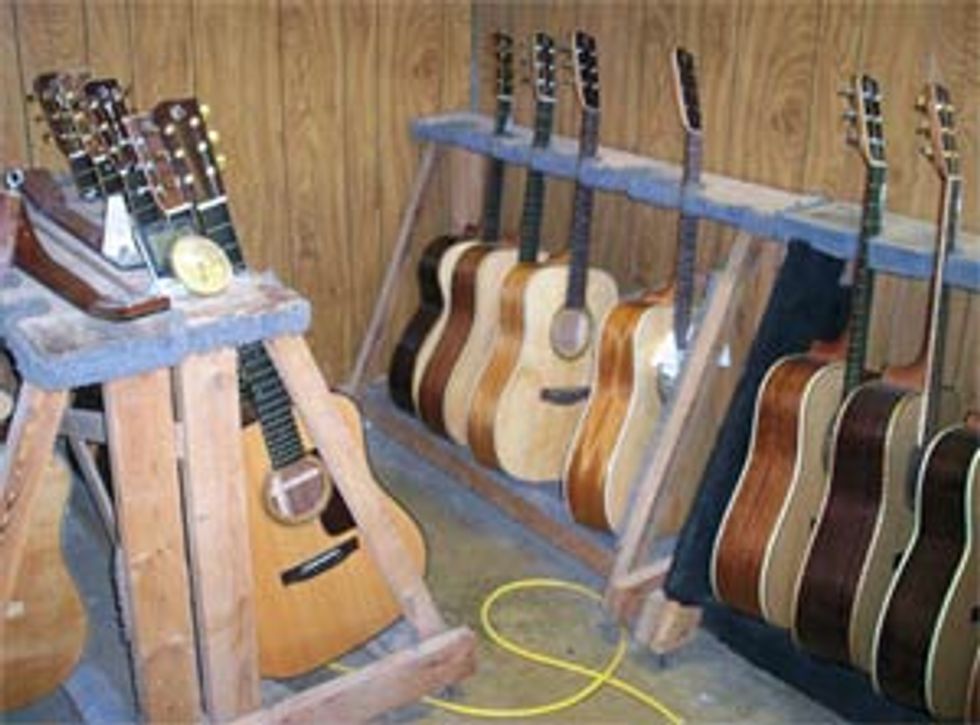 Like the rest of the Gallagher shop, the storeroom is neither flashy nor pretentious.
Throughout the tour and during my chat with Don, another difference became apparent. The phrase "heirloom guitar" was used often. It seems their focus is to build guitars that last from generation to generation. This runs against the grain of some of today's boutique builders.
In today's high-end acoustic business, there is a trend of building a guitar that sounds great off the line. Keep the break-in period as short as possible, or eliminate it completely. Ultra thin everything, and a resonance-at-all-costs focus, makes for a guitar that dominates on the sales floor. But the downside is that a guitar built this way needs consistent atmospheric stasis in order to survive decades, much less generations. It's also quite a contrast to the legendary early and mid-century Martins, Guilds and Gibsons that often took as much as a year of frequent playing to break in. These vintage guitars' blossom is legendary. This bit of history is not lost in the Gallagher process.
"We use what I call an eggshell effect," said Don. "A flat surface is not nearly as strong as a radius. Our radius makes (our guitars) structurally stronger. We don't thin our tops and backs down as much as some because we hope you will pass the guitar down from generation to generation. We are building guitars for folks who I helped build guitars for their grandfathers in the sixties!"
For example, in 1968, Gallagher delivered the last guitar built that year to Grand Ole Opry and Hee Haw star Grandpa Jones on Christmas Eve as a present from his wife. His great nephew Philip Steinmetz still plays and performs with that same little GC70!

The Future
Sitting in the middle of a serious porch pickin' culture, you'd better make a bluegrass guitar that has an eye to tradition. It is no secret in the acoustic community that Gallagher makes dreadnoughts that evolve into cannons, but they are much more than that these days. Gayla Drake Paul plays a GA70 grand auditorium that has caught on among fingerstylists. The GC short scale is a grand concert size instrument with a short scale (24.75) and a body that attaches at the 12th fret. I also noticed quite a few guitars floating around the shop that aren't in the Gallagher catalog.
When asked about the future, Stephen elaborated.
"I see us with the same production numbers, maybe a little more, but with a definite emphasis on the personal relationship with everybody who buys the guitars," said Stephen. "We're building more one-of-a-kind guitars for customers that fit their specific needs. In ten years, that will be a bigger part of what we do along with the standard models. We achieve success not by producing more guitars necessarily, but by continually striving to build a better guitar."
It has been said that excellence is the gradual result of constantly striving to get better. Most builders have dreams of giant factories with their name on the front that represents a powerful brand. But not the Gallaghers. From J.W. to Don and now to Stephen, it seems that their primary focus is to improve their craft, one guitar after another, with a foot in tradition and an eye for the future
---
Gallager Guitar Company