Need to mix it up? Here are 10 options that can go from twang to growl to … gristle.
One of the most effective—and least invasive—ways to mod a guitar is to swap out the pickups. Wanna experiment with a 'bucker in the bridge? Leave the router at home. We've rounded up 10 options that range from affordable and effective to boutique and beyond.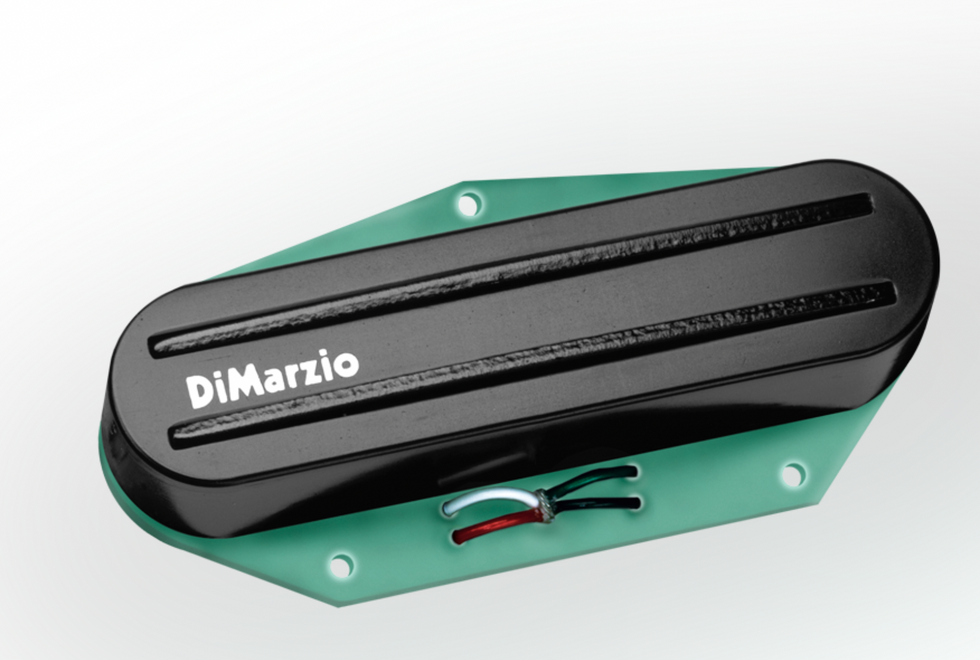 This single-coil-sized version of the company's legendary Super Distortion is aimed at T-style players who want the thick sound of a 'bucker in the bridge. It has a pronounced low-mid response with a roll-off on the high end.
$99 street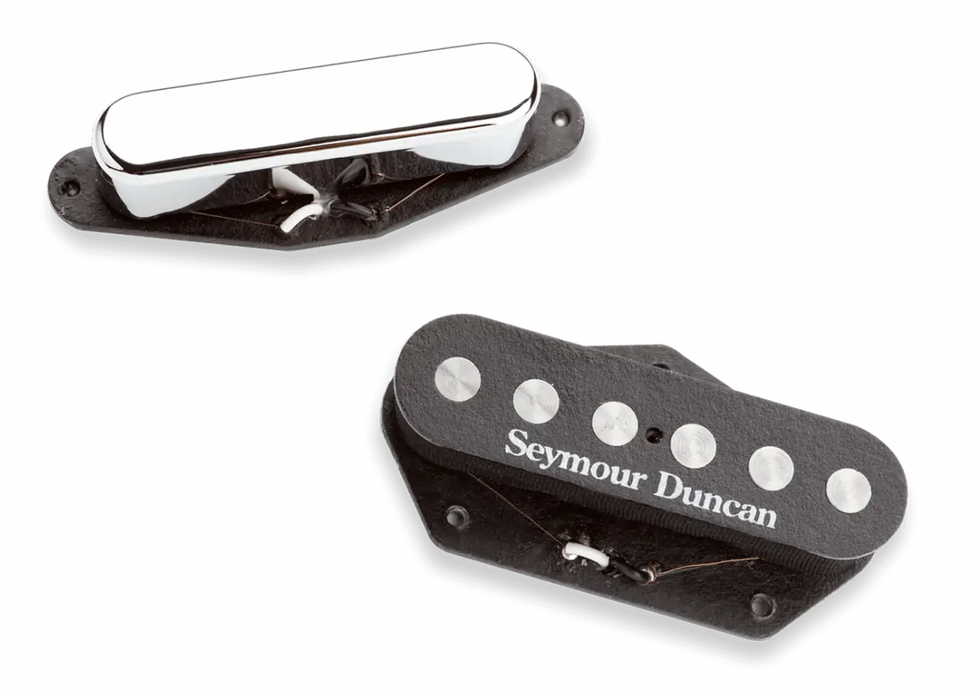 Centered around a set of alnico 5 magnets, this high-output single-coil crosses into P-90 territory. You can also get a tapped neck variation that allows for both vintage- and high-output sounds within a single set.
$89 street
Introduced in 2016, this T-style pickup features the guts of the company's T-Armond pickup, but with a little more juice. Like many of the pickups on this list, it's a straight drop-in replacement for standard-sized pickups.
$120 street
With less than 10 components in a single pickup, Mojotone made these designs very simple. They use their "Quiet Coil" technology to get rid of the hum without batteries or stacked coils. The pickups are also scatterwound for more sensitivity and clarity.
$98 street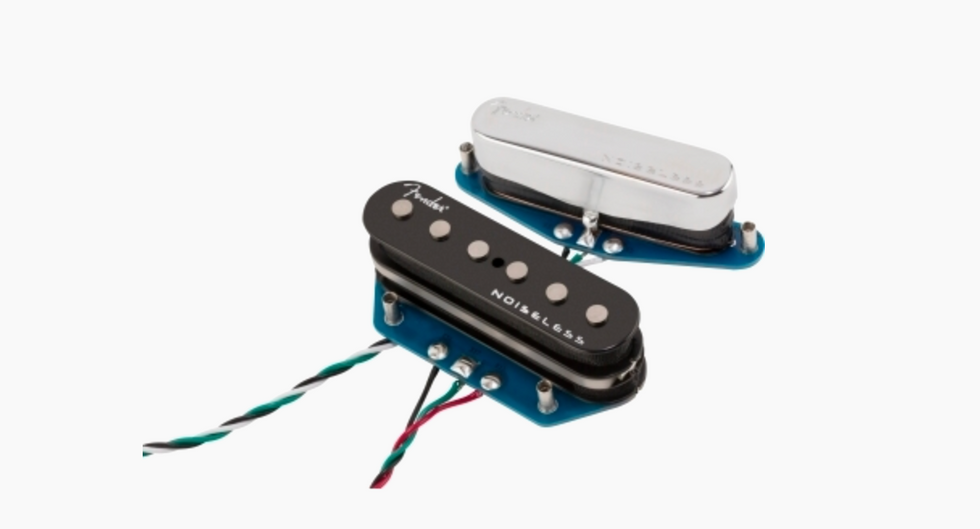 These stacked-coil setups aim to capture the classic sound and sparkle of vintage Tele pickups. They use alnico 5 magnets, Polysol-coated wire, and flat, non-beveled pole pieces. The neck pickup measure about 11k resistance and the bridge comes in around 10k.
$199/set street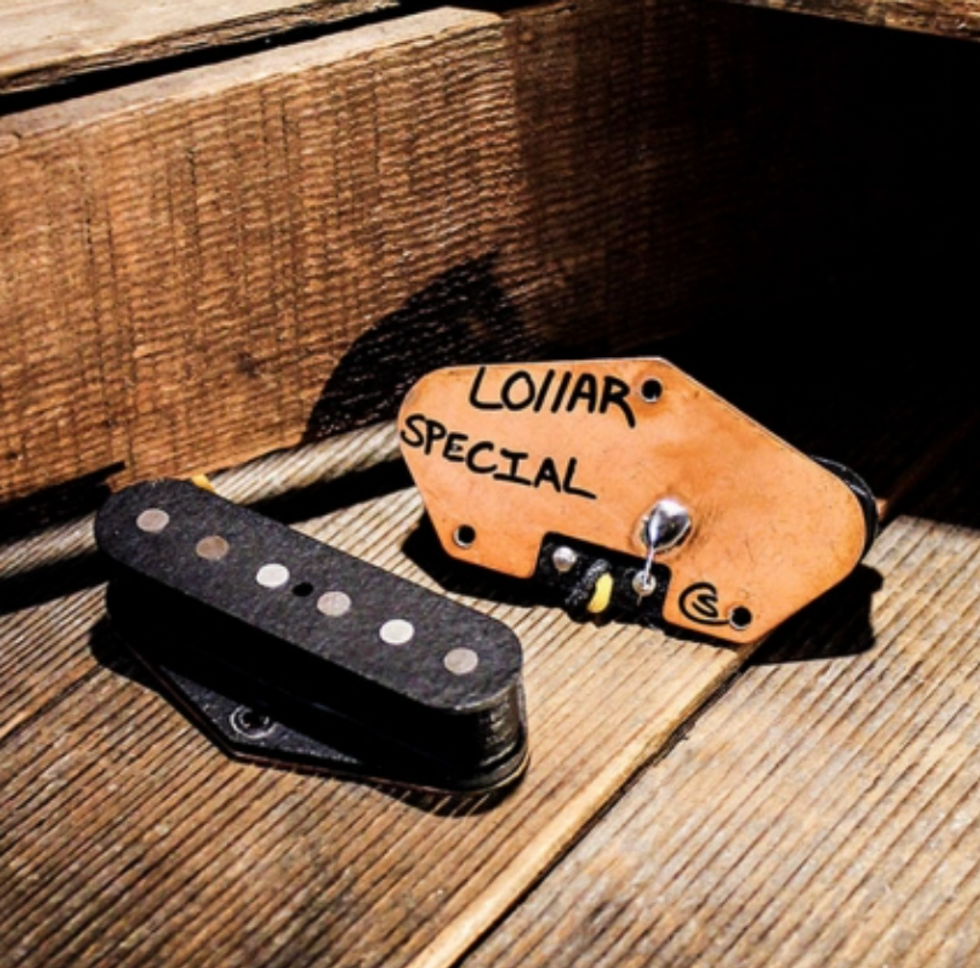 Jason Lollar is a bona fide pickup genius, and his take on the classic '50s Tele sound is represented here with a pronounced mid and bass response along with a smoother top end. Described as slightly hotter than a vintage Broadcaster pickup, the bridge comes in at 8.0k.
$125 street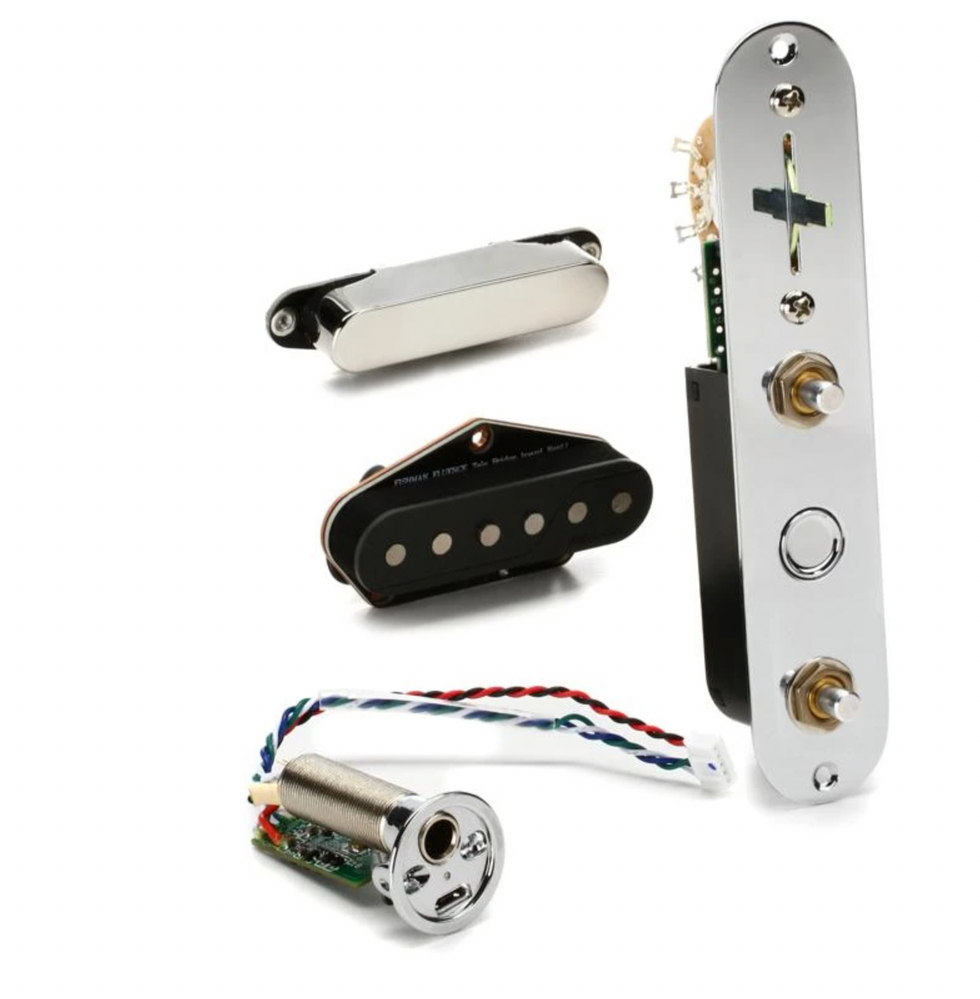 Wisconsin's most gristly guitarist teamed up with Fishman to create an entire T-style setup based on their Fluence technology. Each set includes both pickups, a control plate, and an output-jack cup with a USB charging input. With the push of a button, you can easily go between "blackguard" and "whiteguard" tones.
$359/set street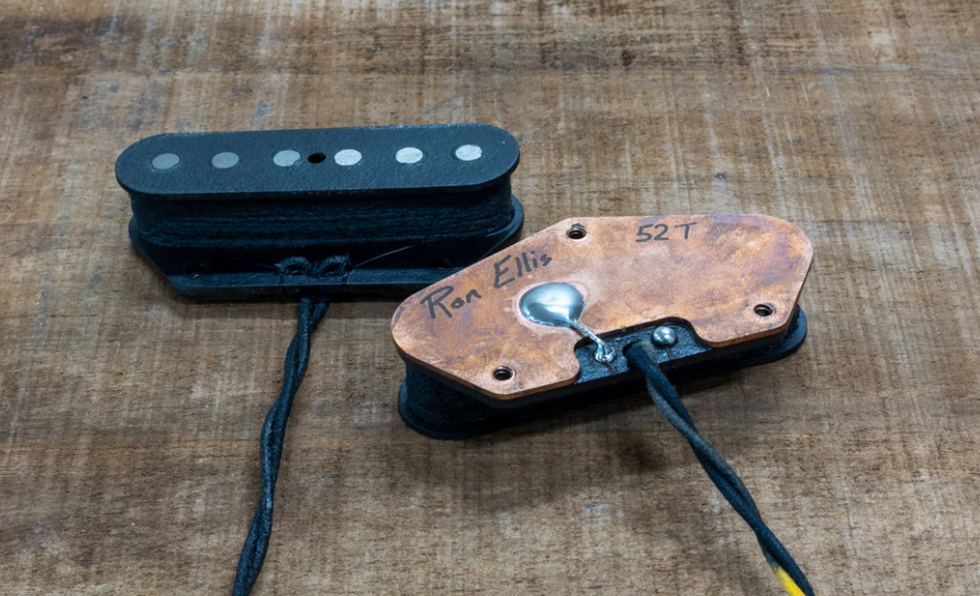 Ellis might be one of the most in-demand pickup designers around today—and the going rate for his offerings bear that out. This particular flavor goes after the "blackguard" tones of classic Tele pickers such as Vince Gill and Brent Mason.
$375 street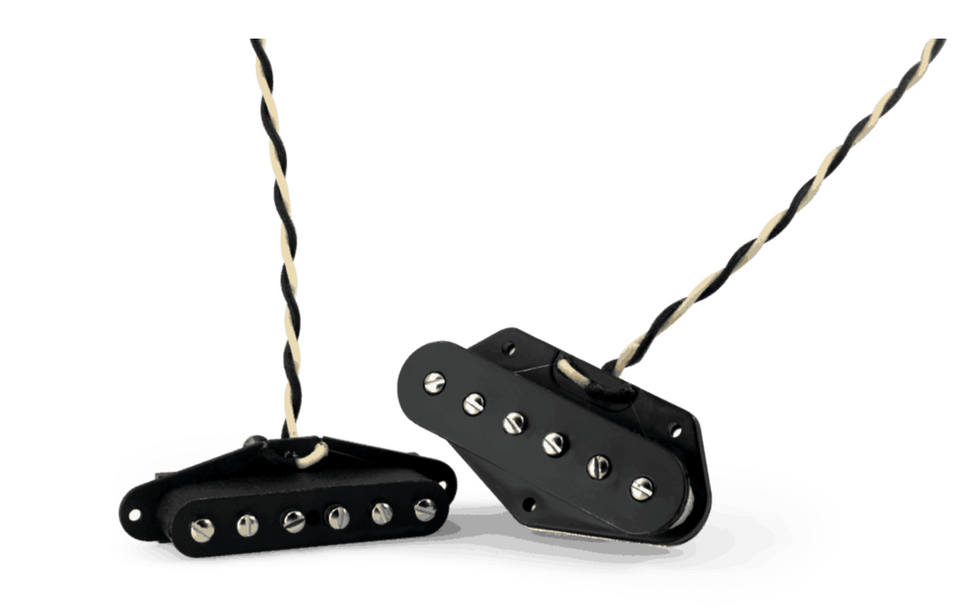 Described as a cross between a T-style pickup and a P-90, this design houses a ceramic magnet and adjustable steel pole pieces. Sonically, it has a mid-forward tone that offers a faster breakup when playing with distortion.
$115 street
Hate the hum? These active pickups aim to balance the punch and clarity of vintage Tele pickups with the modern convenience of quiet. It uses alnico magnets and a custom winding to increase bandwith and fullness of tone.
$89 street
The "aggressive progressive" guitarist chases "peanut-butter tone" with a pair of Vigiers, some fine-tuned drives, drifting delays, and ping-ponging pitch shifters.
Guitarist Nick Lee handles the instrument like a Porsche 911 hugs the road. The German sports car is as equally deft at carving through the Big Sur coastline as it is accelerating out of corners and showing its top-end, straightaway velocity. Similarly, in just two Moon Tooth albums (2016's Chromaparagon and 2019's Crux), Lee has flexed the same versatility. In a single song (much like the 911 rips through a lap of the Monaco Grand Prix), he'll nimbly navigate a clean, precise, fingerpicked melody reminiscent of Chet Atkins before dropping the hammer and flying down the fretboard like Pantera's Dimebag Darrell or Mastodon's Brent Hinds.
While the band thrives in light-and-dark juxtapositions, their true colors and ambitions reach for the disparate musical extremes.
"The phrase we've been using is 'aggressive progressive,' but that's really just because saying you're in a rock 'n' roll band doesn't quite get the point across these days," says Nick Lee when he spoke with PG in 2016. "We're not trying to be a prog band, really. We totally get that there's an element of prog in what we do, but to me we're just a rock band in the purest sense of that term—we just happen to push the envelope of what we can do musically and push each other to do crazier shit."
After wrapping guitars for the band's forthcoming album, guitarist Nick Lee virtually invited PG's Chris Kies into Moon Tooth drummer Ray Marte's Westfall Recording studio based in Farmingdale, New York.
In this episode, Lee (also in Riot) showcases a duo of dazzling Vigiers (plus a stalwart Les Paul Standard), details his "most important volume knob," tries to explain "peanut butter" tone, and demos core sounds that involve mid-focused drives, celestial repeats, and polyphonic pitch shifters.
[Brought to you by D'Addario Backline Gear Transport Pack: http://ddar.io/GigBackpack-RR]
Vigier G.V. Rock "Chromaparagon Swirl"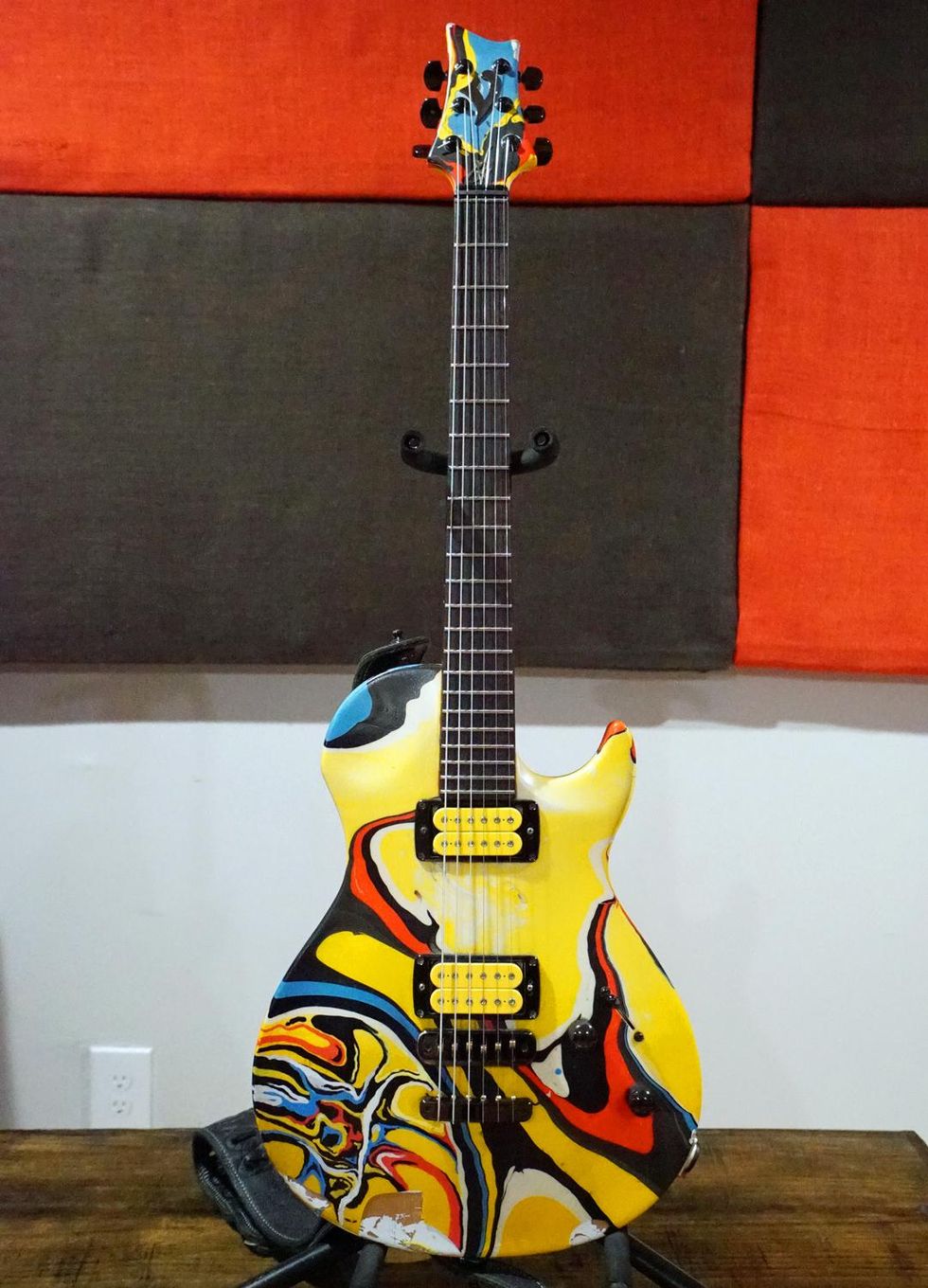 Lee grew up playing Les Pauls and has felt most at home with a two-humbucker setup. A few years ago, he borrowed one of his friend JD Scully's LP-style Vigier G.V. Rock models for nearly two years and couldn't put it down.
"Aside from playing great, it has everything I love about a Les Paul," says Lee. "But the biggest talking point is probably the bolt-on neck that features 90 percent maple and 10 percent carbon fiber that removes the need for a truss rod, and it doesn't move once I get the saddles properly intonated. I've taken it from a trailer in Austin in July to an air-conditioned club and it needs no attention. Same thing with international flights. The Vigier allows me to be pragmatic about touring life but also perform at a high level onstage."
The only change he's made to this G.V. Rock is swapping out the stock Amber humbuckers for DiMarzio Dominions. Lamb of God guitarist Mark Morton and producer Machine (aka Gene Freeman) both suggested he try Morton's signature humbuckers. Lee made the change and hasn't looked back.
Now about the colors. Moon Tooth's first album Chromaparagon featured a vibrant wolf design highlighted in blue, red, black, white, and yellow. To celebrate the release, Vigier worked up a G.V. Rock model with a striking "Chromaswirl" finish that was accomplished with a dip-and-twist technique.
Most of Moon Tooth's material starts tuned down a whole step and for that material Lee employs a custom set of Ernie Ball Slinkys (.011–.014–.020–.032–.044–.056). He wraps the strings around the bridge when putting them on to reduce breaks and so he can bend the note behind the bridge like you'd bend a note on a Tele above the nut.
Other tunings this guitar sees is drop C and open C (C–G–C–E–G–C) that was inspired by the Allman Brothers' "Little Martha" and can be heard on Moon Tooth songs "Igneous" and "Offered Blood."
Vigier G.V. Rock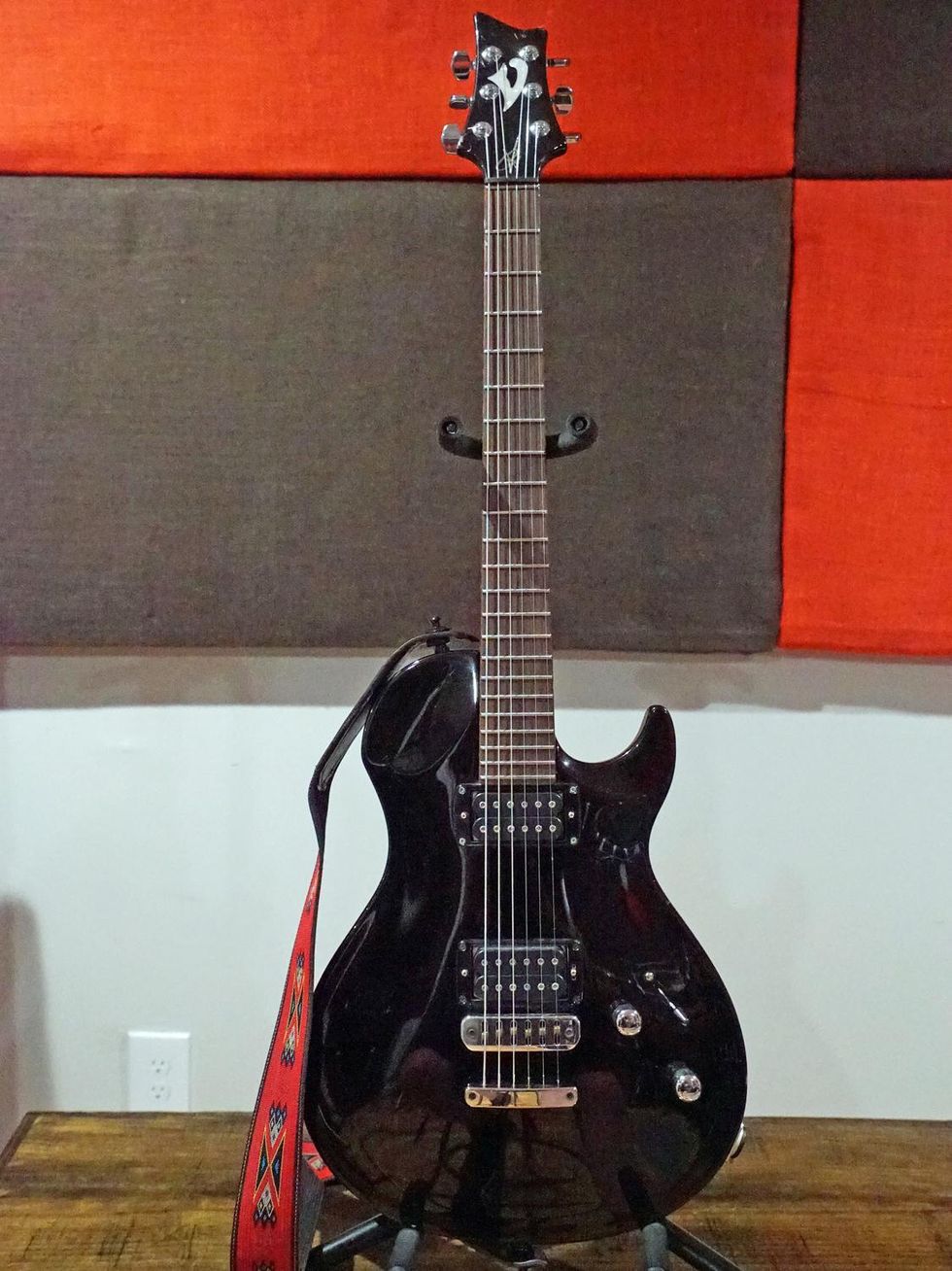 Here is the first Vigier G.V. Rock that Lee's friend DJ Scully loaned to him a few years ago. Clearly, Nick isn't letting it go anytime soon.
It's still stock aside from taking out the stock Amber humbuckers for the Mark Morton signature DiMarzio Dominions.
Vigier Excalibur Ultra Blues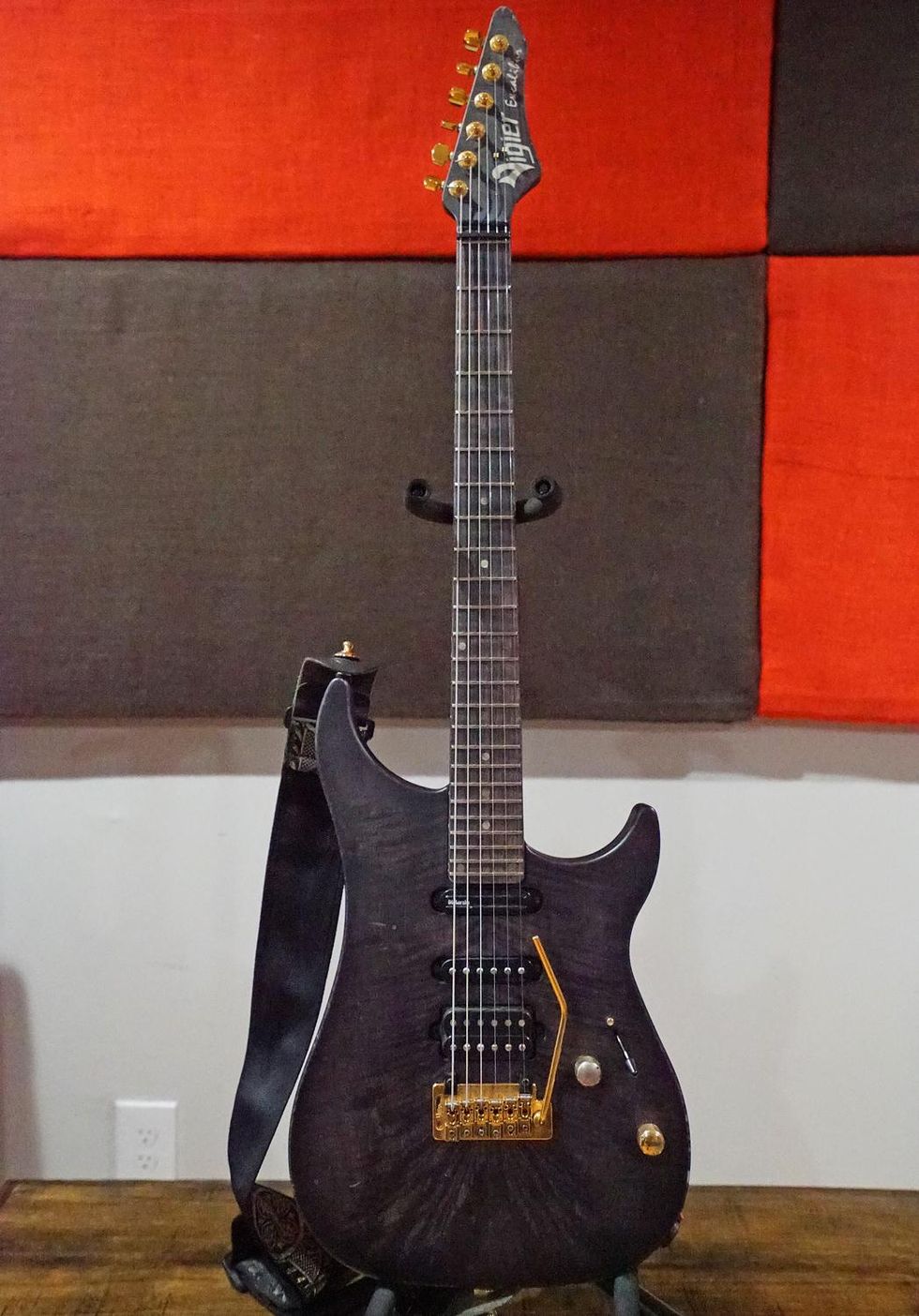 This is Lee's Vigier Excalibur Ultra Blues. It's his newest guitar and first-ever Strat-style instrument he's owned. It's loaded with DiMarzios—Virtual PAF humbucker, Area 58 (middle), and Chopper (neck). This guitar is for the heavier songs in lower tunings like drop A.
1990 Gibson Les Paul Standard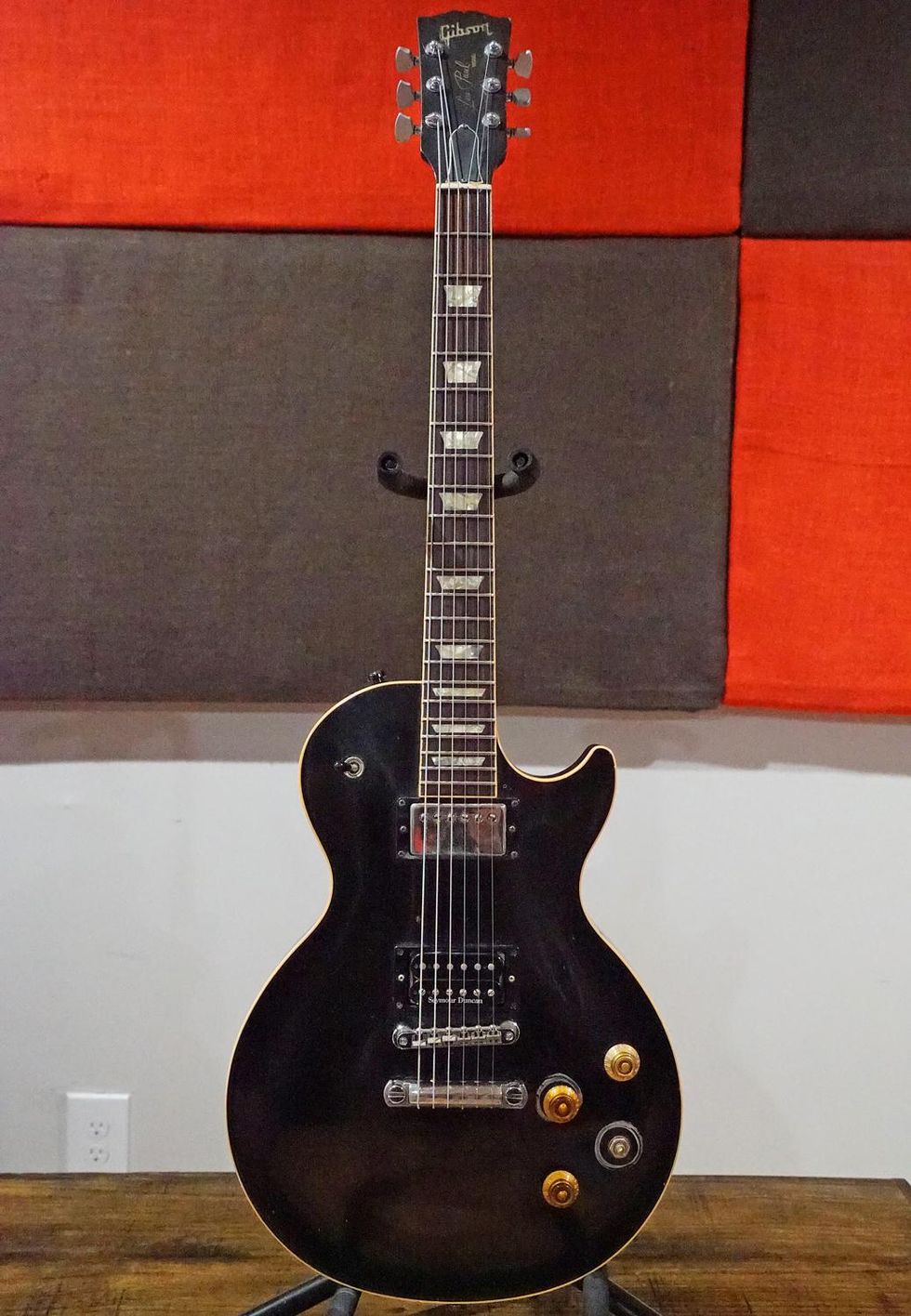 This 1990 Gibson Les Paul Standard is the guitar Lee grew up playing. The neck pickup is still original, but the bridge had some shorting issues, so he put in a Seymour Duncan SH-5 Custom and has been rocking it ever since.
2005 Fender Aerodyne Telecaster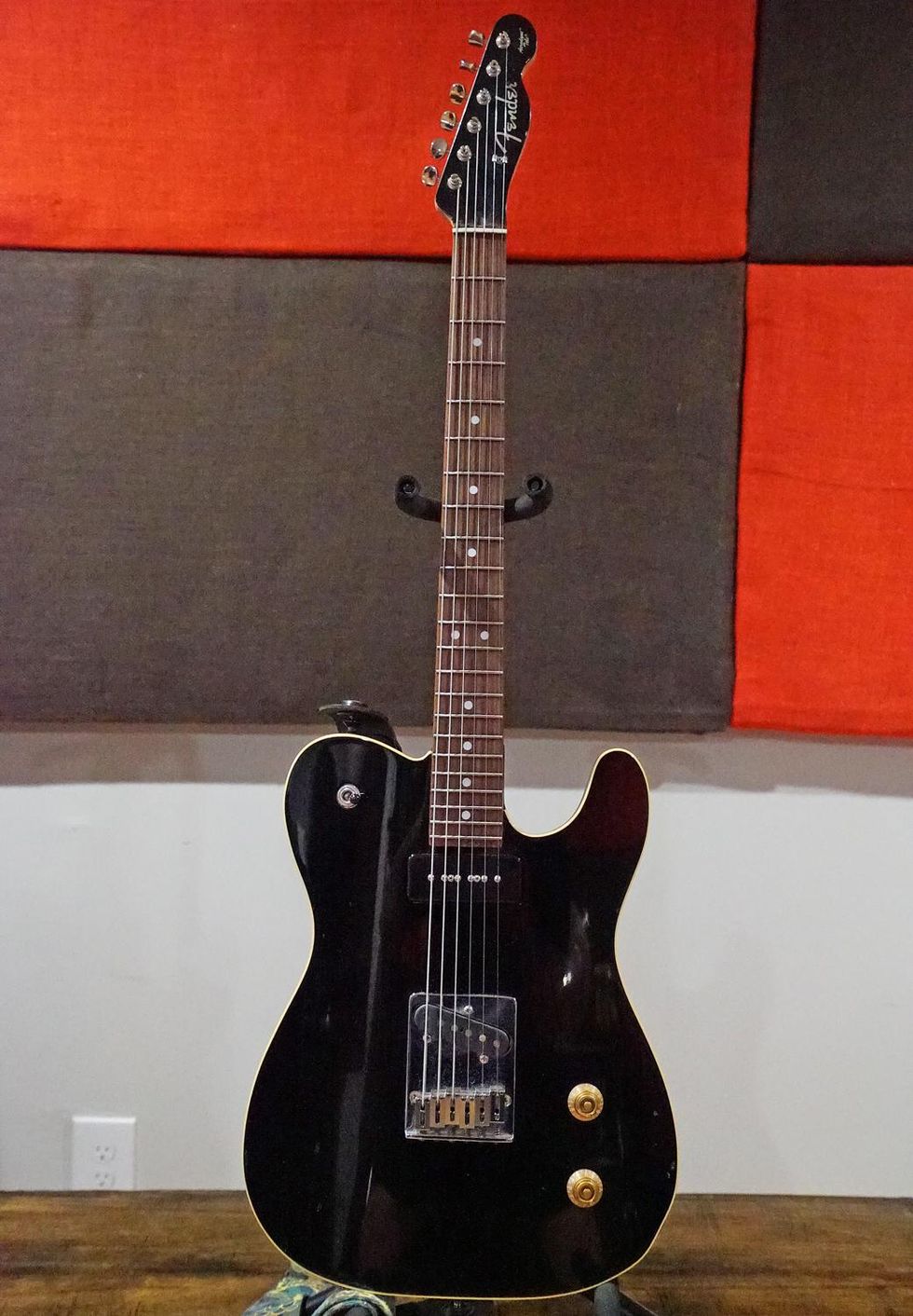 After the aforementioned Les Paul, this 2005 Fender Aerodyne Telecaster is Lee's oldest instrument he currently owns. He doesn't play it live much rather reserving it for teaching students or writing new material.
Nick Lee's Amps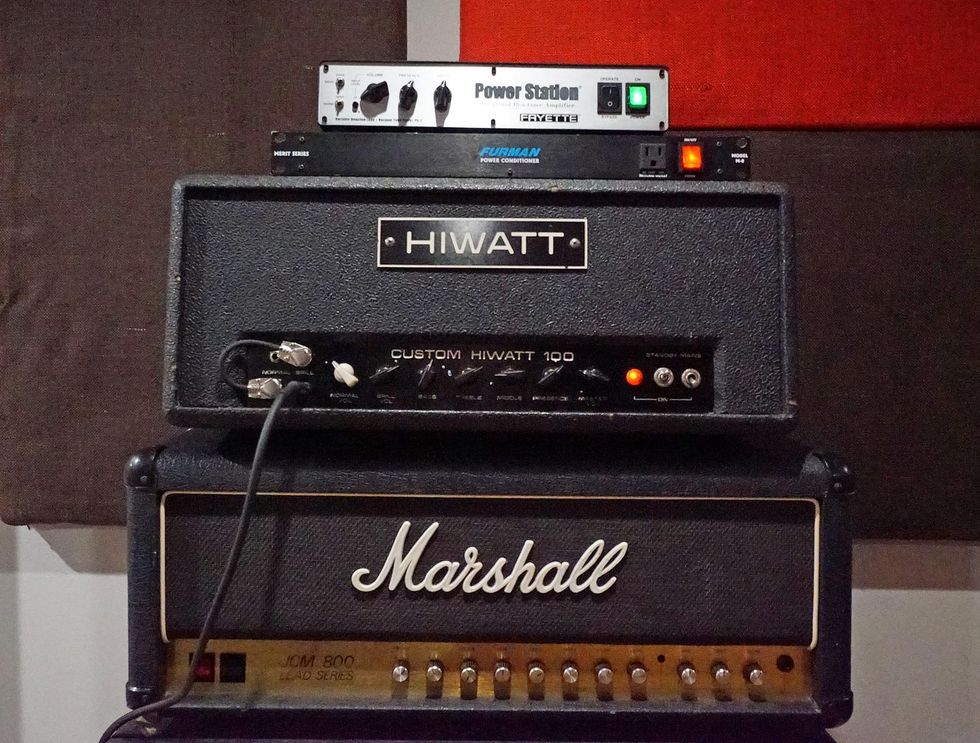 If you've seen Moon Tooth in the flesh, you've seen and felt the 1976 Hiwatt DR103. To accommodate his bandmates and sound techs, Lee took out two tubes and runs the DR103 at 50 watts reducing its volume and headroom (The change also corrected some fuse issues, too). He jumps the channels engaging both inputs creating a fuller, thicker, chunkier sound.
Just before COVID's dark cloud descended, Lee scored the Marshall JCM800 from his Riot bandmate Mike Flyntz. Both heads are featured prominently on the forthcoming Moon Tooth album and for future tours Lee wants to try for a stereo setup using both amps.
"The most important volume knob I've ever bought," jokes Lee when describing the Fryette PS-2 Power Station (top) that allows Lee to push the Hiwatt as hard as he wants without drawing the stink eye from the venue or bandmates.
For the Rundown, Lee ran the Hiwatt through a Krank Revolution 4x12 that has a pair of original speakers and a pair of Eminence Wizards.
Nick Lee's Pedalboard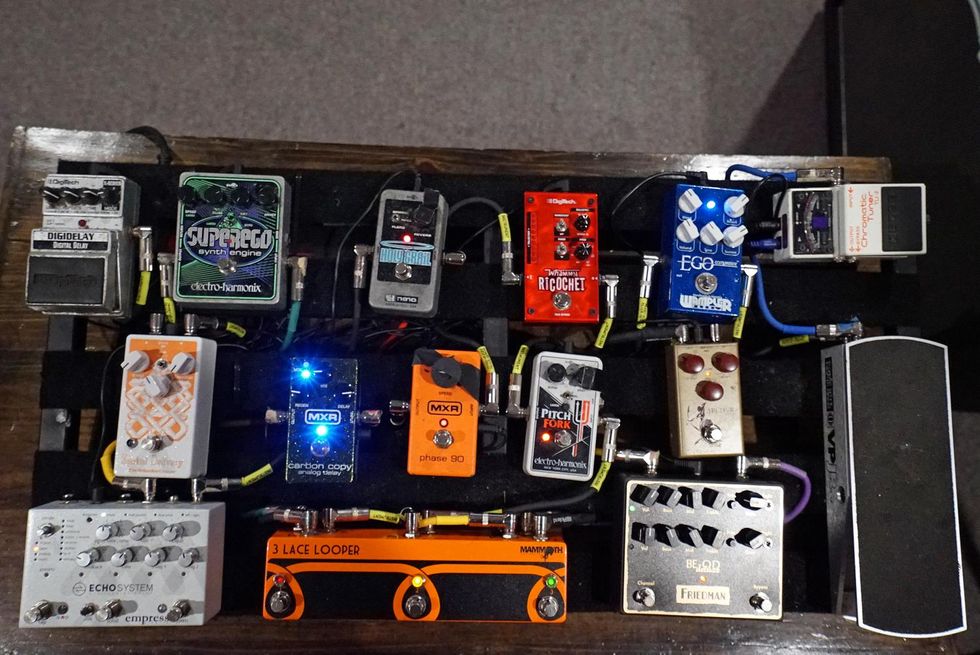 To cover Moon Tooth's maniacal musical moods, Nick Lee enlists a healthy heaping of tone twisters. Time-based stomps include Empress Echosystem, DigiTech DigiDelay, Electro-Harmonix Holy Grail, and MXR Carbon Copy. Modulation and pitch-shifting is handled by the EHX Superego & Pitch Fork, MXR Phase 90, EarthQuaker Devices Spatial Delivery, and a DigiTech Whammy Ricochet. Gain and drive are supplied by the Wampler Ego, J. Rockett Archer, and Friedman BE-OD Deluxe. The utility components of his board include an Ernie Ball VP Jr Volume Pedal, a Boss TU-2 Chromatic Tuner, and a Mammoth Electronics 3 Lace Looper.
Why? Yeah, they're smaller, but they can also offer brighter, clearer, more focused tones than their full-sized cousins.
Whether you're rehabbing a Les Paul Deluxe or an Epiphone Sheraton, or simply working on a different model or project that calls for mini humbuckers, we've rounded up 10 contemporary options to wire up, drop in, and rock out.
DIMARZIO
PG-13
Originally developed for Paul Gilbert to deliver the sonic versatility he needs, this pickup was designed to combine the noiseless operation of a 'bucker with the focus and clarity of a single-coil.
$99 street
dimarzio.com
LACE
Drop & Gain Mini Humbucker
Intended for drop-D tunings and high-gain rock, these humbuckers have two discreet coil functions: one to drive output and the other for punch, crunch, sustain, and fast articulation.
$115 street
lacemusic.com
DRAGONFIRE
Mini Bucker
These vintage-wound pickups use alnico-5 magnets to achieve rounded and dynamic rhythm
and
lead performance for everything from blues to classic rock.
$45 street
dragonfireguitars.com
LOLLAR
Mini Humbucker
Compared with a vintage mini, these pickups are reported to be fatter and hotter without extreme microphonics, and, next to a full-size humbucker, brighter and tighter.
$175 street
lollarpickups.com
RIO GRANDE
Baby BBQ Dawgbucker
Featuring oversized polepieces and available in a number of different finishes, these double-wax-potted pickups were dreamed up to offer more power and presence than their vintage predecessors.
$170 street
riograndepickups.com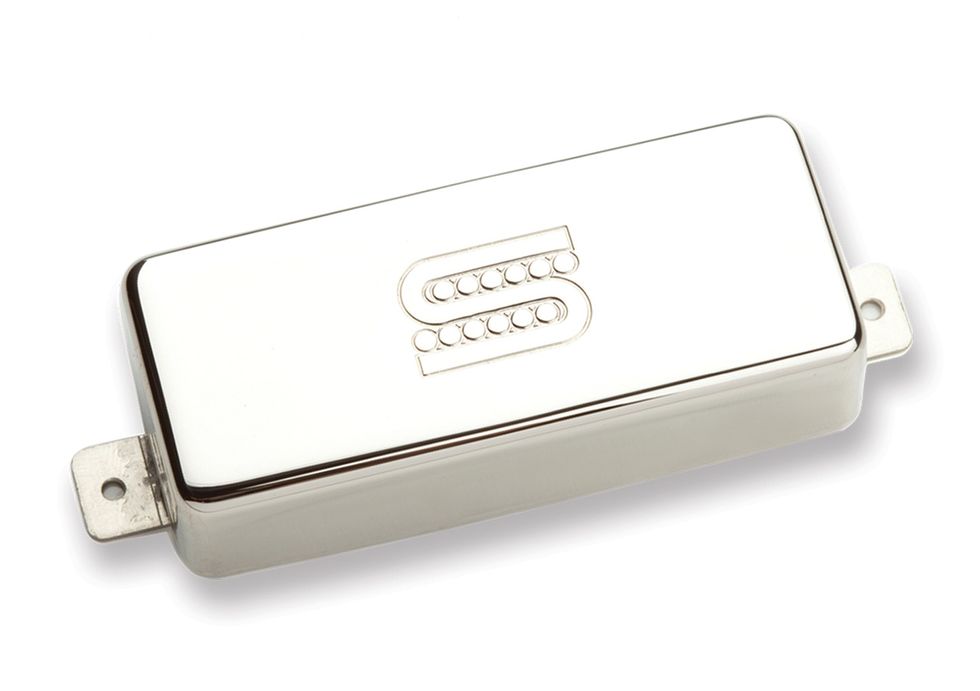 SEYMOUR DUNCAN
Seymourized Mini Humbucker
These handmade neck minis were designed to provide more midrange and clarity for clean tones that are clear and snappy, and distorted tones with a pleasant mid-based growl.
$109 street
seymourduncan.com
CURTIS NOVAK
Mini-Hum
Designed to deliver distinctive, harmonically rich tone with no shrillness, these old-school humbuckers are handwound to vintage specs, but can be custom wound upon request.
$160 street
curtisnovak.com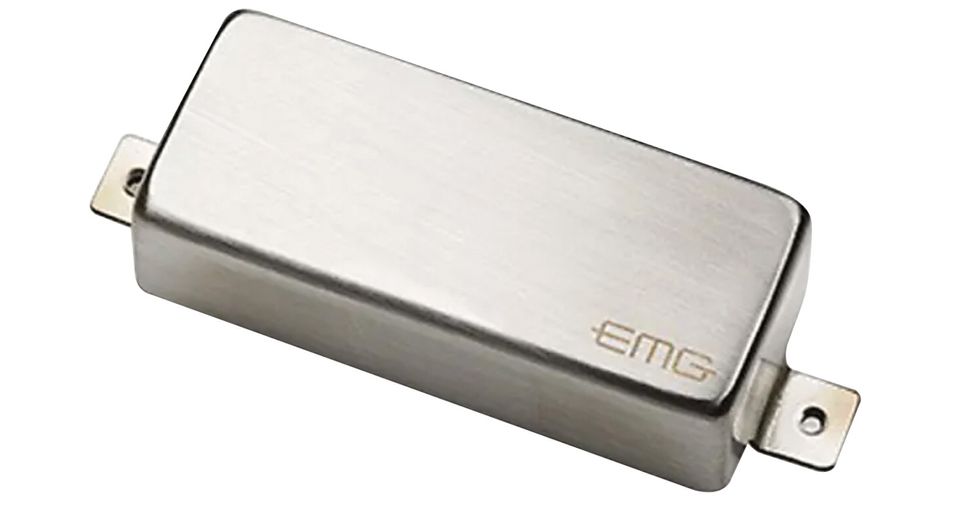 EMG
Mini Hum M-50
For those in the active camp, this alnico-5 mini was designed to provide plenty of inductance and a beefy sound—great for driving a Marshall, but also good for playing slide through a Deluxe.
$99 street
emgpickups.com
KLEIN
Mini Humbucker
Wound to vintage specs, these mini humbuckers are reported to be brighter than their full-size counterparts, with more depth and presence, and offer plenty of bite and grind when dug into.
$150 street
kleinpickups.com
GIBSON
Mini Humbucker
This vintage replica from the company that introduced the mini humbucker in the '60s uses alnico-2 magnets for its bright and focused output, but still retains Gibson's well-known humbucker performance.
$155 street
gibson.com