Fun fact: Instruments that are out of their cases and convenient to grab will probably get more playing time.
You like the idea of having a few guitars close at hand onstage or at home, but have limited space and don't want a stable of single-guitar stands? Consider racking 'em up with a support like one of these.
STRING SWING
CC34
Crafted with furniture-quality ash and high-density padding for all the contact points, this rack can hold up to three acoustic guitars or six electrics.
$89 street

stringswing.com
ON-STAGE
GS7563B
Wood construction and EVA bumpers display and securely cradle a group of guitars—six electric, three acoustic, or a combination.
$89 street

on-stage.com
HERCULES
GS525B
The one-piece-construction of this rack allows easy set up and teardown, while the unique yolk design (each with four pick slots) accommodates acoustic, electric, and bass guitars.
$99 street

herculesstands.com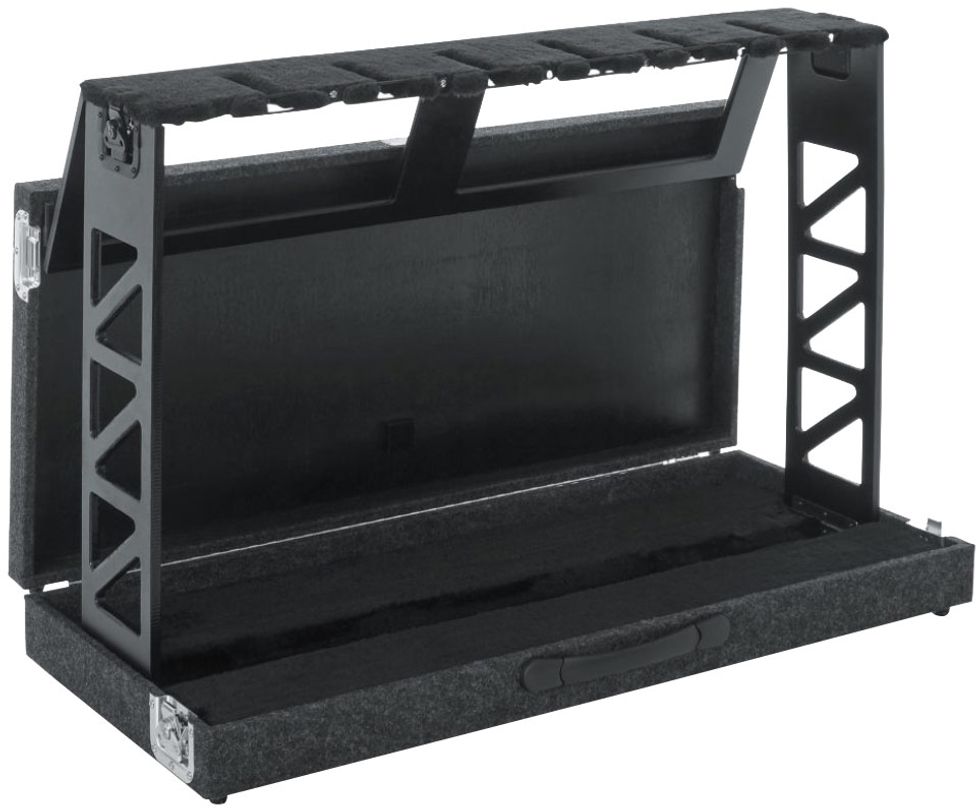 GATOR CASES
GTRSTD6
This rack can hold up to six guitars in its plush-lined interior, and when it's time to head out to the studio or a gig, it folds into a case via commercial-grade hardware.
$329 street

gatorcases.com
ROCK SOLID
Classic 6
Constructed from solid mahogany and able to hold up to six instruments, this rack is a space saver at just 44" wide and 18" deep.
$199 street
rocksolidguitarstands.com
A&S CRAFTED PRODUCTS
Session Deluxe
Featuring herringbone inlay and three wood options for the sides, this handcrafted rack can be assembled with a Phillips screwdriver and will accommodate up to five instruments.
$459 street
guitarstorage.com
PYLE
PGST43
Foldable, portable, and economical, this multi-guitar rack features a black powder-coat finish and velveteen rubber padding on both the neck and body rests.
$39 street

pyleaudio.com
ULTRACASE
GSX-6
Able to transform from a rugged, European-birch plywood case to a guitar rack in 10 seconds, the GSX-6's features include a soft, plush interior and a heavy-grade-carpet exterior.
$479 street
ultracase.com
DRS RACKS
Alpha7
Constructed from environmentally sustainable bamboo, this rack system can handle up to seven instruments and is designed to accommodate offset and other asymmetrical guitars.
$399 street
drsracks.com
STAGG
GDC-6
This traditional-style hardshell case features a plush interior and black-vinyl exterior, and will securely cradle up to three acoustic guitars or six electrics.
$129 street

staggmusic.com