In this exclusive giveaway, you could WIN a Sunn O))) Life Pedal® from EarthQuaker Devices! Enter before Feb. 17, 2023.
See the Rig Rundown!
Full Rig Details: https://bit.ly/SunnORigSubscribe to PG's Channel: http://bit.ly/SubscribePGYouTubeWe've featured loud rigs. We've stood strong in front of ...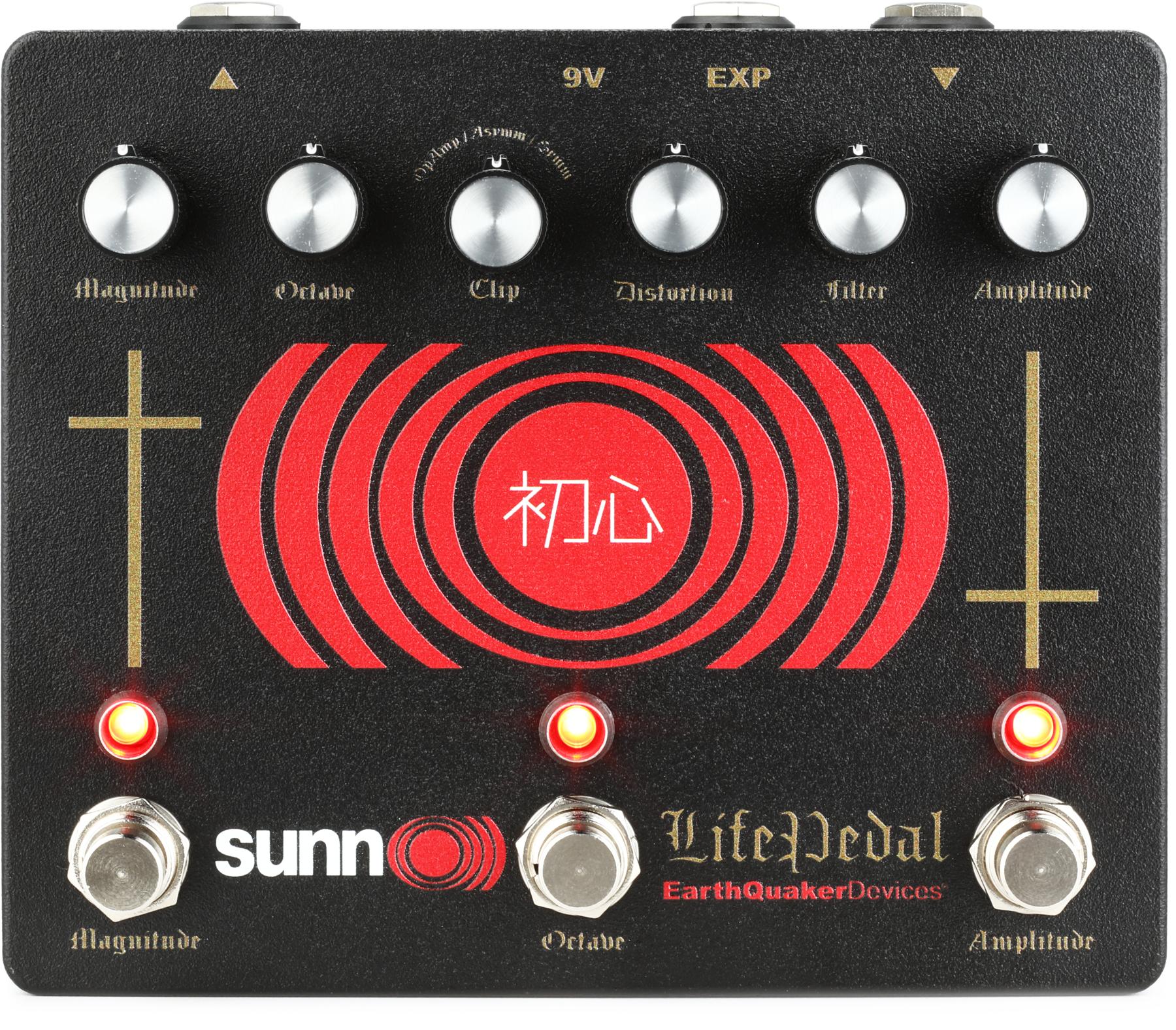 Sunn O))) and EarthQuaker Devices are pleased to bring you the Sunn O))) Life Pedal V3. The Sunn O))) Life Pedal circuit has been meticulously tweaked from the original to squeeze every last drop of heavy crushing tone available. The octave section has been fine tuned to make it more pronounced without losing the bottom end and we added a third footswitch, utilizing Flexi-Switch Technology®, for the octave to allow an additional method of quick and radical tone shaping.
EarthQuaker Devices
Photo by Filmawi
Expanding their sound into a raucously shoegazey and groove-driven new seam, guitar slingers Conor Curley and Carlos O'Connell take us inside the whirlwind of their latest album, Skinty Fia.
We all know how the Irish saved civilization—and if you don't know the story, look for Thomas Cahill's excellent tome on the subject—but what about rock 'n' roll? From Van Morrison and Them to Rory Gallagher and Taste, or Thin Lizzy to the Pogues, U2 to the Cranberries, My Bloody Valentine to Snow Patrol, Irish rockers have given the British blues explosion a run for its silver, carving out an unbroken line from soul and blues-rock all the way to hardcore punk and ultramod art-rock, and they've done it in large measure while hewing close to the staunchly Irish traditions of myth, poetry, storytelling, rebel yells, and romantic longing.
It's way too soon to refer to the five 20-something lads of Fontaines D.C. as rock saviors (they'd scoff at the prospect anyway), but Skinty Fia, the band's third slab since their 2019 Mercury Prize-nominated debut, Dogrel, has rapidly turned up the critical heat, going straight to No. 1 on the U.K. Albums Chart upon release. The leadoff single "Jackie Down the Line," a righteously gloomy but beat-driven rocker, sets the tone for the album, with frontman Grian Chatten transforming himself into the song's dark narrator ("I will stone you, I'll alone you") as guitarists Conor Curley and Carlos O'Connell mesh together in a jangly, echo-laced interplay of crafty three-note chords, 12-string acoustic filigrees, and tremolo-washed sheets of sound. Add the locked rhythm section of Conor "Deego" Deegan (bass) and Tom Coll (drums) behind them, and the band's tightness, augmented by their dogged desire to keep experimenting, instantly permeates every song.
Fontaines D.C. - Jackie Down The Line (Official video)
"I think when we first met, we were mainly just songwriters," observes Curley, reminiscing on their early moments together. "I mean, obviously I'm a guitar player, but I saw myself more as a songwriter, and I think the other lads did as well. So the first album was the culmination of trying to be aware of our abilities, and keep things raw and exciting. We were playing 100-cap venues in Dublin, so there was no point in trying to overextend ourselves.
"After that, we felt we had more strings to our bow, in terms of the songs that we knew we could do. We went down more of an introspective path, and definitely got into more psychedelic music with the second album [A Hero's Death]. And now it's just a combination of all that. I think something that defines us as a band is that we never want to sit still in a sound. We're always trying to be inspired by different things."
Fontaines D.C.'s three albums were all produced by Dan Carey. The band's first two albums were recorded at Carey's London home studio, but for the third, Fontaines decided on a change of scenery, opting to record Skinty Fia at Angelic Studio in the English countryside.
The band also stuck with producer Dan Carey (Black Midi, Geese, Wet Leg, and plenty more), graduating from Carey's home studio in London, where they recorded their first two albums, to the larger Angelic Studio complex in the idyllic English countryside, near Oxfordshire. But before they even took up residence, each band member made the most of the prolonged pandemic lockdown to flesh out detailed demos, either working in Logic or with handheld recorded snippets of vocals and guitar. Armed with well-prepped songs and the prospect of working with Carey in entirely new surroundings, as O'Connell describes it, opened up possibilities that led to a bigger, more multi-layered sound.
"What I love about Dan is his process is in two stages," O'Connell says. "We were in a bigger studio this time, so he wanted to take advantage of that. There's the live guts of the recording [from the floor], and that's just getting the sound right at the start. We spent a couple of days gaining up all the inputs, so when it hits the desk, it's pretty much a very balanced mix. Then it's just about playing well and having the songs arranged properly so they work.
"The first album was very much in a fighting mode, with the two guitars EQ'ed the same and just smashing off each other. On the second one, we learned to play together a little better." —Conor Curley
"And then at the second stage, we do overdubs. We rarely add new parts, but we'll redo the parts we have, either with a different instrument or treated differently."
Both Curley and O'Connell also brought some of their earliest influences to bear, including the slashing surf guitar leads of the Birthday Party's Rowland S. Howard, along with the snakebitten Fender Mustang kick of Kurt Cobain. "We also played a bit more with a blend," O'Connell says, "like what happened with rock and roll and electronic music in the '90s, you know? Primal Scream, Death in Vegas, even U2 went through that phase, but they all used actual synthesizers and drum machines. Our idea was to make it sound like that with our own instruments."
Carlos O'Connell's Gear
Carlos O'Connell bought his '67 Fender Mustang online without knowing it was a 3/4-scale smaller model, but it's become one of his main road warriors.
Photo by Simon Reed
Guitars
2019 Johnny Marr Jaguar
'67 Fender Mustang 3/4 scale
50th Anniversary Fender Jazzmaster [prototype]
Martin J12-15 with L.R. Baggs M80 active humbucker
Seagull Artist Studio 12 Burst with L.R. Baggs Lyric acoustic microphone system
Amps
Fender '68 Custom Twin Reverb
Fender '68 Custom Deluxe Reverb
1975 Fender Deluxe Reverb (used only at Angelic Studio)
THD Electronics Hot Plate
Effects
MXR M133 Micro Amp
Electro-Harmonix Soul Food
Strymon Lex Rotary
Moogerfooger MF Flange
Moose Electronics Cosmic Tremorlo
Moose Electronics Reverb
Boss TR-2 Tremolo
Electro-Harmonix Op Amp Big Muff Pi
Electro-Harmonix POG
Boss GE-7 Graphic Equalizer
Dunlop Volume (X)
EarthQuaker Devices Life Pedal
Vein-Tap Murder One Killswitch
Strings & Picks
Ernie Ball Burly Slinkys
Dunlop Tortex .60 mm
The album's title track "Skinty Fia" (roughly translated, "the damnation of the deer") delivers on the idea. Wielding his trusty '67 Mustang through Carey's own '75 Fender Deluxe Reverb, O'Connell avails himself of a chaotic wash of tremolo (aided by a reverb pedal from Dublin-based Moose Electronics, which he unconventionally places first in the effects chain, ahead of his overdrives) to propel the song's relentless, hypnotic churn. Meanwhile, in the left channel—throughout the album, each guitarist occupies his own side of the stereo image—Curley knifes into the mix with an echo-drenched melody on his Johnny Marr Jaguar, routed into a Fender Twin Reverb, to accentuate Chatten's menacing vocal, while Deego and Coll hammer out a beat that recalls Nine Inch Nails with a thick, dub-style low end.
"I think we're trying to be more patient, and more conscious of the texture," Curley says, describing how he and O'Connell have worked together to refine their sound. Like most bands with a two-guitar attack (the well-known Irish precedent of Thin Lizzy comes to mind), the symbiosis comes with time, practice, and subtle lines of communication. "The first album was very much in a fighting mode," he continues, "with the two guitars EQ'd the same and just smashing off each other. On the second one, we learned to play together a little better. We're still working on it, and sometimes we still try to become as one almost, when the song needs it, but I think now we've learned to fit in with how we're EQing everything. It feels really good."
Fontaines D.C. - Full Performance (Live on KEXP)
The confidence shines through on Skinty Fia, especially when the two axe-slingers choose to embrace a little sonic chaos. On the dark drum-and-bass-influenced opening track "In ár gCroíthe go deo" ("In Our Hearts Forever"), O'Connell tees up another locked tremolo effect, eventually morphing into an otherworldly chorus effect, mirrored by Curley, of what sounds like distant dogs howling. "It's only at the end where my guitar comes in," Curley clarifies. "I'm just following the bass with the chords, at a very high frequency, and with delays at the end of every phrase. I hit my [Industrialectric] Echo Degrader, and that's what really sends it into a spin."
On the Curley-penned "Nabokov," the layers of noise lean heavily on classic shoegaze and dub, with Curley again availing himself of the Echo Degrader. "That pedal is so unpredictable, it's almost like it doesn't sound the same every time you use it. I've been using that and an RV-7 [by Digitech Hardwire] for gated and reverse reverb. There were definitely a lot more shoegazey elements that we were trying to get to, and, obviously, if you start talking about Kevin Shields or even Robin Guthrie from Cocteau Twins, the stuff they did, to me, is almost unreachable, but if you try, you might end up with something new anyway."
Conor Curley's Gear
Conor Curley often toggles between this '66 Fender Coronado II and a Johnny Marr Jaguar.
Photo by Debi Del Grande
Guitars
2019 Fender Johnny Marr Jaguar
'66 Fender Coronado II
Fylde 12-string (loan from Richard Hawley)
Amps
Fender '68 Custom Twin Reverb
Lazy J (used only at Angelic Studio)
THD Electronics Hot Plate
Strings & Picks

Ernie Ball Burly Slinkys
Dunlop Tortex .60 mm
Effects
Industrialectric Echo Degrader

DigiTech Hardwire RV-7 Stereo Reverb
Moose Electronics Reverb
Moose Electronics Delay
Strymon Sunset
Strymon Deco
ThorpyFX Chain Home
Electro-Harmonix Nano POG
Dunlop Volume (X)
By contrast, both guitarists reached for a 12-string acoustic on a pair of songs: Curley on the aforementioned "Jackie Down the Line," and O'Connell on the smoldering groover "Roman Holiday." Oddly enough, the Fontaines acquired the guitar, a beautifully finished Fylde custom 12-string, from British crooner and troubadour Richard Hawley, who met the band on a recent jaunt in Sheffield. "We were struggling to find a really nice sound on a 12-string," O'Connell says, "so it was like, let me just text him. He was really excited about being a part of it and lending us the guitar, and it was magic. Just a beautiful guitar. Someday I'll get one, but you can never play it live because it's just too precious."
And on tour, Fontaines comes across as anything but precious. Chatten often prowls the stage like a wounded animal between verses, wielding the mic stand like a cudgel and seeming to goad the band into wilder forays of sonic exploration. At a recent packed house in Brooklyn, Curley and O'Connell whipped "Too Real," one of their earliest singles from Dogrel, into a feedback-laden, psych-rock deluge, while an encore of "Nabokov" made the most of the dueling washes of noise that each guitarist can deliver, with precision, from either side of the stage. As a unit, they're brash, tough, and confident—typically young, and typically Irish.
Carlos O'Connell utilizes his prototype 50th Anniversary Fender Jazzmaster when he's going for a deep, low-end guitar tone.
Photo by Tim Bugbee
"We've found refuge within each other, and within our identity," O'Connell observes when asked about the band's recent, and inevitable, move to London. Chatten in particular, as frontman and lyricist, has been outspoken in interviews about some of the prejudices he's encountered, a sentiment that inspired the song "In ár gCroíthe go deo," which pays tribute to an Irish woman in Coventry who was initially denied permission to bury her late mother with the Irish inscription on her gravestone.
"We also found that accumulated frustration with a very ignorant misunderstanding of Ireland from Britain's point of view, which started to piss us off quite a bit," O'Connell reveals. "But then we wrote this album, and ever since, it's starting to open up a lot. It's given me the dream of what I thought I would find in London: a place where we're more anonymous and where there's less expected from us, you know?"
"We were struggling to find a really nice sound on a 12-string, so it was like, let me just text him [Richard Hawley]." —Carlos O'Connell
Surely those expectations will grow in urgency as time goes on, but for now Fontaines D.C. seems content to ride the lightning. "There's been a lot of self-discovery along the way," Curley says. "There's always inspiration to be found in Irish art and culture, and we're also massively into Irish traditional music. Me and Tom got really into Paul Brady and Andy Irvine and Planxty, and we wrote a good few Irish ballads. At one point, we actually thought of doing Skinty Fia as a double album, which I guess might've seemed a little gratuitous. Hopefully those songs will see the light of day in a different context.
"But now that we're back on tour, whatever happens, I think we're definitely not gonna take any of it for granted. We're just trying to enjoy all the things we see, and trying to put on really good shows."
YouTube It
Photo by Emanuela Bonetti
The Italian maestro talks about the spiritual inspiration he draws from his Basque roots, as well as channeling his endless guitar-tinkering passions into his latest musical project, Buñuel.
Italian guitarist and sonic adventurer Xabier Iriondo has an affinity for the Basque term, metak—which literally means, "pile"—and he often incorporates it into the names of his various projects. His custom-built experimental guitar is the Mahai Metak (or "table pile"). Some of his unconventional musical collaborations also include the term, as in PhonoMetak and PhonoMetak Labs. And Sound Metak was the name of the eclectic shop he ran for about a decade in the early 2000s, which sold everything from boutique guitar pedals to shoes. (Check out his Instagram profile, which, in addition to pictures of his amazing collection of guitars, pedals, and vintage amps, is also a showcase for his impeccable taste in footwear).
"I am half Basque," Iriondo says. "And these words—like "mahai" and "metak"—come from the Basque language. A metak is when you take the grass that you're cutting, and you make a mountain of this grass in the garden. In the past, you gave this metak to the cows." Another traditional Basque practice and type of metak involves shredding and drying corn stalks to use as fodder over the long, cold winter months. So, a metak is a pile of collected things that are preserved for an extended period. In Iriondo's view, this serves as an analogy for something deeper. "I love this idea, because you can put everything inside the metak," he says. "It's like a collection of your emotions. For example, with my shop, Sound Metak, I sold different kinds of things—from old gramophones and vinyl shellac records to fuzz pedals and jukeboxes and guitars and amplifiers—it was a lot of different things. Metak for me is an idea, and my instrument, the Mahai Metak, is the same thing. It's an energy from my fantasy, which is everything I can put out from my mind."
Buñuel is a noise-rock quartet named after the legendary Spanish filmmaker, Luis Buñuel. The band formed was formed in 2016 by (from left to right) bassist Andrea Lombardini, drummer Francesco Valente, American vocalist Eugene S. Robinson, and guitarist Xabier Iriondo.
Conceptually, metak also helps to explain Iriondo's musical diversity. Born in Milan, he started playing the guitar at 17, and became something of an Italian celebrity as part of the alternative band Afterhours, with whom he's been a member since 1992 (except for hiatus throughout most of the aughts). But Afterhours is about as mainstream as Xabier gets. He's also made incredible noise with myriad projects, like his recordings and performances with Can's Damo Suzuki (Damo Suzuki's Network), collaborations with the cream of Europe's avant-garde (?Alos, Pleiadees), numerous solo projects, and the list goes on and on.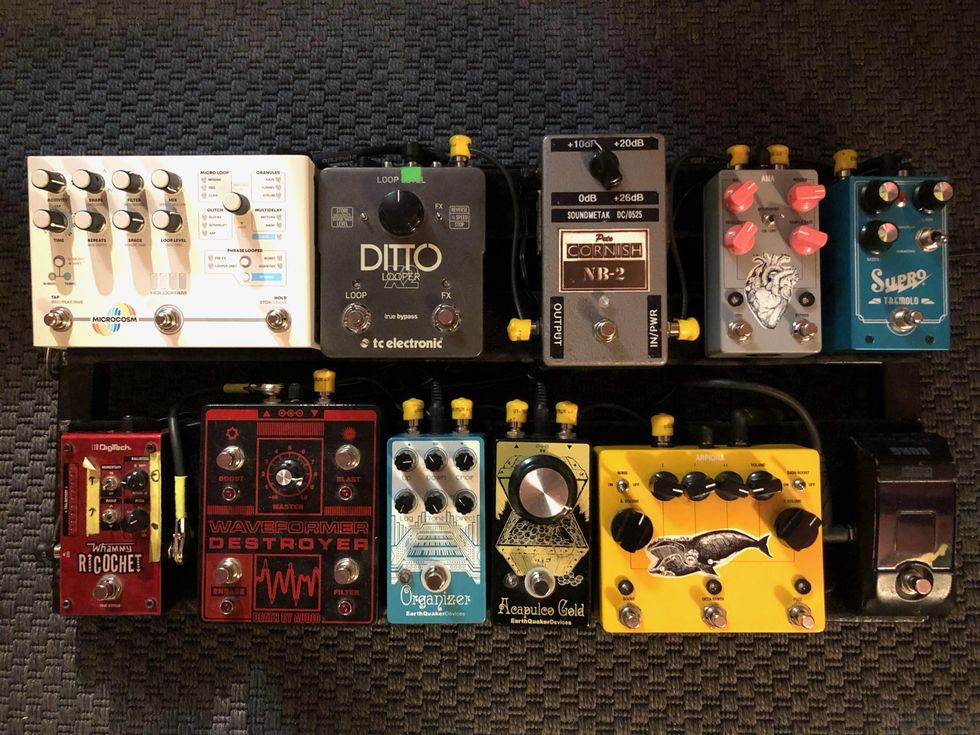 Xabier Iriondo's pedalboard: "When you're using some of these destruction pedals on the loud and heavy stuff, the guitar isn't so important. You destroy everything with these kinds of pedals."
His most recent outing is the abrasive, apocalyptic, noise-rock quartet Buñuel. Named after the legendary Spanish filmmaker Luis Buñuel, the band first came together in 2016 and mixes the talents of a trio of Italian musicians—Iriondo, bassist Andrea Lombardini, and drummer Francesco Valente—plus American vocalist Eugene S. Robinson. Their new release, Killers Like Us, is awash in fuzz and rages between brain-crushing, metal-tinged cuts like "A Prison of Measured Time" and "When God Used a Rope" to slow, doomy dirges like "Hornets" and "When We Talk," as well as moments of unstructured, free improvisation interspersed throughout the record.
BUNUEL - When God Used A Rope (official video)
"We are three Italian musicians," Iriondo says about Buñuel's genesis. "We were a little bit famous here in Italy, and we decided to choose an international singer. We wrote to Eugene Robinson, and he accepted our idea. For our first record, the three of us recorded 10 songs in a studio in Italy. We sent them to Eugene in San Francisco, he sang on them, and then sent the tracks back to us. We did that again for this record." Not only were the vocals recorded separate from the rest of the band, but Robinson didn't even get a chance to rehearse with them. The first time the band played together as a quartet was onstage in front of an audience. "We didn't rehearse with Eugene—we rehearsed ourselves—and we met with him the first day of the first gig. That's how it started."
Despite Iriondo's years of experience with group improvisation, that was not the approach he took with Buñuel. You'd think improv would be helpful when stepping onstage raw with an unrehearsed new singer. Rather, the band's vibe is through-composed songs that are played the same way—except for planned sections set aside for improvisation—night after night.
"When I want to take a solo, I adjust the Cornish directly with my foot. I open up the volume, and then I arrive in the cosmos."
"We play the songs like they are on the album," says Iriondo. "Although we do have some parts, or structures, that can change. For example, on our first tour, we wrote our 10 songs, and that's all we had. At the end of the show, the audience asked for more. I said, 'Okay, let's start with an improv,' and that improv we used on those gigs from the first tour became a song on the second album ["The Sanction" o 2018'sThe Easy Way Out]. We composed each day, each gig, and the song transformed and arrived at the end of the tour."
When recording Buñuel, Iriondo harnesses that live feel by taking a minimalist approach to overdubs. Aside from an odd guitar solo or two, the instruments are recorded live, with the band members standing together and looking at each other. "I also play pop rock with other bands, and overdubbing is okay for that kind of music, but the wildness of this project gains a lot when we're all playing together in the same room," he says.
For both of Buñuel's albums, including the new Killers Like Us, the three Italian core band members recorded the songs in Italy and sent them to vocalist Eugene Robinson in San Francisco. Robinson sang over the music and then sent the tracks back to Italy.
"In the past, in the '90s, I used the VHT head system that people talked about," he says about the now-rebranded Fryette Pittbull Ultra-Lead. "I bought the second one that arrived in Italy in 1994. But in the last 20-to-25 years, I started using theHiwatt DR103, and I think that's my sound. When I plugged in for the first time, I said, 'What the hell is this?' I can go from high-frequency, crystal-like sounds to really deep grunge sounds with a lot of low frequencies. In general, with Buñuel and also Afterhours, I use the Hiwatt, and then also another amp, a 300-watt SWR California Blonde, which is a transistor amp. I have the headroom also in the clean sounds, but when I engage all my fuzzes and boosters, the gain is incredible, and it's still in front of you all the time."
"I love this idea, because you can put everything inside the metak. It's like a collection of your emotions."
Iriondo's tone is wild, too. Considering how mangled, heavy, and distorted his sound gets, it's interesting how he crafts his tone almost exclusively with pedals, which he uses to drive his amps. He owns more than 20 heads and cabs, and his preference is classic British amps like Hiwatt, Orange, Carlsbro, and Simms Watt—he has a few of each in assorted colors—that have a lot of headroom. He feels those work best with his high-gain pedals.
Xabier Iriondo's Gear
Xabier Iriondo's custom-built "Mahai Metak" is a 10-string short-scale table guitar. Six of the strings are tuned to D in different octaves and act as drones. The other four are G, G, F, and A. It has pickups on both ends, plus an onboard oscillator and distortion unit, and controls for volume and tone. "I play it with Chinese sticks, and I create rhythms and special sounds with steel wool—that stuff you use in America to wash your dishes. It sounds great."
Photo courtesy of Xabier Iriondo
Guitars
Two custom Billy Boy Guitars made by Fabio Ghiribelli (a white model and a purple model used with Buñuel, with a TV Jones pickup in the neck position and a '52 Tele pickup in the bridge)

NukeTown Venusian IX Signature 9-string
Loic Le Page (Mahai Metak Guitar)
James Trussart Red Star Steelcaster
Amps
Hiwatt DR504 stack
Hiwatt DR103 head and 4x12 cab (1970)
Vox AC30TB (1992 reissue)
Orange OR120 head with 4x12 cab (1969)
Orange bass cabinet with 18" speaker (1970)
Simms Watts AP100 Mk2 (1972)
Marshall 1959 SLP Purple Limited Edition (1994)
300-watt SWR California Blonde
Effects
Hologram Microcosm Granular Looper

TC Electronic Ditto X2
Pete Cornish NB-2
AC Noises AMA (reverb w/ oscillator + bit crusher)
Supro Tremolo
DigiTech Whammy Ricochet
Death By Audio Waveformer Destroyer
EarthQuaker Devices Organizer
EarthQuaker Devices Acapulco Gold
AC Noises Arpiona Xabier Iriondo signature
Korg PB-03 Pitchblack
Strings & Picks
D'Addario .010–.052
Dunlop Tortex Purple 1 mm
Iriondo has a seemingly endless collection of pedals, too, although his go-to is his signature octave-synth-fuzz-boost Arpiona, made by Italian builders AC Noises. The pedal starts with a gated fuzz circuit inspired by Death By Audio's Harmonic Transformer, followed by a sub-octave bass synth, more fuzz, and a boost. He uses that in conjunction with an EarthQuaker Devices Acapulco Gold, and a Pete Cornish NB-2 boost that's always engaged. "When I want to take a solo," he says, "I adjust the Cornish directly with my foot. I open up the volume, and then I arrive in the cosmos."
Afterhours - Spreca una vita
Iriondo is also no purist. If an analog circuit will get him the sound he wants, great, but he's just as happy using a digital device. "I use everything that can give me satisfaction," he says. "Why not?"
Why not, indeed. He also gets that satisfaction from his guitars. "About 80 percent of my choice in guitars is the feel, and 20 percent is the sound," he says. "When you're using some of these destruction pedals on the loud and heavy stuff, the guitar isn'tso important. You destroy everything with these kinds of pedals. They completely destroy your clean sound. Although when I play pop-rock music, I change my guitars a lot."
Xabier Iriondo bought his James Trussart Red Star Steelcaster directly from the luthier at his L.A. home in 2012. It features a metal front and back perforation body, maple neck, rosewood fretboard, and two Arcane Inc. pickups.
Photo by Alberto Mori
But that feel is elusive, which may explain Iriondo's vast collection of instruments. He has vintage guitars he doesn't mod at all, but in general he's an itinerant tinkerer. He usually swaps out pickups, even on his less expensive guitars, and has a significant number of custom-built guitars as well. "I'm not only a collector, I'm a professional, which means guitars are my life," he says. "I want to have tools that work well with me. In the last few years, I've had the opportunity to have my dream guitars that I ask luthiers to build for me with my specific specifications. The principal guitar that I used on the Buñuel project is made by Billy Boy Guitars. It has an incredible tremolo, and it's a light guitar. All the sounds you hear on Buñuel are made with that guitar."
Perhaps Iriondo's most unique instrument is his custom-built Mahai Metak. It's a 10-string, short-scale table guitar. Six of the strings are tuned to D in different octaves and act as drones. The other four are G, G, F, and A. The instrument has pickups on both ends—near the bridge as well as near the nut—plus an onboard oscillator and distortion unit, and controls for volume and tone. He plays it with an assortment of items, including marbles, roach clips, and steel wool. "I play it with Chinese sticks," he says, "and I create rhythms and special sounds with steel wool—that stuff you use in America to wash your dishes. It sounds great. I use it with the loopers and reverbs and it creates these noisy and bizarre sounds, as well as melodic sounds that create a nice texture."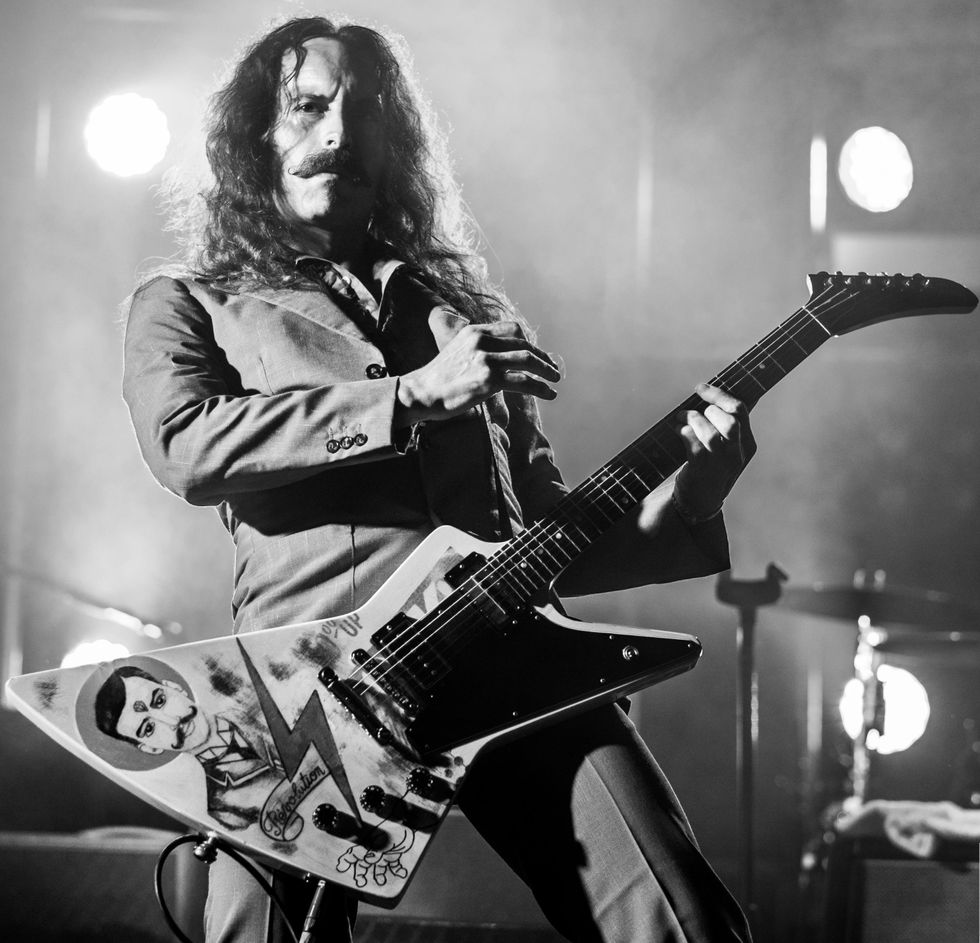 Iriondo's Gibson "Elettra" Explorer was handpainted by Valentina Chiappini
Photo by Matteo Pieroni
It's that openness and wonder, as exemplified by Iriondo's voracious appetite for gear, as well as his embrace of disparate genres and styles, that are the ingredients that make up his metak. Call it his esoteric pile of ideas, which gives him permission to explore the endless energies of his imagination. He'll conjure up sounds that are heavy and dark—or playful and light—and almost always fun, and, maybe, even a little mischievous.
And isn't that, ultimately, the ideal?
YouTube It