There's much more to this analog phaser than outlaw country swirl.
An inexpensive, rangy phaser with fun, interactive, and easy-to-use controls
Some whistle-like overtones in treble-heavy peaks
Fender Waylon Jennings Phaser, $129 street
4.5
4.5
4.5
4.5
When I was a kid, my mom got a cassette of Waylon Jennings' Greatest Hits, which went into heavy rotation in her Cutlass Supreme's tape deck. Much was striking about that introduction to Waylon Jennings—not least that voice and the frank, plain-spoken narration. Just as arresting, though, were the swirling guitar sounds that popped up on "Are You Sure Hank Done It This Way" and "Luckenbach, Texas (Back to the Basics of Love)." They didn't sound like the Buck Owens or Patti Page I would hear on oldies stations, or, for that matter, George Harrison's version of Don Rich's "Act Naturally" lead. In fact, as a Beatles obsessive, "Luckenbach, Texas" struck me as bearing a certain resemblance to the arpeggios in "Dear Prudence." Those phaser sounds helped make me a Waylon fan for life. So, I'm tickled to see Fender honor the effect that opened up one very strange corner of my musical mind with the release of the Waylon Jennings Phaser.
Hazy, Phasey Origins
Fender built a 4-stage phaser in the 1970s. As far as we know, Waylon never used the Fender Phaser, opting instead for a Maestro PS-1A, various MXRs, and Boss phasers over the course of his career. Without the need to replicate a '70s artifact that Waylon didn't use anyway, Fender's designers were free to create an analog tribute that covers the breadth of Waylon's phaser tones—from his 2-stage Phase 45, to his 4-stage Phase 90, to his 6-stage PS-1A. That doesn't mean Fender didn't aim for a definitive Waylon sound: A "sweet" switch defaults to a voice that's a little more confined to tasteful modulations. But to Fender's credit, the Waylon Jennings Phaser is not constrained by strictly Waylon-like textures. Indeed, it's just as happy to get weird.
Weird Waves on the High Plains
Though complex relative to a 1-knob MXR or Small Stone, the Waylon Phaser's controls are easy to sort. They work in cool, interactive ways which take some practice to master, but are ultimately easy to wrangle. The interrelationship between the range control (which controls the portion of the frequency spectrum that's phase shifted), and the feedback control, which governs intensity, is the one that's most fun to explore. It's also key to unlocking the pedal's freakiest tones.
The user guide features a few helpful templates for exploring the pedal's range. Fender's recommended PS-1A-style sound, for instance (6-stage setting, rate at 5, range at 4, and feedback at 6), is a bit more rubbery than you might expect, with cool vowelly peaks in the midrange. But just a couple clockwise notches on the range and feedback controls and a slower rate transforms Fender's version of Waylon's PS-1A to a lysergic, ultra-elastic wavescape. The user guide's recommended Phase 45-style, 2-stage setting creates a mellow, tasty pocket for arpeggios and lightly strummed parts, but at advanced feedback and rate settings the 2-stage setting percolates charmingly, lending bubbling animation to psychedelic chord melodies and a demented attitude to funky soul riffs.
The 4-stage mode, which, incidentally, bears the greatest audible resemblance to the sweet mode in most respects, is plenty sweet itself. Here, you can play with fairly intense feedback and rate settings while maintaining a softness in the peaks that doesn't overpower melodic or rhythmic textures. And just as with the other three modes, you can very easily move from restrained Dreaming My Dreams phase adornments to much weirder fare with a few small adjustments to the other controls.
The Verdict
While 1-knob phasers are easy and often voiced just right, it's fun to have the extra, but not overwhelming, control the Waylon Jennings phaser provides. There are plenty of weird, wobbling, bubble gum-chewy textures here that have nothing to do with classic outlaw country, that psychedelicists will relish. But the mellower fare that made Waylon's tunes move is here in tasty plentitude and can be tuned to your own needs with a flexible, interactive control set that's full of surprises.

Fender Waylon Jennings Phaser Demo | First Look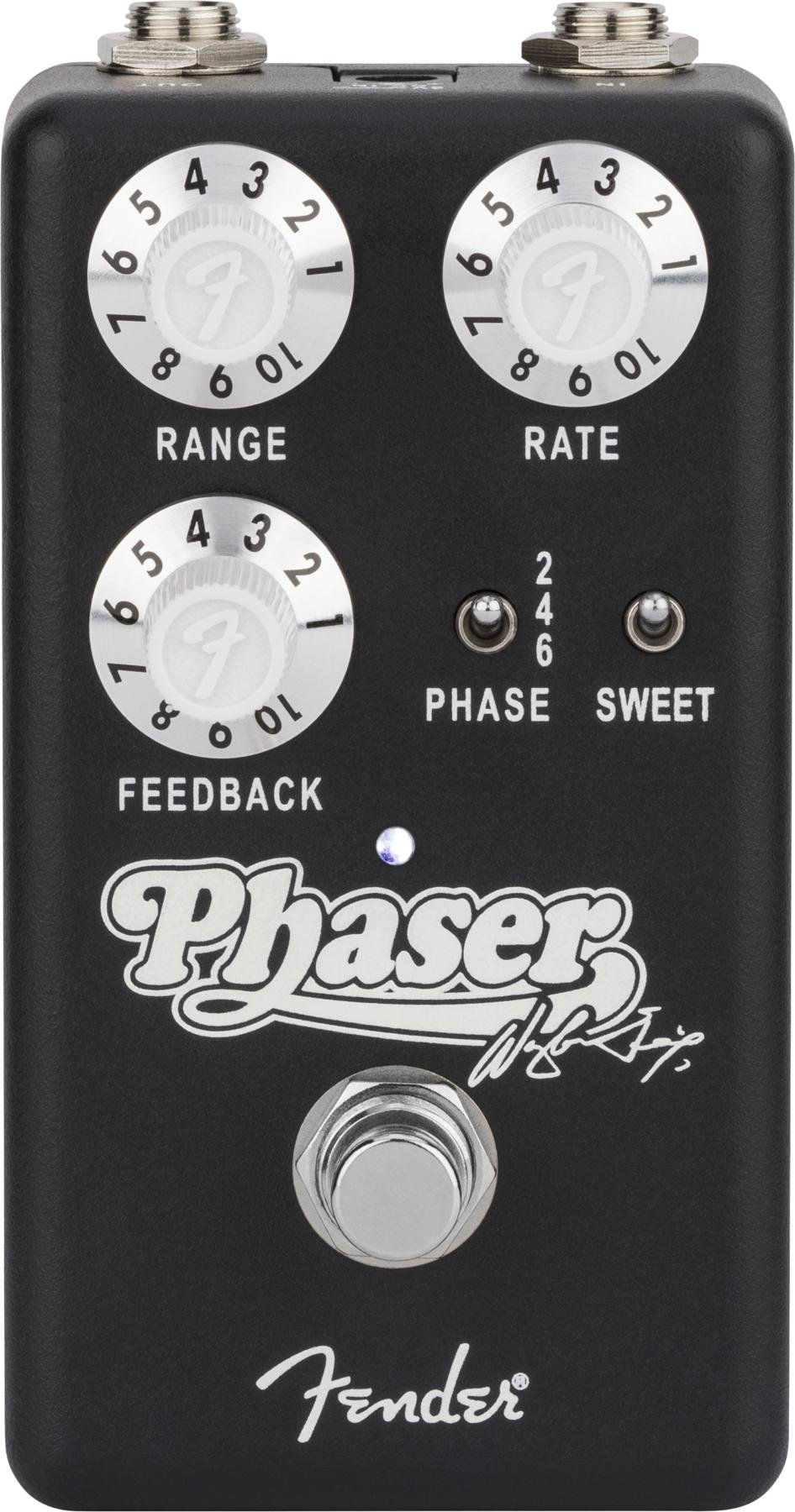 Fender
A new feature-packed pedal that goes way beyond delay.
Joining Blackhole and MicroPitch as the third member of the dot9 pedal family, Eventide Audio's new UltraTap is a unique multi-tap delay pedal that delivers rhythmic delays, glitchy reverbs, huge pad-like volume swells, and expressive modulated effects in a compact form.
The dot9 UltraTap is the result of forty years of development that began in 1981 with Eventide's Digiplex and Multitap Delay algorithms for its legendary SP2016 Effects Processor, evolved to become the H3000's UltraTap and culminating in the advanced UltraTap available as both a plugin and H9 algorithm. The new UltraTap pedal further builds on this legendary effect offering the ability to add as many virtual tape heads as desired along with the ability to expressively control head position and output level enabling new and unprecedented effects.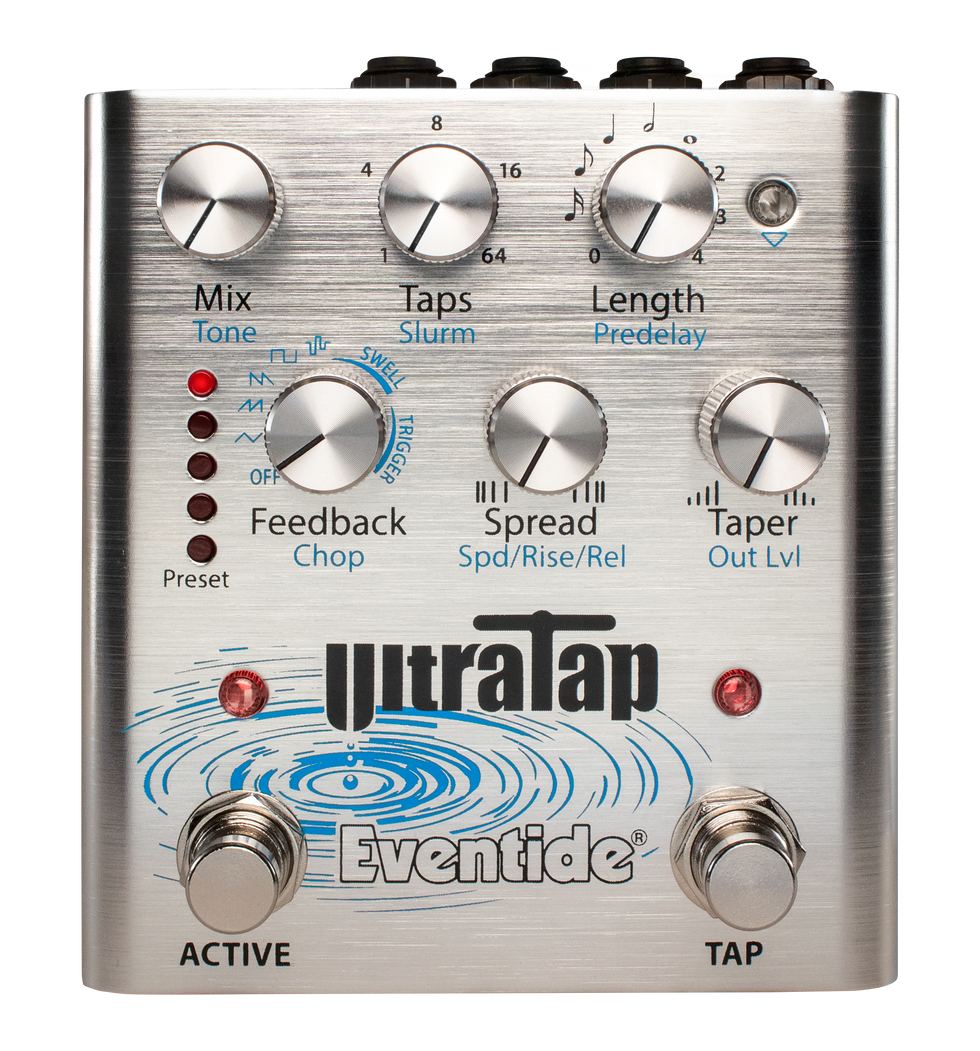 The compact top panel offers direct control of twelve parameters to create simple repeats or morph delays into chorus and reverb. The pedal's Spread function controls the effective distance between up to 64 Taps, morphing from closely spaced at the beginning of the delays, to evenly spaced, then closely spaced at the end of the delays, letting a player dial in song specific rhythmic spaces between taps. Taper controls the level of subsequent Taps either fading them up, down or constant over time. The exclusive and innovative Slurm control can smear or slur Taps together to produce unique reverbs and choruses. The Chop and Speed/Rise/Release controls work together to allow unusual and expressive amplitude modulation of Taps to chop a sound source into stuttered rhythms.
Five presets can be accessed directly from the pedal using the Active and Tap footswitches, with up to 127 in total stored under the hood and accessible via MIDI or the Eventide Device Manager application (EDM). These two footswitches allow full performance control of Active (momentary or latching), Tap Tempo and Preset selection and loading.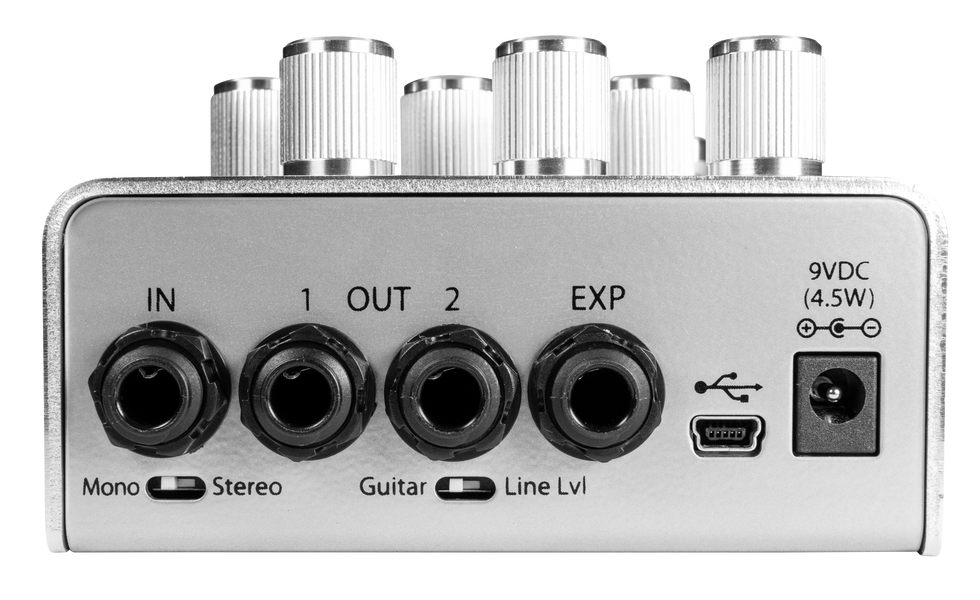 On the rear panel, the multi-function Exp jack allows for the connection of an expression pedal, an external single Aux switch or a triple Aux switch for easy preset changing (up/down/load) as well as MIDI over TRS capabilities. Multiple bypass options are available - Buffered, Relay, DSP+FX or Kill Dry. The rear panel USB jack provides a connection to a computer for use with EDM, software updates, and MIDI over USB control. The Guitar/Line Level switch allows level matching with guitars, synths, FX loops or DAW interfaces. The rugged, gig-ready silver UltraTap pedal also features mono/stereo ins and outs.
The UltraTap pedal is available for $279 (MSRP).
For more information, visit eventideaudio.com
Superb Universal Audio effects, now available for all, in stompbox size.
Superb spring, plate, and digital reverb tones. Logical interface. Solid construction. Compact size. Good price.
No MIDI. Power supply not included.
5
5
4
5
Universal Audio's new UAFX guitar pedal line is genuinely newsworthy. The company's software emulations of vintage analog gear earn near-unanimous praise from producers and engineers. But until recently, UA software ran only on UA interfaces, such as the Apollo line of interface/preamp/convertors. That changed two years ago, with the release of the $1,299 OX Amp Top Box, a load box and speaker emulator incorporating several fine UA effects. And now UA effects are available in a relatively inexpensive stompbox format, thanks to the Astra Modulation Machine, Starlight Echo Station, and Golden Reverberator. Here, we focus on the reverb pedal.
​El Dorado
The Golden Reverberator and its siblings share the same dimensions and control layout. The 5 ½" x 3 ½" x 1½" enclosure is slightly larger than a standard B-sized box. It has two footswitches, six knobs, and three mini-toggles. The audio and 9V DC jacks are top-mounted.
The pedal ships with nine reverb algorithms: three Fender-style spring simulations, clones of three analog EMT plates, and room and hall sounds from Lexicon's 224 unit. You can unlock three additional 224 effects after registration. (My audio clips include all 12 tones.) A four-core ARM processor does the heavy digital lifting.
Many reverb stompboxes sound decent enough, but they betray digital artifacts during quiet passages or long, exposed decays. Sometimes they have unwanted resonant frequencies that prevent the wet signal from meshing harmoniously with the dry tone. That's never the case here. Even the longest, quietest reverb tails maintain immersive warmth and detail. These are tones you'll want to bathe in.
Home Plate
The EMT and 224 algorithms sound nearly identical to their UA predecessors—and that's saying something! (I've been using UA's Apollo system for the better part of a decade, and I know these plug-ins well.) UA did an astounding job capturing the warmth and depth of an EMT plate, a huge and expensive hardware beast. In fact, UA based their models on the plates from the old Record Plant studios in Sausalito, California. I worked on many projects using those very plates, and, yes, the Golden Reverberator sounds and feels like a great hardware plate.
The pedal also conjures the sparkle and transparency of the Lexicon unit that helped define the sound of the 1980s. Meanwhile, the spring settings are something new from UA. Some of their amp-model plug-ins incorporate reverb, but their only previous standalone spring plug-in is a clone of the AKG BX20—a vintage outboard spring unit that sounds a little like a vintage-style Fender tank. The Golden Reverberator also nails that bouncy, percussive, and relatively trashy Fender sound.
​Just Easy Enough
The controls are identical for all 12 algorithms. There are no confusing secondary functions. You can specify reverb length, pre-delay time, and wet/dry mix. There's bass and treble shelving EQ, plus a pot that adds pitch modulation to the wet signal. You choose algorithms via two mini-toggles. A third toggle lets you store a single sound in memory. That means you always have access to two reverb tones: a stored setting, and one reflecting the current control settings.

For the demo clips, I recorded a clean-toned passage and then re-amped it through the 12 algorithms—twice. You hear each algorithm with the effect in front of the amp, pedalboard-style. You also hear each setting as an effect send within my DAW. Naturally, the post-amp clips are more hi-fi, with greater frequency and dynamic range, plus lovely stereo imaging. These reveal the sheer quality of UA's processing. But the reverbs sound great upstream from the amp as well.
I dialed in "conventional" settings: spring reverb with no predelay or modulation, plate reverb with 20 ms or so of predelay, and Lexicon reverb with predelay and a touch of pitch modulation. But you could also get more creative with these models by, say, adding a long predelay and woozy pitch modulation to a straight spring sound.
​The Verdict
The UAFX Golden Reverberator's tones stand head and shoulders above those of lower-priced stompboxes that employ relatively inexpensive "brick"-style processors or Spin FV-1 chips. But the $350-$500 price range includes fine-sounding reverb pedals from the likes of Strymon, Eventide, and Source Audio. Deciding which effect is "best" can be a subjective exercise.

But as someone who loves EMT 140 plate reverb above all other options, I can declare that the Golden Reverberator is now my favorite reverb pedal. Your tastes may differ—some rival algorithm may be closer to your ideal. But you can't deny that this pedal faithfully replicates three beloved retro reverbs. Factor in a lucid interface, solid construction, and a competitive price, and the Golden Reverberator is a total triumph.