Mile End Effects Releases the DTYCEYP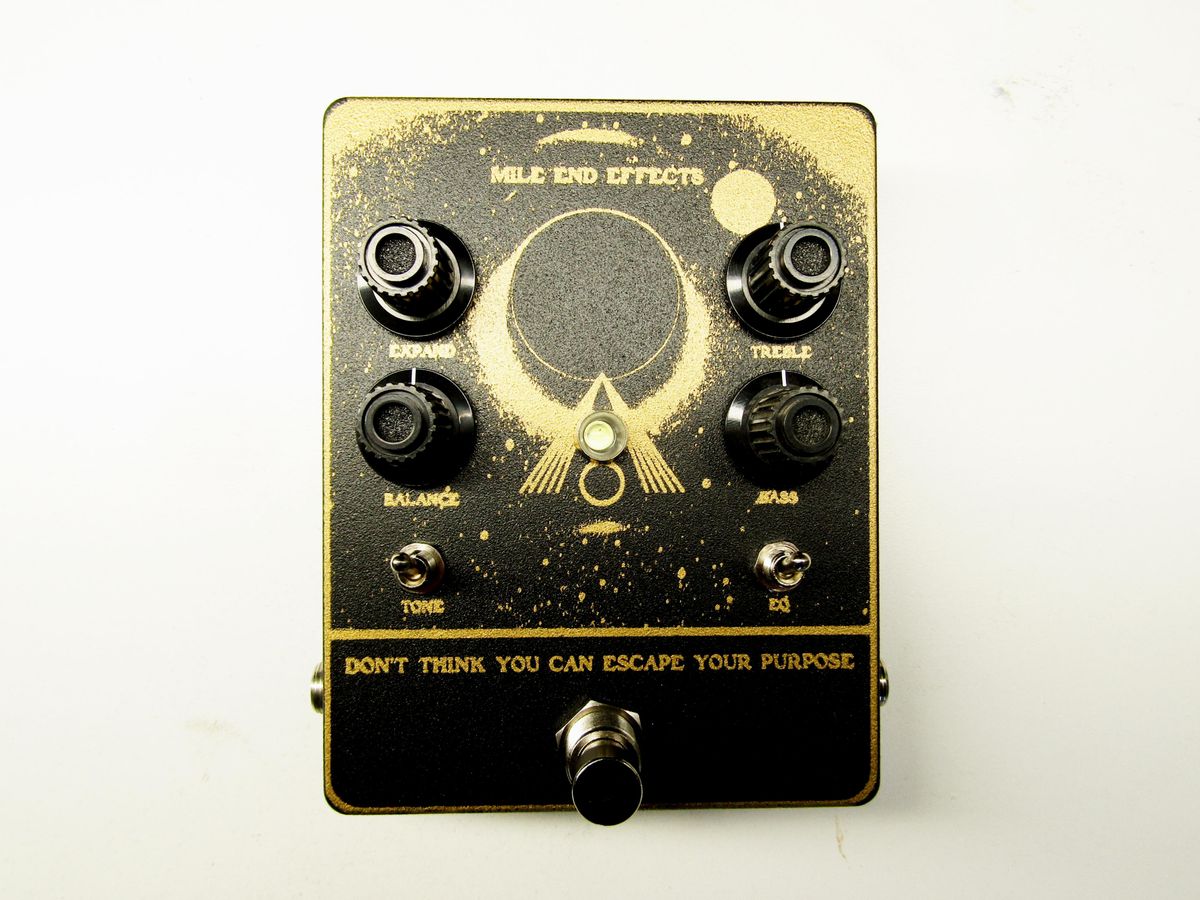 A modern take on a classic fuzz created in collaboration with Yoo Doo Right.
In collaboration with the Montreal band 'Yoo Doo Right', Mile End Effects is thrilled to release of the special limited edition "Don't Think You Can Escape Your Purpose" fuzz/preamp. The new effect pays homage to everyone's favorite Japanese octave fuzz from the 1970s: the Univox Super Fuzz.
---
The iconic Univox fuzz was used heavily by Yoo Doo Right during the recording sessions for their first LP, "Don't Think You Can Escape Your Purpose", so it was fitting to recreate it with a few extra tone shaping and boost options as a celebration of the official release of the LP.
In addition to the standard and very aggressive Univox Super Fuzz sound, Mile End Effects implemented a switchable active Baxandall Tone Stack, EQ and PreAmp offering 12dB of boost or cut in the tone controls as well as up to a 24dB boost in output volume (controllable via an internal trim pot).
A common complaint with the original Super Fuzz is a perceived volume drop when the effect is engaged. This is due to a sudden shift in frequency response, which often amounts to "getting lost in the mix". This concern has been rectified with these added tone and boost options and sounds every bit as wonderful as you would expect.
The new Mile End Effects pedal features four knobs and two toggle switches. The Expand knob controls the amount of fuzz, exactly as in the original Univox. The Balance knob controls overall volume. The Treble and Bass knobs are active Baxandall equalizer controls that can be used for boosting or rolling off tone, and they can be bypassed entirely by the EQ switch. The Tone Switch toggle, faithful to the original Univox, scoops key midrange frequency.
Mile End Effects // Don't Think You Can Escape Your Purpose
Limited run of pedals in celebration of Montreal group Yoo Doo Right's LP, "Don't Think You Can Escape Your Purpose", released May 21st 2021 via Mothland Rec...

The Don't Think You Can Escape Your Purpose fuzz offers the following features:

●A classic octave fuzz using two germanium diodes to produce square wave clipping and full-wave rectification for upper octave as well as a slight lower octave overtones

●A 1kHz Mid-Scoop Tone Toggle Switch, faithful to the original Super Fuzz design

●Switchable Active Baxandall EQ controls, offering up to 12dB of frequency boost above 12 o'clock or 12dB of frequency roll off below 12 o'clock

●Separate Internal Trim Pots to adjust both the amount of octave overtone (bias) and the overall output of the PreAmp section (boost)

●With the purchase of this very limited edition pedal comes a copy of Yoo Doo Right's vinyl record of the same name

The Don't Think You Can Escape Your Purpose Fuzz/PreAmp can be purchased directly at

mileendeffects.org

for $225 CDN and ships worldwide.