The events of Experience PRS 2010
There's one place to be every year if you're a hardcore PRS connoisseur—Experience PRS in Stevensville, Maryland. That's when PRS opens its doors to dealers, distributors, artists, fans, and the media for a few days of clinics, factory tours, new gear introductions, artist meet-and-greets, and performances. This year marks the fourth year of the event.


| | | |
| --- | --- | --- |
| | | |
| Click here to watch our interview with Paul Reed Smith | Click here to watch Orianthi's rendition of Hendrix' "Voodoo Chile (Slight Return)" | Click here to watch a solo acoustic performance from Cody Kilby |
The first big announcement of the weekend involved the extension of the company's 25th Anniversary offerings, which were introduced at Experience PRS last year and were scheduled to only be in production for a year. The company is now extending availability of those guitars and amps through December in order to meet demand.
This Custom 24 in progress was among the many interactive luthier displays
set up to show attendees how PRS guitars are made.
Among the new gear revealed were six new electrics, all sporting the company's new V12 finish. The finish, which company says took 12 years to develop, will appear on all new PRS guitars and is "halfway between nitrocellulose and acrylic, with a classic feel all its own." A new bridge and new neck shapes and pickups were also unveiled. The company also introduced a 25-piece limited run of Experience PRS 2010 Recording Amps and a limited batch of amps with special aesthetic appointments. Still unnamed is the company's first two-channel amp, which made a few sneak-peek appearances in pre-production form.
This Dragon in progress shows the inlay handiwork of the PRS Private Stock team.
One element of the annual PRS fest worth pointing out is the company's growing reputation for endorsing tonehound artists and notable up-and-comers. It seems that every year the PRS family, as they like to call it—which includes artists like Carlos Santana, David Grissom, Howard Leese, Mark Tremonti, and Zach Myers—gains new brothers and sisters you've never heard of before, but as soon as you hear them play you understand the fit. Sticking with that metaphor, you could say that a crazy foreign uncle has surfaced in the family—Andrea Braido, a monster player from Italy. Braido's Saturday morning Tent C performance— which went from death-defying shred metal on one tune to chaps-busting country acrobatics on the next—left the audience howling for more. Other new artists creating a lot of buzz included Kristen Capolino and Donna Grantis.
Main-stage performances during the event included Orianthi, Ricky Skaggs, Cody Kilby, Martin Simpson, Davy Knowles, Howard Leese, Bernie Marsden, Kirby Kelley, and many others.
Orianthi rocks the main tent with a 12-minute, jaw-droppingly energetic rendition of "Voodoo Chile."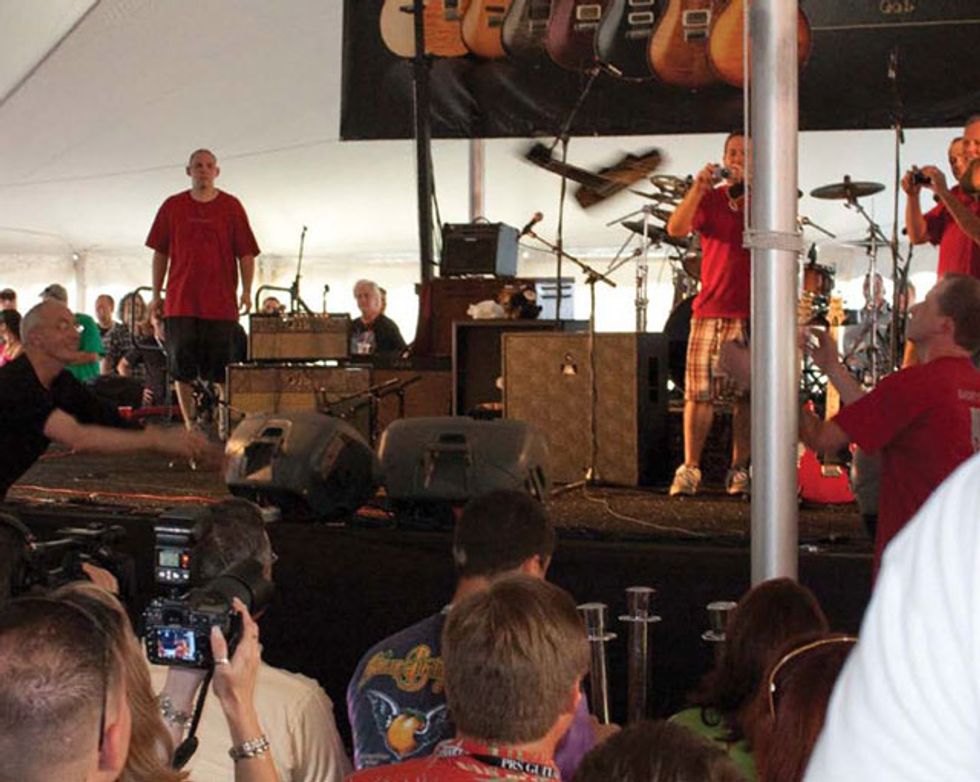 Paul Reed Smith plays catch with what appeared to be a '50s goldtop Les Paul but was actually a recent reissue that his team had given a relic treatment. The breathtaking stunt allowed him to make the point that PRS is capable of relic'ing, and doing so quite convincingly, but that the company has decided not to sell relic'd guitars. "We're going to let players put real wear and tear on our guitars," Smith said.
Other notable moments included a mad scramble for attendees to look under their chairs to see if they were the lucky winners of a new guitar, as well as the buzz-saw death of several new PRS guitar bodies, pieces of which were passed around the crowd so people could examine the feel and thinness of the V12 finish. There was also a main-stage Quest for Tone demo/comparison of new PRS guitars against a Holy Grail-caliber '50s goldtop Les Paul and a sunburst '50s Strat. But perhaps the most talked-about moment of the weekend involved Paul Reed Smith tossing that same a late-'50s goldtop Les Paul back and forth with employees. Audience members shrieked and gasped while peeking at the madness through the cracks of their fingers. As it turns out, the goldtop was a Gibson reissue that Paul's team had done a relic job on so it matched the vintage Les Paul from the Quest for Tone demo. People who saw the guitar up close say it was spot-on. Smith's point: PRS is capable, but has decided not to offer relic'ing because they believe owners should put wear and tear on instruments by playing them.
Paul Reed Smith is surprised by the unveiling of an Elvis-ified portrait of himself,
presented by David Grissom and PRS Artist Relations/Event Planner Bev Fowler.
Martin Simpson and Cody Kilby discuss picking techniques.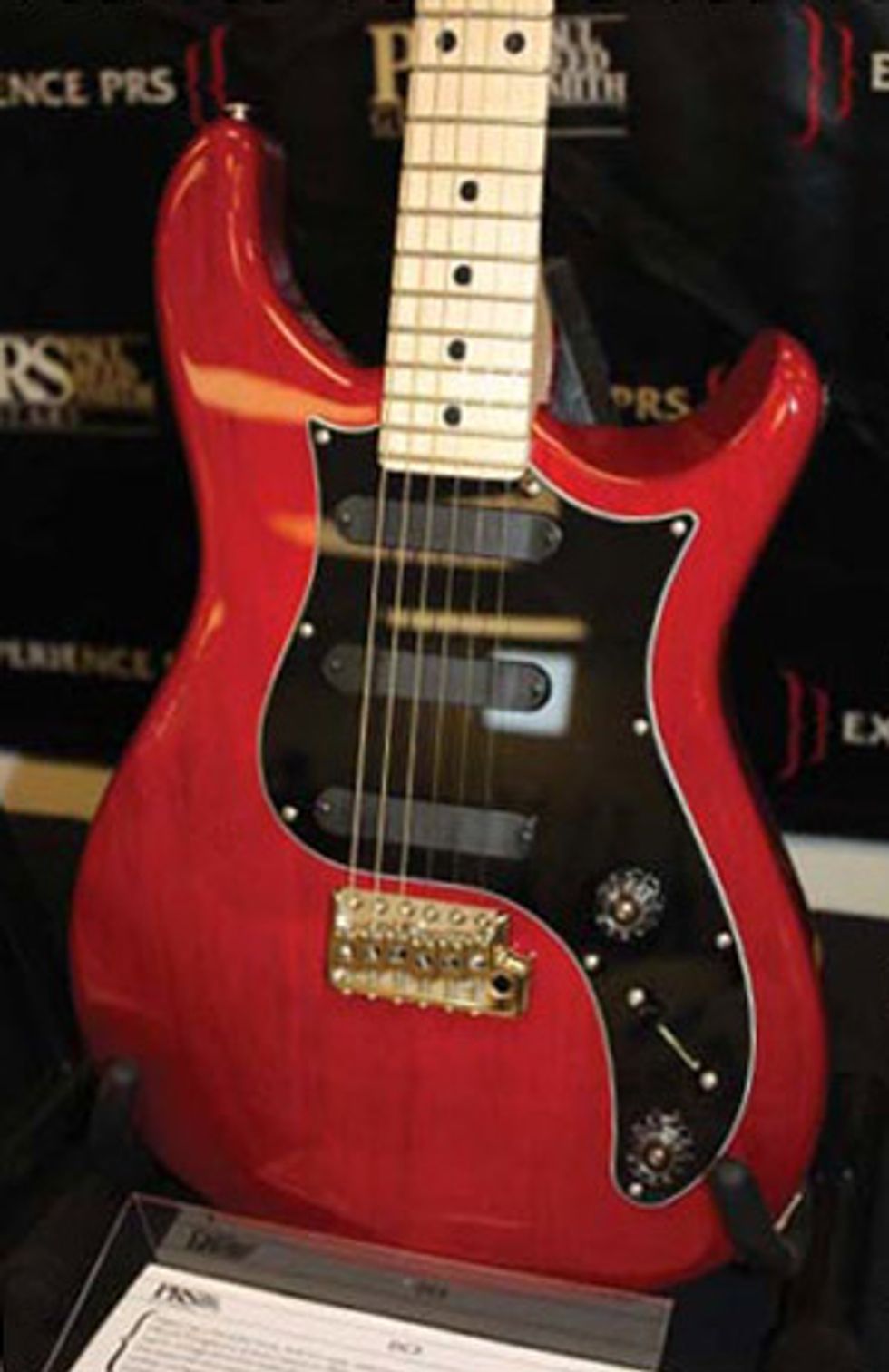 Left: The DC3 is similar to the NF3 but features the company's DC3 single-coils, which are based on the pickups in the PRS 513. Right: The JA-15 hollowbody archtop is loaded with 53/10 pickups and was built for session ace Paul Jackson Jr. Its bracing is carved into the spruce top and curly maple back with a CNC machine.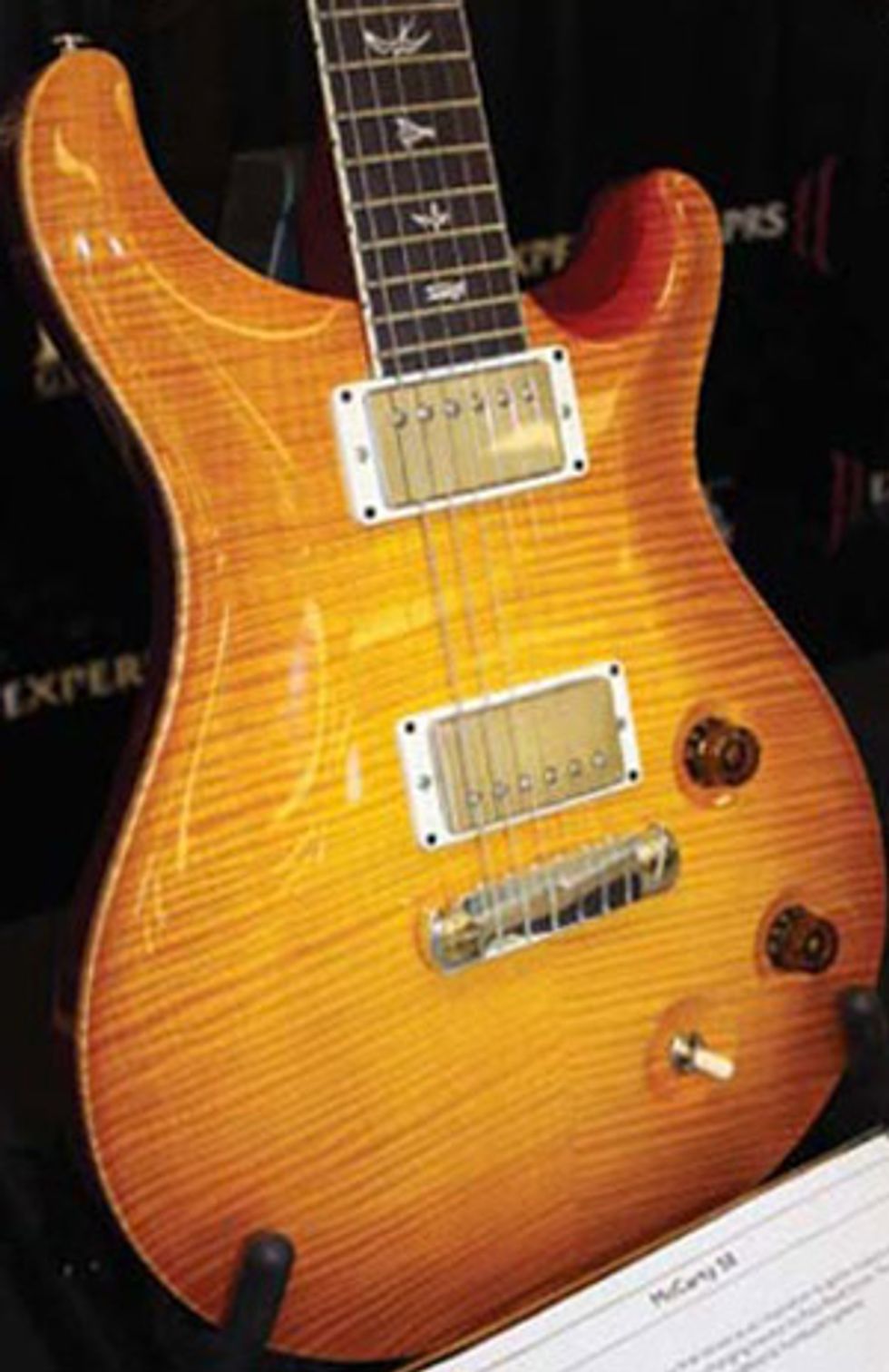 Left: The SC58 is a single-cutaway solidbody with a 24.5" scale length. It features an "artist grade" maple top, mahogany back and neck, rosewood fretboard, and the Pattern neck shape. It also has 58/08 pickups. Right:This vintage-inspired, 25"-scale double-cutaway pays homage to Ted McCarty. It has an "artist grade" maple top, a mahogany back and neck, and comes with 57/08 pickups. It also has a rosewood fretboard and the new Pattern neck shape, which is an update on the PRS "wide-fat" neck that's based on Smith's pre-factory guitars.
Left: The NF3 is one of two new 25.25"-scale PRS guitars that feature the company's new flat body shape with the new Pattern Regular neck, which is similar to the standard neck on late-'80s PRS guitars. The NF3 features a korina body, maple neck and fretboard (with a rosewood option), and PRS Narrowfield pickups. Right: The Modern Eagle Quatro updates the company's top-shelf 25"-scale-length guitar with the new Pattern neck shape and 53/10 pwickups. The guitar has an "artist grade" top, mahogany back, Dalbergia neck and fretboard, and a cocobolo headstock overlay.