Photo by Joshua Black Wilkins
The eclectic singer-songwriter showcases her inimitable feel for folk composition and audacious approach to technique, tone, and song selection on her latest full-length release, Anarchist Gospel.
Sunny War cannot resist a great pawnshop find—even if the guitar's not any good. "There's always some pawnshop, and you think, 'That's an unbelievable deal,'" explains the guitarist and singer-songwriter. "But then the thing is kind of broken, and you think, 'That's nothing, that can be fixed.' But it can't be fixed, and in the end, you're just adding to your collection of broken guitars." Although the point, she stresses, is that each guitar, at least in theory, is a winner. "I've got a lot of broken guitars with potential."
That compulsion exists despite the fact that the Nashville native has an almost spiritual connection with her main guitar, a 1989 Guild True American. "I can't explain it, but I knew when I found it," she says. "I've had a lot of guitars before that guitar, but none of them have been my guitar, except for this one. It's just so warm. It has a little story to it when you hear it."
Whether she's collecting broken guitars or bonding with her primary instrument, War has an intuitive feel for those impossible-to-define qualities that make music special. She's the master of the intangible, and that's indicative of how she approaches her craft: be it her idiosyncratic fingerpicking style, deceptively simple-looking fretwork, or organic compositional bent. She can't necessarily explain it, but she knows where the magic is, and all those characteristics came together with the making of her sixth studio offering, Anarchist Gospel.
Sunny War - "Whole" [Official Audio]
Ostensibly, Anarchist Gospel is a folk album with rich gospel harmonies, heavy blues stomp, and punk irreverence. "Love's Death Bed," the opening track, is a case in point: a slow guitar ostinato sits under a hypnotic call-and-response vocal figure that—at least to this writer's ears—conjures up the spirit of the Gladys Knight & the Pips classic, "Midnight Train to Georgia." "His Love" brings to mind Beatles-esque descending chord motion, and on "No Reason," War lets loose on an SG that belongs to the album's producer, Andrija Tokic (Alabama Shakes, Hurray for the Riff Raff). (The record also features a number of Nashville heavy hitters, like bassists Jack Lawrence and Dennis Crouch and guitarist David Rawlings, as well as artists Jim James and Allison Russell.)
"When I was a teenager, I started getting into old blues, like I was listening to Mississippi John Hurt and Skip James and even Chet Atkins at one point. I imitated the stuff I was listening to."
Then there's … a Ween cover? That's right—and when you first hear War's take on "Baby Bitch,"it sounds like she brought in a children's choir to sing the raunchiest parts of the chorus. The incongruity is hysterical. "Those aren't even real kids," she laughs. "It was three middle-aged guys. We recorded the voices in slow motion and then sped it up until they sounded like children. Ladies were messaging me that that was so wrong. I was like, 'They're not even real kids, and even if they were, I would have had permission.'" (In case you can't tell, War has a wicked sense of humor.)
Photo by Chris Estes
The taste War reveals in both her cover selection and her approach to arranging is further illuminated by her performance style. Forgoing a pick entirely, she fingerpicks with a distinctive claw shape, using just her thumb and index finger. "My thumb is calloused into a point, as is the tip of my index finger. It looks really weird," she shares. "My parents had a friend I always used to see playing banjo—and I think I was trying to copy him as a kid—and then my uncle is a bass player. I saw them playing more than I saw people playing guitar, and I imitated how they plucked the strings. Then, when I was a teenager, I started getting into old blues, like I was list
Although sticking with an unorthodox approach has its drawbacks, too. "I am starting to have hand problems," War says. "I have cramps and they kind of lock up. I have been playing since I was 7, and I am 32 now. It's probably just not a smart way to play."
War's fretwork starts, at least as a default, with first-position open chords, and she uses a capo to find a key that works with her voice. But that's just home base. She often ventures far beyond that box, employing a battery of glissandos, hammer-ons, open-string drones, and an assortment of other extended techniques. She'll also put the capo high up the neck, somewhere in the vicinity of the 12th fret, to take advantage of the taut, mandolin-like feel of the strings.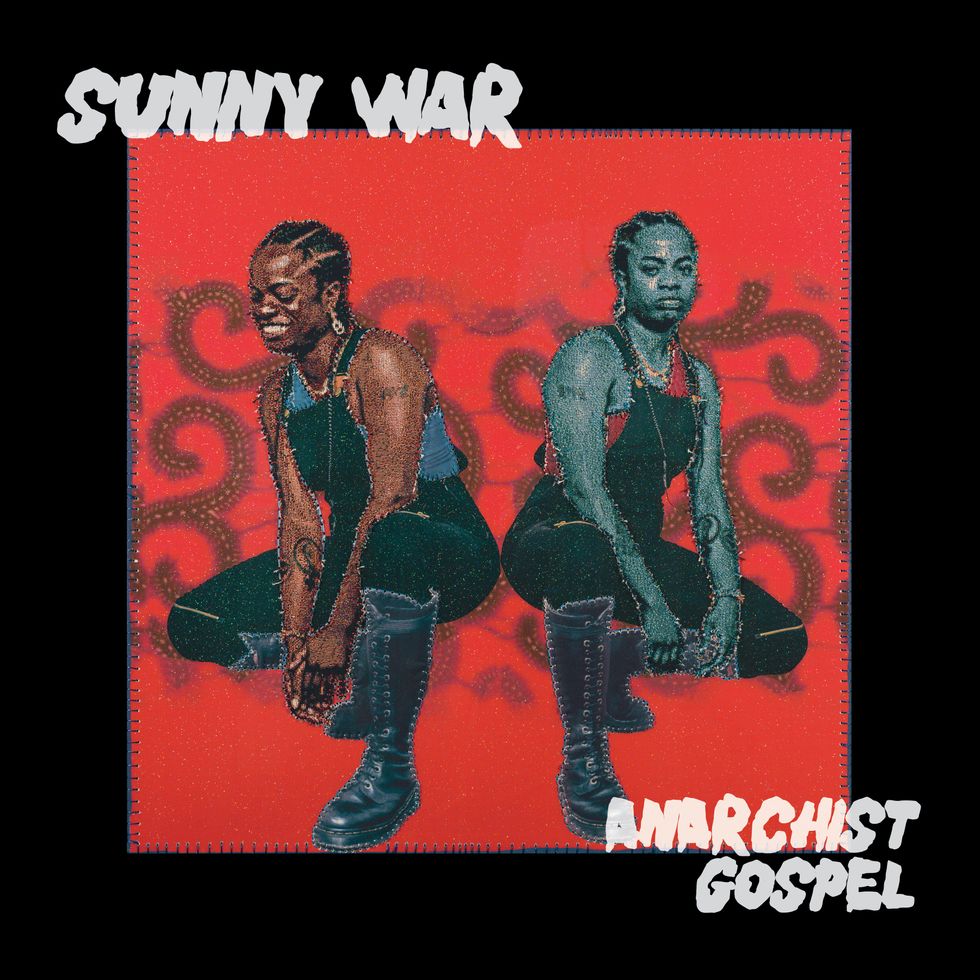 For Anarchist Gospel, War sent a line from her guitar's pickup straight to the board and also miked an amplified signal. Live, she requests a Fender Twin Reverb and tweaks the amp's low end and reverb to beef up her sound.
"I am not thinking like a guitar player," she says. "I was never trained like that. I just know the basic chords, so I have to invent stuff. Every chord I use is just a basic chord, and then I accidentally discover new chords. But it's never that I know what it is.
"I don't get how people can memorize other tunings," she continues. "Like the song 'Hopeless,' from the new record, that song is played in an open tuning, and when we recorded it, I had to go sit in another room and figure out what it was because I couldn't remember it. I still don't know what it is. I have it written down somewhere on a piece of paper that I'll probably never find again. If I want to play it live, I am going to have to have a separate guitar that's already in that tuning, I guess."
"I am not thinking like a guitar player. I was never trained like that. I just know the basic chords, so I have to invent stuff."
While War is primarily an acoustic player, she almost always modifies her tone with an amplifier. For Anarchist Gospel, she sent a line from her guitar's pickup straight to the board and also miked one of the different amps that producer Tokic had in the studio (don't ask her which one it was). Live, she requests a Fender Twin Reverb and tweaks the amp's low end and reverb to beef up her sound.
Her simple approach to tone belies her more nuanced musical sensibilities. Elaborating on the musical dimensions she was exposed to while growing up, War explains, "My parents were both really eclectic. It could be the Beatles one day, and then R&B the next, then blues, hip-hop, and Ministry. In the '90s, we had hundreds and hundreds of CDs. Even now, I don't understand how some people only listen to specific genres. Especially with the internet, you can really listen to whatever you want, and if it's good, it's good. Sometimes I just want to hear music from India, and I don't even know what I am listening to, but it can turn into an obsession and last for months. And it's free. Why be limited to anything?"
Sunny War's Gear
Photo by Chris Estes
Guitars
1989 Guild True American
Gibson SG


Anarchist Gospel breathes with the influence of that wide-open, voraciously curious ear that likely only fed into the album's foundational demos, which War amassed during the pandemic. "I had a lot of these guitar parts from during Covid," she shares. "It takes me a long time to turn them into a song. I always have little riffs, but I never know how I am going to make the thing around it.
"For 'His Love,' I had that guitar arrangement for a really long time," she continues. "I had the part that is the verses, but it's hard for me to then figure out a second part, or a chorus, or a bridge. I play in a circle—or a loop—a lot, and when I get in the circle, I can't get out of it. I only have this verse and I can't understand how I am going to expand it to something else. These guitar parts become my exercises, and I always have a couple of different little riffs and chord arrangements that I play all the time. It takes me a long time to see how it can be a song or something."
YouTube It
Sunny War, with her trusty Guild in hand and backing band accompaniment, performs Anarchist Gospel's "No Reason" on CBS' Saturday Morning, her righthand thumb-and-index style on display throughout.
Often, it's an outside factor—like wanting to buy more pawnshop guitars—that stimulates War's creative juices and pushes her to finish her songs. "I had to finish these songs because I signed a deal with New West Records," she laughs. "I am always trying to scheme—trying to get some money together so I can buy more broken guitars. I was like, 'I don't know how I am going to do it, so I've got to write an album.'"
Although, truth be told, War's sights are set higher, and her real dream is a Gibson SG. "The SG is what I would prefer to have," she says, maybe half joking, especially after having borrowed Tokic's for the electric lead work on Anarchist Gospel. "I am trying to exploit myself so I can buy an SG. I've been wanting that guitar since I was 11 years old. My whole life has been working towards that. Once I get that guitar, I am done. I will have accomplished everything."