Pedalmania 2023: Week #4
Another week, another 5 chances to win! Enter here for your chance to win pedals from Fishman, Mojotone, Revv Amps, Walrus Audio, or Voodoo Lab!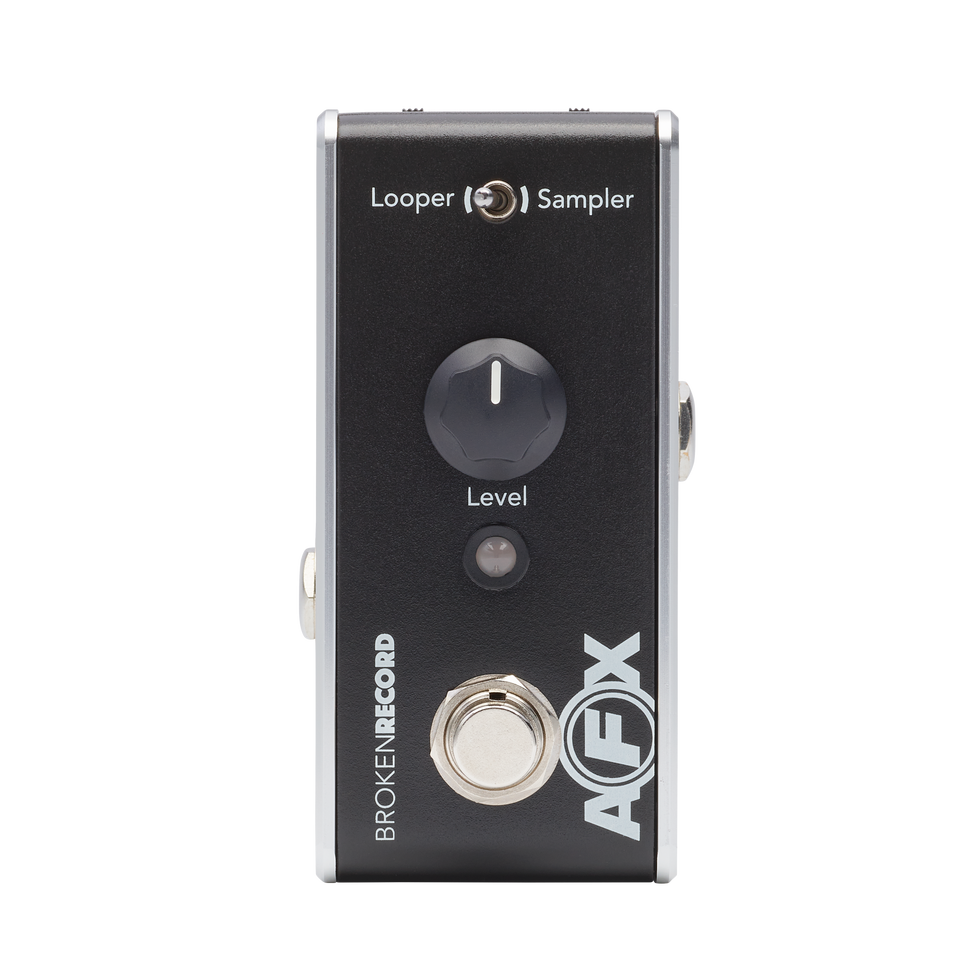 Looper and Sampler Pedal with 6 Minutes of High-Quality Audio Recording!

AFX Broken Record packs high-quality audio looping and sampling into a tiny, yet deceptively-simple, stompbox package. It features intuitive one-button operation, endless overdub capability, and offers easy transfer to a computer.

Featuring high-quality 24-bit, 44.1kHz audio recording of up to 6 minutes, AFX Broken Record let's you capture cool ideas and build on them, or even play along with audio you pre-load from a computer. Built-in memory will retain what you recorded even after the power is disconnected. So, you can unplug at your gig and move your loop to your computer later. This also means that this backing track will be ready and waiting for you to play at your next performance.

A free AFX PhraseTransfer app is downloadable at fishman.com
Fishman
BB-OD: Smooth transparent gain from boost to overdrive. 3 way voicing switch lets you dial in the articulation from this British born modern legend. The BB-OD is one of four all new pedal kits by Mojotone. Inspired by the classics, created by the leaders in gear kits, and delivered in an easy-to-assemble package. Pre-populated circuit boards minimize soldering and make these DIY kits fast and easy. Unleash your creativity and experiment with the internal diode clipping switches that set our pedal kits apart.
Mojotone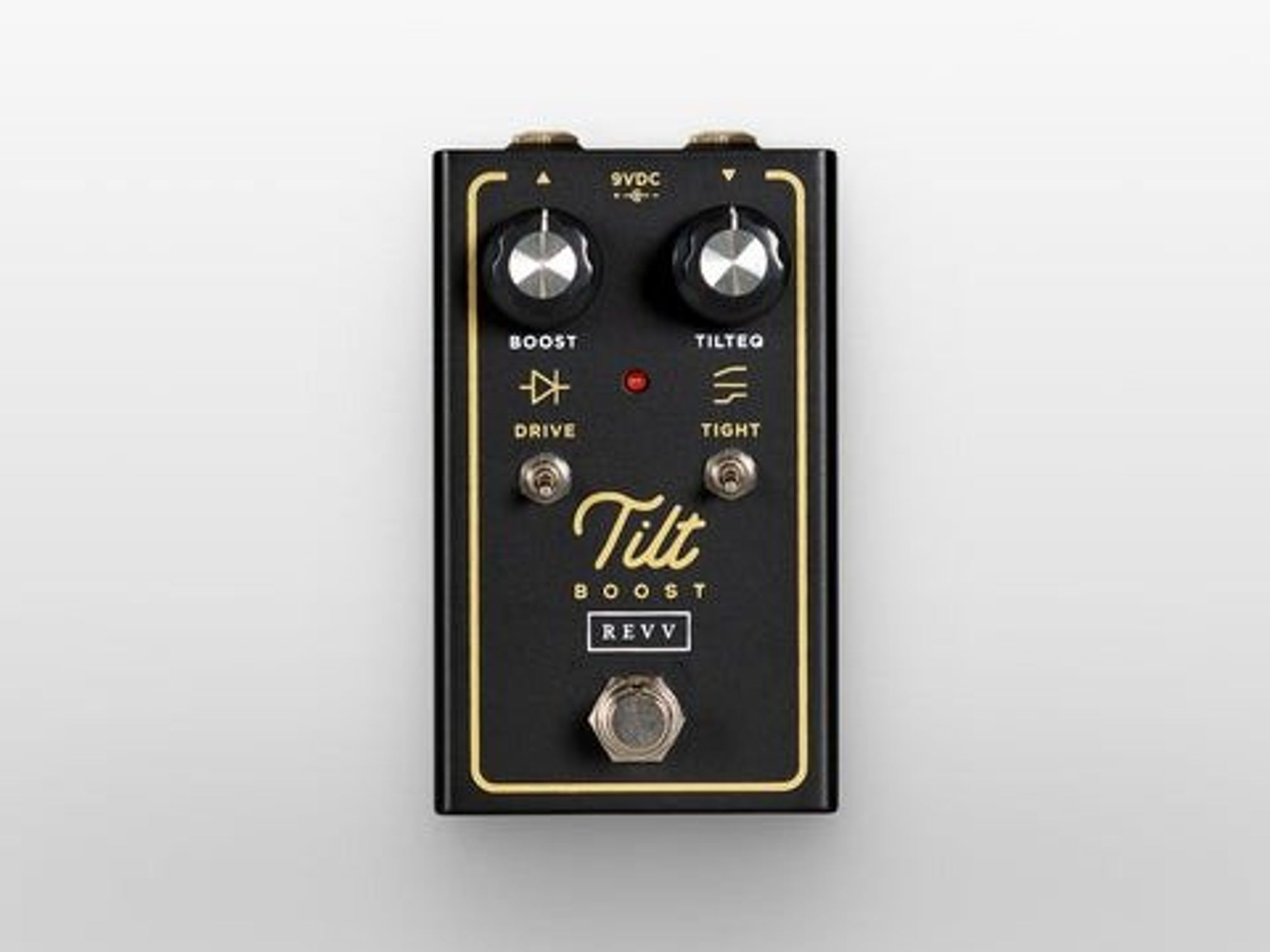 Pulled directly from Tilt Overdrive's Boost circuit, Tilt Boost provides up to 20dB of organic level with an intuitive Tilt EQ control that simultaneously increases treble & decreases bass (or vice versa). This allows you to instantly fine tune your feel & tone, & combined with the strategic frequency choices of the independent 3-position Tight Switch, means you can use one knob to add fidelity, recover body, or maintain exact control of low end build up when adding level for an authentically clean boost without bloat. A new Drive Switch allows you to engage a fat overdriven tone reminiscent of Shawn's favorite setting on the full-sized Tilt Overdrive. Perfect for putting your solo over the top, or giving you a bolder, brasher always-on voice.
Revv
The Slöer Stereo Ambient Reverb builds on our popular Slö lineup but adds two additional reverb algorithms, stereo width control, two additional modulation wave shapes, and the ability to control the sample rate. Now you can create immersive, lush, modulated, sleepy, and ambient soundscapes with more width and depth than ever before.

Save your favorite dreamscapes with three onboard presets by simultaneously pressing and holding down on the bypass and sustain switches. Scroll through them by simultaneously pressing and releasing bypass and sustain.

The five-way rotary dial allows five different reverb modes - the three you know and love from the Slö: Dark (Lower Octave), Rise (Ambient Swell), and Dream (Latching Pad); and the addition of two new modes: Rain (Delay Tap Diffusion) and Light (High Octave Shimmer). Secondary functions on the dial change between five different wave shapes for modulation on the reverb trail.

Combine deep modulation, long washy trails, and an immersive stereo field to experience Slöer.
Walrus Audio
Setting new benchmarks for clean, noiseless power, Pedal Power® 3 PLUS ensures all pedal types, from vintage favorites to modern DSP effects, sound and perform their best. Pedal Power is the industry standard, delivering legendary performance and reliability that professional musicians worldwide trust to power their tone.

• 500mA from every output
• Compatible with battery-operated & high-current DSP pedals
• Audiophile-quality power, even under poor AC line conditions
• X-LINK expansion ports allow up to 16 additional outs with Pedal Power X4 & X8
• 100-240VAC operation for international touring
Voodoo Lab
Need to mix it up? Here are 10 options that can go from twang to growl to … gristle.
One of the most effective—and least invasive—ways to mod a guitar is to swap out the pickups. Wanna experiment with a 'bucker in the bridge? Leave the router at home. We've rounded up 10 options that range from affordable and effective to boutique and beyond.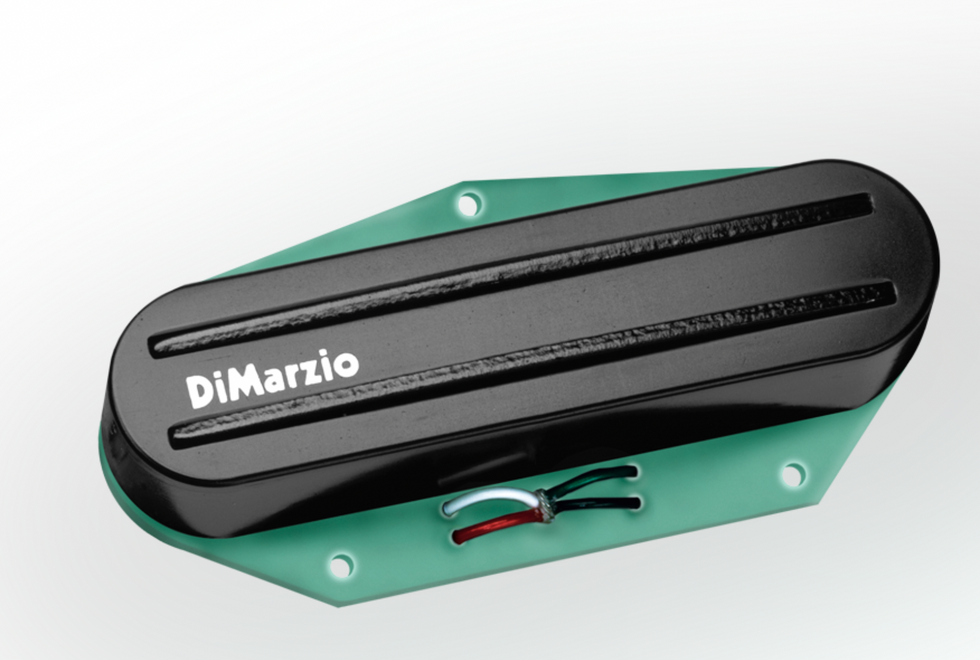 This single-coil-sized version of the company's legendary Super Distortion is aimed at T-style players who want the thick sound of a 'bucker in the bridge. It has a pronounced low-mid response with a roll-off on the high end.
$99 street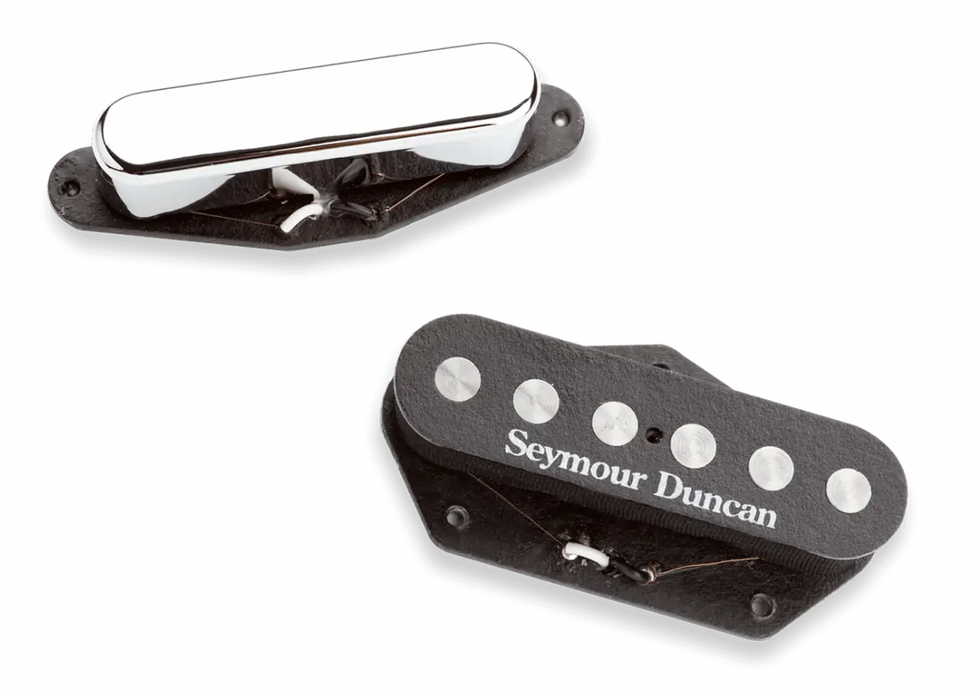 Centered around a set of alnico 5 magnets, this high-output single-coil crosses into P-90 territory. You can also get a tapped neck variation that allows for both vintage- and high-output sounds within a single set.
$89 street
Introduced in 2016, this T-style pickup features the guts of the company's T-Armond pickup, but with a little more juice. Like many of the pickups on this list, it's a straight drop-in replacement for standard-sized pickups.
$120 street
With less than 10 components in a single pickup, Mojotone made these designs very simple. They use their "Quiet Coil" technology to get rid of the hum without batteries or stacked coils. The pickups are also scatterwound for more sensitivity and clarity.
$98 street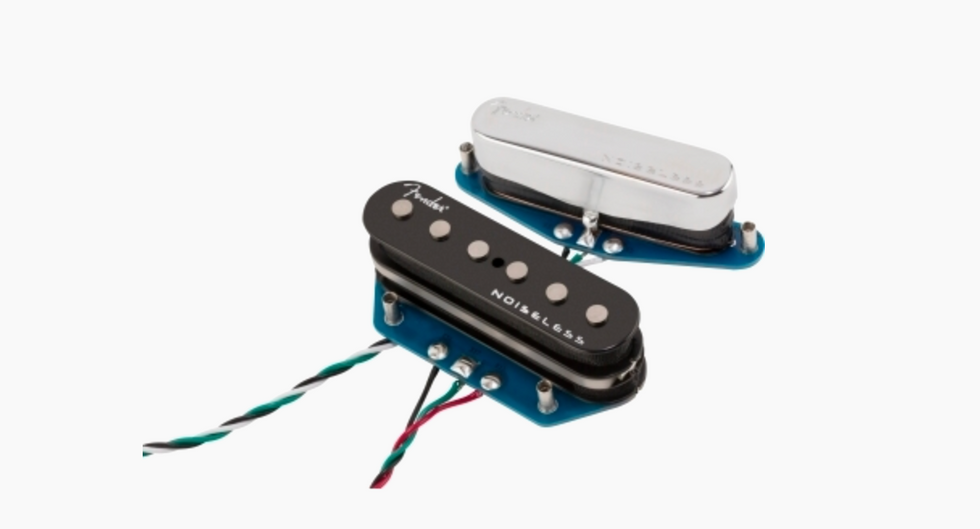 These stacked-coil setups aim to capture the classic sound and sparkle of vintage Tele pickups. They use alnico 5 magnets, Polysol-coated wire, and flat, non-beveled pole pieces. The neck pickup measure about 11k resistance and the bridge comes in around 10k.
$199/set street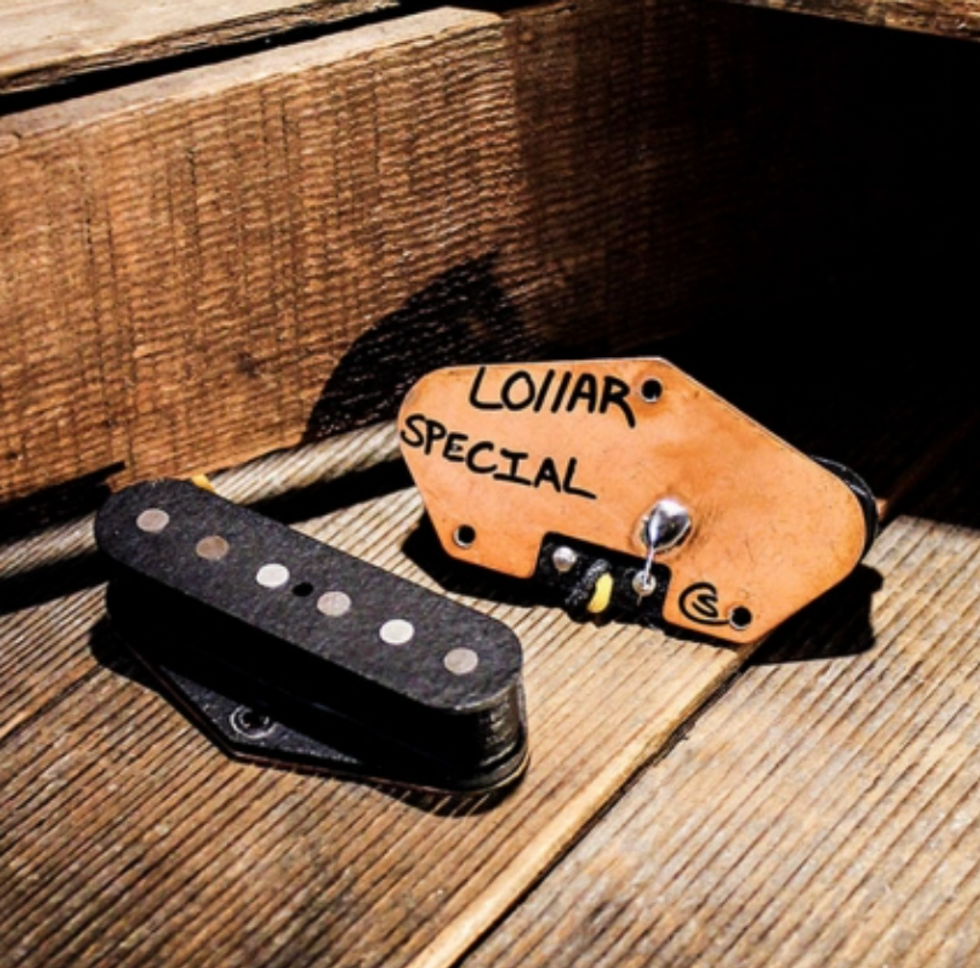 Jason Lollar is a bona fide pickup genius, and his take on the classic '50s Tele sound is represented here with a pronounced mid and bass response along with a smoother top end. Described as slightly hotter than a vintage Broadcaster pickup, the bridge comes in at 8.0k.
$125 street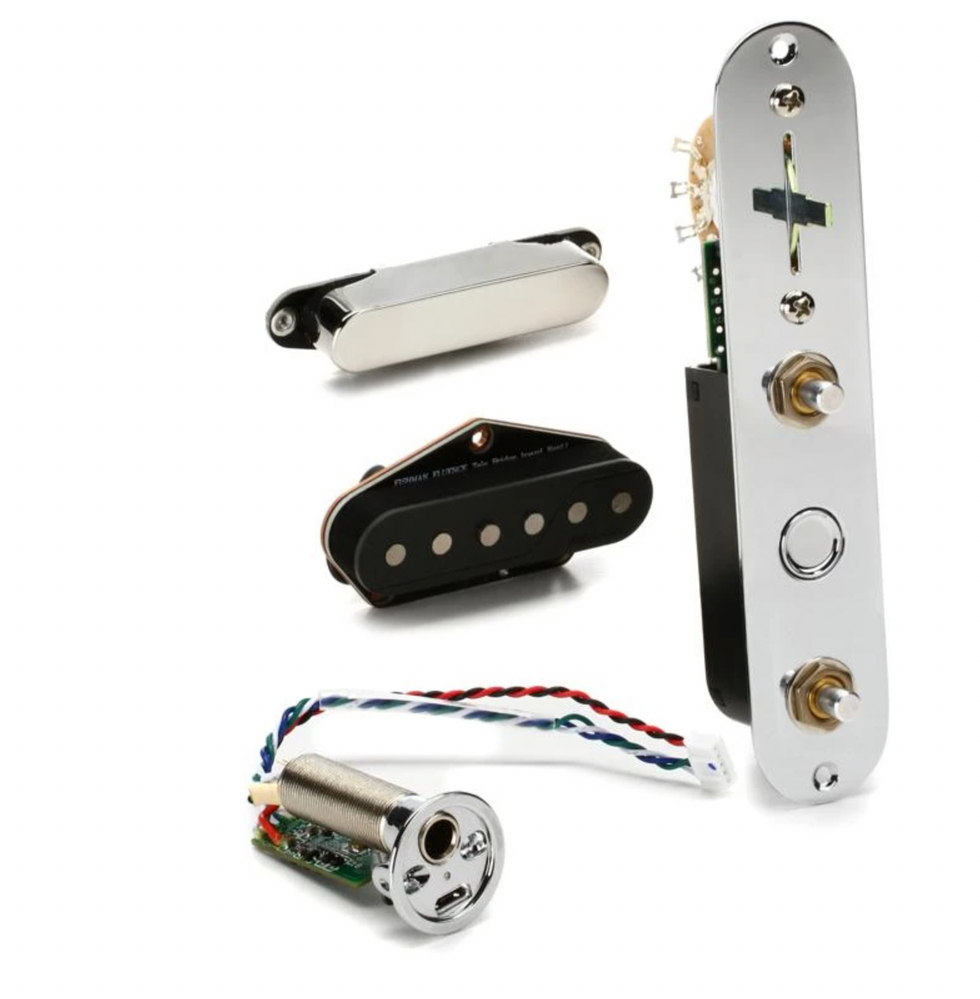 Wisconsin's most gristly guitarist teamed up with Fishman to create an entire T-style setup based on their Fluence technology. Each set includes both pickups, a control plate, and an output-jack cup with a USB charging input. With the push of a button, you can easily go between "blackguard" and "whiteguard" tones.
$359/set street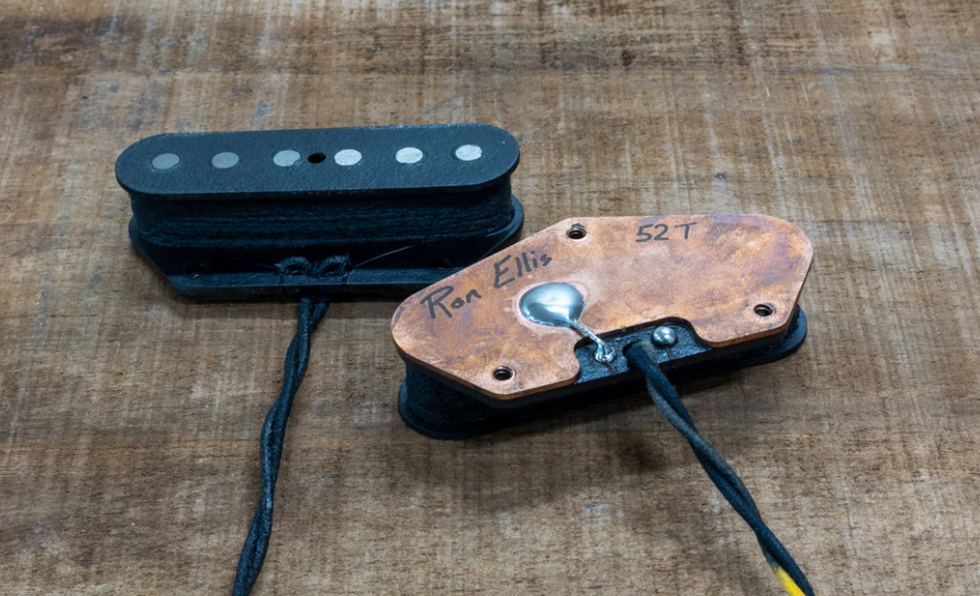 Ellis might be one of the most in-demand pickup designers around today—and the going rate for his offerings bear that out. This particular flavor goes after the "blackguard" tones of classic Tele pickers such as Vince Gill and Brent Mason.
$375 street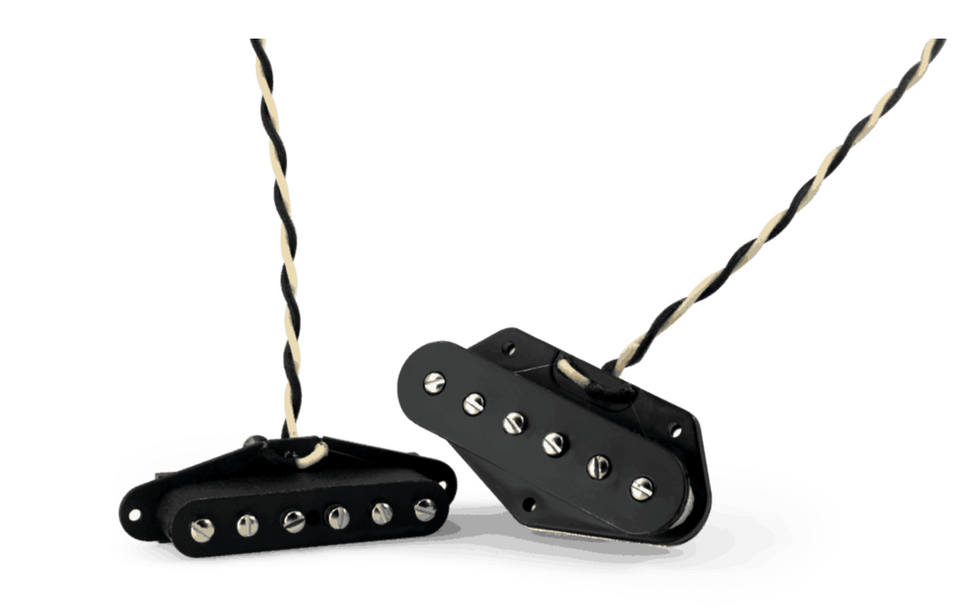 Described as a cross between a T-style pickup and a P-90, this design houses a ceramic magnet and adjustable steel pole pieces. Sonically, it has a mid-forward tone that offers a faster breakup when playing with distortion.
$115 street
Hate the hum? These active pickups aim to balance the punch and clarity of vintage Tele pickups with the modern convenience of quiet. It uses alnico magnets and a custom winding to increase bandwith and fullness of tone.
$89 street