Sure, perennial big hitters like Gibson, Fender, PRS, and MXR dazzled with fresh offerings, but one surprising stunner earned the most clicks.
John Bohlinger
The vintage-style gear specialists dive into the legacy of two classic drive pedals.
John Bohlinger
Power attenuation plus all-tube tremolo and reverb make this a killer club amp at a nice price.
John Bohlinger
Pitch shifting, deep modulation, and monster fuzz make this single box a multi-headed tone mutator.
John Bohlinger
Trestle-block bracing and new, refined FT-5E Filter'Tron pickups make a classic shape punchy, powerful, and more feedback resistant.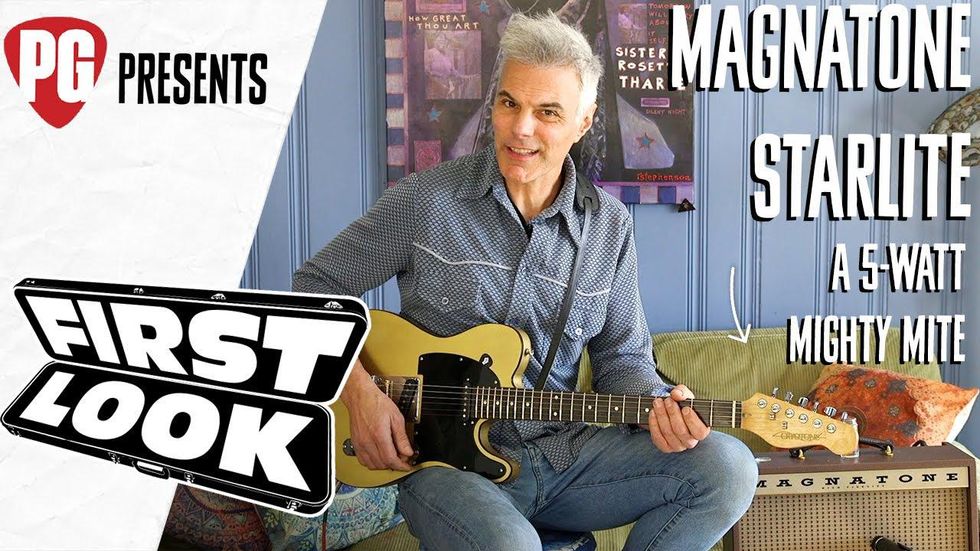 John Bohlinger
Maggie's 5-watt mighty mite bursts with black-panel and tweed-Champ style sounds.
John Bohlinger
An impressive taste of what lurks in the King's chambers for players on a budget.
Premier Guitar
The Mississippi blues maestro's signature instrument is a potent and dazzling evolution of an underrated Tele'.
John Bohlinger
Ted McCarty's archives reveal a long-lost treasure.
John Bohlinger
An affordable version of John Mayer's signature solidbody sacrifices little in the way of tone and quality, and sells for well under a grand.
John Bohlinger
A chambered body makes Yamaha's latest café racer-inspired electric a truly lightweight machine.
The silver stomp is a four-stage transistor fuzz featuring a series of selectable diode clipping options.
Detected by its strong magnetic field emanatingfrom the lunar crater Tycho, the TMA-1 was found buried 15 meters beneath thesurface of the moon. The moment 9 volts of direct current hit the TMA-1, a powerfulsignal burst across the universe, searching for other devices of its kind. This is howthe new fuzz pedal from Acorn Amplifiers came to be.
The TMA-1 fuzz is a four stagetransistor fuzz featuring a series of selectable diode clipping options. Germanium,silicon, and bypass clipping diodes are switchable in two separate stages of the fuzzcircuit, allowing for a vast array of shapable fuzz tones. A giant glass lens indicatorglows red on the face of the pedal to remind humans of the impending singularitythat threatens to doom mankind, and also to let you know when the fuzz is engaged.
Features include:
Toggle switches to select between different clipping options in two separate gain stages
Enormous glass lens LED indicator
Powered by standard 9VDC pedal power
True bypass
Hand built and hand wired from start to finish by obsessive compulsive perfectionists in Atlanta, GA
Assembled entirely with high-quality, audio grade components and rugged latching foot switches and metal Switchcraft jacks
Demos in the Dark // Acorn Amplifiers TMA-1 // Fuzz Pedal Demo
The TMA-1 is sold for $199.00 and is available now at AcornAmps.com and select dealers.
A trio of tiny heads that are simple, powerful, and impressively loud.
Sparkling clean tone that chimes like a glockenspiel. Smoky blues tones with the snarl of a junkyard dog. Lead sounds that wail as seductively as Siren's song. Expansive, enveloping arena rock tones. The malevolent grind of a chainsaw gnawing on heavy metal: Iconic sounds such as these have been giving voice to new modes of musical expression and shaping the sound of entire genres for more than 60 years now. The new Spirit Nano Heads from Hughes & Kettner capture the spirit of each era of legendary guitar sounds in three amps with distinctive personalities: Spirit of Rock, Spirit of Metal, Spirit of Vintage.
Hughes and Kettner
Hughes & Kettner's all-analog Spirit Tone Generator is now available in a compact pedal format. AmpMan Classic´s two distinctive channels each embody an entire era of legendary guitar tones, served up by the built-in 50-watt power amp or the integrated Red Box AE+. With connoisseur tone-shaping capabilities, impressive power and a comprehensive set of professional features in a handsome little box, AmpMan is the go-to solution on stage, at home and in the studio.
Hughes and Kettner