Gibson's Fabulous Flat-Top Guitars— An Illustrated History & Guide, Pretenders: Live in London, Johnny A.—One November Night
Books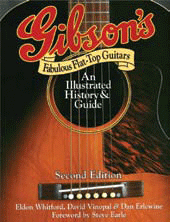 Gibson's Fabulous Flat-Top Guitars— An Illustrated History & Guide

By Eldon Whitford, David Vinopal and Dan Erlewine
Pretty much since their inception in 1926 in Kalamazoo, MI, Gibson acoustics have been a badge of pride for the company. To celebrate these highly sought-after acoustics, authors Dan Erlewine, Eldon Whitford and David Vinopal collaborated on this 220-page book showcasing the cherished flat-tops and chronicling their history and use by all kinds of pickers. From the L-5 and the J-200 to the various Starburst models, these acoustics are analyzed and spec's out in Gibson's Fabulous Flat-Top Guitars. Erlewine, Whitford and Vinopal live and breathe Gibson flat-tops, as you can tell from their exhaustive facts, specs and backstories. In addition, they weave a narrative of the company's trail from Kalamazoo to Nashville and finally to Bozeman, MT, that encapsulates the company's logistical transitions and ownership changes.
While Bozeman, MT, is known by many for its mountains—Big Sky Ski Resort and the Museum of the Rockies—acoustic guitar enthusiasts have known the small northwestern city as the home to Gibson's flat-top factory since 1989. And in the last third of the book, Erlewine, Whitford and Vinopal help acquaint us with new Gibson acoustics—from descriptive details on wood choice, bracing techniques and overall building philosophy—as well as the small, talented crew that makes them. Illustrated with over 200 black-and-white photos, plus two 16-page color inserts, this book provides an enjoyable look at the evolution of Gibson flat-tops, from their humble beginnings to custom shop one-offs. It also includes numerous reference charts showing which styles were produced where and when, as well as detailed serial-number info, basic repair instructions and historical trivia. —CK
List $29.99
backbeatbooks.com
Videos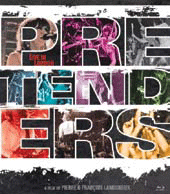 Pretenders: Live in London
A completely live recording with no overdubs, the Live in London DVD was filmed at O2 Shepherd's Bush Empire in London, in July 2009, during a European leg of the Pretenders tour in support of 2008's pioneering Break up the Concrete. Fans of the reinvigorated and thrilling sound of the band's latest incarnation will get plenty of what they're hankering for, since if anything, the live versions of its songs are even more raw and reduced to the essentials. From the punk-inflected rockabilly of "Boots of Chinese Plastic" and "Don't Cut Your Hair" that open the show like a shot across the bow, to the country/roots-rock tint of "Love's a Mystery" and "The Nothing Maker" and the bluesy barrelhouse strut of "Rosalee" and "Don't Lose Faith in Me," the group's performance is tight and sparing and unselfishly serves the superb songwriting. Long-time followers of the band will find much to like as well, with a long list of Pretenders classics also being subjected to the stripped-down treatment—from the pop hits like "Back On The Chain Gang" "Don't Get Me Wrong" "Middle Of The Road" to the early fan faves "Kid," "Talk Of The Town," "Brass In Pocket" and the spastic time-signature eccentricties of "Tattooed Love Boys."
The new Pretenders lineup—featuring guitarist James Walbourne, bassist Nick Wilkinson and pedal steel player Eric Heywood alongside original Pretenders drummer Martin Chambers and the real doyenne of rock chicks, Chrissie Hynde—is stunningly good and a delight to watch. Throughout the show, they deliver their tightly interlocking performances with a mixture of triumphal exuberance and grinning amusement. It's fun to watch a band have this much fun. Hynde herself is in top form, projecting all of her intensity and mesmerizing stage presence into the music. With a minimum of stage banter, she holds court in the rather intimate venue and makes the 100-minute set seem to pass like the blink of an eye. If you're a fan of the Pretenders, this is a must-have, but if you simply relish the savor of a no-bullshit presentation from a group of accomplished musicians, this will in no way disappoint. —CB
List $19.99
e1entertainment.com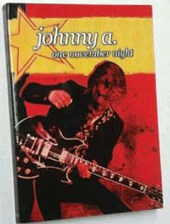 Johnny A.—One November Night

Guitarists with a distinctive sound are as rare as natural beauty in Hollywood. Since going strictly instrumental, Johnny A. has quickly joined the rarified ranks of players like Jeff Beck, Bill Frisell, and Carlos Santana, as far as being recognizable from the first note. He has created a unique voice through a mix of idiosyncratic arrangements, running his Marshall heads direct, and ultimately designing his own guitar (with the Custom Shop crew at Gibson).
A number of those guitars are displayed and played on the DVD One November Night, along with the passionate but controlled picking of this former Peter Wolf sideman. Bassist Jesse Bastos and drummer Chris Farr demonstrate how a well-rehearsed, supportive rhythm section adds much to the show. And a show it is; despite being welded to his stool, and the absence of computerized lighting or smoke effects, A. demonstrates that superb playing, great tone, and thoughtful pacing are enough to keep an audience's interest. Sure it is his hometown crowd, but the intimate club performance leaps off the screen, putting you right in the front row at Boston's Scullers Jazz Club.
The package features a DVD and a CD. All but one of the DVD's tunes—a version of "Walk Away Renee" played in the great outdoors—is offered on the CD. Four of the tunes on the CD are replaced on the DVD by short interview segments largely devoted to general biographical information rather than gear or performance talk. Still, players will not be disappointed; the sound is excellent and the camera angles amply reveal both left hand and right hand techniques providing an unexpected Johnny A. lesson.
Even more unusual than a distinctive sound, is an instrumental guitarist whose appeal extends beyond other guitarists. Johnny A.'s magic crosses over because, like Frisell, he doesn't just play guitar—he plays music. —MR
List $29.99
johnnya.com