The Sensation Fuzzdrive from Heather Brown Electronicals blends the best of both worlds from its titular pedal classes.
Broad range of vintage and modern sounds, from classic rock to metal to punk to parts unknown. High-gain sounds are full and gooey and versatile. Nice art.
Can get a bit boxy when used as an overdrive. The tone color won't be everyone's cup of tea.
Heather Brown Electronicals Sensation Fuzzdrive
godsmom.com
4
4.5
4.5
4
The Heather Brown Electronicals Sensation Fuzzdrive sure does live up to its name. It fuzzes, it drives, it will give you varying sensations.
In her own words, Heather Brown is a mom who makes guitar pedals. She cut her teeth working for Electro-Harmonix's Mike Matthews and Keeley Electronics namesake Robert Keeley, and now she builds killer pedals of her own original design. The Sensation Fuzzdrive is Brown's third offering, joining an overdrive unit and a combo fuzz/tremolo pedal already on her roster. It's marketed as a fuzz-meets-overdrive circuit, with the tight punch of an OD and the earth-rumbling thunder of fuzz.

Braaaaaains!
The Sensation sports some of the coolest art ever committed to a little steel stompbox. The glitchy brain cross-section and circuit board of tendrils crawling out from it announce the Fuzzdrive as a unique pedal with vision and guts. The controls also set the pedal apart from the pack. A 3-stop knob switch called the saturator enables you to select how many gain stages you want to run in series, and a conventional EQ knobs suite is replaced by a toggle-switching system for midrange and bass. A third toggle switches between two gain levels and works in concert with the saturation control to fine-tune the distortion from the pedal's gain stages to sound hotter or cooler. The master volume control is the only full-sweep pot on board. The on/off blood-red LED is cheekily placed among the spindly neuron threads. Together the controls give the pedal a slick, industrial look. The Fuzzdrive, by the way, is built around a low-input impedance circuit, so Heather Brown suggests situating it before any buffered pedals in a chain.
Instructions for the Fuzzdrive include six control setting suggestions that range from warm overdrive to heavy fuzz. But whether it's the relative inflexibility of a 3-position toggle switch, or limits in the midrange, I did find the EQ controls a bit challenging to master. When chording on all three midrange settings, I heard a certain boxiness unless I had the bass toggle at maximum level, and when I flipped through the different mid switch options, I felt like I was hearing a wah set at different points. That said, players like Josh Homme have built a career from plumbing the depths of tone-tickle trunks for weirdo guitar sounds, and this aspect of the Fuzzdrive's performance will likely inspire the same sort of playfulness and adventure. Plus, the boxy compression generated great lead sounds. And at any and all positions, both humbucker and single-coil guitars sounded absolutely scorching and grimy.
Squealin' In the Years
The Fuzzdrive is a versatile fuzz and distortion. The clipping is ferocious but warm, and the dirt can be tuned to resemble anything from explosive Hendrix fuzz or Sabbath crunch to modern hard rock and metal tones. I even got what I thought were pretty convincing Enema of the State-era Tom DeLonge sounds with the mids down and bass and saturation in middle positions. At full volume, the circuit's high-end can come on strong. The sweet spot for me was between 12 and 3 o'clock. But, if you want to go off-trail and explore different textures, the Fuzzdrive's unique midrange voicings offers many paths.
The Verdict
I didn't get to test the Sensation in a band setting, but it's clear from its cutting tones that it would manage a mix well. It's not strictly an overdrive, so it won't clean up at low drive or reduced guitar volume settings the way some dedicated overdrives might. Then again, you won't encounter mud or any lack of clarity here.
The Sensation Fuzzdrive doesn't really sound like most other fuzz and distortion boxes, and that's a good thing. It has some seriously unique and exciting sounds tucked away in the folds of its brain, and the control layout is funky and invites experimentation. If you're looking for a mid- to high-gain tool that sounds unique, looks cool, and will give you rich, warm saturation alongside oddball tonal options, you won't be disappointed.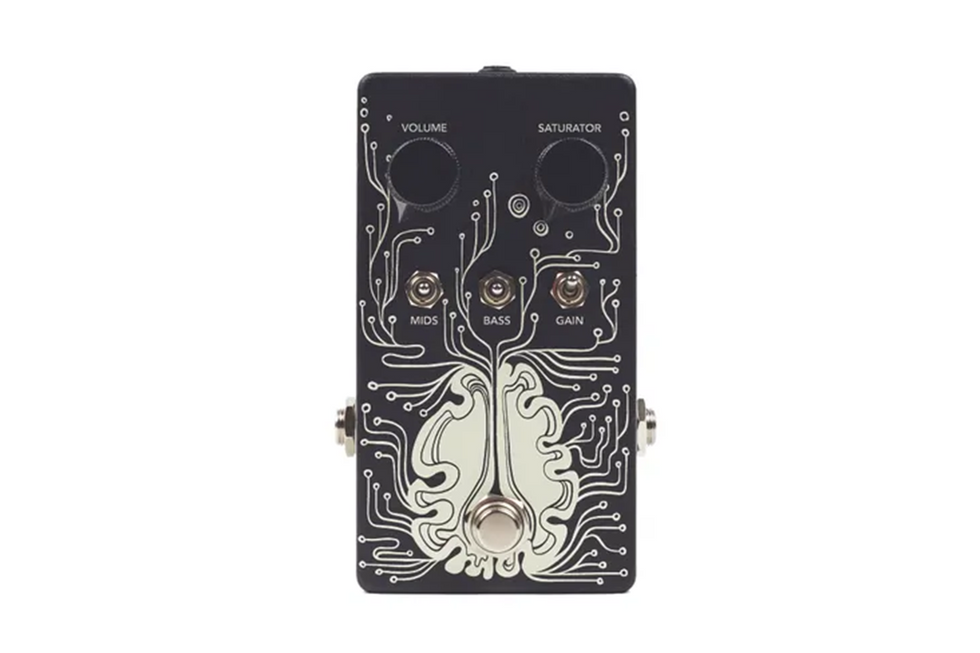 Heather Brown Electronicals