After a nearly crippling injury, guitarist Henry Garza and his band of brothers are back with an album that covers all the bases—and then some.
The last year has been a difficult one for guitarist Henry Garza and his band of brothers, Los Lonely Boys. During an early 2013 L.A. show, Garza walked to the front of the stage to greet some fans and took a horrific fall.
"I wasn't sure if I was going to be able to walk or play guitar again, or even do anything again," remembers Garza. At the time, the band was working on a new album (their first since 2011's Rockpango), and then everything was put on hold. "It was pretty scary," Garza says. "I'm getting better everyday, although I'm not the same. I have to be careful, but nothing's going to keep a good man down."
While he recovered the band returned to the studio to finish Revelation, their first album where they used a producer and even collaborated with other songwriters. "We normally don't write with anybody, but we knew that putting this project together with writers and different producers would get some attention," says Garza. The group's self-described "Texican rock 'n' roll" is equal parts Beatles, Willie Nelson, and Stevie Ray Vaughan, with some Texas Tornados thrown in for good measure.
The group hooked up with producer Don Gehman, who boasts a résumé full of multi-platinum albums, including Hootie and the Blowfish's Cracked Rear View and three of John Mellencamp's biggest albums (Uh-Huh, Scarecrow, and The Lonesome Jubilee). Even with all of that street cred, the LLB sessions weren't without their difficulties. "Normally, we don't work with a producer, so it was a little awkward at first," remembers Garza. "We made it clear to Don that we wanted each song to sound like the song, not so much like Los Lonely Boys." The "song-first" attitude allowed them to move from Texas pop to Stax soul effortlessly and without a drop of irony.
It seems like the songs on this album are less about jammy guitar solos.
Exactly. That was the whole point. I didn't want to just throw some guitar out there. The songs we had called for this. From a guitar player's standpoint it doesn't bother me—I just want to get some good tunes out there for people to jam out to. If we wrote songs that had guitar all over them we probably would have stretched them out more.
Do your songs change shape once you get a chance to take them out on tour?
You know it, man. Playing them live always changes things, since you never play the same song the same way twice.
YouTube It
In front of a huge crowd in Austin, Garza let's his Texas blues roots shine with a shuffle while his brother Jojo helps out at 3:48.
This was the first time you brought in a producer. Why the change, and how did it help this album?
In this business you've got to concoct some different plan or project to get more people excited and involved. I wrote some songs with some cats from Nashville, and Jojo wrote some stuff with people from L.A. We knew when we got together with these people it would raise some eyebrows. Don Gehman has been in the music business for a long time, as were the cats we wrote with, like Radney Foster, who's a big songwriter out of Nashville. We figured if we worked with these producers and songwriters, people would take notice. It was a pretty cool experience for us.
Some of the acoustic textures on this album show a different side of the band. What acoustic guitars did you use?
I used my Martin OM-28 Marquis and a Taylor 716 that I had in storage. My brother Jojo played some acoustic on this album as well, and he played a traditional Mexican instrument called a bajo sexto. It's like a 12-string Mexican guitar.
Tell me how you tracked "There's Always Tomorrow." There are a lot of guitar parts on that song.
You know it. The Beatles were a big inspiration to us. Jojo wrote that with Matthew Gerrard out in Los Angeles. When we were trying to get it together, it was like, "Wow, it sounds like the Beatles and Queen had a baby." There's a bunch of guitars all over that song, man—little fills and stuff. I played a Gibson ES-335.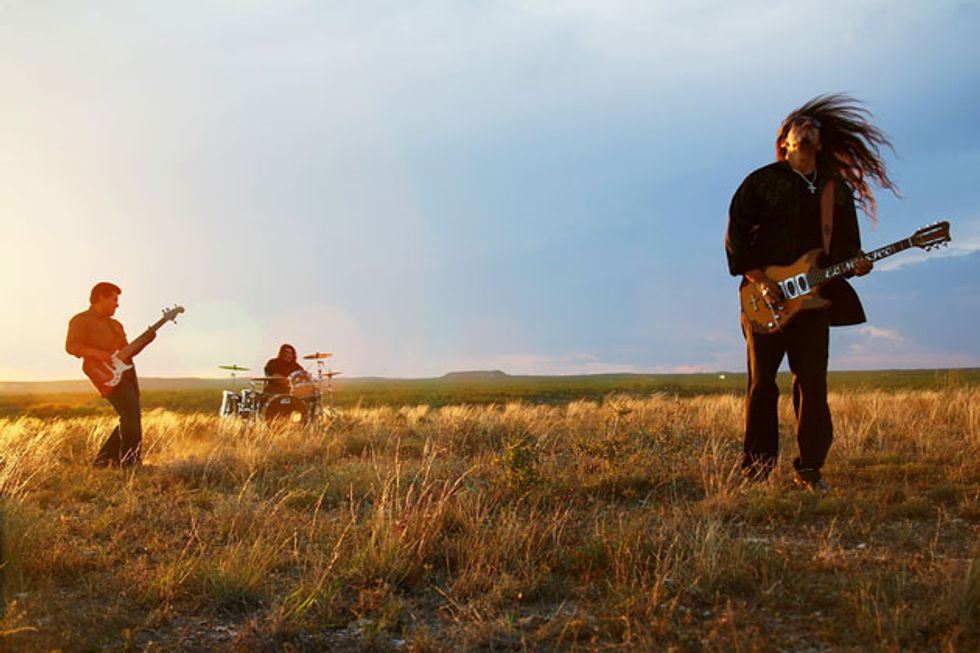 For Revelation, the band decided to bring in legendary producer Don Gehman. It marks the first time the band brought in an outside producer.
What did you use on the solo to get that whirly, almost flanger-like sound?
I did so many guitars on that track. For some, I used my Leslie. Others sound like a keyboard. There's another part that sounds like a violin. It's all just overdubbed guitars. That's why I mentioned Queen, because the guitars have that orchestra effect. I don't even know how many layers of harmony guitar I did on that song, but it was quite a bit.
Was Brian May an influence when you were growing up?
Not where I would pick up an album and wear it out. I know "We are the Champions" and "Bohemian Rhapsody." I sometimes get him and the Black Sabbath guy confused [laughs].
How did Don approach all the different layers on that track?
I let him do his thing. I tried to give him the tracks he was hearing and wanted to work with. We would lay down a rhythm track, and if it felt good, we would keep it. Then I would go back and do a couple of fills and a few runs for the solo. I really wasn't sure how it was going to sound until the finished product was there. It's like being a bunch of wizards in our little cave, putting all our musical stuff in a cauldron and not really knowing what's going to happen. You know it's going to be powerful and magical, you just don't know to what extent. Coming at this from a guitar player's standpoint, for me, I would put more guitars everywhere. [Laughs.]
"We were a pretty hardworking family, and we didn't have a lot of money. My dad got a hold of some little Peavey amp and I had ripped out the speaker. I kept the brain and I put it on top of one of these Kustom amps with two 15" speakers. I built it myself, man!"

Do you usually overdub your solos?
Not all the time. It's like painting a picture—you go back and add some details to try and make it look prettier and stand out more. I might do the solo right there while we create the foundation, or I might do some overdubs.
Are your solos mostly improvised, or do you sketch out melodic ideas before you track?
That's the fun part for me. I get to go in with a clean piece of paper, and I love making up the solo on the spot. So whenever I do a solo, my brothers will be there listening and we know if that's the one or not. Like on "Blame It On Love"—we were bouncing some ideas around, and then all of a sudden this thought of a Mexican Stevie Ray Vaughan was going through my mind. My brother Ringo was sitting in the control room, and when I finished, the first thing he told me was "Man, I love you bro," and he had tears in his eyes. I told him I loved him too, and we knew that was the one. We felt the crying going on in the guitar. That seems to be the part that takes some time for me. Not like it's hard—you're just searching through a box that has a bunch of cool toys in it.
Speaking of toys, what guitars did you use?
It was a grab bag. I played a Telecaster for a lot the rhythm tracks and some solos. Then the 335 came into play. Of course, I had my Strats and a Danelectro baritone guitar. As the song developed, I reached for whatever sound it called for.
YouTube It
The band gets funky in front of a crowd in Waco, Texas with "Oyé Mamacita."
Yeah, you used the bari on the solo to "The Greatest Ever," right?
Yep. I call that the "Big Daddy" guitar. I think it fit well with that song because it's about a dad singing to his children. I remember the first time I heard one was on a Clint Black song called "Killin' Time." There was a baritone on there that did a pretty badass little lick. Simple little melodic structures work better on the baritone. They come out nice and fat.
What amps did you plug into?
I used my basic live rig: a couple of Fender Twins and a Marshall JCM2000 with a Tone Tubby cab and speakers with hemp cones. I just love them. They sound great and last a long time. It's pretty much the same setup as when I did that Rig Rundown with you guys.
Still using a pair of Tube Screamers?
Yeah, I'm using my TS9, and I use another one just for a little extra overdrive.
Henry Garza's Gear

Guitars
Fender Custom Shop '60s reissue Strat (nicknamed "Tejana")
1978 Fender Telecaster
Danelectro '56 Baritone reissue
Gibson ES-335 reissue
Amps and Cabs
Fender Twin Reverb (loaded with Tone Tubby speakers)
Marshall JCM2000
Tone Tubby 4x12 cab
Effects
Leslie cabinet and Trek II UC-1A Combo Preamp
Ibanez TS9 Tube Screamer
Echoplex EP-3
Strings
D'Adarrio .013-.052 set
An accordion isn't something that you typically associate with a bluesy power trio. Was that sound something you hear a lot growing up?
The Texas Tornados and Los Lobos were played all the time when I was growing up. Our cousin played accordion on the track. I tell you, it was like the song was written just for the accordion. When it kicks in, that's that Texican rock 'n' roll, man. When I hear "Blame it On Love" I just think of a big Texas barbecue.
The vibe and sound of "Rule the World" are a bit heavier than what you're usually known for.
That was a fun song to do, man. I was never really into the whole Eddie Van Halen style of playing growing up. It's not that I couldn't do it—I just wanted a more Stevie Ray Vaughan or Jimi Hendrix vibe. With that song I got to step out of the box a little bit and have some fun. It's a sound and style that people don't normally get to hear from me. We were trying to put our take on that modern rock sound and show people that Los Lonely Boys aren't just a blues band. It was a little uncomfortable at first, because with that real heavy, dirty, gritty guitar tone, it's hard for me to find some life in there sometimes. It was fun trying to put my heart in it. That style of music just makes you want to get in your car and drive fast or jump in the MMA ring.
There's a hint of "La Bamba" on the intro to "Dream Away."
You're right on, bro. When I was writing that song, I had Ritchie Valens in my head the whole time. He was an inspiration on that song, and I was also thinking of that John Fogerty song, "Centerfield." They have a similar feel in the intro. I don't know if I could say I was trying to reinvent "La Bamba," but it was just something that came out. The words, man, were a whole different deal. I was picturing myself as a family in one of those FEMA camps. I was doing some research one day and starting thinking, what if a family was stuck in one of these camps? How could get out? It didn't matter if you were behind bars, or locked behind a fence, being forced to live in these quarters—you could always dream yourself away. Basically, I was imagining I was in a bad place and trying to dream my way out of it, because they can't take your dreams away.
In our Rig Rundown you mentioned "The Ninja," a homemade amp you used when you were younger. Can you tell me more about it?
Oh yeah! We were a pretty hardworking family, and we didn't have a lot of money. My dad got a hold of some little Peavey amp and I had ripped out the speaker. I kept the brain and I put it on top of one of these Kustom amps with two 15" speakers. I built it myself, man! When we went out to play gigs everyone had their name-brand amps, and I was just being a little Einstein-ish, I guess. I wrapped the speaker box with a piece of black cloth. It looked like a ninja, so I painted "ninja" on the front. I was just putting together pieces of amps to make one work. I lost that sucker a long time ago. It did me some good for a lot of years, I promise you that. It was just one of those things that got lost in the whirlwind of life.