The veteran blues-rocker uses low-wattage amps to creative a massive, high-intensity sound that nods to heroes like Hendrix, Trower, and early Clapton.
Micki Free is not a less-is-more kind of player—at least when it comes to amps. His setup is all reissue Marshalls: two JMP 2061X heads perched on 4x12 stacks, a pair of 1974X combos, and double SV20C 1x10 combos. They look great together and, of course, sound even better.
"I'm a Marshall purist," Free explains, "but not the modern high-gain models that sound more harsh and brash. Lower wattage heads overdrive quicker and better than 50- or 100-watt heads. They get you to the sweet spot right away. I like the old sound, like the Bluesbreakers—amps that break up right where you want them to and are very controllable, with a lot of midrange in the sound and some bass, but not too much."
Free fell for Marshalls even before he played guitar—the night his sister took him to see Jimi Hendrix when he was just 9. "From that moment on, I knew what I wanted to do with my life," he says. In short order, he was experienced, ingesting the music of Cream, Robin Trower, Jeff Beck, and other giants of late-'60s rock guitar. Over the decades, Free has made his own bones as a songwriter and player.
"Lower wattage heads overdrive quicker and better than 50- or 100-watt heads. They get you to the sweet spot right away."
He's been a protégé and guitar-slinging pal of Gene Simmons, Prince, Billy Gibbons, Carlos Santana, and Cheap Trick's Rick Nielsen. He's also been immortalized in a popular Chappelle's Show episode of "Charlie Murphy's True Hollywood Stories," as part of Prince's team in a now-legendary basketball game. And as a key member of R&B hitmakers Shalamar, he scored a top 20 hit with "Dancin' in the Sheets" and won a Grammy for "Don't Get Stopped in Beverly Hills" from the Beverly Hills Copsoundtrack. "But through it all," he says, "I've really been a blues-rock player. That music runs through my veins."
And pours out through his sound. Free began building his full-blooded six-amp wall in 2009, when he was provided a pair of 1974Xs during rehearsals for his gig at the Hard Rock Cafe Calling Festival in London's Hyde Park. It was love at first note. "They sounded like the Bluesbreakers amps"—Marshall's legendary JTM45-inspired combos, the 4x10 1961 and 2x12 1962—"but louder," he notes. So, he a bought a pair.
The 1x12 1974X is an 18-watt beast, with two channels: a tremolo channel with speed, intensity, tone, and volume dials, and one with just tone and volume. They have three ECC83 tubes (one working as a phase splitter), two EL84 power tubes, and an EZ81 rectifier tube, and sport Celestion Heritage G12M-20s. The next addition was his JMP 2061X heads—20-watt brutes originally produced for guitar and bass from 1967 to 1973. They have two channels with two controls each, for tone and volume. And, yes, there are two EL84s in the power amp and two ECC83s in the preamp. The heads pump 100JH 4x12s with 25-watt Celestion Greenbacks. All that was missing, to Free's ears, was a little high end, so he acquired his two SV20C 1x10s. These 20/5-watt switchable treble makers have a unique control set: with normal and high treble channels with dual input, 3-band EQ, and presence. Essentially, it's a take on the plexi Super Lead, featuring Celestion VT juniors.
Micki Free - Heavy Mercy
To get an earful of exactly what Mt. Marshall sounds like cranked, check out the online version of this story, where you'll find Free's song "Heavy Mercy," from his new album Turquoise Blue. The tone is pure Jimi, and righteously so. Of course, the guitar's a Strat. He has two of these Fenders and favors a 1959 reissue in sea foam green. He also has a fleet of Teye guitars with a signature model on the way. And his effects chain also slants toward the classic palette: a Pedal Pawn Gypsy Vibe, an Eventide H9 he uses for delay, a Vox wah, an Electro-Harmonix Electric Mistress, an MXR Carbon Copy, a Fulltone Octafuzz, a Pedal Pawn Fuzz, and a DigiTech Bad Monkey that was a gift from the Rev. Gibbons.
Free explains that his amplification amalgamation is all in service of a higher goal—whether in the studio or onstage, where his flamboyant performances mirror the power of his sound. "It helps me get to the core of what I do in a way that I hope people connect with, because making music is about a connection so strong that it transcends language."
Witness how light guitars produce big, chunky tones, thanks to a pair of blaring British-brawler amps and a hearty pedalboard.
Behind the moody makeup, angsty energy, arena-level production, rebellious revelry, and 20 empty Marshall cabs blasting flood lights is a legit modern rock band. And behind the band's charismatic leader Yungblud (aka Dominic Richard Harrison) is its producer, songwriter, and bona fide riff assassin Adam Warrington. Armed with a handful of Gibsons, a Gretsch, and an MIM Jazzmaster, he is a mortar of might.
Before Yungblud's redlining, headlining show at Nashville's legendary Ryman Auditorium on January 29, Warrington gave PG's Chris Kies some quality time to detail his artillery. During the interview, he explains why he lives by this advice: "If you love a guitar, don't change it." Plus, he reveals how his Box of Doom iso cab has become an integral ingredient, and walks us through a recent pedalboard rebuild that occurred after his previous stomp station was stolen from his London flat.
Brought to you by D'Addario Nexxus 360 Rechargeable Tuner.
Solid Guitar
For the Life on Mars tour now crisscrossing the United States, Yungblud guitarist Adam Warrington's No. 1 was this 2018 Gibson SG Standard that's completely stock. (He did have a single fret replaced after it was ripped out when colliding with a drum riser in Las Vegas.) Originally owned by bandleader Yungblud (aka Dominic Harrison), the guitar was commandeered and kept by Warrington. He's been favoring the black bombshell on this run for its beefy tone and the slender frame that allows him to "jump about" onstage without compacting any vertebrae. His main ride stays in standard tuning and takes Ernie Ball 2015 Skinny Top Heavy Bottom Slinkys (.010–.052).
Mr. Brown
"This was my favorite guitar [before acquiring the SG] and it probably still is, but I don't play it as much because it's quite noisy in the States," admits Warrington. The problem child is a Gibson Custom Shop ES-335 that is loaded with P-90s that are coil-tapped. The semi-hollowbody is finished in a glossy, caramelly translucent brown. He almost put a Bigsby on it, but a friend reminded him that "if you love a guitar, don't change it," so it's remained the same. This one sees stage time for the quieter numbers that require him to dial back the volume for a more acoustic, jangly sound.
Les Paul, More Glue
"I'm a massive Jimmy Page fan and this is the closest I could get to his guitar." The more affordable approximation is this 2001 Gibson Les Paul Standard that has earned all its scar tissue riding hard with Warrington. About a month after purchasing it, he was performing with Yungblud and blasting overhead fluorescent lights revealed the guitar was sold to him with a neck repair. This wasn't disclosed to Warrington at the time of purchase, but to test matters, he broke the headstock a second time when it fell off his bed. He claims the guitar sounds better than ever after two neck repairs.
Ready for Your Close-Up?
Here's an intimate view of the burst smiling wide off Warrington's Les Paul.
Ready for Your Close-Up?
Here's an intimate view of the burst smiling wide off Warrington's Les Paul.
Casey Jones
Warrington has named this LP "Casey Jones." No, the Scot isn't a devoted Deadhead or a railroad buff, but it's the name of the weed strain he bought in Amsterdam shortly after scooping this guitar at Denmark Street Guitars in London.
Surf the Jetstream
This stylish, tuxedo of a guitar is a Gretsch G6128T-89VS Vintage Select '89 Duo Jet with Bigsby that makes a name for itself during shows for any songs in D-standard or drop-C tunings. To help keep tension equal to the standard-tuned guitars, the Duo Jet gets wrapped with Ernie Ball 2026 Not Even Slinky Paradigms (.012–.056).
Jammin' on the Jazzmaster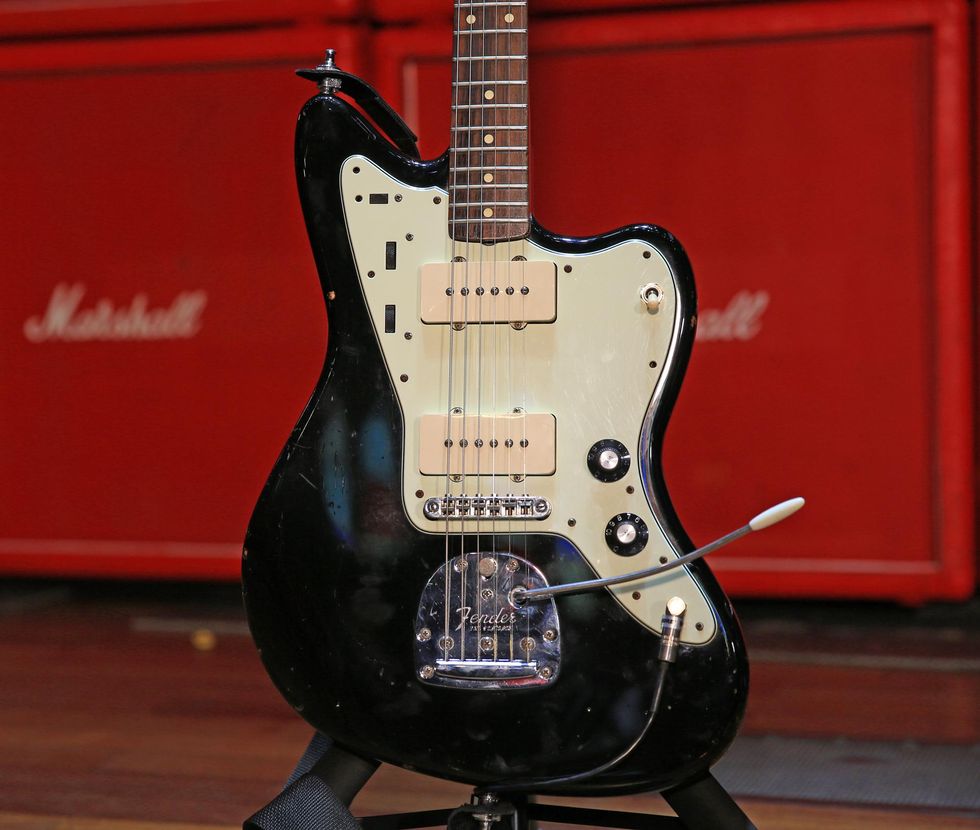 This 2010s Fender Classic Player Jazzmaster Special is probably Warrington's longest 6-string friend. To give his MIM offset a unique look, he swapped out the tortoiseshell pickguard for a mint green and took off the cream knobs and replaced them with black witch-hat controls. Aside from removing the jazz circuit (he kept accidentally knocking it into rhythm mode), everything else about the guitar is stock and he typically plays it with Ernie Ball 2027 Beefy Slinky Paradigms (.011–.054).
A Bass for Ben
Adam Warrington's guitar tech Ben Jackson tends to instrument maintenance in the shadows, but each night he puts on this Iron Lung BJ5000 to perform one song alongside Warrington. (Yungblud typically performs as a three-piece, with guitars, drums, and no bass.) This beauty was handbuilt by 21-year-old budding luthier Josh Warner, who shadowed Jackson as a tech assistant on a previous U.K. tour. This '70s J bass replica was a token of his appreciation. He constructed everything (including the pickguard) and only outsourced the hardware, tuners, and knobs, and obviously didn't wind the Seymour Duncan SJB-3 Quarter Pound J-Bass pickups.
British Brawlers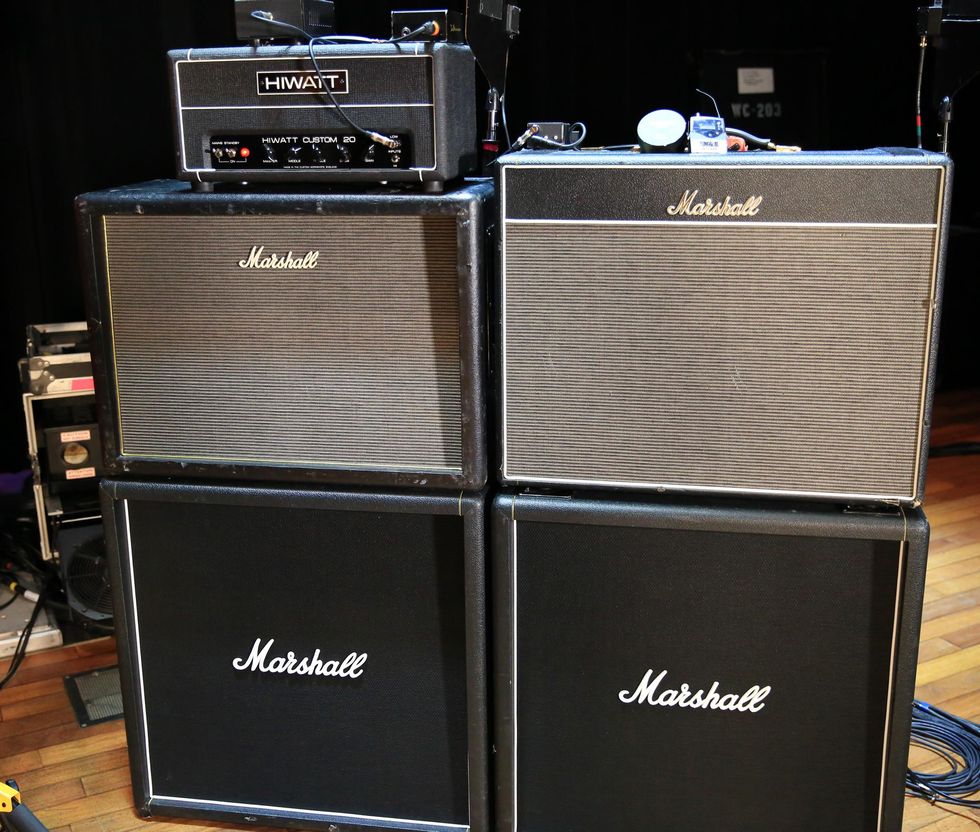 Adam's setup features a Hiwatt Custom 20 and a Marshall Bluesbreaker Model 1962 reissue. The Hiwatt works in conjunction with a Dr. Z Brake Lite attenuator and PDI 03 JB Joe Bonamassa Signature Model guitar speaker sim DI box. The JTM runs into a Box of Doom Basic iso box, outfitted with a single Celestion G12H-150 Redback. Both amps are running red hot, which causes Ben to replace the Hiwatt's EL84s several times during a long tour. And these amps are panned in Adam's in-ears (left has Hiwatt and right has Marshall).
Red Menace
Seen from the moon are Yungblud's wall of red Marshall cabs. The stage props are just spray-painted Marshall 4x12 shells that house flood lights for dramatic blasts of millions of lumens!
This is Adam Warrington's second pedalboard build since backing Yungblud. The first iteration was stolen from his London flat. This version is close to the original and retains a Boss ES-8 Effects Switching System as the brains of the operation. His guitar hits the Dunlop Echoplex Preamp EP101, DigiTech Whammy, and then an Ibanez WH10V3 Classic Reissue Wah. After that, everything routes through the ES-8. That's an Electro-Harmonix POG, two JHS Pedals (Crayon and Muffuletta), ZVEX Super Hard On, Fulltone '70 BC-108C Fuzz, and a trio of Boss big boys (RV-500 Reverb, DD-500 Digital Delay, and MD-500 Modulation). And all of Warrington's guitars are kept in check with a Boss TU-3s Chromatic Tuner.